Jan 17, 2020
Combating hunger on campus
A silent scourge of hunger is threatening the health and future of students on college campuses, administrators and advocates say, spurring a wave of innovative new initiatives to combat the insidious problem. 
"More than half of our students struggle with food insecurity," said Molly Hansen, food pantry coordinator at Bunker Hill Community College in Charlestown, Mass. "In addition to having to worry about their studies, these students struggle with knowing where their next meal is coming from or running out of food without having money to purchase more."  
The population of college students has grown poorer, researchers say: More than 7 million students – nearly 40% of undergrads, a 30% increase over 20 years – have a household income at or below 130% of the federal poverty line, according to a recent federal Government Accountability Office report.  More than 1 million college students are homeless or at risk of homelessness. The majority of students – 64% – work at least part-time, and a quarter work full-time. There are higher rates of food insecurity among  students at community college campuses, researchers have found. 
Members of the working poor, short on both money and time, are vulnerable to a type of food insecurity that is broader than a lack of food, experts note: a reliance on unhealthy, low-cost starches and fast foods that are often linked to obesity and diabetes.
Link between hunger and academic success
According to the USDA's Economic Research, hunger affects students' ability to study, to stay enrolled, and to complete their degrees. 
Hunger on campus means "spending time worrying about where to get food for the next week rather than studying for next week's exam," said Hansen. 
"It means choosing to purchase books instead of groceries." 
Advocates note federal student aid generally does not cover all college costs for low-income students, and college students may have limited access to federal food assistance programs such as SNAP.   
To offset these barriers, colleges and universities, such as Bunker Hill Community College have opened food pantries to meet the basic needs of their students. 
"We provide our students with free groceries including non-perishable items and fresh milk, eggs, cheese, yogurt, chicken and fish. But often access to free food does not meet all their needs because many simply don't have the time or the equipment to cook nutritious meals," said Hansen. "This is where Food For Free comes in!" 
Transforming surplus food into individual meals
Food For Free, a not-for-profit organization based in Cambridge, Mass., is helping fill this void for time- and cash-strapped students with their Family Meals Program. Their unique food rescue model collects surplus food from local universities including Harvard and Tufts and corporate dining halls from companies such as Google, Sanofi Genzyme and Novartis and repackages this food into attractive individually frozen meals that can easily be reheated. 
"For us, partnering with Food For Free has been a no-brainer," said David Davidson, managing director of Harvard University dining services. "Every day, our 14 dining facilities have leftover food that we have to manage. With Food For Free's packaging and distribution support, we can bridge the gap between excess and need and provide nutritious meals for fellow students in our community."
After every meal service, Harvard staff and student volunteers consolidate, organize and repackage the unused food for individual meals and bulk donation, which Food for Free picks up and distributes to local community colleges. By continuously monitoring their excess, Harvard's dining services has been able to adjust their production to eliminate superfluous waste. Yet even with close monitoring, there is always a surplus. This year, Harvard donated more than 40,000 pounds of food.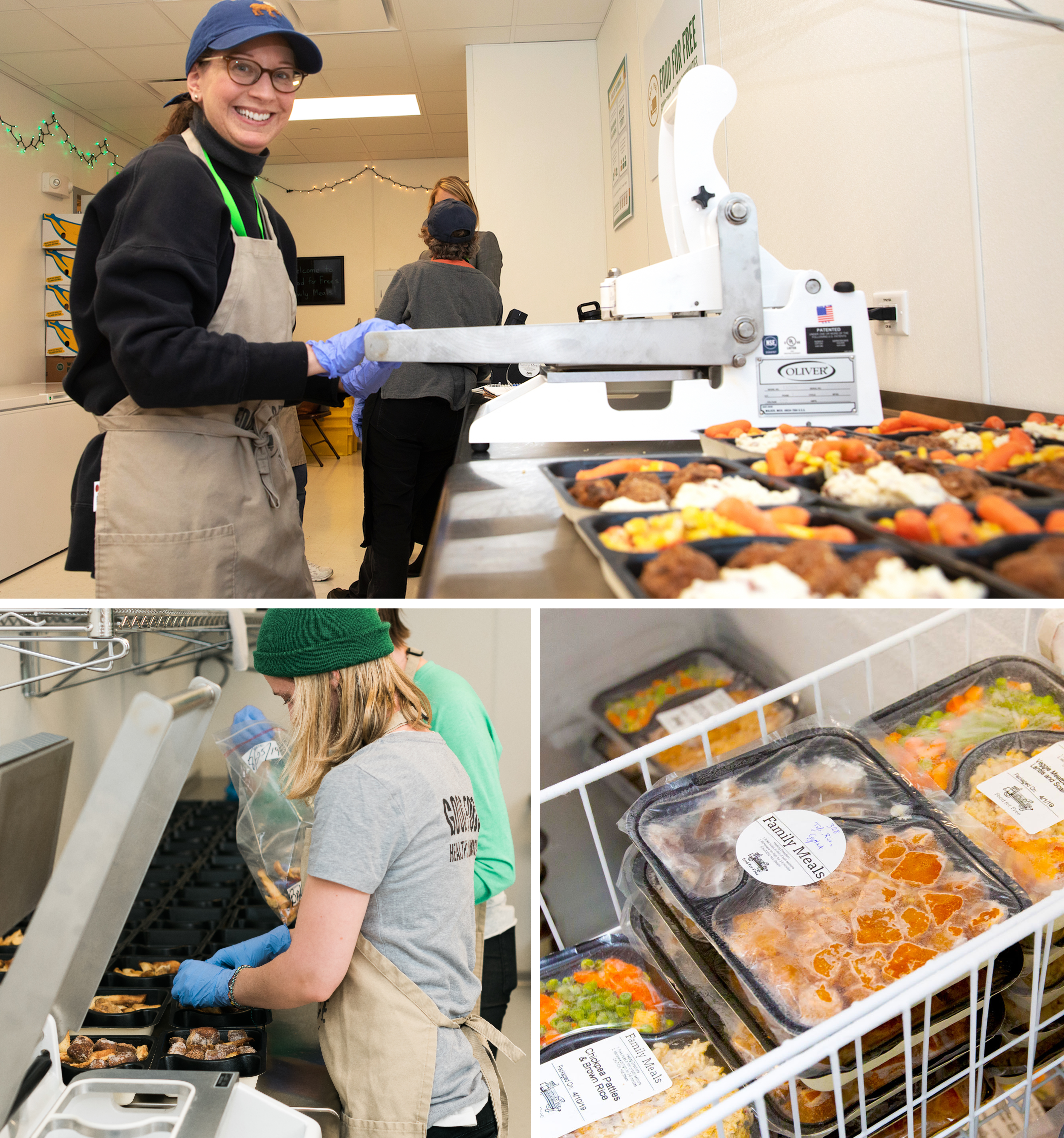 Food waste in Massachusetts, including unharvested crops, unsold and expired items at the grocery store, and household and restaurant waste, averages more than a million tons each year, making up a quarter of the state's total waste stream. Food For Free is a resource for institutions to redirect their surplus food from entering our waste stream and provide it to those who need it most.
"This program has given our staff and students a sense of purpose and connection with our community," said Davidson. "It means a lot to those who make and serve our food to not see the food go to waste and instead go to help others."
Scaling to serve more students
Currently, Food For Free distributes 27,000 meals each year and there are plans to expand and scale the Family Meals Program to reach more students. In May, the organization opened a new 500-square foot kitchen in Biogen's Kendall Square headquarters with the capacity to produce over 100,000 meals each year. 
In October, Food For Free was awarded a Blue Cross Blue Shield of Massachusetts "healthy living accelerator grant," which provides $100,000 and volunteer pro-bono support to launch or scale innovative programs that improve access to nutritious meals, active lifestyles, and/or healthy environments. With the funding from the nonprofit health plan, Food For Free aims to double the number of meals it produces in the next year, to 60,000.  
"Our focus is on growing our donor base and finding new corporate and institutional partners to replicate the Harvard volunteer/packaging model," said Sasha Purpora, Food For Free's founder. "We are also creating a new position, a college engagement manager, who will spend time on the campuses we serve, working closely with campus staff to implement, promote and evaluate the Family Meals Program. With Blue Cross' support we will be able to expand to 5-10 new community colleges and reach an additional 1,000-2,000 students."  
Ending the cycle
For Purpura the mission is simple. 
"We believe that access to healthy food is a fundamental right." 
"We work with local community colleges because we know there is a need and there is already the infrastructure in place to reach students," said Purpura. "People are often reluctant to seek help. But because they are at school, where there is already a level of trust and comfort, there is less fear to utilize the services and offerings provided."
Each week, Bunker Hill Community College, just one of Food For Free's 16 distribution partners, distributes more than 100 frozen Family Meals. Students can walk into the DISH Food Pantry and take up to two free meals at a time – Purpura notes they often are responsible for providing for a family member or child. In October, BHCC distributed 428 meals to 326 students.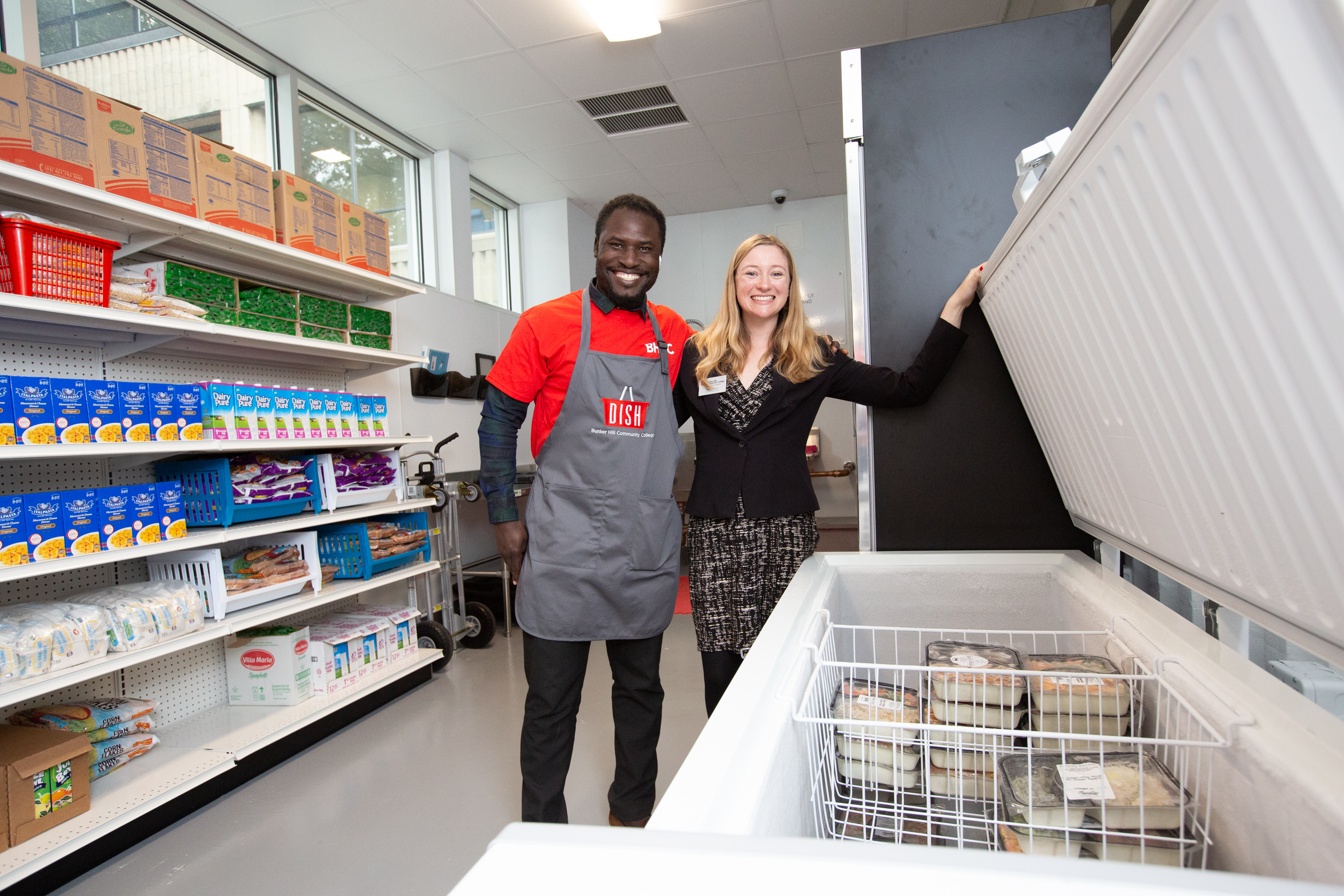 "Our population of students include first-generation students, low-income students, parents, and veterans. Many students work full-time or have multiple jobs," said Molly Hansen, DISH food pantry coordinator. "By having the frozen meals from Food for Free available in the pantry, students are able to stop by before or after class and grab a quick, nutritious meal." BHCC has a microwave in the student center where students can heat up the meals and enjoy before heading to class or work.  
"We hope that these meals allow students to just be students and focus on their school and collaborating with their peers without the pressure of having to think where their next meal is coming from," said Purpura. "If we invest in these students today and give them the nutrition and fundamental tools needed to succeed, they are more likely to graduate, get a good job, and be able to provide for their families, putting their children at reduced risk of becoming food-insecure in the future." 
Did you find this article informative?
All Coverage content can be reprinted for free.
Read more here.
---
PHOTOS BY MIKE GRIMMETT