Jul 17, 2021
Integrating primary care and mental health care
Dr. Jamie Colbert, an internist and Blue Cross Blue Shield of Massachusetts' senior medical director for delivery system innovation and analytics, explores the challenges and potential of health care innovation in Massachusetts in a regular Coverage series. 
Massachusetts clinicians are increasingly embracing a new model aimed at improving both physical and mental health, amid rising need.
Nearly 20% of Americans are suffering with anxiety, depression or other mental health issues, yet many never seek out care from psychiatrists or therapists. The reasons vary – some are scared of the stigma that can be associated with mental illness, others just don't have the time or flexibility in their busy lives, and others may seek help but don't know where to look or may have trouble finding a clinician who is taking new patients. 
---
A lack of mental health care can have profound ramifications, with the link between mental health and physical health long established. 
---
Almost 70% of those with mental illness have other medical conditions as well, and untreated mental illness can lead to worse outcomes for patients with chronic conditions. It can lead to higher costs, too: One study found untreated depression adds $560 in additional costs per month for members with chronic disease. 
Unfortunately, the behavioral health care system too often exists in a silo that is disconnected from the medical system. Logistical barriers like separate documentation systems and administrative systems can prevent primary care providers and behavioral health clinicians from seeing each other's progress notes or easily communicating to discuss mutual patients. 
"Two-thirds of mental health care occurs in primary care offices, and the rest often takes place in small behavioral health practices that are not integrated with the rest of the health care delivery system," said Dr. Gregory Harris, a psychiatrist and Blue Cross Blue Shield of Massachusetts associate medical director.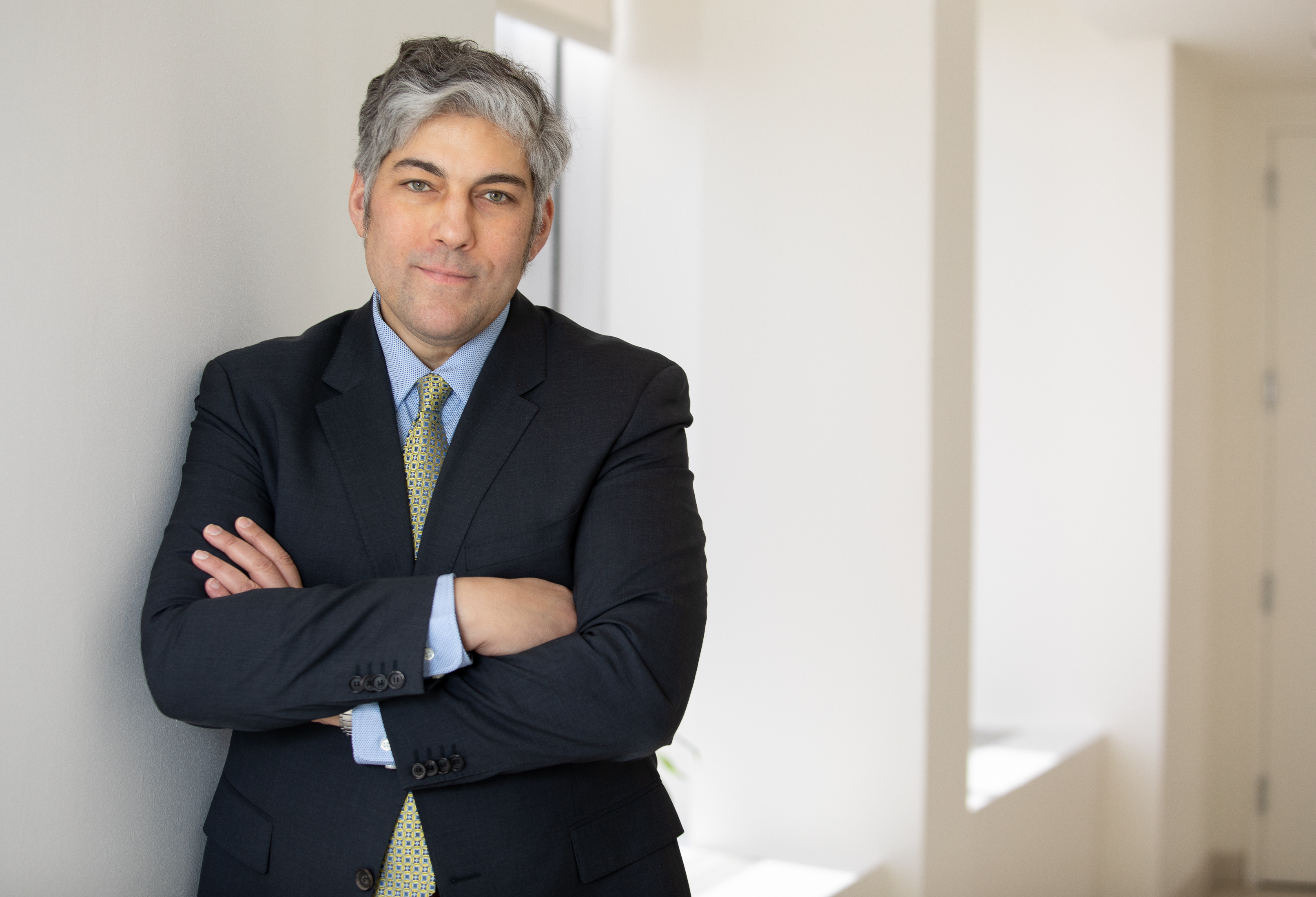 A new model breaks down barriers to access
"A collaborative care model can break down these silos by encouraging greater collaboration between primary care and behavioral health practitioners," Harris said.
The model, developed through evidence-based clinical research, involves three healthcare providers: a primary care doctor, a care manager and a psychiatrist. One can think of this model as a triangle with these clinicians at each of the corners and the patient in the middle.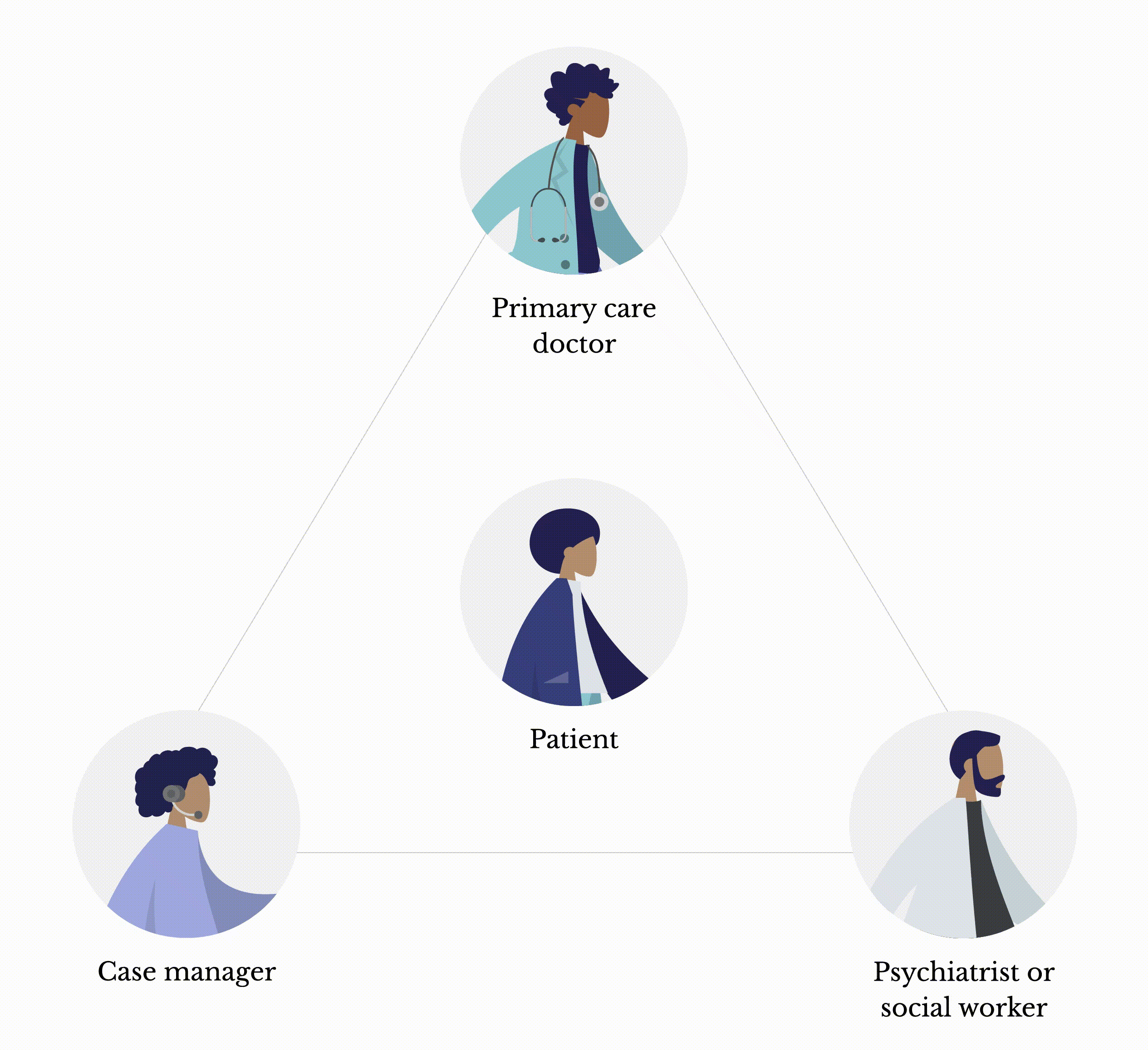 In collaborative care practices, a new patient first sees their primary care provider for medical care and is screened for depression and anxiety. If necessary, the clinician consults with the team's psychiatrist to get mental health treatment recommendations. The patient then has multiple check-ins with the care manager, who provides ongoing monitoring and helps assess the patient's response to both physical and mental health treatment. 
---
The three care providers are in constant communication, each fully aware of the patient's mental and physical health needs and able to ensure they are being met. 
---
The model has the support of health plans, including Blue Cross, which in 2020 launched a major mental health initiative to ensure members have the support that they need. The not-for-profit health plan reimburses clinicians for psychiatric collaborative care management, and provides additional payments for participating in the model. 
Embraced by patients and clinicians
"Our patients like the collaborative care model because they can get treatment for anxiety or depression and related issues without having to go to a mental health center or have a psychiatrist appointment. It is non-stigmatizing," said Michelle Papazian, MSW, LICSW, behavioral health program manager at the New England Quality Care Alliance, a large provider organization in eastern Massachusetts that is currently piloting a collaborative care model with two social workers and a psychiatrist supporting mental health needs for seven primary care practices. 
"Clinicians like this model too because it gives them access to a licensed social worker and psychiatrist to address the behavioral health needs of their patients, while allowing the primary care provider to stay connected to their patients' care every step of the way," Papazian said. "No one falls through the cracks. Depending on their needs and preferences, patients can receive support such as evidence-based 'Problem-Solving Treatment.' Together, our patients and social workers create customized treatment plans that reflect each patient's personal goals and a feasible action plan. The patient is engaged in their own self-care and taught problem-solving skills. The program also includes a relapse prevention plan to ensure patients are able to maintain their progress. They also can receive medication management through regular psychiatry consultation."
The model has worked well during the pandemic, Papazian noted. 
"Patients can get care they need over the phone or through video meetings," she said. "We have already seen a positive impact on patients and providers." 
By increasing access and reducing stigma, collaborative care offers vital support for patients at a time they need it most. 
Did you find this article informative?
All Coverage content can be reprinted for free.
Read more here.
---
PHOTO OF DR. GREGORY HARRIS BY MIKE GRIMMETT