Oct 24, 2019
'Our future needs to be fed'
At 7:30 on a Friday morning, the energy level in Juliana Calory's second grade classroom is high. Two dozen kids chatter noisily in the homey room with its walls covered in maps of the world and tree diagrams of vowel sounds.
It's hard to picture this vibrant class running out of steam. But Calory is all too familiar with what can happen by the afternoon if her students don't get the sustenance they need before class starts in the morning.
"We notice at the end of the day they need the energy to keep up. There's a lot of learning, a lot of things they do, and they get tired and sleepy," Calory said.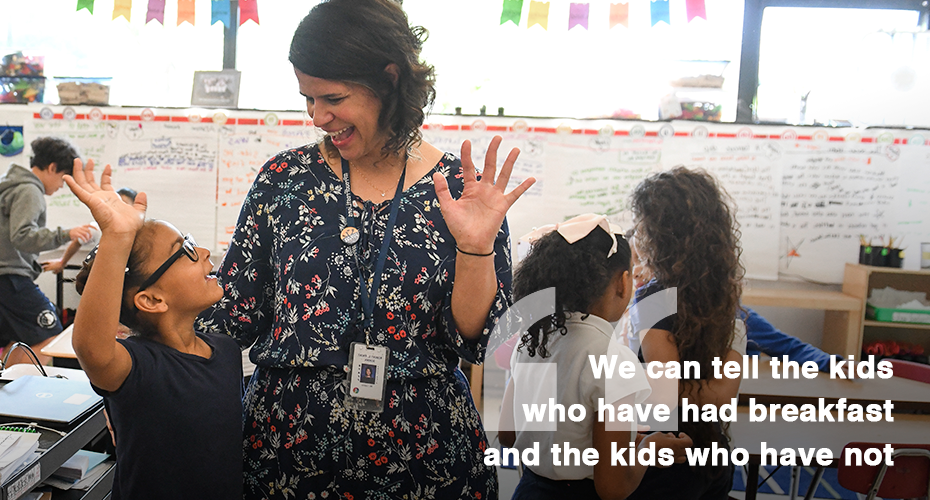 Providing breakfasts to kids who may not get it at home has been an ongoing concern for state and local officials who use federal funds and private agencies to make sure students have meals. That means not just providing food, but making sure kids eat.
The nonprofit Project Bread works with the Massachusetts Department of Elementary and Secondary Education to increase participation in school breakfasts. Among their tactics: make breakfast part of the school day for all students, reducing potential stigma for those who qualify for free or reduced-price meals. 
The Breakfast After The Bell program in Calory's classroom and the rest of Frost Elementary school focuses on community eating in a consistent, welcoming setting.
In partnership with Blue Cross Blue Shield of Massachusetts, Project Bread also has funded grants to school districts to implement larger-scale changes in their breakfast programs, and to "teacher champions" who work to expand access to school breakfasts, like Calory's fellow Lawrence educator Sarah Cordero. 
"Sometimes I think we take it for granted that all kids are starting their days with a healthy breakfast and that's not the case. The issue of food insecurity is so real," said Jay McQuaide, senior vice president of corporate communications and citizenship at Blue Cross.
Before they can learn in the classroom and beyond, her students need the "vital human right" of having enough to eat, Cordero agreed.
"If we want the community to improve and be the best version of itself, how can we expect kids to make a difference and change things when they're still worried about filling their bellies?" Cordero said. 
"Our future needs to be fed. The very least we can do is provide breakfast and lunch."
"Hunger is a real, tangible issue in classrooms across Massachusetts," said Erin McAleer, president of Project Bread. "It was important to us to give teachers tools and support to address this day-to-day, while also tackling the more systemic causes of hunger." 
A high school food pantry makes a difference
Cordero used her teacher champion grant to create a "Helping Hands" food pantry at Lawrence International High School that students can go to during the day to ensure they get enough to eat.
She deliberately involved her students with the pantry from the start, encouraging them to give her suggestions about what food she should stock (rice made the cut, ice cream did not). They help stock the pantry on an ongoing basis as well.
"The students act as ambassadors. They're huge in helping to organize everything," Cordero said. "Having students take ownership is nice because it reduces that stigma potential."
And this fall, the pantry has been a hit, Cordero said.
"Five students came to me in the morning saying they missed breakfast in the rush to get to class," Cordero said. "They were expecting me to say, 'that's too bad,' but now I can tell them to go upstairs to the pantry." 
The Helping Hands pantry also lets students take food home over the weekend if they need it.  
"I know for many students Friday is supposed to be a fun, exciting day but some students dread it – maybe they're going home to something they don't want to go home to or won't have food for the next two days," Cordero said.
"The pantry is a warm place so they won't be embarrassed and will share the resource with friends. Students feel comfortable – it has a community feel, not a 'Oh, you're getting help' red flag."
Cordero said she hopes her experience creating and running the pantry can be a roadmap for other educators.
"I did not really realize," she said, "how much food $1,000 can buy."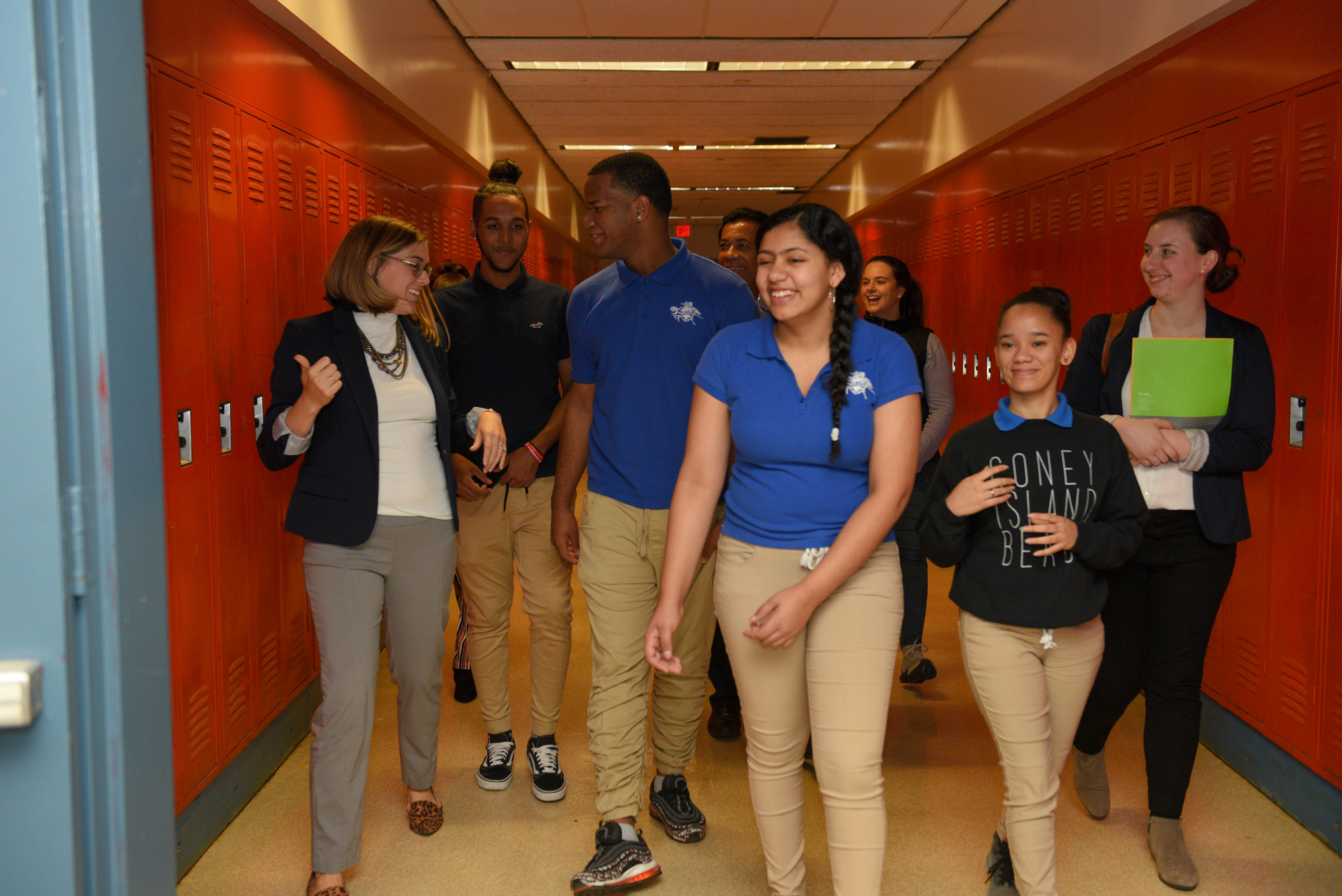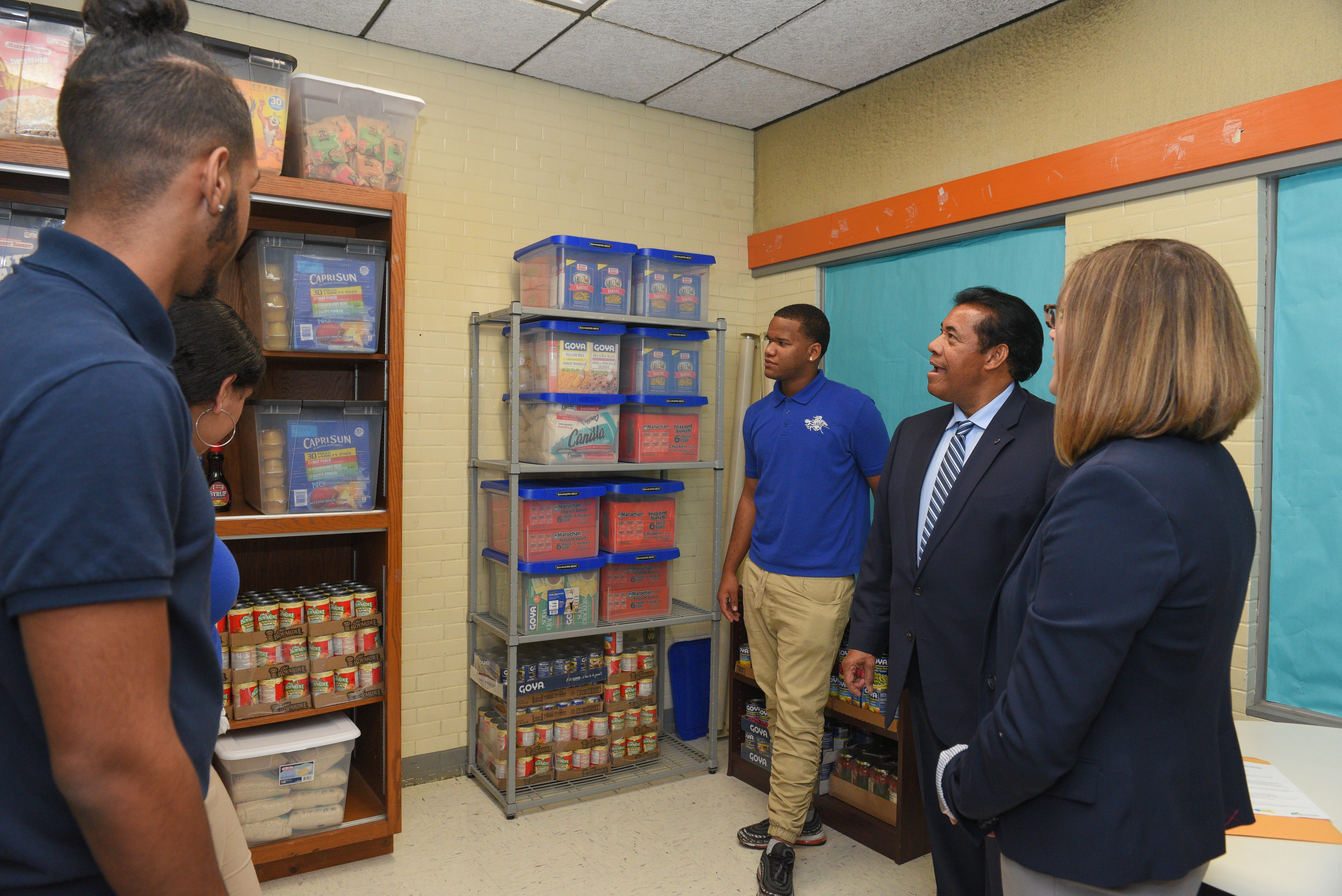 What the research says about hunger in the classroom
Years of research, including a Centers for Disease Control report, has found school breakfast has a positive effect on classroom behavior and academic performance.
The CDC notes multiple studies have found:
Participation in the United States Department of Agriculture School Breakfast Program is associated with increased academic grades and standardized test scores, reduced absenteeism, and improved cognitive performance (for example, stronger memory skills). 
Skipping breakfast is associated with decreased cognitive performance (for example, weaker alertness, attention, memory, processing of complex visual display, problem solving) among students. 
And hunger due to insufficient food intake is associated with lower grades, higher rates of absenteeism, repeating a grade, and an inability to focus among students. 
Many of those studies focus on elementary students, but hunger hits Cordero's students hard too.
"If kids aren't eating breakfast, they're hungry and that's all they're focused on."
"Students start looking at the clock, waiting for lunch," Cordero said. "Some students, it's an almost regular occurrence – they'll look at 20 minutes left and then every two minutes. It is so distracting for them to think about how hungry they are, they're literally not capable of thinking about the assignment."
Hungry students also can affect the rest of the class – requiring more attention from their teachers and disrupting others' work.
"It will be in the middle of class and a kid will put their head down because they're not able to focus on the activity. It's then requiring my attention for that student in that particular moment," Cordero said. "We do a lot of collaborative learning. If you're in a group of four, everyone has a role they're supposed to play. If one student is unable to contribute because they're hungry, the rest of the team has to pick up the slack or lose out."
Barriers to breakfast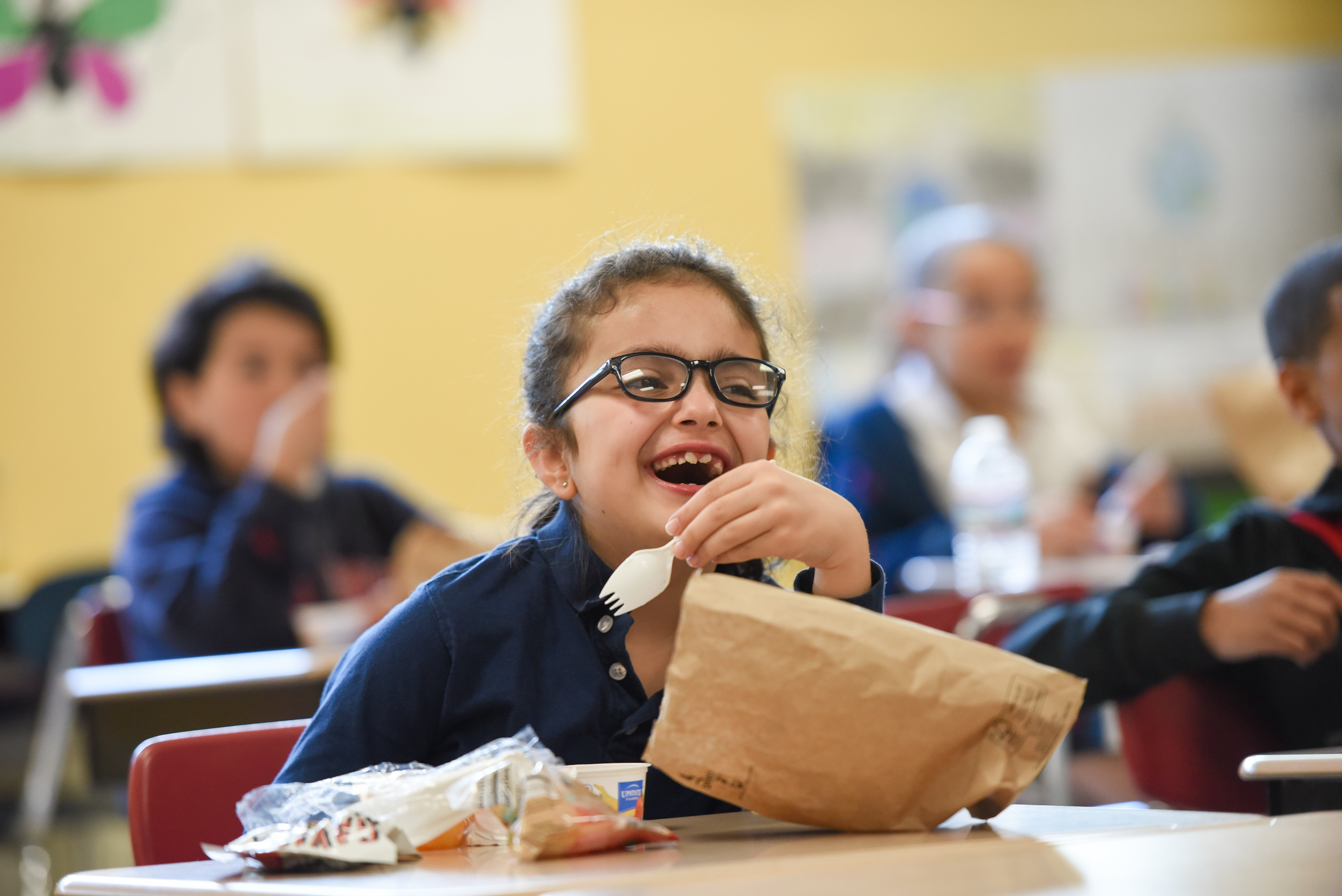 In Massachusetts, more than 450,000 students qualify for free or reduced-price breakfast, according to statistics from the Department of Elementary & Secondary Education, but only 37% actually eat the meal.
Some students may get dropped off too late for breakfast if it's served before the school day starts. And others might be reluctant to participate in a program that marks them as getting help, said McAleer. That's why the agency has been supporting Breakfast After the Bell as a way to make the meal a matter of course, with food served to students after the school day has begun.
"We know eating breakfast at school is proven to positively impact long-term health and education outcomes for students. The number of students eating school breakfast increases dramatically when barriers that exist in traditional before-school programs are removed," McAleer says. "We advocate for making breakfast part of the school day because it works and promotes a culture where reliable meals are accessible." 
In some districts, including Boston and Lawrence, free breakfast is available to all students regardless of income. Participation in Lawrence last year was approximately 62%.
Safe spaces to eat
In Calory's classroom, Breakfast After the Bell means a table loaded with paper bags. Her students come in, grab a bag apiece and sit down at other tables, four or five kids in a group, eating the day's breakfast of granola and yogurt, dried apple slices and a fruit cup. No one is left out.
The food is healthy but also easily preserved – Calory puts uneaten food in the fridge for a snack later in the day for students who are hungry. 
"They get here and the bags are waiting for us. They have 15 minutes to eat, they know they can talk to their peers but have to eat as well. It's an exciting part of our day," Calory said, adding it makes the rest of her day easier too. "It helps me do my job because they're more alert, they have more energy and are more focused so they're more able to learn."
In-class meals are popular in elementary schools, while high schools often use a grab-and-go cart where students can pick up food like fruit or muffins and take it to their classroom. Some cafeterias serve hot meals as well. Cordero said introducing the idea at an early age makes it easier for high schoolers – including new immigrants – to adopt.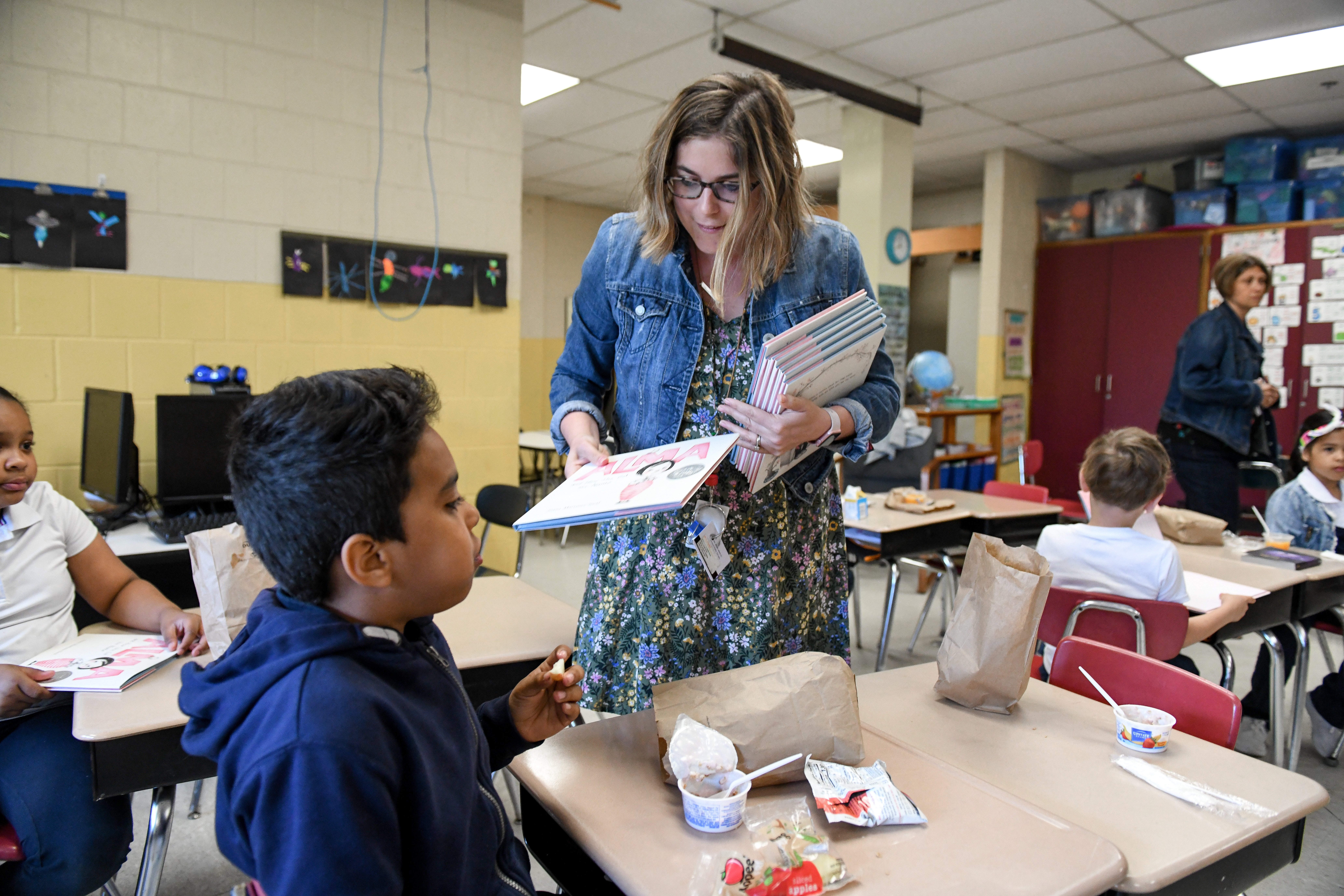 "It's a great thing to establish in grade school. For students staying in the system, it won't be anything weird or anything different, and there'll be enough of those kids so when new kids come they can say 'it's just what we do, try an apple,' " she said.
The communal breakfasts are a way for the schools to make connections with their students' families and communities as well, Cordero said. 
"This is a great way to support our families of students and that's a huge piece of academic success as well," she said. "If we support families, they're more likely to support us when we need them in a difficult situation."
---
PHOTOS BY FAITH NINIVAGGI