Apr 21, 2020
The questions employers are asking about COVID-19
The Covid-19 outbreak is an unprecedented global public health challenge that caught the world largely unprepared. A long incubation period, coupled with a lack of early understanding of this novel virus and its asymptomatic transmission patterns, has led to exponential growth that most could not have anticipated.  
Employers are trying to assess the potential short and long-term financial ramifications of this virus.  
"For now, with the support of federal programs, the primary focus of most employers is retaining jobs, continuing to provide employee benefits and staying solvent," said Scott Meehan, who is in regular contact with business leaders through his role as vice president of commercial, Medicare and retail sales at Blue Cross Blue Shield of Massachusetts. "There is real concern about financial viability and longevity as employers look towards the future, and their uncertainty will undoubtedly have an impact that will be felt throughout the whole industry."
When experts consider the ramifications of the pandemic, they evaluate five major factors:
The percentage of the population that is infected, symptomatic, and seeking care 
The percentage of those infected that are hospitalized
The severity of those hospitalizations (ICU versus other)
The duration of the outbreak
Provider system capacity limitations
Clinicians note physical distancing efforts – closing schools, businesses, and adhering to stay-at-home advisories – have enormous impacts on prevalence, severity, and duration.
"The most important thing to remember is that this virus is resilient and can be transmitted very effectively by those that are not even aware they might be infected or who only have mild symptoms," said Dr. Katherine Dallow, Blue Cross's vice president and medical director, clinical programs and strategy.  "We must as a society continue to adopt strict physical distancing guidelines and all do our part if we hope to flatten this curve and reduce the strain on the healthcare system and our society any time soon."
To help address the constraints of hospitals and clinicians, Blue Cross and other insurers have waived out-of-pocket costs for telehealth for the duration of the state of emergency, which has resulted in a giant spike of usage by non-COVID patients, alleviating the strain on the health system. A review of Blue Cross data found 250,000 claims for telehealth from March 16-April 13 of this year, a huge surge compared to an average monthly claim rate of 3,500.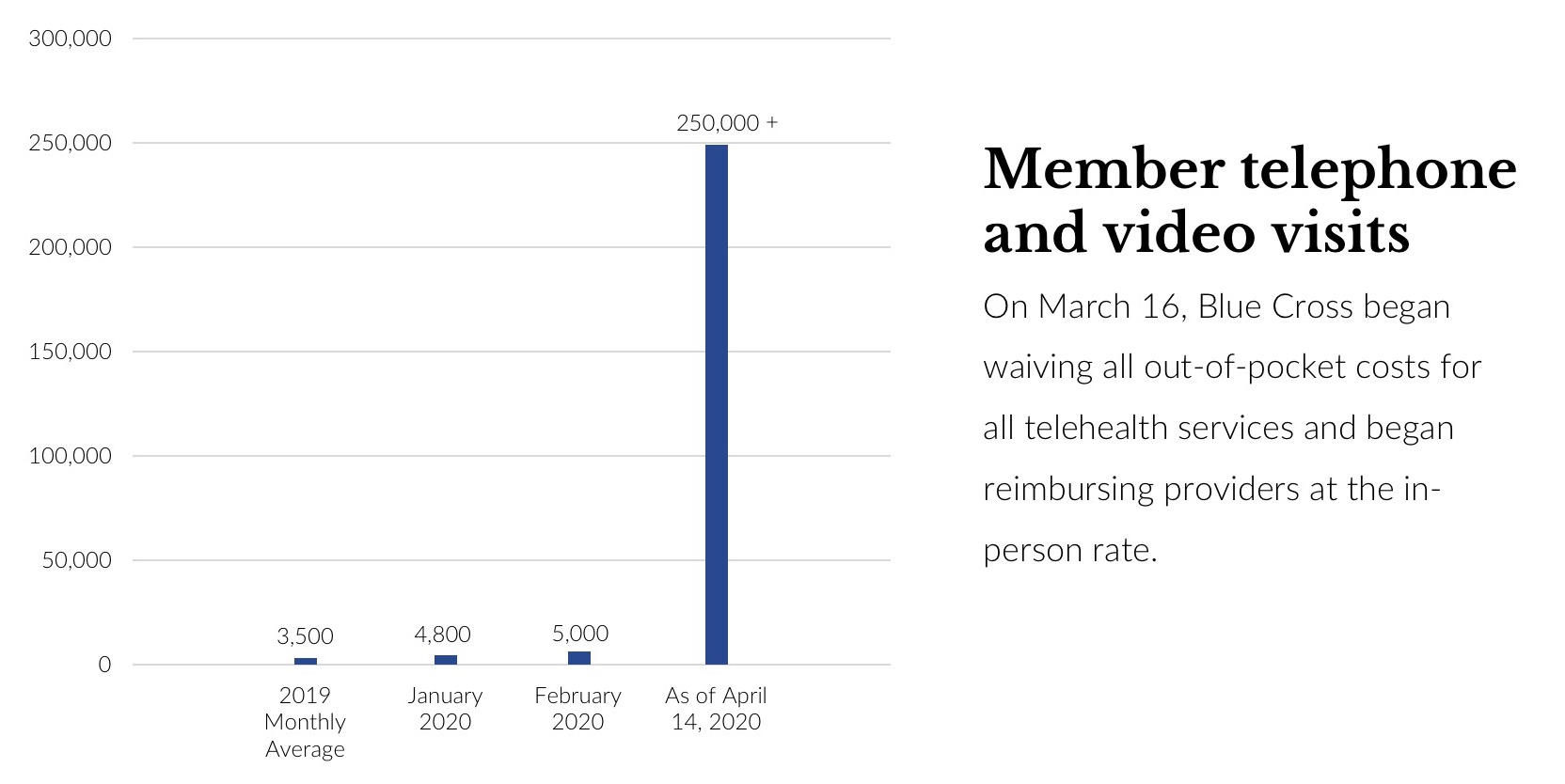 Telehealth is a critical resource - it's allowing clinicians to continue caring for their patients, and it's also helping limit the spread of contagion by keeping people out of emergency rooms and doctors' offices unless absolutely necessary,"
said Andrew Dreyfus, president and CEO of Blue Cross.
Providing patients with access to digital tools, such as diabetes apps and digital blood pressure cuffs, also may help ensure that the proper care continues to be delivered.  
Health care experts expect a surge in costs in late 2020, 2021, and perhaps even 2022 as patients resume well visits, screenings and elective surgeries. 
"As difficult as it is to forecast the cost of Covid-19 related expenses, it is just as difficult to estimate the magnitude of non-Covid care that will be completely avoided, the magnitude of deferred care, and the timing of when that deferred care comes back," said Michael Guerriere, Blue Cross vice president, business and account analytics.
Insurers are working with state public health departments to coordinate care and planning. They will work deliberately to consider financial variables as the virus and the public's response evolves over time. 
Blue Cross is working at full capacity to process claims to the health care delivery system, Meehan said. In March alone, Blue Cross made payments of nearly $800 million to physician and hospitals, including more than 50,000 new claims for COVID-19 testing and care, totaling approximately $10 million.
"We want to do everything we can to support our members, employer customers, and clinician partners under these extraordinary circumstances," Dreyfus said.
It is impossible to know how long this pandemic will last, but economic and health experts believe we will be dealing with the repercussions of Covid-19 for years to come.  
"Proper modeling, financial conservatism and sound decision making will help employers remain solvent during this period of uncertainty," Meehan said, "and doctors have told us that physical distancing, good hygiene and patience will be our best weapons to help slow the spread of this virus."
Did you find this article informative?
All Coverage content can be reprinted for free.
Read more here.