Oct 30, 2020
Warm hearts, helping hands
New, innovative forms of volunteer work are key not only for nonprofits under unprecedented strain amid the pandemic, experts say, but also for emotional wellbeing during a time of anxiety and isolation. 
"We are all social beings and we also know giving helps us feel positive," said Dr. Ken Duckworth, chief medical officer of the National Alliance on Mental Illness and senior medical director of behavioral health at Blue Cross Blue Shield of Massachusetts, whose company-wide Service Week this year drew thousands of employees to remote-work volunteer projects and webinars on social justice. "Volunteering combines these two key elements in mental health, even if the work we are doing is at home or performed online."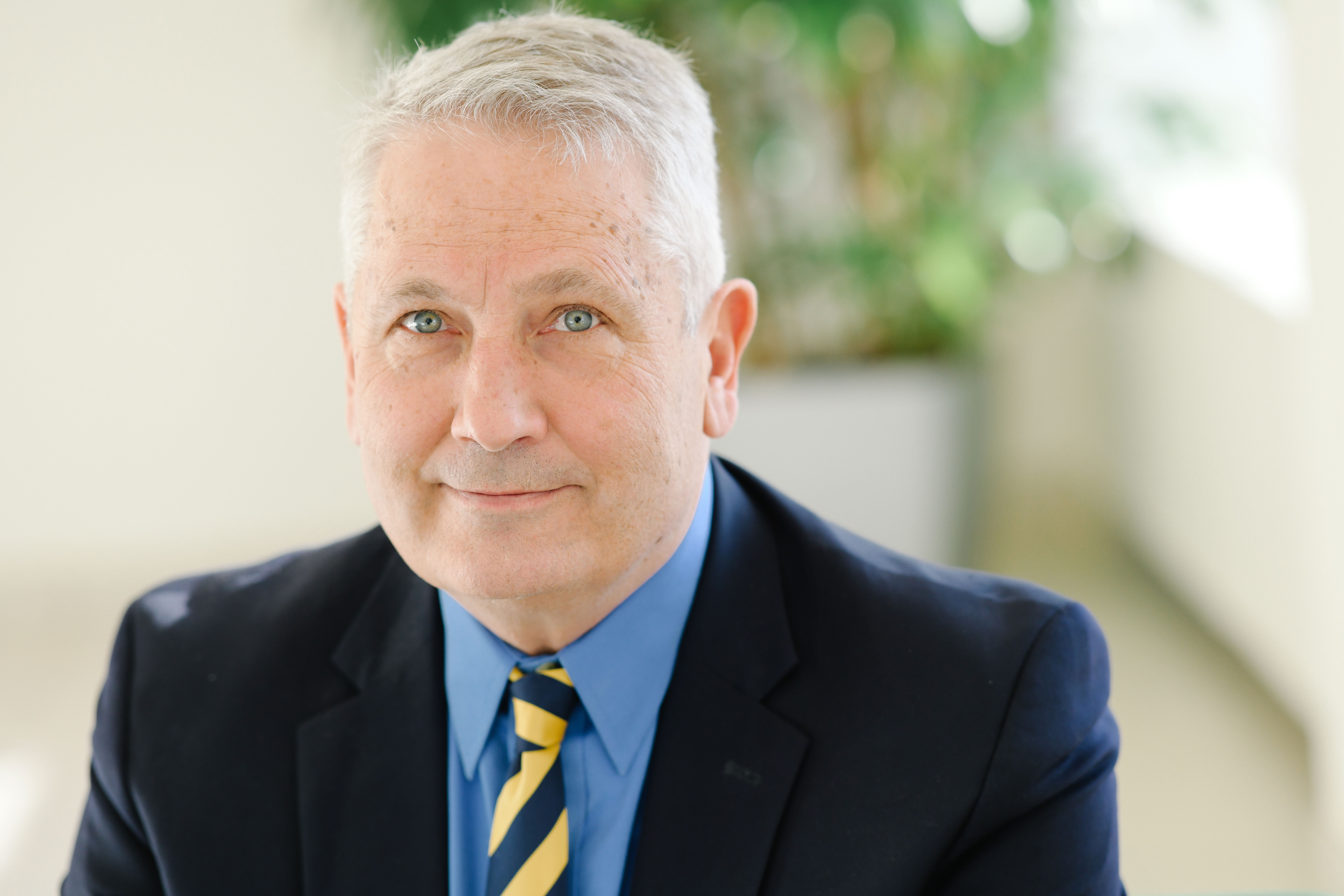 Increase in need
Widespread job loss and unemployment have generated giant demand for social services. For example, advocates are seeing a national surge in food insecurity that is placing extraordinary pressure on food banks and pantries. 
"This surge in the need for emergency food is something we've never seen before," said Catherine D'Amato, president of The Greater Boston Food Bank, New England's largest food bank. "Food insecurity is estimated to have increased by 66% in Eastern Massachusetts, with 1 in 8 adults and 1 in 5 children struggling to access food. For our organization, that means increasing the amount of food we distribute each week from just over 1 million pounds to 2.5 million pounds. We believe food is health, and that resonates even more today as we respond to this public health and economic crisis."
Decrease in volunteers
At the same time, nonprofit organizations are seeing a drop in volunteers as older populations, who make up a large percentage of most organizations' volunteer bases, stay home to avoid risk of exposure. Many also have had to change their workshifts to avoid facility crowding and allow for proper social distancing.
"Pine Street Inn heavily relies on volunteers to prep, cook, and serve three meals a day to our members. Most of our volunteers are older and we had to ask them not to come in due to their own vulnerability," said Lyndia Downie, president and executive director of Pine Street Inn, New England's leading provider of housing, shelter, street outreach and job training to homeless men and women. "It was a perfect storm for us, because we also had staff who were impacted so we really had almost zero workforce."  
Months into the pandemic, Downie said, "Only 5% of our volunteer groups are back. We're filling the gap the best we can and are leveraging our younger volunteer base to fill that need."
Shifting Service Models
Nonprofit organizations are dramatically shifting their service models to continue to safely and effectively serve their constituents.  
For example, food pantries have shifted their operations to provide safe "grab-and-go" packages or drive-through distribution options for clients.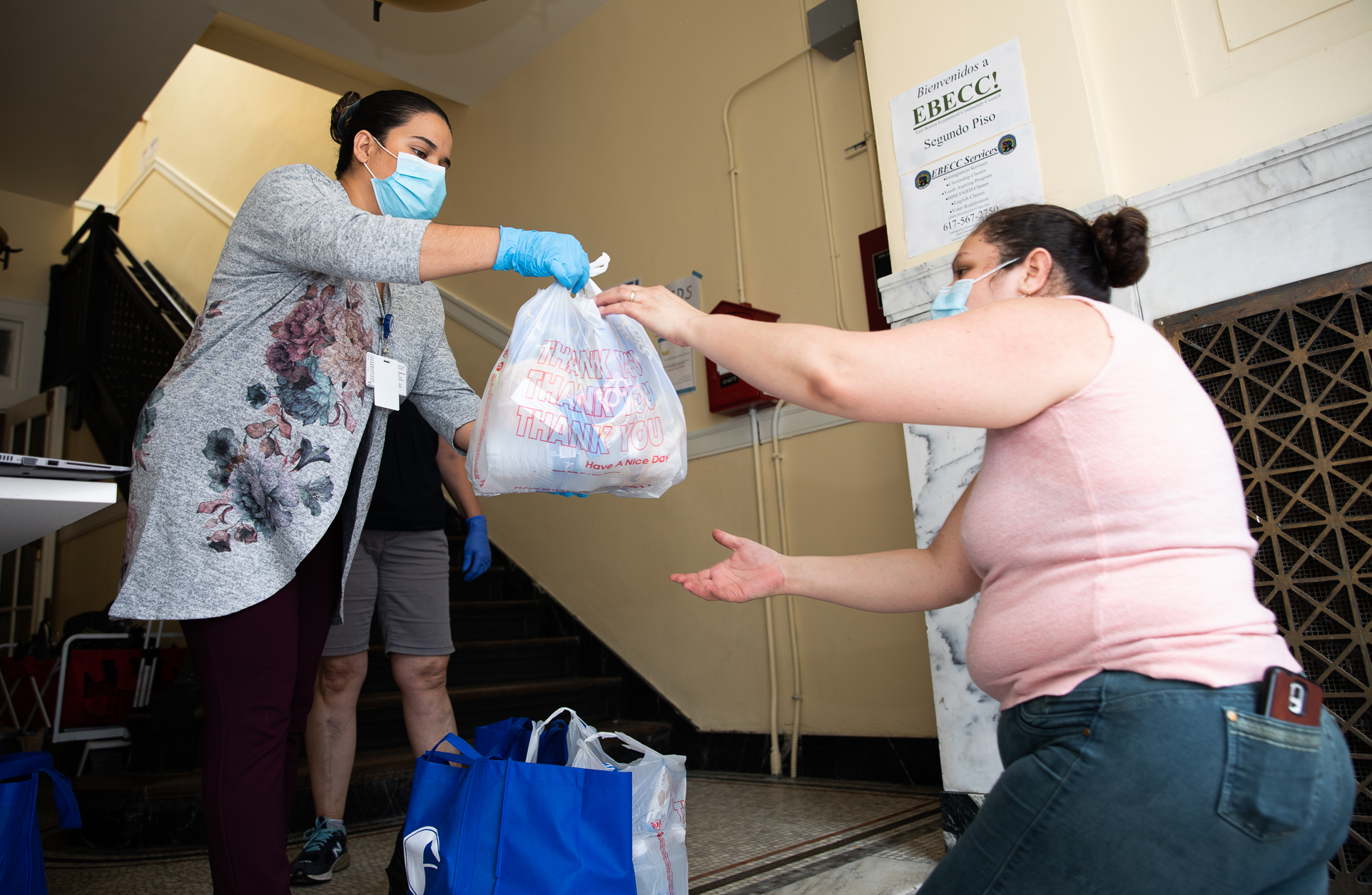 Project Bread -- a Massachusetts-based nonprofit that connects people and communities to reliable sources of food while advocating for policies that make food more accessible -- saw a need to provide healthy food to school-age children who suddenly were not in school.
"For low-income children, 50% of their daily calories can come from school-provided meals. The first challenge we faced was taking meals out of the cafeteria and into the community to make sure these kids were still being fed. We helped advise and provide grants to school districts and local nonprofits to set up 1,800 meal sites across Massachusetts," said Erin McAleer, president of Project Bread. "The second challenge was making sure families knew how to access these school sites, as well as many other resources. To do this we created an interactive map featuring all 1,800 meal sites and launched an awareness campaign about our FoodSource Hotline to ensure people across the state knew they could call on us to receive confidential support in accessing various food resources, in 180 languages."
Other organizations serving youth have adapted their traditional in-person models by creating virtual content and take-home kits to allow kids to access programming at home.
Message of Hope Foundation delivers Happy Hope Bags filled with fun activities for kids hospitalized with chronic or life-threatening illness. Prior to COVID-19, the organization coordinated hundreds of events each month for teams of all sizes to assemble bags either at the Happy Hope Factory in Pocasset, Mass., or off-site at locations across the country.
"The necessary limitations to in-person events have certainly been challenging, but they have also presented an opportunity to pivot to a new method of sharing hope with volunteers and recipients alike that has us very excited," said Emi Burke, Message of Hope founder. "We're proud that we are able to continue to offer volunteer and team-building experiences tailored to the needs of our partners, even if we can't meet face-to-face. Our virtual Happy Hope Bag packing events provide remote participants with an inspiring, creative, and fun way to connect, along with a hands-on activity delivered directly in advance, making it easy for anyone to continue doing good and giving back no matter their location."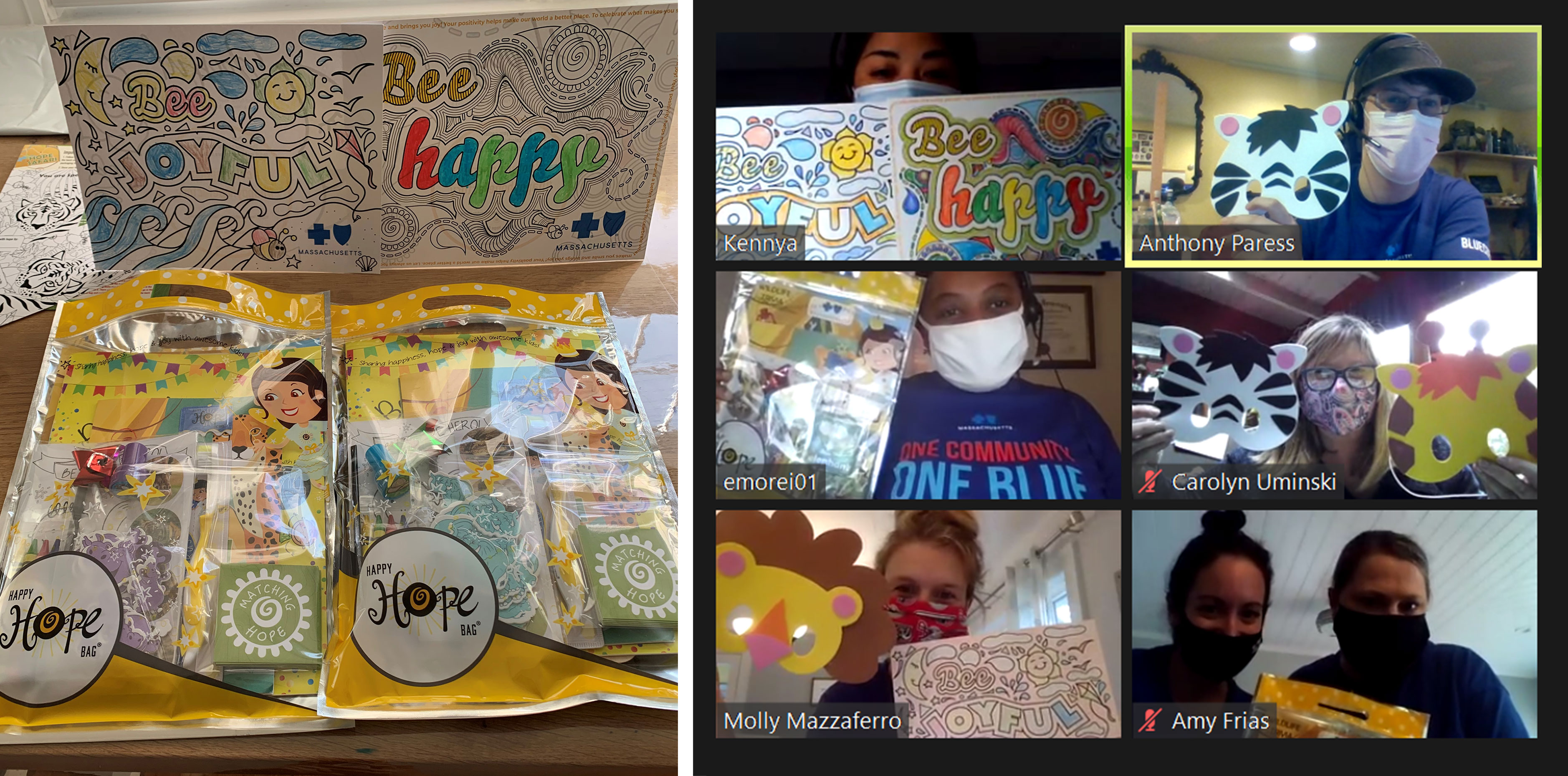 New age of volunteerism
As Duckworth notes, amid the devastation of COVID-19, many feel a drive to connect and help others. 
"The spirit to be part of the community and serve is booming," said Danielle Holly, president of Common Impact, a nationally recognized organization that connects corporate employees to nonprofits to provide pro bono support. 
In the past few months, we've seen a 200-300% increase in interest and intent to volunteer. We know that people want to help.
However, health regulations still limit the number of volunteers and the tasks they can support.
In response, companies including Blue Cross Blue Shield of Massachusetts have adjusted their corporate volunteer programs to meet nonprofits' new demands and limitations.
In September, Blue Cross reimagined its annual company-wide volunteer day into a full week of programming. Throughout the week, employees were able to give back through 65 virtual and in-person volunteer projects and for the first time were able to participate in online learning sessions focused on the impact of COVID-19 and racial inequity.
"Typically, as part of our annual Service Day, our colleagues spread out across the Commonwealth and volunteer in person to support nonprofits focused on improving the health of Massachusetts residents," said Lucy Darragh, director of civic engagement and eventscorporate citizenship at Blue Cross. "This year, due to the pandemic we knew we would have to alter our model to still meet the needs of our nonprofit partners -- and our employees' need  to contribute. – while ensuring the health and safety of everyone involved."
At-home projects included sewing buttons on hats to help Boys & Girls Club of Lowell members easily keep their masks in place. Some volunteers recorded favorite children's books to help Message of Hope and Cardinal Cushing build virtual libraries for the children they serve. Others wrote kind notes and personal letters to lift the spirits of lonely seniors with Love for our Elders and Letters Against Isolation, and made warm blankets for those living with mental illness and addiction with Annie's Kindness Blankets.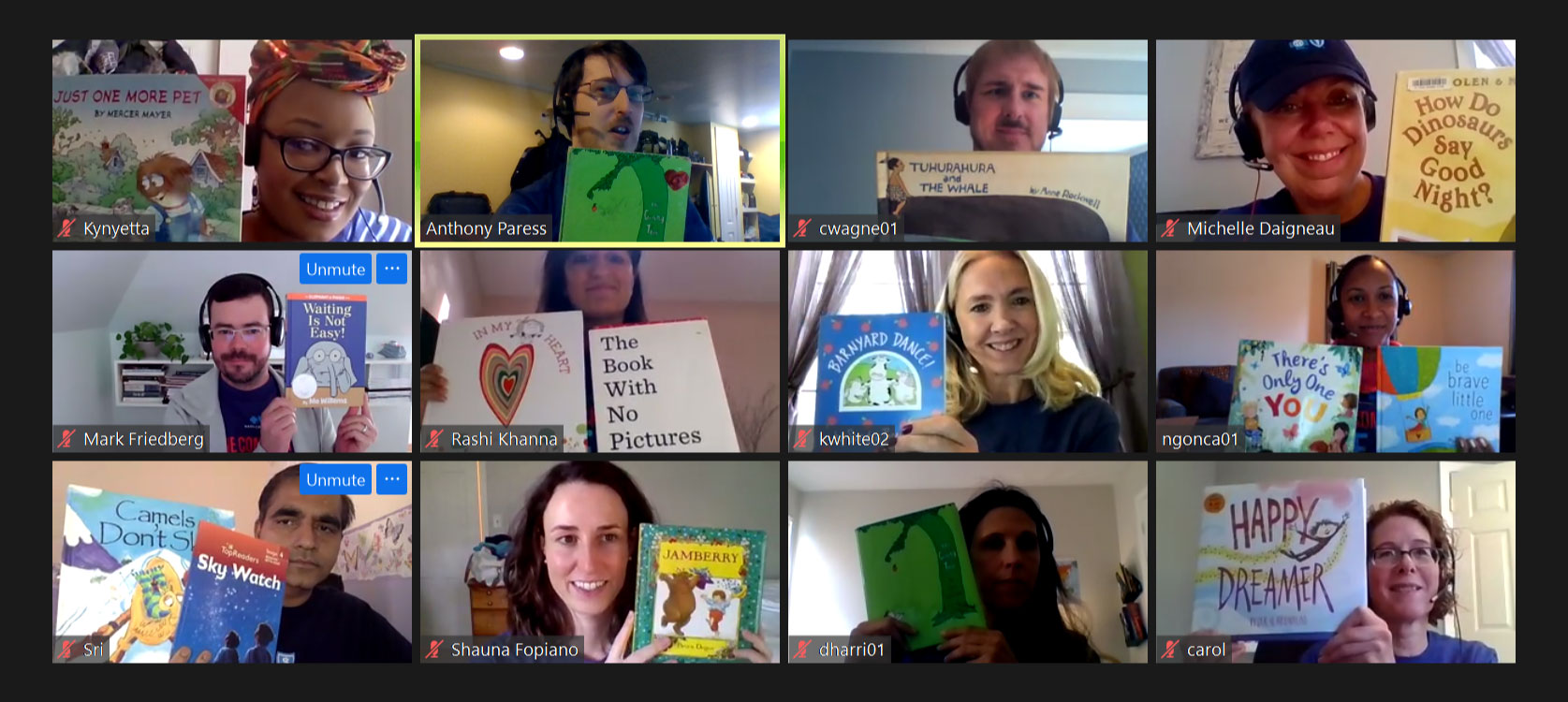 Blue Cross also offered in-person community-based projects to support 25 nonprofits across the state who rely on volunteers for their essential operations. To accommodate new safety protocols, this year's projects were limited to 10 or less people, compared to the traditional large groups of 50, and volunteers were required to wear masks and social distance when possible.    
"After having multiple conversations with both existing and new partners, we also realized we needed to find an additional way to engage our colleagues in a meaningful way that would support the work of our nonprofit partners that were not able to take on any volunteers during this challenging time," said Darragh.  
So Blue Cross held 16 online learning sessions featuring panel discussions with nonprofit, civic and health care leaders. The conversations addressed the effects of COVID-19 and racial inequality, as well as the solutions needed to create healthier and more just communities.
"We wanted our colleagues to leave these sessions with the knowledge and tools needed to advocate for the incredible work these organizations are doing on the front lines," said Darragh. "Right now, when volunteer capacity is limited, we recognized that it was more was important than ever to provide our colleagues with opportunities to give back and support our nonprofit partners who are working in profound ways to address the complex challenges we're facing today."
Right now, when volunteer capacity is limited, we felt it was important to provide our colleagues with multiple ways to meaningfully give back and support our communities.
Did you find this article informative?
All Coverage content can be reprinted for free.
Read more here.
---
PHOTO OF Dr. KEN DUCKWORTH BY FAITH NINIVAGGI & VIDEO OF SERVICE WEEK 2020 BY MIKE GRIMMETT