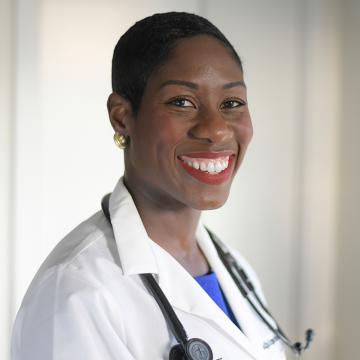 Dr. Adjoa Anyane-Yeboa
Dr. Adjoa Anyane-Yeboa is currently an instructor in medicine at Harvard Medical School and a gastroenterologist at Massachusetts General Hospital. She received her medical degree from the University of Cincinnati College of Medicine and completed her internal medicine residency and a 4th year chief residency at the University of Illinois at Chicago. After her residency she went on to gastroenterology fellowship at the University of Chicago Medicine where she also served as chief gastroenterology fellow. After completing her gastroenterology training, she went on to pursue additional training to further her drive to achieve equity in health outcomes for patients from historically marginalized communities. She completed the Commonwealth Fund Fellowship in Minority Health Policy through Harvard Medical School where she also received her Master's in Public Health with a focus in health policy from the Harvard T.H. Chan School of Public Health.
Dr. Anyane-Yeboa is passionate about healthy equity in gastrointestinal disorders, particularly colorectal cancer screening and IBD in minority communities. She received a diversity supplement from the NIH National Cancer Institute and a grant from the Trefler Foundation to increase colorectal cancer screening in community health centers in Massachusetts. She also has received funding from the Massachusetts General Hospital Cancer Center and American Cancer Society to increase access to colonoscopy among community health center patients. She was awarded a grant from Pfizer Medical Grants Program to understand barriers to care and increase knowledge and awareness about inflammatory bowel disease in Black individuals.  She received a Service Award for Colorectal Cancer Outreach, Prevention & Year-Round Excellence in 2021 for her work promoting colorectal cancer screening in Boston. She has been nominated as a Healio Disruptive Innovator in Health Equity in 2020, 2021 and 2022. She received the Rising Star Award from her alma mater, the University of Cincinnati, in 2019.
Stories by
Dr. Adjoa Anyane-Yeboa