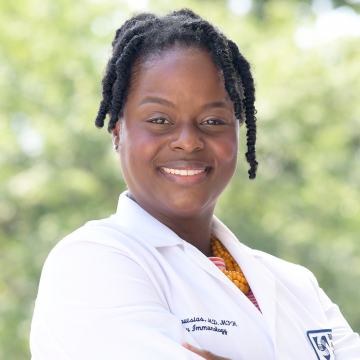 Dr. Margee Louisias
Dr. Margee Louisias is a pediatric and adult allergist-immunologist and a health-services researcher in community-based interventions to reduce racial disparities in pediatric asthma. She is an instructor in medicine at Harvard Medical School, and an associate physician and director of equity and inclusion in the Division of Allergy and Clinical Immunology at Brigham and Women's Hospital. She is also assistant program director of racial justice and equity for the BWH internal medicine residency program.
During Dr. Louisias' education, she developed a passion for working in underserved communities. Her initial focus was in developing countries, where she investigated determinants of prenatal care in Ethiopia, sickle-cell disease in Ghana, tuberculosis meningitis in South Africa and gestational diabetes in HIV-positive Cameroonian women. Dr. Louisias is recognized locally and nationally through honors and awards granted from her specialty organization and home institution, and publications on asthma and disparities. Her other interests include diversity in medicine, quality improvement, implementation science, community engagement, translation of research into policy, and the role of racism in health outcomes. 
Dr. Louisias received her undergraduate degree in chemistry from New York University, her medical degree from Stony Brook University School of Medicine, and her MPH at the Harvard T.H. Chan School of Public Health. She is a board-certified Internist, pediatrician, and allergist-immunologist. She is the recipient of T32-funded fellowships in allergy-immunology at BWH and pediatrics health services research at Boston Children's Hospital and the Institute for Healthcare Improvement; 2016 K12 Child Family and Patient Centered Oriented Research Program; 2018 BWH H. Richard Nesson Fellowship; and the 2021 BWH Minority Faculty Career Development Award.
Stories by
Dr. Margee Louisias