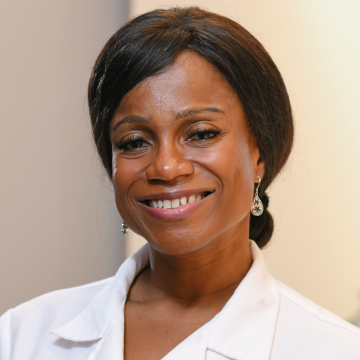 Dr. Philomena Asante
Dr. Philomena Asante is a pediatrician, public health leader, and school/college health expert passionate about creating a diverse healthcare leadership workforce. She leads Diva Docs Boston, an organization that creates networking, leadership and sponsorship opportunities for Black women physicians working in Greater Boston. She is the creator of the Diva Docs series of Coverage columns, recruiting, conducting interviews, reviewing and producing monthly columns highlighting the important perspectives of Black women physicians on issues including maternal health, mental health, dermatology, emergency medicine, and anesthesiology. 
Dr. Asante received her bachelor's degree from Harvard College, her medical degree from the University of Rochester School of Medicine, and her master's in public health from the Harvard School of Public Health.  She completed two post-doctoral fellowships in general academic pediatrics and health services research at Boston Children's Hospital/Harvard Medical School and is currently pursuing her MBA in Boston. Dr. Asante has worked as a pediatrician in a variety of primary care, urgent care, academic/research and hospitalist settings. In recent years her career path has focused on the intersection of health and education: From 2014-2018, Dr. Asante served as the director of the Division of Child and Adolescent Health at the Boston Public Health Commission, where she managed a program that operated seven school-based health centers in Boston Public high schools in collaboration with Boston Medical Center.  She is currently the medical director at Northeastern University Health and Counseling Services, which provides clinical and mental health services to Northeastern undergraduate and graduate students. 
Dr. Asante enjoys spending time with her family, taking long walks along the ocean, breathing new life into old pieces of furniture, and growing colorful, fragrant flowers in her garden.
Stories by
Dr. Philomena Asante