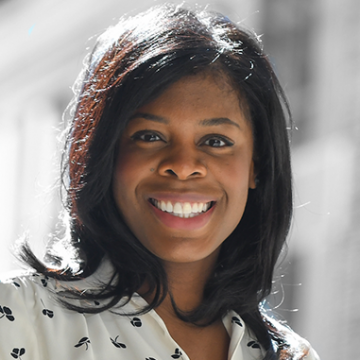 Dr. Sharma Joseph
Dr. Sharma Joseph is an anesthesiologist and critical care physician who is passionate about medical education, creating a system that promotes diversity within medicine, and equipping minority populations with the information, skills, and opportunities to be healthy. 
Dr. Joseph received her bachelor's degree in microbiology and immunology from McGill University in Montreal, Canada. She then attended Case Western Reserve University School of Medicine, completed her residency training in anesthesiology at the Massachusetts General Hospital, followed by a fellowship in critical care at The Johns Hopkins Hospital. She is currently pursuing a master's degree in public health with a focus in minority health policy at the Harvard T.H. Chan School of Public Health. 
Dr. Joseph is an assistant professor in anesthesiology at Tufts Medical Center. There, she is an active member of the Committee on Diversity and Inclusion, which strives to promote diversity within all levels of the health care ecosystem. She also sits on the Minority Affairs Section as well as the Committee on Diversity within the Massachusetts Medical Society. Both provide a forum for physicians and students dedicated to addressing minority health to discuss, advise, and shape policies and programs within the state. 
In her free time, Dr. Joseph enjoys spending time outdoors biking and hiking, strength training, and nurturing the trees, shrubs, and flowers in her garden. 
Stories by
Dr. Sharma Joseph