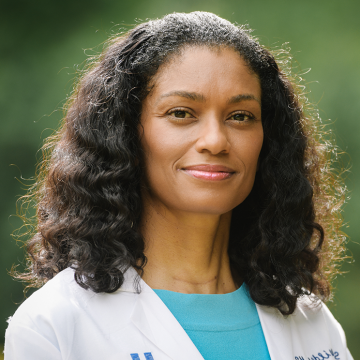 Dr. Simone Wildes
Dr. Simone Wildes is an infectious disease physician, public health expert, and ABC News medical contributor who has worked at South Shore Health in Weymouth MA for the past 13 years. Dr. Wildes earned her bachelor's degree from Barry University and her medical degree from the Loma Linda University School of Medicine. She completed her internship, residency and infectious disease fellowship at Hahnemann University Hospital and is currently a clinical assistant professor of medicine at Tufts Medical Center. She is a member of the Infectious Disease Society of America and the American College of Physicians.
Dr. Wildes is actively involved with the Massachusetts Medical Society as an executive board member, chair of the Committee on Diversity, and vice chair of the Committee on Public Health. She is also a member of the Massachusetts Department of Public Health's COVID-19 Health Equity advisory group.
Dr. Wildes enjoys spending time with her husband and two children, reading, traveling and hiking. She also volunteers at her local church in Boston as its health director and is involved with Boston's Faith-based Cancer Disparities network.
Stories by
Dr. Simone Wildes