Jul 24, 2023
Acupuncture's delicate power
For 12 years Scott Stephens lived in excruciating pain. In 2007 his car was hit by a tractor-trailer and rolled over. He suffered a broken back, underwent spinal fusion surgery and was in the hospital for six months. He describes his pain level as a 9 or 10 – every single day since the accident. The pain was so bad he couldn't perform the physical therapy doctors recommended. He needed a cane to get around and he became addicted to opioid prescription drugs. 
Today, the Sudbury, Mass., man says his pain is manageable: "a 2.5 or 3 most days." He's able to do household chores, he no longer needs a cane, and he's an active volunteer at the senior center in town. Most importantly he's no longer taking the laundry list of opioids that barely made a dent in his suffering. 
The name of the medical miracle he credits for his recovery – acupuncture. 
"When I came here, I could barely walk," said Stephens, 65, who began treatments in January at Acupuncture Family Practice in Sudbury, run by husband and wife, Kerry and Judi Weinstein. They have a combined 70 years of experience in the procedure and Kerry estimates they have placed some 6 million needles.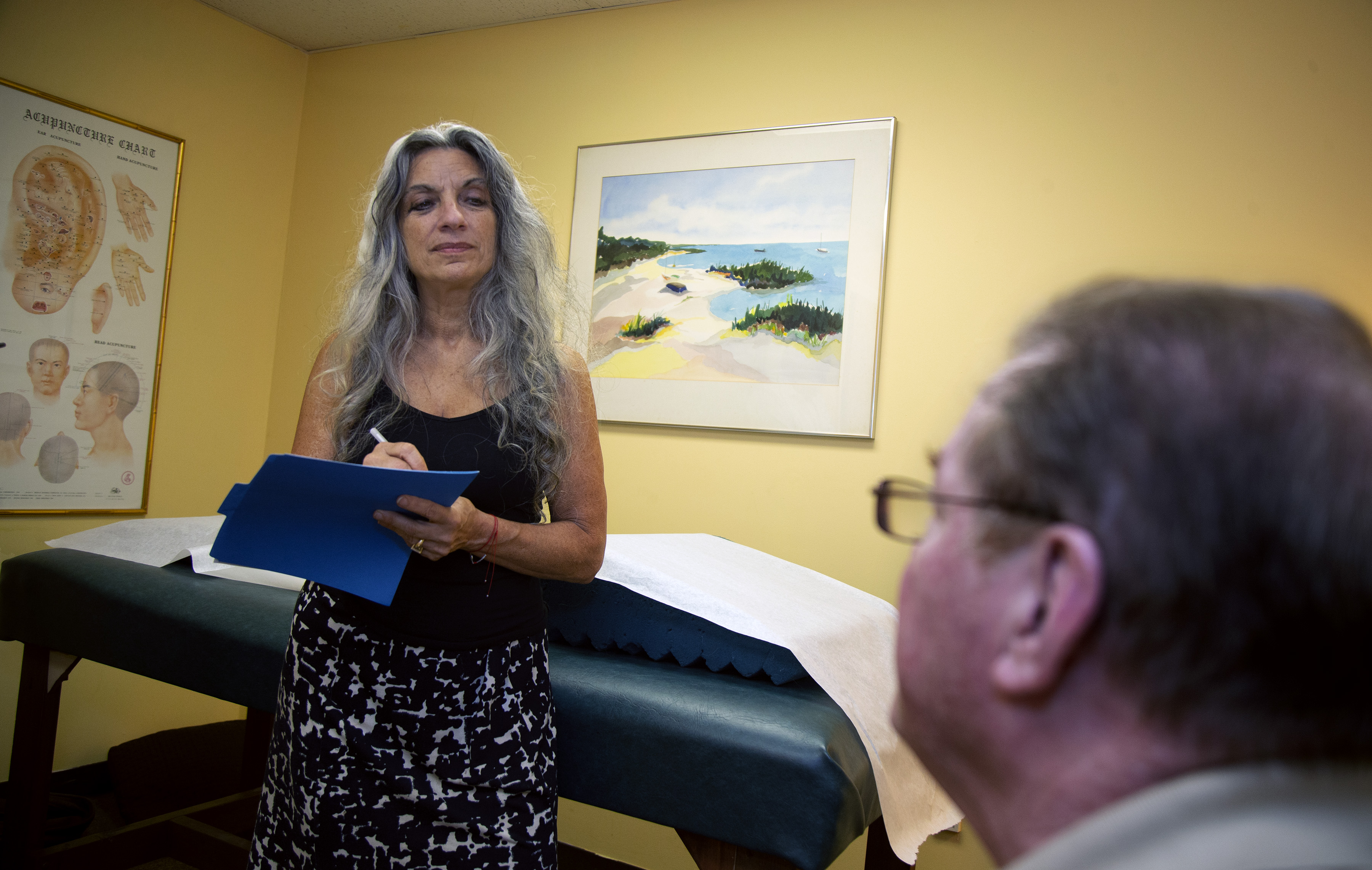 "I would say I'm 85 percent better now than I was, which is a big thing," said Stephens 
"The enigma of acupuncture," Kerry Weinstein said, "is how does a needle with no drugs or chemicals help dozens and dozens of issues?"  
Acupuncturists apply thin, sterile, disposable steel needles to specific places on the skin known as "acupuncture points." It is based on the belief that energy flows through the body along paths, affecting a person's spiritual, emotional, mental, and physical condition. Studies have found acupuncture may be effective in treating pain, nausea, sleep problems, and other issues. 
All acupuncturists in Massachusetts are regulated and licensed by the state Department of Public Health.  Hospitals, including many of Massachusetts' major teaching hospitals, have increasingly embraced the practice in recent years, opening centers that offer the acupuncture as well as other alternative treatments. 
Weinstein thinks of the needles as promoting the body's "text-message" system.  Acupuncture doesn't block pain, as do medications, but instead sends these signals that "help the body respond more efficiently to a problem."   
Scott Stephens says simply: "I swear by it."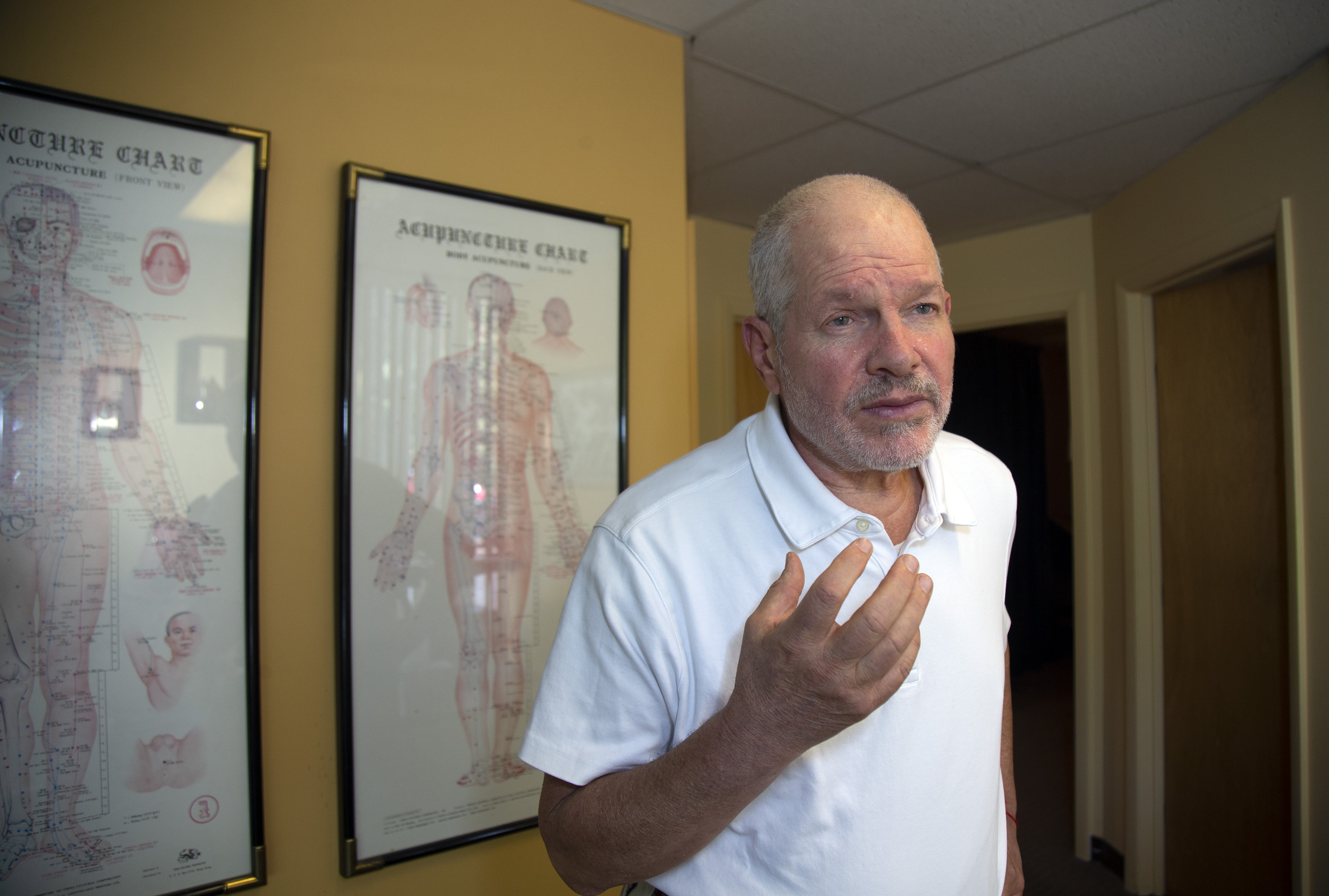 Acupuncture Family Practice was one of the first clinics to join the Blue Cross Blue Shield of Massachusetts provider network for acupuncture. The health plan has been offering coverage of the procedure for most of its members since 2020. 
---
About a third of Blue Cross' commercial members - that's 670,000 people - have pain-related claims annually on average
---
Members who are eligible typically can receive 12 acupuncture treatments a year, for any reason. No referrals are required, and the out-of-pocket costs are the same as an outpatient visit with a specialist. 
The coverage was one of the steps taken by the insurer to combat the opioid crisis. 
"We are constantly looking for non-opioid approaches to treating pain," said Dr. Ken Duckworth, medical director at National Alliance on Mental Illness.
"There will be people with chronic pain problems who will use acupuncture and find relief – that's a great thing."
Duckworth turned to acupuncture years ago to treat nausea – a side effect of chemotherapy he was undergoing.
Chester Sadlow, 66, of Concord, Mass., is another patient at Acupuncture Family Practice. Like Scott Stephens he was in a great deal of pain – he owns a small business that is labor-intensive, involving everything from tree removal to excavation.  
"I was hurting real bad with back and hip pain," he recalls. 
Cortisone injections would help briefly, but two years ago he contracted Lyme disease and at the same time elderly relatives he was helping care for began having health issues. 
Traditional treatments weren't helping and the pain, illness and anxiety over his responsibilities were nearly overwhelming. 
"I was waking up in the middle of the night and felt like my heart was revving," he said
His wife Marsha, who had acupuncture 20 years ago for hip pain, recommended her practitioners, the Weinsteins.
Sadlow was skeptical, but, "If you hurt enough, you'll try anything." 
For the last year he's received treatments two to three times a week. 
"It is amazing," he said. "I don't remember feeling this good." 
So good he recently played golf for the first time in seven years. He says he can handle stress and anxiety better. In his darkest days, he had "thought I was done working," but now he's able to manhandle a 90-pound jack hammer. 
"I can't say enough about it," he said. "It would be a better world if fewer people were walking around in pain." 
Blue Cross Blue Shield of Massachusetts is encouraging acupuncture practitioners to join its network. For more information visit provider.bluecrossma.com or click here.
---
Did you find this article informative? All Coverage content can be reprinted for free. Read more here.
---
PHOTO BY JOHN WILCOX