Jan 24, 2020
The algorithm will see you now
Artificial intelligence, one of the fastest-growing fields in computer science, may hold the potential to help improve the quality and affordability of health care in the new decade, experts say,
"Artificial intelligence is now at a level where machines can outperform humans on certain limited tasks in health and medicine and we will only see that accelerate in the coming decade," said Ze Jiang, CEO of iQuartic, a natural language processing developer. "It is basically taking a large amount of data and information for analysis and allowing a machine to identify patterns that humans may very well miss and make human-like decisions."
---
The field, still in its youth, focuses on building robots, computers and other machines that are capable of reasoning, learning from experience, adjusting to new information, and performing human-like tasks intelligently.
---
Since 2017, a Journal of the American Medical Association article last month reported, the Food & Drug Administration cleared or approved more than a dozen AI health software devices, including AI designed to analyze images and data to detect wrist fractures, brain injuries, and irregular heart rhythms.
"High-resolution medical digital imaging is an area where AI has leapfrogged in health care," said Lee Green, chief architect on Blue Cross Blue Shield of Massachusetts' enterprise technology team. "Its use in diagnoses, interpretation and recommended treatments is already a fact and will continue to grow in the next decade."
AI in the doctor's office
Some AI companies are providing tools to primary care providers designed to allow them to swiftly analyze visual samples and images, generate diagnoses and when appropriate, refer patients to specialists for treatment.
For example, Iowa-based diagnostics company IDx, which produces AI designed to detect the eye diseases diabetic retinopathy and macular edema, was the first company to receive FDA authorization to market an autonomous AI device: it provides a clinical decision without the need for a clinician to also interpret the image. That "makes it usable by health care providers who may not normally be involved in eye care," the FDA noted. The technology is now being used in some primary care clinics across the country.  
More than 60,000 people a year go blind as a result of diabetes, and the truth is, while we have the treatment and ability to prevent blindness in these cases, what we've needed is an early diagnosis system"
More than 60,000 people a year go blind as a result of diabetes, and the truth is, while we have the treatment and ability to prevent blindness in these cases, what we've needed is an early diagnosis system," IDx founder and executive chairman Dr. Michael Abramoff said in an interview with Coverage.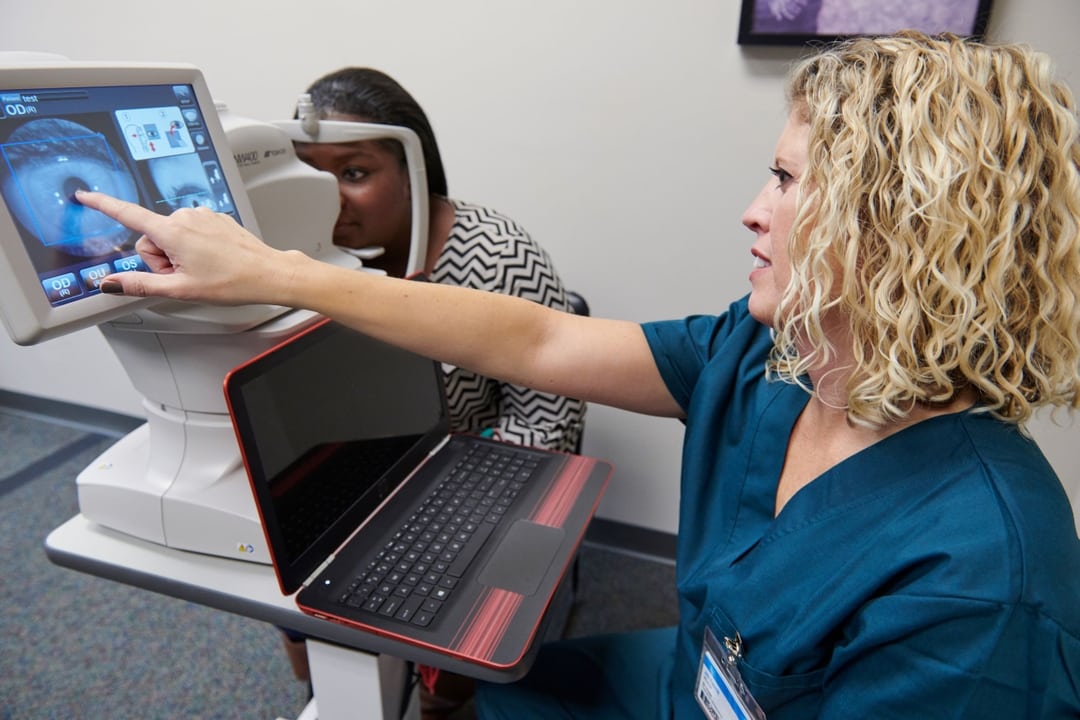 "With IDx-DR, patients can be tested in primary care. A few painless pictures of the retina located at the back of your eye are taken, and within minutes, the AI system produces a diagnosis of either not having or detecting diabetic retinopathy. Primary care doctors then refer patients with positive results to an eye-care provider."
Rising health care costs spurred development of the technology, Abramoff said. 
"The reason I founded this company was to increase the affordability of care," he said. "Because the autonomous AI can make such accurate, instantaneous diagnosis assessments, you can put it anywhere and take as many scans as you'd want, making it highly deployable and scalable. A patient can receive instant diagnostic results in their primary care doctor's office, without having to wait days, weeks or months to find out if they have diabetic retinopathy."
In the field of dermatology, Boston-based AI company 3Derm earlier this month received two FDA Breakthrough Device designations for the company's autonomous skin cancer AI, 3DermSpot, allowing the technology's development to be fast-tracked with prioritized review. 3DermSpot  analyzes highly standardized skin images to autonomously detect skin cancer, enabling primary care providers to do initial screenings and refer patients to dermatologists when appropriate. 
"Skin cancer is the most common cancer in the US, but patients face long wait times, which delays diagnosis and treatment. With 3DermSpot, we're giving primary care providers a tool to increase access to dermatology. Our algorithm has been trained on thousands of cancerous and non-cancerous skin lesion images," 3Derm CEO Liz Asai told Coverage. "Through years of training and refinement, 3DermSpot can now distinguish between common forms of skin cancer, such as melanoma, squamous cell carcinoma and basal cell carcinoma, and benign skin lesions."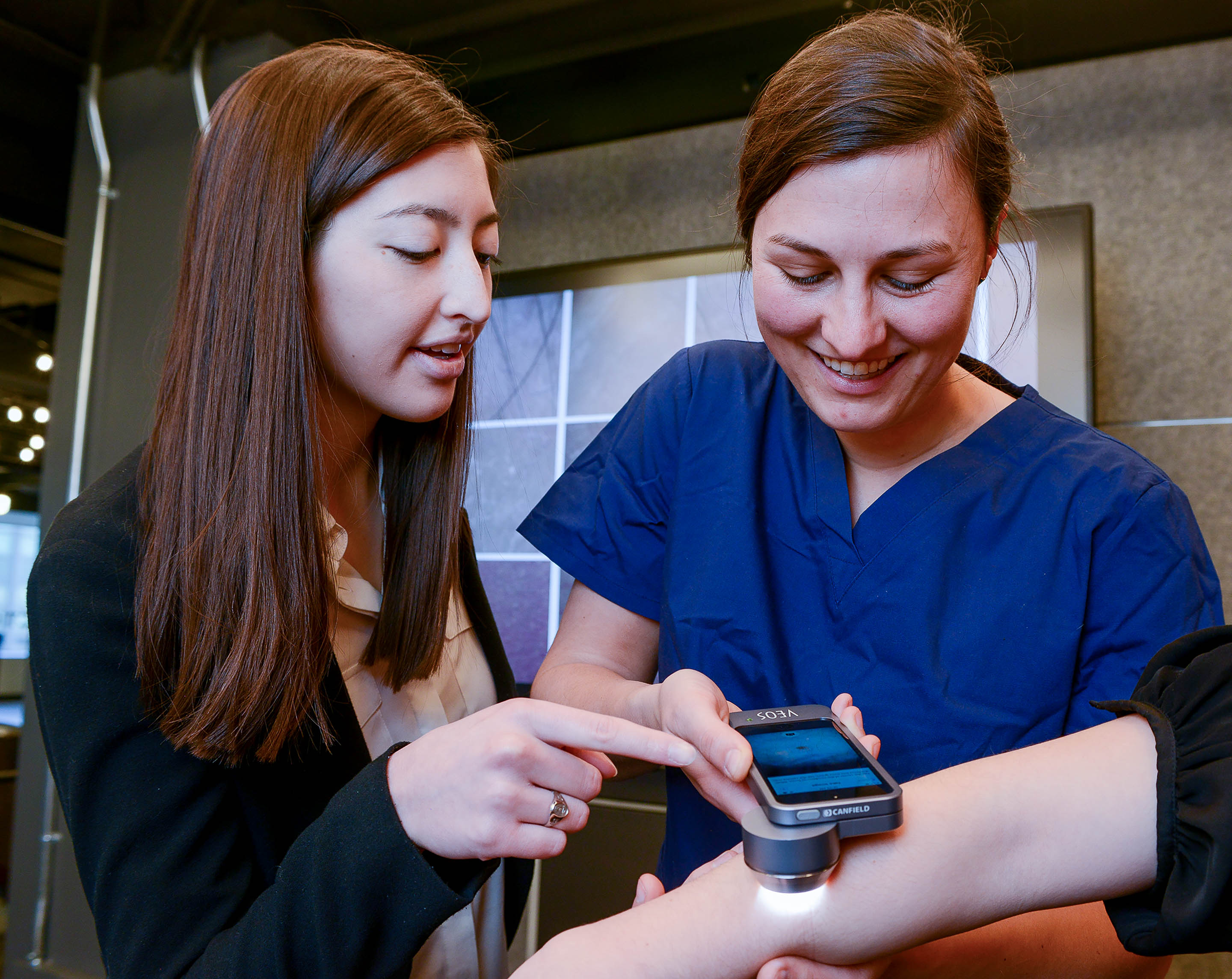 The technology may save health care consumers unnecessary expense by reducing the number of unnecessary referrals, Asai said. 
"Dermatologists are in high demand," she said. "Having 3DermSpot in a primary care office can effectively screen out patients with benign conditions, saving the patient time, money and energy, while expediting patients with urgent conditions. It is a win-win for everyone."
---
Careful evaluation
Researchers, clinicians and health plans are constantly evaluating the potential of such products. 
"While we support the use of AI in medical technology, and its use is promising, it still needs to meet technology assessment guidelines to determine whether it's medically necessary for coverage," said Mark Friedberg, senior vice president of performance measurement and improvement at Blue Cross Blue Shield of Massachusetts, which is an investor in 3Derm. He noted it is unclear what effect products like 3DermSpot will have on patient health, and whether they will increase or decrease demand for specialists such as dermatologists. 
"We plan to evaluate this product and others like it going forward, focusing on their effects on patient health and provider access," Friedberg said. 
The not-for-profit health plan is using AI in its own business processes to improve the quality of care, Green said.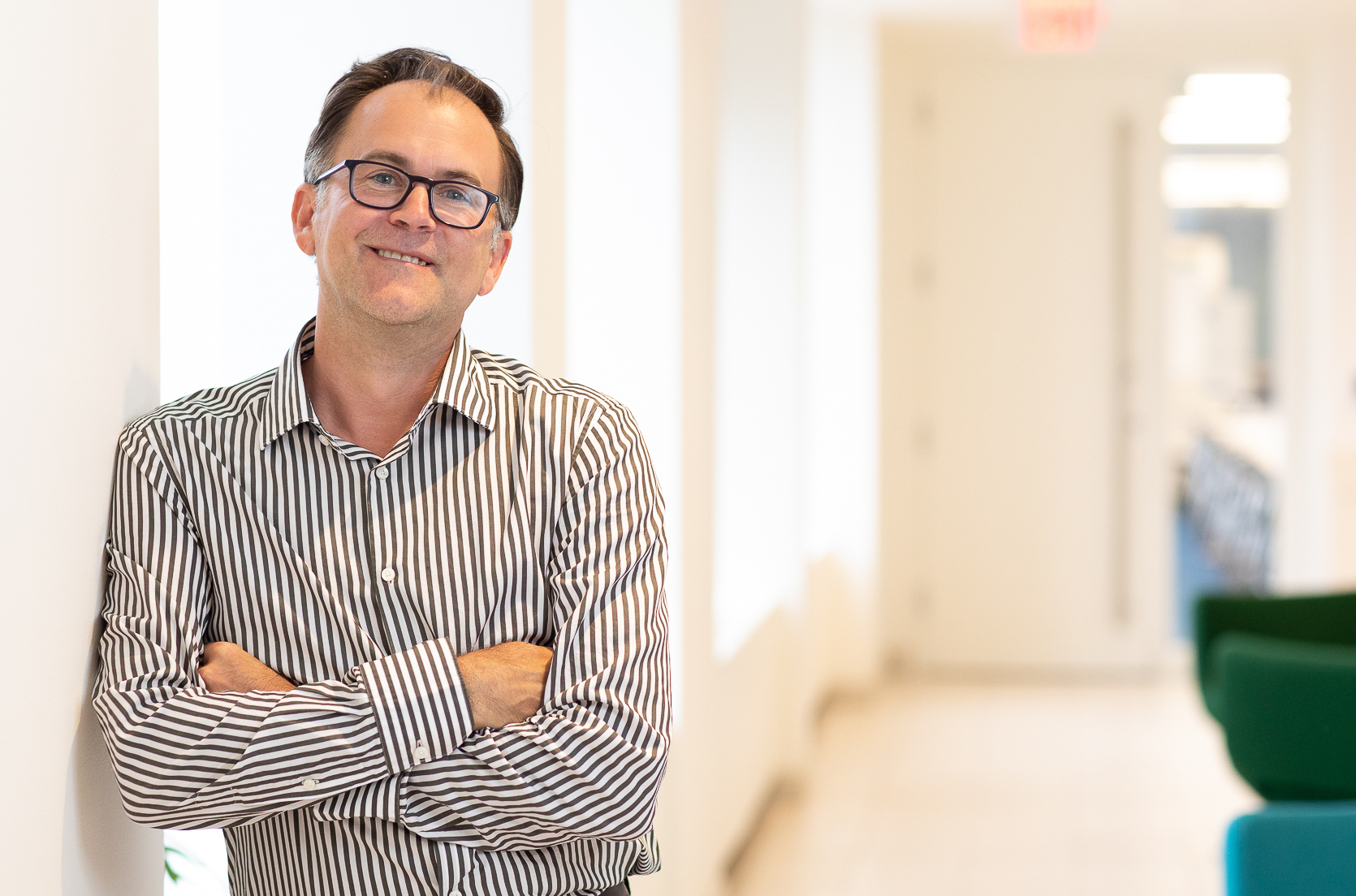 "We use 'soft artificial intelligence' at Blue Cross to process claims that meet certain data criteria," he said. "Working with iQuartic, we have been able to automate the ingestion of claims data to scan millions of data points and identify gaps, miscodings and misdirected care. Capturing these errors and correcting saves everyone in the system – members, providers, insurers – time and money but most importantly, increases the quality of care." 
Will AI replace doctors? No
Contrary to science fiction, artificial intelligence is a tool for humans, not a replacement for humans, experts say. 
---
"I don't see artificial intelligence as having actually created intelligence or replacing human intelligence," Jiang said. "People think they are going to end up talking to a robot or some type of emotionless, supercomputer, but AI is best used as a tool to enable humans and has not been able replace human intelligence.
---
"If there is one thing we know about health care and wellness, it is that the psychological element plays a huge role. Human touch and provider engagement will continue to be highly valued and something AI cannot replace."  
As they explore the potential of AI, researchers also are investigating its potential pitfalls. 
"The first thing people should know about AI is that it is not magic or perfect, just like a doctor is not perfect. That said, the greatest advantages, especially of autonomous AI, are that it can make the quality of care better, the cost lower and the access easier all at the same time," Abramoff said. "But people have concerns like doctors fearing job loss, the possibility of racial or ethnic bias, and the usage of the data appropriately. We have developed ethical principles for autonomous AI so that responsible AI companies can introduce these into patient care. It is critical we implement these technologies the right way so that we can fully reach the potential of AI to transform the health care system and improve patient outcomes."   
Did you find this article informative?
All Coverage content can be reprinted for free.
Read more here.
---
PHOTOS/VIDEO OF 3DERM & BANNER IMAGE BY JAMES MAHONEY
IDX PHOTO PROVIDED BY IDX STAFF
PHOTO OF LEE GREEN BY MIKE GRIMMETT