May 29, 2020
Courage under fire
These days, firefighters across Massachusetts are donning a different kind of uniform than their trademark fire hat, coat and boots. As first responders in the coronavirus crisis, many are suiting up in personal protective equipment, including a white Tyvek suit, rubber gloves and an N-95 mask and plastic face shield, when responding to medical emergency calls. 
"The majority of us have dual roles as firefighters and EMS," said Rich MacKinnon Jr., president of the Professional Fire Fighters of Massachusetts. "Many of us have a position on a ladder truck and an ambulance. Depending on the call that comes in, that's what we get on." 
Even firefighters without dual roles respond to 911 calls with private ambulance services or city-run EMS. "For any type of medical call, there are firefighters responding," MacKinnon said. "On every medical call we respond to, we presume the caller has the virus." 
The roughly 12,000 members of the PFFM are on the front lines of the battle to contain the coronavirus, responding to medical calls and transporting sick residents to hospitals, while also fighting fires, particularly kitchen fires, which increased during the spring's stay-at-home advisory. 
MacKinnon said medical calls have become more labor-intensive as well. "It used to be if patients could walk and talk, we would ask them to meet us on the street, and we would send one member with PPE to respond. The driver would not even have to get out of the ambulance. Now, as the health of patients deteriorates more quickly, we need 4-5 members to go in and work on the patients," he said. 
It's a difficult task, particularly as the virus has taken its toll on firefighters themselves. 
To date, MacKinnon said there has been more than 3,500 documented exposures, with more than 230 members testing positive for the virus, 415 in quarantine due to COVID-19-like symptoms and nearly 2,000 who have been tested. 
"The virus has had an effect on our ability to respond and our manpower," MacKinnon says. "Firefighters are working overtime and extra hours as manpower dwindles."
The PFFM and members are doing all they can to keep themselves and their families, coworkers and communities safe by following the latest Centers for Disease Control and Prevention and Massachusetts Department of Public Health guidelines. Crews are taking extra precautions by cleaning firehouses and uniforms, while PFFM is focused on providing PPE and tending to members' behavioral health needs. 
As firefighters, we assume risk, we accept risk and we deal with it. The threat of bringing the virus home to our families and potentially spreading it to communities as we're responding to incidents—that's what's really on the minds of members across the state.
- Rich MacKinnon, president, Professional Fire Fighters of Mass.
MacKinnon said firefighters are also practicing social distancing, although that can be tough in a firehouse: "We're in close quarters—we work in teams and respond in teams. We cook, eat, watch TV together, but we don't want to get each other sick," he says.
MacKinnon believes teamwork will ultimately help firefighters get through this current crisis: "We're a humble bunch—we don't look for recognition," he said. "We continue to rely on our brother and sister firefighters we work with to pool together and get through these hard times together."
A special bedtime story
Despite working long hours to battle the spread of COVID-19, firefighters in Holbrook made time during the spring to connect with the community in a new way—by reading a nightly bedtime story from the fire station. 
The idea came from firefighter Jared Murphy's wife Megan, who saw a few fire departments in Florida doing something similar. "She said, 'You guys should do that,'" Murphy recalls. "I was like, 'Okay, that's a good idea.' I usually follow her directions anyway," he added with a laugh.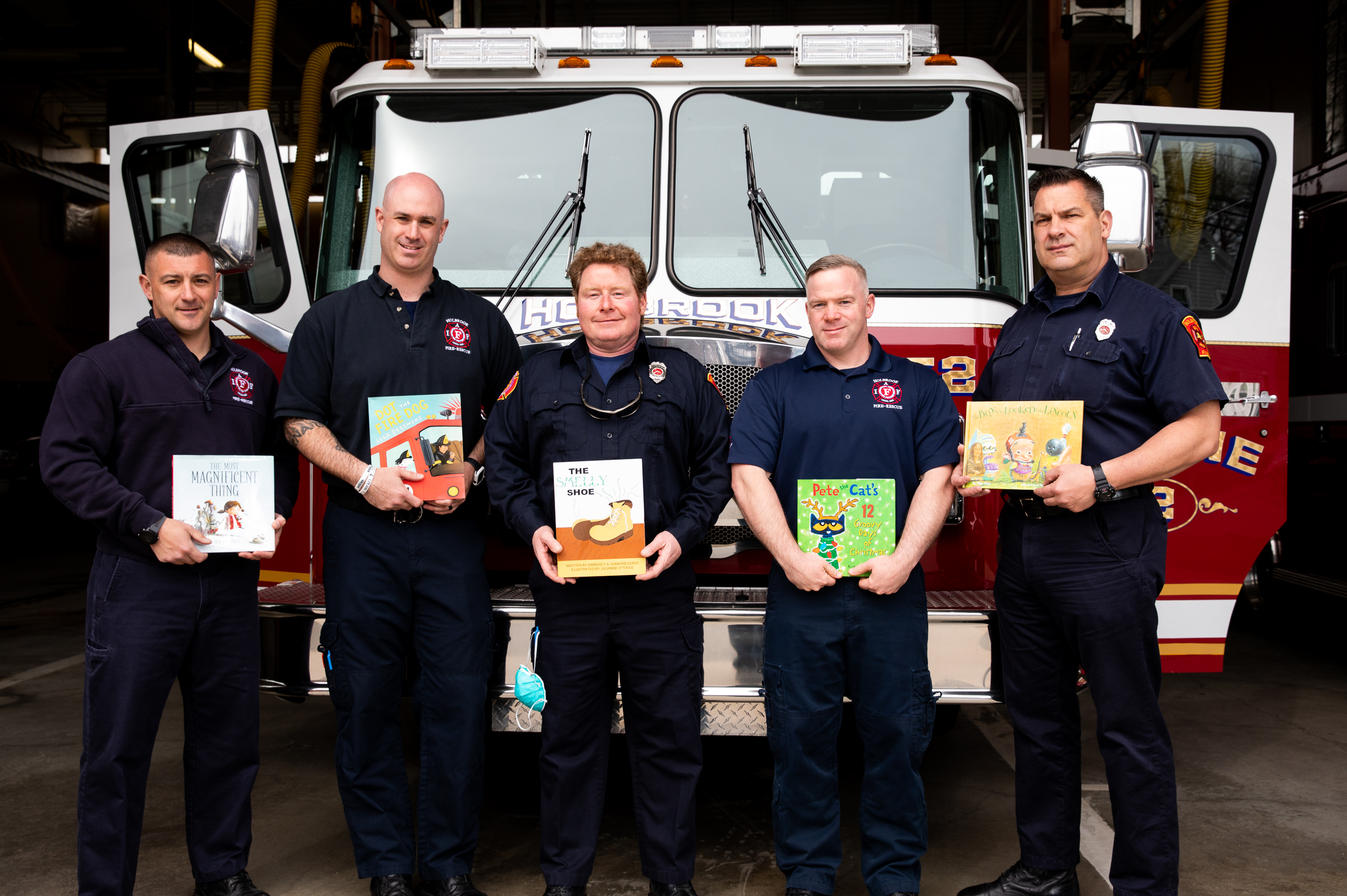 Each evening from March through mid-May, a different crew member took a video of themselves reading a children's book from a spot in the station either on or near the trucks, and the department posted it to their Facebook page at 7:30 p.m.
Murphy says the effort was a simple way for firefighters to maintain ties to the town during a time of physical distancing: "Occasionally we have grandparents come by with their grandchildren to check out the fire trucks, but we can't have kids in the fire station at this time. We can't interact with the citizens as we normally would," Murphy says. "We're not doing anything earth-shattering—we're just keeping in contact with the community."
Although Murphy says the crew originally was a bit skeptical of the idea, they all got into it. "The group thought I was a little crazy at first but everybody got on board," he says. "We posted a few videos, and then it kinda took off."
It became so popular that Murphy says he's gotten recognized. "I was responding to a call the other day, and a young kid said, 'Hey, you're the guy who read the stories last night.' It was pretty funny."
How did the firefighters decide which books to read? Murphy says many crew members have kids and brought in books from home. Some people even dropped books off at the station. 
He hopes the stories helped families get through a tough time: "A couple of parents have told us it put a good stamp on the end of the night when they could say to their kids, 'Look, the firefighters are on.'"
Did you find this article informative?
All Coverage content can be reprinted for free.
Read more here.
---
PHOTOS BY MICHAEL GRIMMETT