Jul 27, 2020
Extra helpings
As he watched the COVID-19 pandemic spread within the United States and effectively shutter most businesses in Massachusetts, driving unemployed neighbors to food banks, Kevin Pappone felt helpless as he worked from home. 
So the corporate hospitality supervisor at Blue Cross Blue Shield of Massachusetts jumped at the chance to pitch in when his company partnered with local nonprofits to combat food insecurity numbers that spiked along with the virus and unemployment. 
"It makes you feel useful, you feel good about it," Pappone said. "I spent most of the month in April watching this on TV and I felt like there was nothing I could do. When this program came up, my hand went right up and I said 'get me back in.'"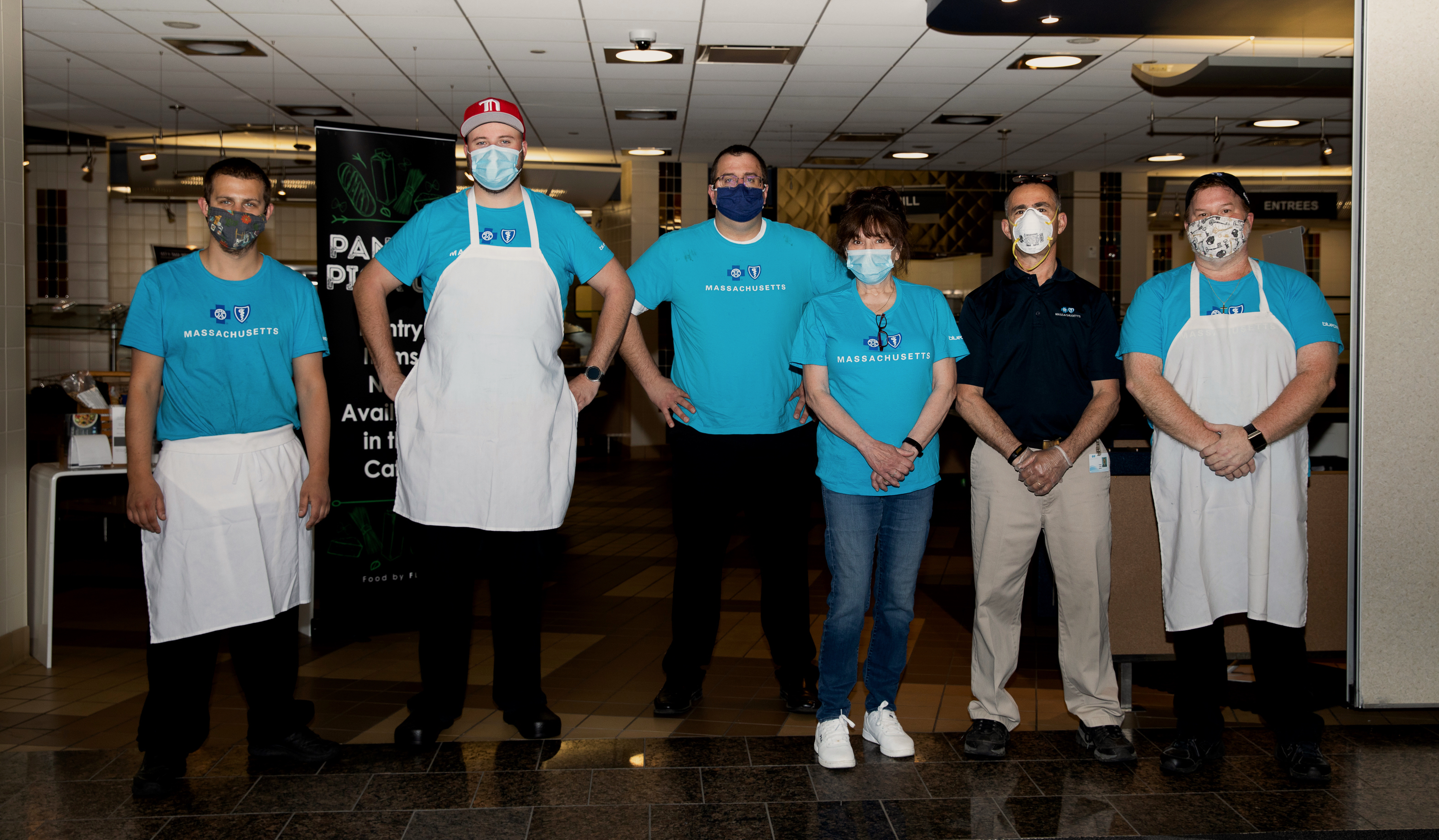 Rising rates of hunger
Before the pandemic took hold in Massachusetts, nearly 10% of Bay State residents faced uncertainty about where their next meal might come from. When jobs evaporated at record speed, food insecurity rates nearly doubled, according to some estimates.
"During this pandemic, Massachusetts' food supply chain has faced significant challenges and there is an urgent need for food security to support our most vulnerable residents," Gov. Charlie Baker said in a recent statement. 
Blue Cross had committed more than $9.6 million to nonprofits affected by COVID-19, and saw the rising need for healthy food.
An innovative solution
So the nonprofit health plan, where most employees have been working remotely since March, brought back furloughed cafeteria workers to its empty kitchens and asked them to start making 1,000 meals per day for donation. 
---
Watch Community Meal Program story here
---
"We have been pivoting and thinking differently about what we have and what we can bring to the table in new and different ways in response to COVID," said Lucy Darragh, Blue Cross' director of corporate citizenship. 
Blue Cross had the workforce to make the meals. But how to get them to hungry Bay Staters?
"To make this plan work, we needed the perfect partner," Darragh said. "Because the need was so urgent, we were looking for an organization who already had the distribution experience and nonprofit network to help us launch the program in a matter of days."
Blue Cross chose Lovin Spoonfuls, a food recovery organization, which picks up the meals at the company's cafeterias and delivers the meals to more than a dozen nonprofits in communities   including Chelsea, East Boston, Greater Boston, Quincy, Weymouth, and Waltham.
"When you look at folks who are relying on emergency food assistance, being able to access a prepared, ready-to-eat meal has incredibly high value," said Lauren Palumbo, Lovin Spoonfuls' chief operating officer. "We are living in uncertain times, and it's nice to have a reliable, consistent delivery of these meals that are going to show up week in and week out."
---
More than 75,000 meals have been produced by the Blue Cross kitchens so far, and the program will continue through 2020.
---
For the first few months, each meal included a sandwich, fruit, a snack such as vegetables or a granola bar or a cookie, along with chips and water. During the summer, the health plan's kitchens began providing hot meals such as ravioli, chicken tikki masala and homemade pizza, along with salads, rice, bread sticks and other side dishes. The menu has been switched up every day and has impressed the organizations that have been on the receiving end.
"We have been giving out dry goods and some fresh produce but it's been really nice to be able to give these real great, quality dishes," said Kathy Field, the director of health promotion and service programs at East Boston Neighborhood Health Center. 

In a normal month, the health center might receive about 250 requests from folks dealing with food insecurity. Since the pandemic began, the number of inquiries has skyrocketed to between 1,200 and 1,400, Field said.
"We are able to say to families 'this isn't something you need to prepare, you can go home and eat this right now,'" Field said. "Families have responded well to that."
Did you find this article informative?
All Coverage content can be reprinted for free.
Read more here.
---
PHOTOS & VIDEO BY MICHAEL GRIMMETT