Aug 3, 2023
Getting a kick out of fitness
Thirteen rounds of kickboxing-inspired, music-driven exercise drew dozens of Bostonians to a park one recent evening, including participants of all ages and abilities.
"Everything we do is to the beat of the music and we combine boxing technique, kickboxing technique, and a lot of cardio," said "Kick It" class instructor Olivia Porada said.
The thing I love about it is it has something for everybody. We have options for everyone, whether they are really seasoned people who work out a lot or are here for the first time

Olivia Porada
The class is one of the free fitness offerings running in every neighborhood of the city this summer. The Boston Parks and Recreation Department and the Boston Public Health Commission are once again teaming up with not-for-profit Blue Cross Blue Shield of Massachusetts to offer the annual Boston Parks Summer Fitness Series.
"We just love bringing this to the city of Boston neighborhoods every summer and we love the fact that we were able to expand and hit every single neighborhood in Boston," said Jennifer Misiaszek, the parks department's program manager, "as well as being able to offer virtual classes for people who still like working out at home."
The free classes run until Sept. 2 in 18 public parks across the city, with classes offered every day of the week.
The activities offered are for all ages and include yoga, high-intensity interval training, Zumba, strength training, and Tai-Chi.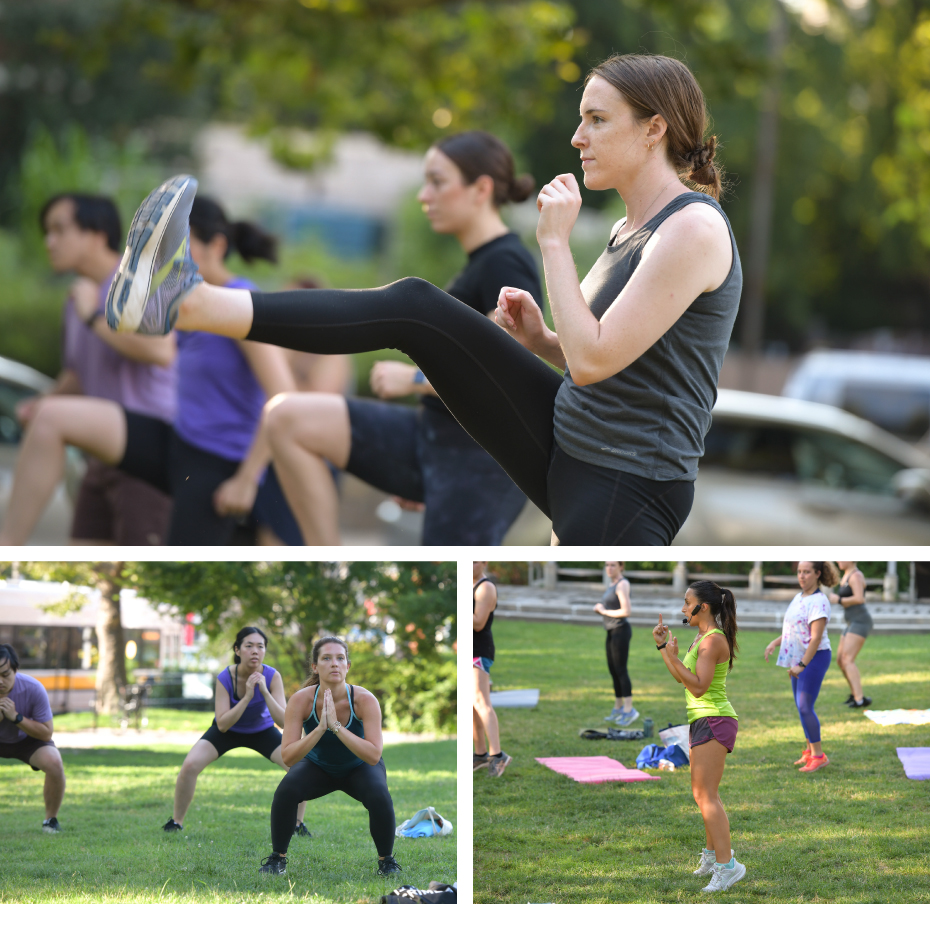 "Exercise has been shown to decrease stress, improve cardiovascular health and boost the immune system," notes Jeff Bellows, Blue Cross' vice president of corporate citizenship and public affairs. "At Blue Cross, we're excited that our sponsorship can help reduce barriers to active living and achieve all Bostonians have fun opportunities to be active."
The program expanded to a new park this year with a yoga class offered in a quaint, grassy area of Winthrop Square in Charlestown. Other fan favorites include line dancing in Franklin Park and a class called "Pound" in which participants bang drumsticks on the ground. (The park where that particularly percussive class is held, Mission Hill Playground, has no residents abutting it, Misiaszek noted.)
A number of regulars joining a recent Kick It class, including Cleveland Circle residents Doug Szeto, 22, and Zoe Ducrux, 23, who were taking Kick It for the fourth time.
It's fun and it's a good workout
Szeto said.
Ducrux said she learned about the Summer Fitness Series online and wanted to give it a try.
"We came and it was really fun, so we came back," she said. "I like working out to music and Olivia is a really good teacher and makes it energetic."
Local couple Jen and Ian Richmond said the fitness classes are a good way to cap off their day and take part in an activity together.
"It's nice to be active and get some exercise and this is a fun way to do it," said Ian Richmond, 48.
Jen, 50, said that she enjoys Kick It because she has done kickboxing classes in the past.
"It's great to get outside," she said. "Sometimes, you work all day and you say 'let's do something after work' and then we don't do anything, so this is a good motivator to get out and get some exercise."
---
Did you find this story informative?
All Coverage content can be reprinted for free.
Read more here.
PHOTOS BY FAITH NINIVAGGI