Oct 8, 2021
Getting vaccinated to protect against COVID while pregnant
Winthrop resident Talia Bartash hadn't planned to get vaccinated against COVID-19 while she was pregnant. When she spoke with her midwife last December, vaccines were just starting to roll out, and early clinical trials had not focused on the pregnant population. She decided she would wait until her baby was born. 
But by springtime, strong data had emerged on the safety and efficacy of vaccination for women who are expecting. She received both doses of the Pfizer vaccine before her healthy baby daughter, Alyana, was born in June.
I told my midwife that I had been seeing a lot of research that it would be beneficial for me and for my baby.
"My decision to get the vaccine while pregnant was predicated around the notion that the pros of getting the vaccine outweighed the potential cons of getting COVID," Bartash said.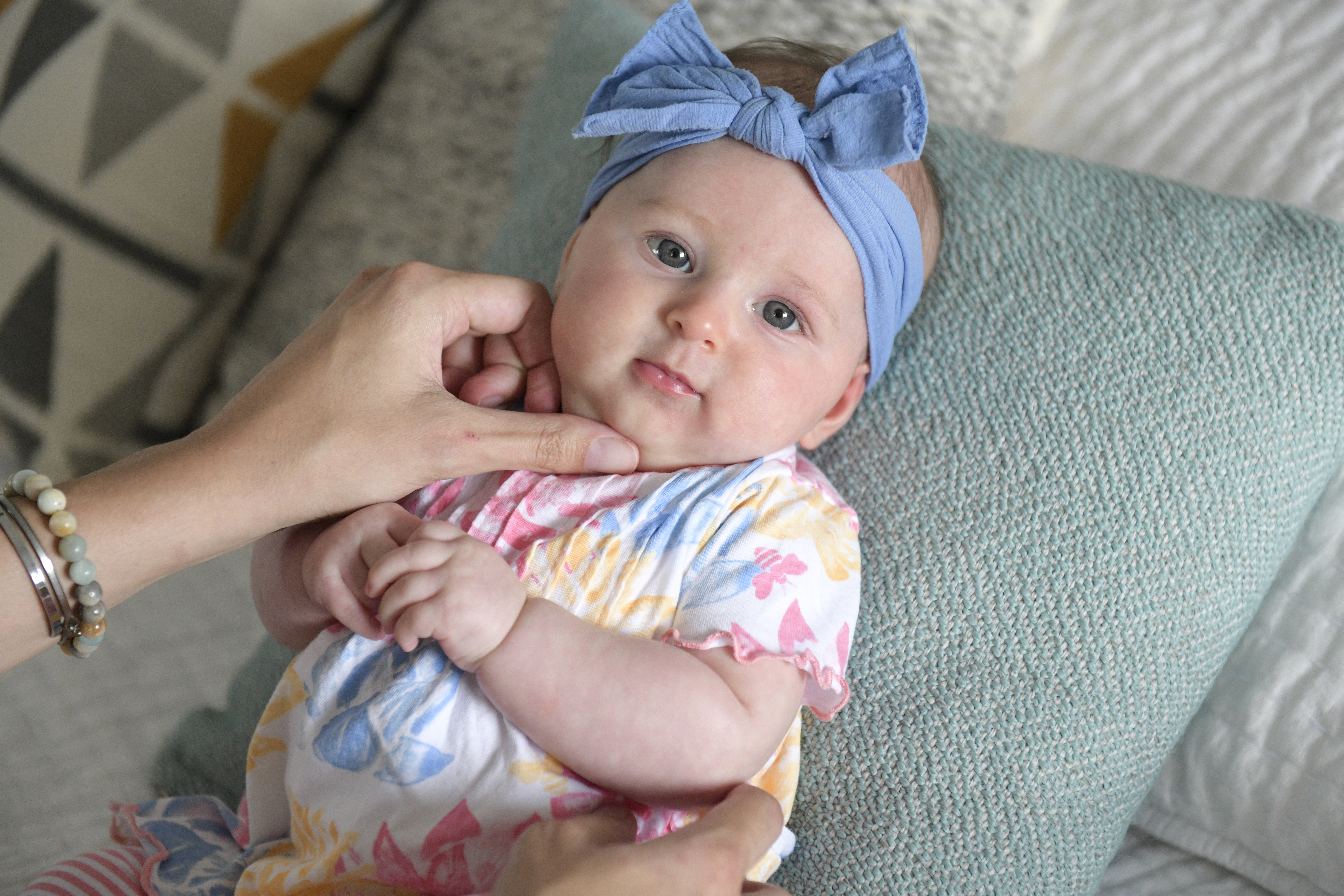 In the months since Alyana's birth, billions of people worldwide have become fully vaccinated and the shots have proven highly effective at preventing severe illness, including from the Delta variant. The CDC strongly recommends COVID-19 vaccination for all people 12 years and older, including people who are pregnant, breastfeeding, or trying to get pregnant.
"Pregnant and recently pregnant people are more likely to get severely ill with COVID-19 compared with non-pregnant people," the CDC states. "Getting a COVID-19 vaccine can protect you from severe illness from COVID-19."
And these days, parents are able to turn to robust studies exploring pregnancy and vaccination.
What the science says
Getting vaccinated during pregnancy reduces the risk for infection, according to a recent study from Israel that compared pregnant women who received the Pfizer COVID-19 vaccine with those who did not. 
And babies may get extra protection too: When pregnant women receive an mRNA COVID-19 vaccine during pregnancy, antibodies are found in breastmilk, the placenta, and umbilical cord blood, a study in the American Journal of Obstetrics and Gynecology reported. 
Studies have found no increased risk for miscarriage or low birthweight, preterm birth or other poor birth outcomes among people who received an mRNA COVID-19 vaccine during pregnancy. 
There is currently no evidence that any vaccines, including COVID-19 vaccines, cause fertility problems in women or men. 
"Since we've started giving COVID vaccines, the CDC has been collecting data," said Dr. Monica Ruehli fellow of the American College of Obstetricians and Gynecologists, an OB/GYN at Atrius Health's Dedham Medical Associates and a physician reviewer at Blue Cross Blue Shield of Massachusetts. "And everything they've found shows there are not potential risks."
The CDC has a tracking registry specifically for women who received the vaccine during pregnancy and just before, Ruehli noted.
And, clinicians emphasize, vaccination is particularly important because pregnant and recently pregnant women are more likely to get severely ill with COVID-19. 
 A CDC study published last year showed pregnant women were three times more likely to be admitted to the intensive care unit, and 2.9 times more likely to be put on a ventilator. The risk is of death was 70% higher in pregnant women. 
More than 125,000 laboratory-confirmed COVID-19 cases have been reported in the U.S. in pregnant women, including more than 22,000 hospitalized cases and 161 deaths. The highest number of COVID-19-related deaths in pregnant women in a single month of the pandemic was reported in August 2021, the CDC reported in a recent advisory urging "urgent action" to increase access to vaccination for pregnant women.
---
"The truth of the matter is the risk is so high to pregnant people if you get COVID. It's quite frightening how sick people can get. It could also pose a higher risk for preterm birth, which could cause several complications for the baby."
- Ruehli said
---
The American College of Obstetricians and Gynecologists and the Society for Maternal-Fetal Medicine – the two leading organizations for prenatal care – recommend all pregnant women be vaccinated against the virus.
Questions? Reach out to your clinician 
Ruehli recommends anyone who is pregnant and hesitant about vaccination to reach out to their health care provider and ask questions. But first, she said, "it's important that you ask yourself questions so you know what exactly you're afraid of." 
Bartash has found the decision to get vaccinated has given her peace of mind – both for her own well-being and that of her baby, who now likely has antibodies against the virus. 
I made the decision based on science and the evidence I'd seen. And I would do it again.
- Bartash said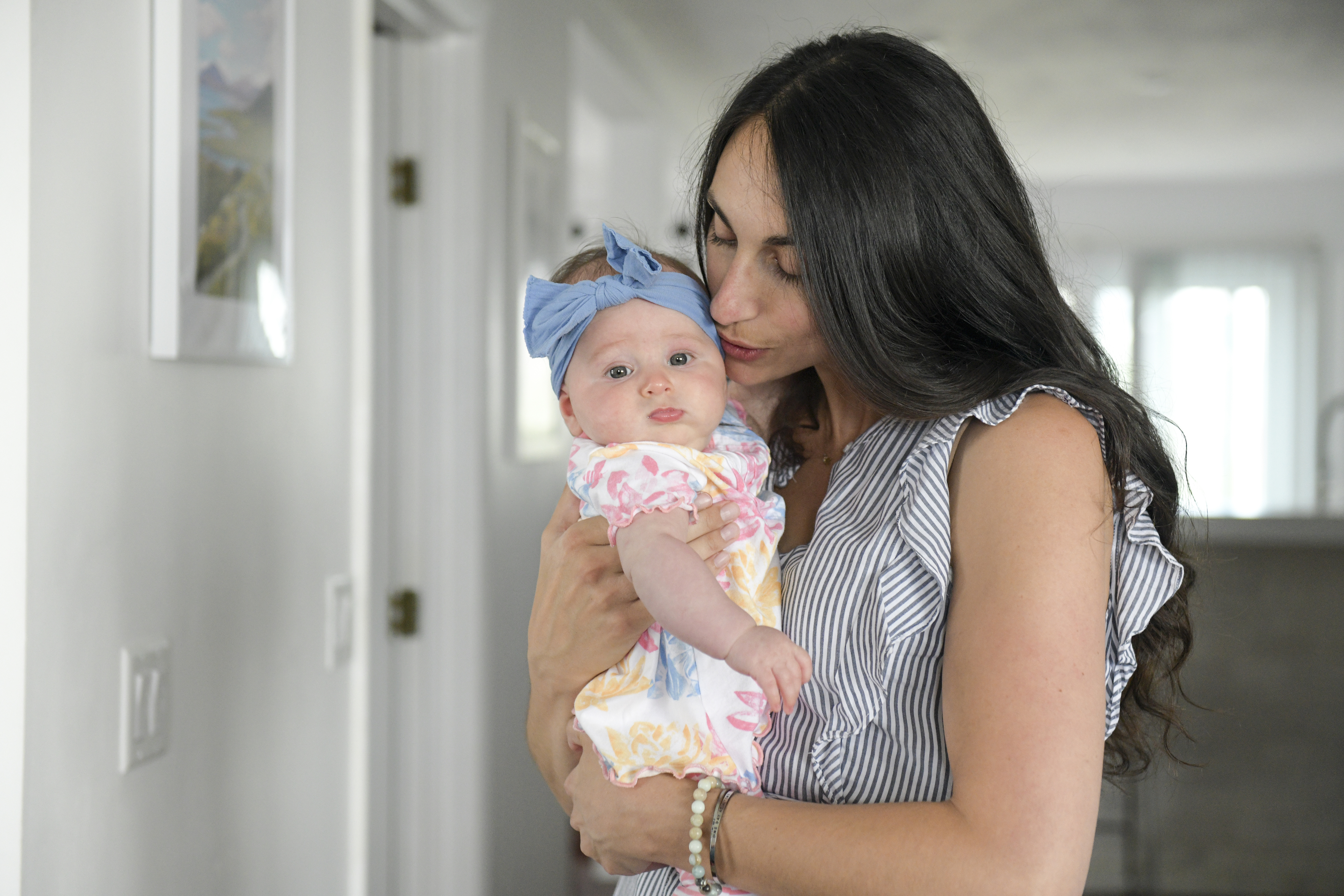 Did you find this column informative?
All Coverage content can be reprinted for free.
Read more here.
---
PHOTOS OF TALIA BARTASH AND ALYANA BY FAITH NINIVAGGI