Nov 16, 2023
The gift of giving
The holiday season brings unique stressors, but also offers special opportunities for connection and giving — powerful ways to boost mental health, experts say. 
We are all social beings, and a sense of connection helps us feel positive.

said Dr. Greg Harris, a psychiatrist and senior medical director of behavioral health at Blue Cross Blue Shield of Massachusetts. 
"Giving and volunteering combines these two key elements in mental health, even if the work we are doing is at home or performed online."
Employees facing high levels of stress
Today's workforce is balancing new pressures, and burnout is on the rise, surveys have found. 
In response, companies are providing new forms of support, such as mental health webinars and paid time off for mental health.  
Volunteering can be another resource for stress management, Harris notes. 
---
Researchers have found volunteering is correlated with improved emotional well-being. 
---
One study of 1,500 adults found that volunteering boosted mental health, physical health, life satisfaction, and social well-being, as well as decreasing rates of depression. Others have found people who volunteer report better health and greater happiness than people who do not. 
Giving back as an employee health benefit
Companies including Blue Cross increasingly are offering giving and volunteer opportunities as productive ways to manage stress, boost morale and keep workers connected, while contributing to local communities.
Throughout the fall and winter, Blue Cross is hosting donation drives and volunteer events to give its 4,000 employees the opportunity to give back.  
"We know our colleagues are balancing a lot," said Pauline Murnin, Blue Cross manager of civic engagement. "We want to give people a variety of options to give back so they can support the missions and organizations closest to their hearts in a way that is comfortable for them."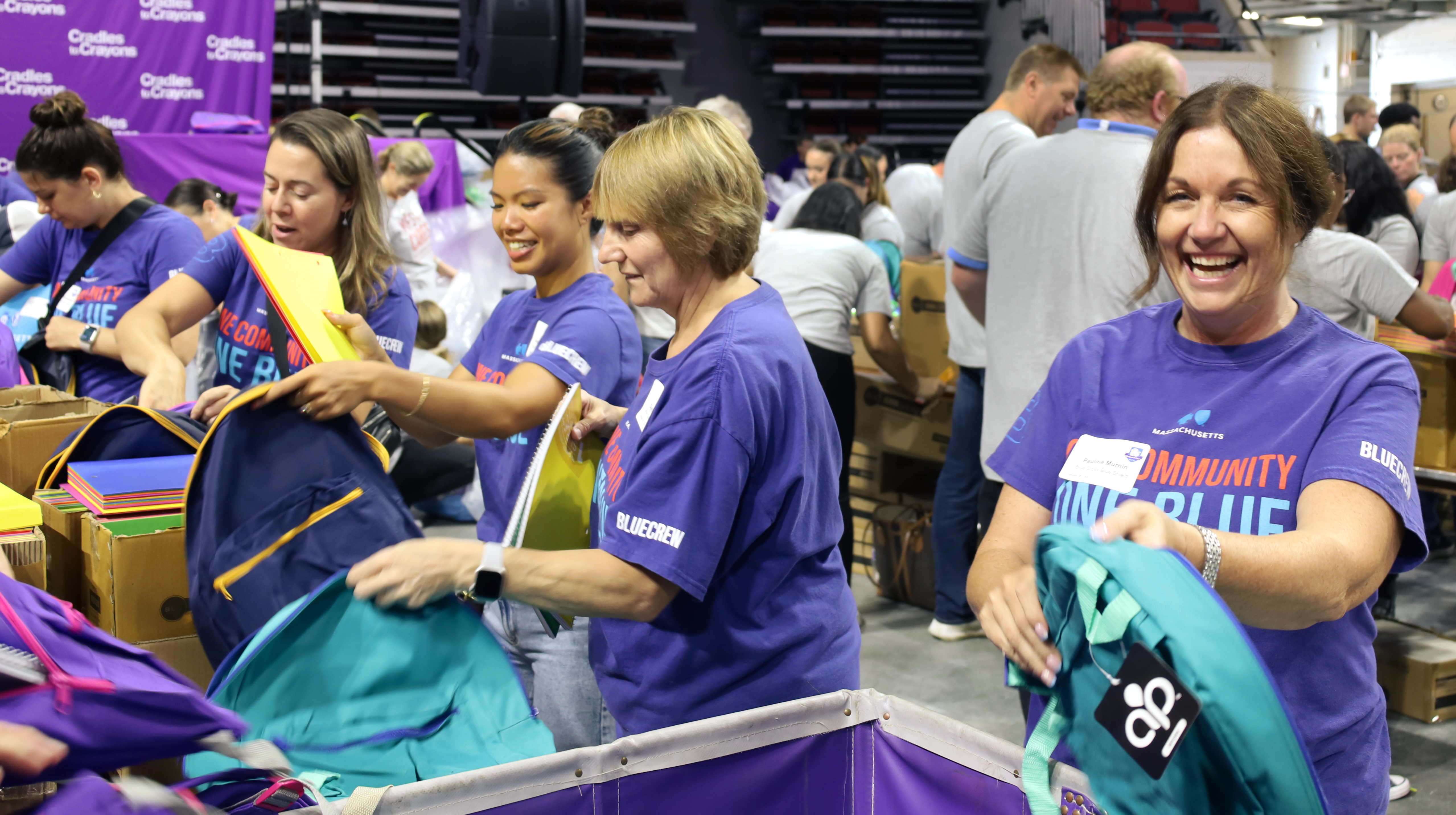 Donation drives include collecting nutritious shelf-stable goods to address local food insecurity and winter clothing and gifts to benefit children and families in need. In addition to dropping off items at donation bins in the Blue Cross offices, employees can shop online from home through customized Amazon Wish Lists.
New options for volunteering and donating
Offering a variety of options to accommodate different levels of comfort has been key to driving participation.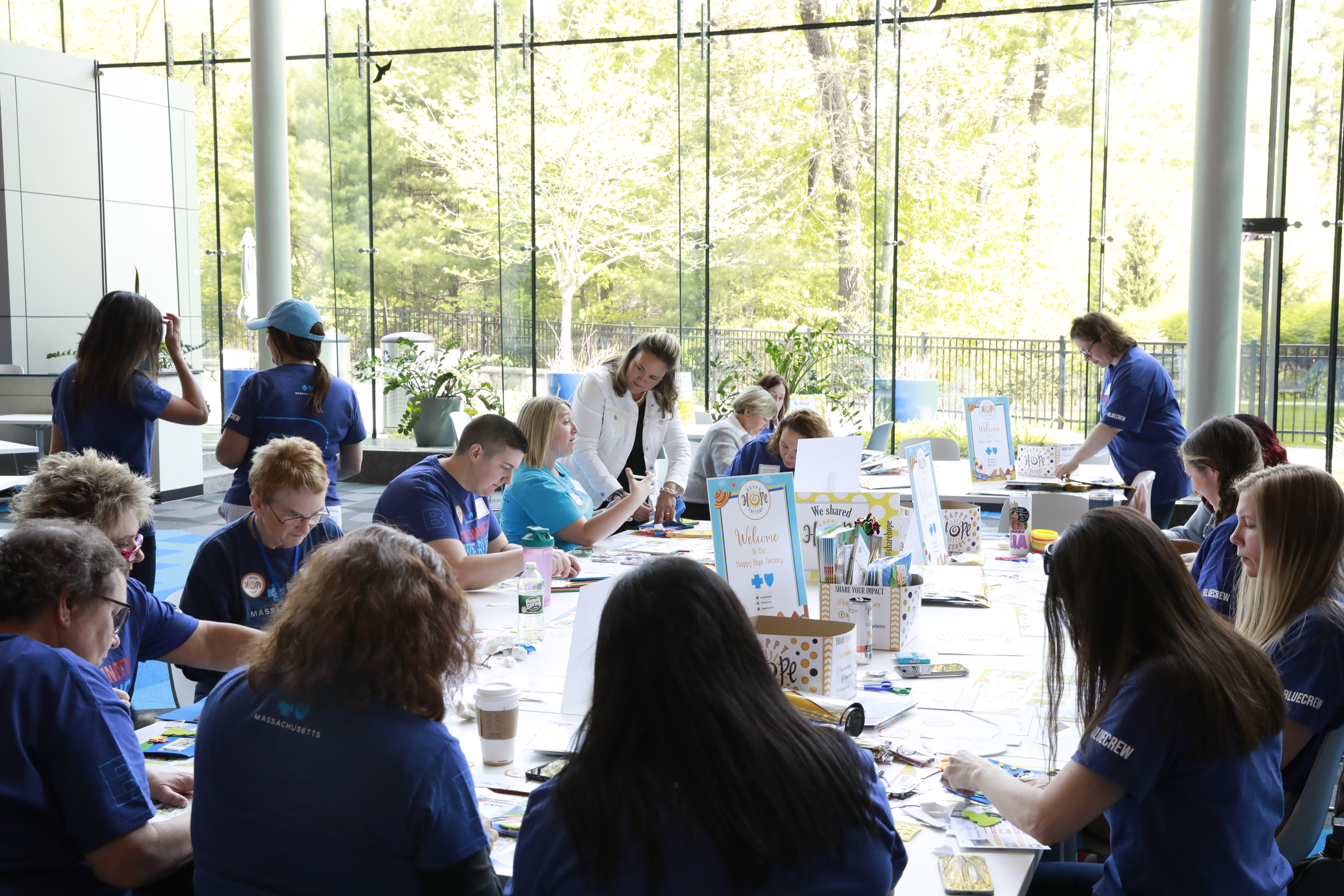 This fall, in-person volunteer events include assembling clothing outfit packs, sorting books and creating school and hygiene kits for babies and children who are unhoused or low-income with Cradles to Crayons
Employees also will assemble "welcome home" pantry kits and personalized signs for Pine Street Inn, and sort and pack food donations for Weymouth Food Pantry.
Employees who are working from home will join a virtual volunteering event, assembling holiday kits for hospitalized children with special needs or chronic and life-threatening illnesses with Happy Hope Foundation. 
"Our virtual opportunities fill super quickly, but we also know that there are others who are yearning to get out of their house and be around other people," Murnin noted.  "Our in-person projects end up being like a reunion for our colleagues, with lots of hugs and catching up with friends they haven't seen in months."
In September, Blue Cross hosted its 12th annual company-wide Service Day, engaging nearly 3,000 employees in more than 50 virtual and in-person volunteer projects focused on creating healthier, more equitable and just communities. 

Melissa Donovan, a Blue Cross member and provider service representative, volunteered to lead the company's Service Day project at Cardinal Cushing's facilities for developmentally and intellectually challenged adults and children.  During a morning of service, her group of 10 volunteers cleared and mulched the facilities' fitness trails and created an outdoor seating area . 
"Coming together with my colleagues to volunteer in such a beautiful place felt great physically, and mentally, it helped me tremendously to just even get out of the house," Donovan reflected. 
Knowing I was volunteering for such a wonderful cause made it that much more special. I was able to go back to work that afternoon tired but recharged.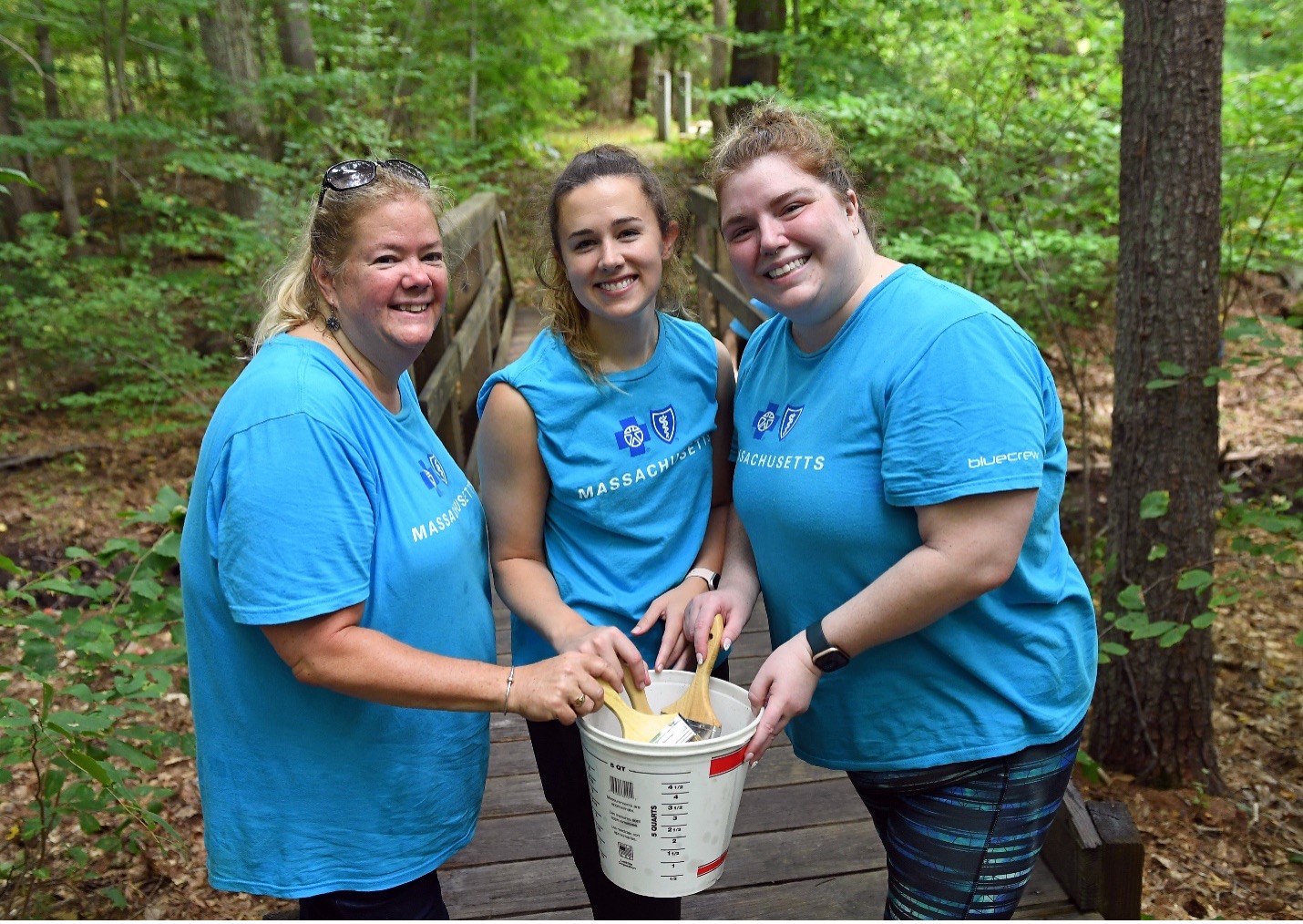 Did you find this article informative?
All Coverage content can be reprinted for free.
Read more here.
---
VIDEO OF SERVICE DAY 2023 BY JIM GOFF