Jul 13, 2023
Healthy bodies, clear minds, $0
In a park in the heart of Worcester early one recent morning, a small crowd lay on their backs and relaxed into a "soundbath," soaking in peaceful rhythms and feeling stress melt away.
"It really just kind of decompresses you in a chaotic world. It's very nice, very grounding," said attendee Rachel Pressy. "It gives you a minute to think and balance and then you approach the day differently."
The "Realign and Relax" class is one of the offerings in the Worcester Parks Summer Fitness Series, which this year has a renewed focus on helping residents achieve both healthy bodies and clear minds. 
The 12-week program, presented by the City of Worcester Department of Health & Human Services and sponsored by not-for-profit Blue Cross Blue Shield of Massachusetts in partnership with the YWCA Central Massachusetts and YMCA of Central Massachusetts, features 10 free classes each week at eight different parks across the city.
The classes range from high-intensity interval training to boxing, Zumba, hip-hop dancing, and bootcamp.
"Moderate exercise has been shown to decrease stress, improve cardiovascular health and boost the immune system"
'At Blue Cross, we're excited that our sponsorship can help members of the Worcester community improve both their mental and physical health.'
Jeff Bellows, Blue Cross' vice president of corporate citizenship and public affairs.
The program, which runs through the end of the summer, also offers meditations and yoga to provide residents with a well-balanced wellness regimen. 
"Meditation is so good for your mental health, especially our classes that start first thing in the morning," said Leah Serafin, coordinator of community initiatives for the Worcester Department of Health & Human Services.
"You are starting your day off by being mentally in a more positive space and you feel more energized," Serafin said. "These classes are a great opportunity for the community."
"Relax and Realign" instructor Margie Breault (who likens herself to Miss Frizzle, the fictional elementary school teacher in "The Magic School Bus") says she blends mystical and science to form a holistic health approach.
"I think that, when we think about wellness and we think about fitness, we pull apart the physical and the psychological and these things really need to be merged together," Beault said. "So everything I am doing has the mind, body and spirit connection at the forefront of my mind."
The 7:30 a.m. class began with some light stretching and then the participants lay on their backs on yoga mats in Cristoforo Colombo Park, finding peace under the trees.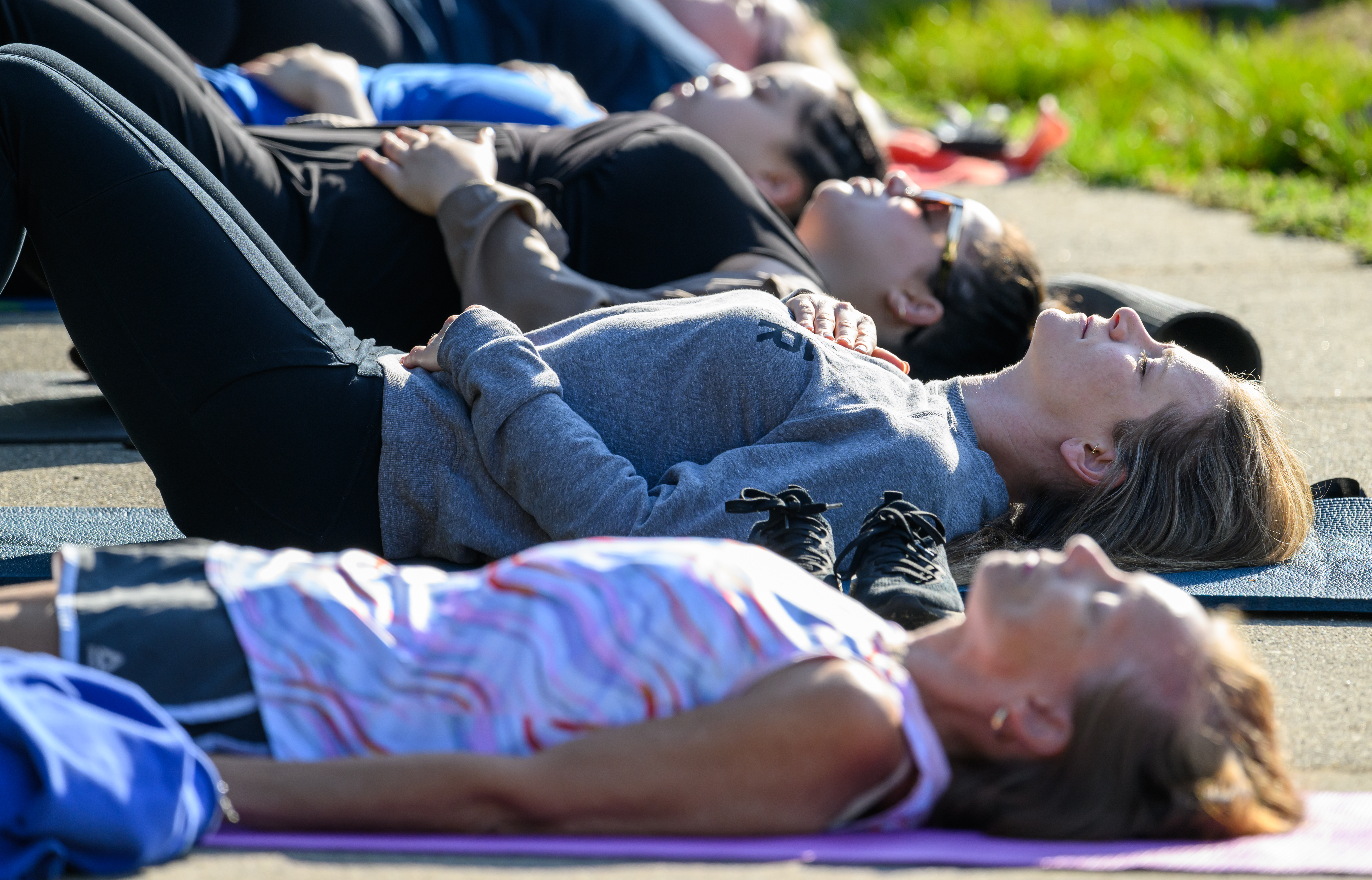 A full range of classes are offered six days per week, with multiple offerings on Mondays, Wednesdays, and Thursdays.
Serafin said the instructors at the YWCA and the YMCA, a new partner this summer, have been doing outreach to let residents know about the free offerings, and the DHS is also advertising the classes in an effort to keep participation high throughout the summer.
"I am hoping we can reach as many people as possible," she said.
The program is also once again working with the Latino Education Institute at Worcester State University. Claudia Oliveira De Paiva, health and wellbeing project manager, said the institute's goal from the start has been to engage the community in all aspects of health and wellbeing.
'Now we are actually very much targeting mental health, which has been critical for youth and children.'
Claudia Oliveira De Paiva, health and wellbeing project manager at the Latino Education Institute at Worcester State University
"So we are trying to have activities in the park, in the summer especially, for people to do mental health related classes."
That's in line with Blue Cross' aim, Bellows said. Studies have shown, he noted, that regular exercise can help improve emotional health and build social connections.
De Paiva agrees: After taking part in the Relax and Realign class, she said, "I feel reenergized. And ready to go to work."
---
Did you find this story informative?
All Coverage content can be reprinted for free.
Read more here.