May 4, 2023
'Healthy parent, healthy pregnancy, healthy baby'
Jallyssa Cabrera found out she was pregnant with her second child last April, and one of her first calls was to her ob/gyn to schedule her prenatal visit. 
"The visit gives you good insight for what to expect, and you can make sure things are going well with you and the baby," said the 30-year-old New Bedford teacher. "It's important to me."
Cabrera liked having the opportunity to check in with her physician and address any health concerns, including the heartburn she experienced early in her pregnancy. 
"I got advice about that—what I could and couldn't eat and could and couldn't take," she said. "When you're pregnant, you shouldn't eat certain things and take certain medications. My doctor recommended things I could take that were safe that wouldn't affect the baby."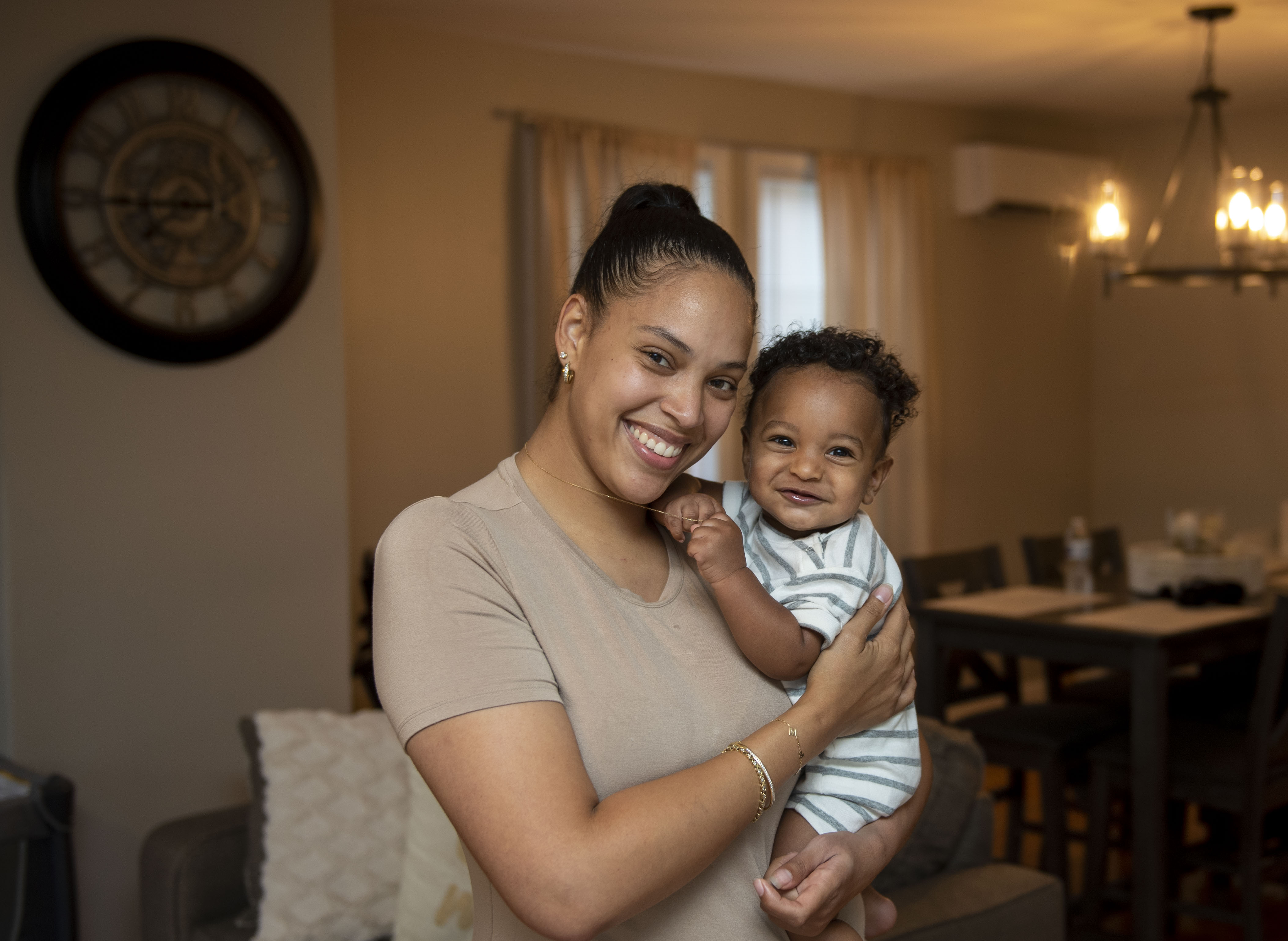 Her physician also ran a routine test for gestational diabetes, a condition that can develop in pregnant women and increase their risk of developing diabetes after they deliver.
"It was a relief when that test came back negative," Cabrera said. "But if it was positive, it would have been really important information for my health." 
And her doctor outlined the schedule of future visits, as well as her hospital's COVID protocols. "It was definitely harder and more difficult to be pregnant during COVID—I was nervous. My doctor let me know what was going to happen and what would be different in the hospital."
A few weeks after Cabrera delivered a healthy baby boy, Alijah, in December, she went for her postnatal visit so her doctor could "get an update on the baby and see how I was doing and if I was having any pain or if anything was out of the ordinary. She also asked how I was doing mentally. I found this visit helpful, too."
Backed by science
Both prenatal and postnatal visits are critical to ensuring health throughout the pregnancy and after delivery, says Dr. Monica Ruehli, an ob/gyn at Atrius Health's Dedham Medical Associates and physician reviewer at Blue Cross Blue Shield of Massachusetts. These visits are covered by Blue Cross and most other health plans when patients see an in-network provider.
Our goal as clinicians is a healthy parent, healthy pregnancy, healthy baby. Having pre- and postnatal care helps us achieve that.

Dr. Monica Ruehli
Health authorities say infants whose mothers do not receive prenatal care are three times more likely to have a low birth weight and five times more likely to die in infancy. They also are more likely to be born preterm. Low birthweight and preterm birth in infants can increase a baby's risk of developing sudden infant death syndrome and other life-threatening issues, respiratory and gastrointestinal problems, and other long-term health complications. Women who don't receive prenatal care are three to four times more likely to die from pregnancy-related complications than those who do.
What to expect
Generally, doctors will set up a schedule of about 13 prenatal visits during the course of pregnancy, Ruehli says. 
"Most patients are invested in their pregnancy and their health and want to go to the visits and learn about important health concerns for themselves and their babies, but sometimes they are just too busy or too tired," she said. "I encourage my patients to try to go to all of the visits if they can." 
During the first prenatal visit, which typically happens within 8-12 weeks of conception and lasts for about an hour, Ruehli says, a clinician will confirm the viability of the pregnancy, check the health of mother and baby and address any health concerns such as nausea, ensure any chronic health conditions are being managed, and take a health history. 
"We tailor the visit to what patients need and spend a lot of time answering their questions," she said. "We talk about what's true and old wives' tales, and we talk about the delivery experience and birth plan."
Clinicians will screen for infectious diseases, such as HIV, hepatitis and syphilis, which can affect the pregnancy. They also may discuss with parents whether testing for genetic conditions, such as Down syndrome, cystic fibrosis and spinal muscular atrophy, might be appropriate.
"More people are delaying childbirth," Ruehli notes, "and as you get older, there are more risks for complications and genetic conditions."
After childbirth, clinicians will check the health of mother and baby, provide breast feeding education and support if needed, screen for postpartum depression, follow up on any complications from delivery, and check to make sure an incision is healing well if the baby was born by Caesarean section. 
Patients with gestational diabetes are screened again for diabetes to ensure they don't have the condition outside of their pregnancy. 
"We want to make sure people are doing well and also that they're using contraception after childbirth," Ruehli says. "It's better for everyone's health to space pregnancies apart so you give your body time to recover."
Strong support
Cabrera says she was glad she saw her doctor before and after her recent pregnancy. 
"Often I don't think women realize how big an event having a baby is. It's a big deal for a woman, and you don't realize how much you'll go through before and after," she said. "It's important to get guidance and to have a doctor you trust tell you things and check for things that can develop that you might not know about."
Those check-ins before and after I gave birth really helped me and Alijah stay healthy.
Did you find this column informative?
All Coverage content can be reprinted for free.
Read more here.
---
PHOTOS OF JALLYSSA CABRERA AND ALIJAH BY CHRISTOPHER EVANS