May 29, 2020
A hospital called Hope
Kate Simmons is certain all the doctors and nurses at Boston Hope Medical Center will remember Mr. M., and not just because he was a bit of a character, or because he was the longest-tenured coronavirus patient cared for at the temporary health care facility.  
Mr. M. will be remembered because he represents many of the more than 725 patients treated so far at the field hospital erected in just days at the Boston Convention and Exhibition Center with the help of the Army Corps of Engineers.   
"These patients have such complex medical and social needs," said Simmons, a behavior health clinical reviewer employed by Blue Cross Blue Shield of Massachusetts. She is one of 22 associates on loan from the insurer to support Boston Hope patients. 
"These are the most vulnerable of our neighbors," said manager, Medicare Advantage Case Management, Tarcia Davis.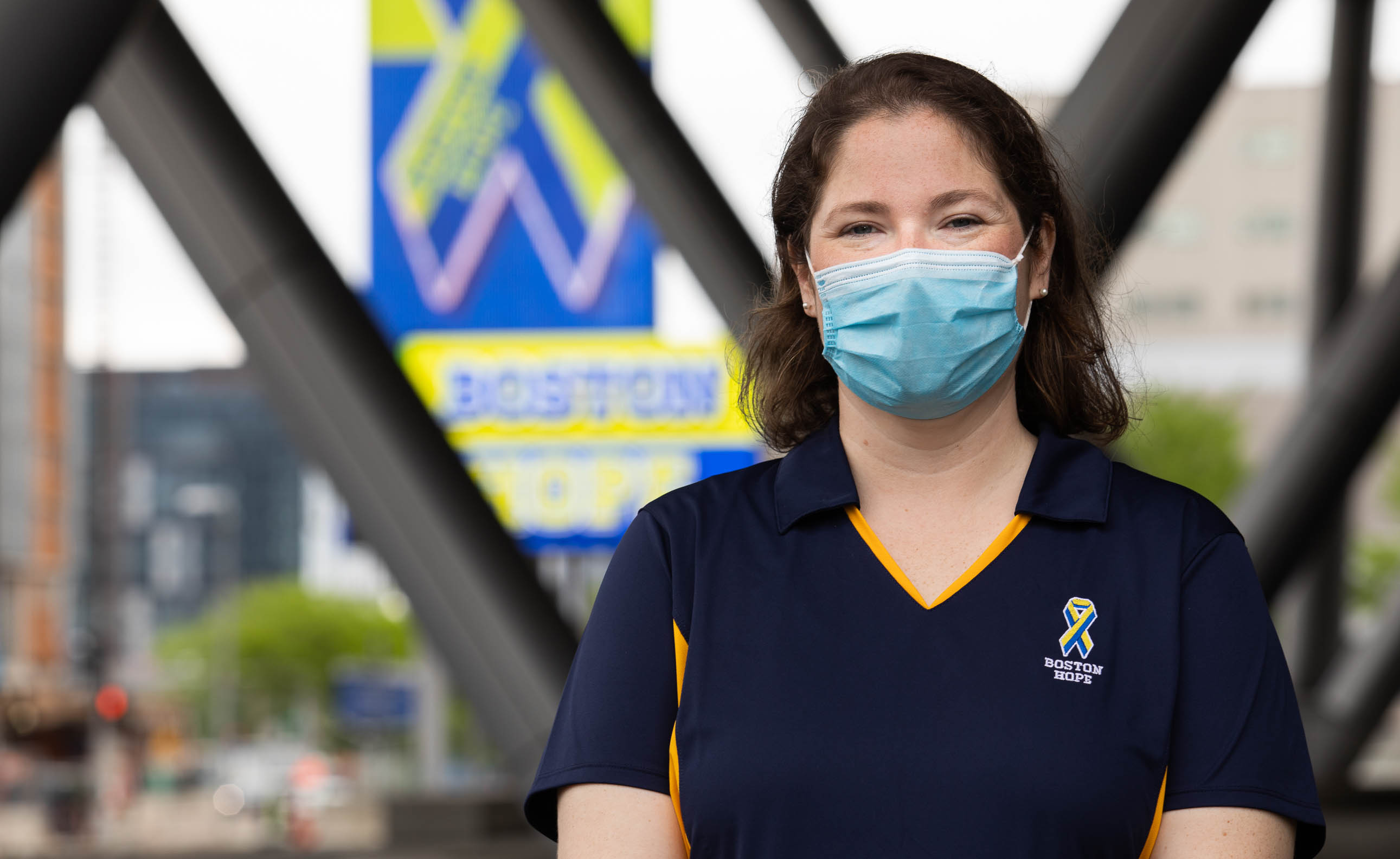 A hospital built for the most vulnerable
The 1,000-bed hospital, with 500 beds earmarked for Boston's homeless, was a collaboration between the state, the city of Boston, Mass General Brigham, and Boston Health Care for the Homeless, and was built to help the city's hospitals handle a surge in coronavirus cases. Patients recovering from COVID-19, the disease caused by the coronavirus, were transferred to the facility, freeing up hospital beds for those who needed critical care.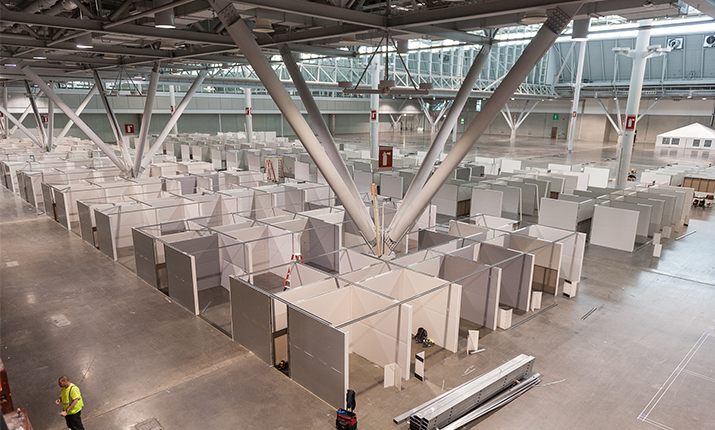 "I was fascinated to see a hospital built in just eight days," said James McPhee, Blue Cross' senior program manager, FEP and Medicare Health and Medical Management.
While Mass General Brigham oversees all clinical care provided at the temporary facility, 15 registered nurses and seven on-call behavioral health clinicians from Blue Cross work with individual patients to help transition them out of the hospital to home, a process called discharge planning. 
"One of the great legacies of Boston Hope will be the partnerships forged between health care organizations across the region, the governor's office, the mayor's office and the United States military," said Jeanette Ives Erickson, RN, chief nurse emerita at Massachusetts General Hospital and co-director of Boston Hope. "Those organizations sent some of the most compassionate, talented clinicians available to meet the unique needs of more than 700 patients."
The hospital opened April 10. As the state has passed the peak of infections and hospitals have discharged coronavirus patients, Gov. Charlie Baker announced this week that Boston Hope will no longer accept new patients. However, it will remain operational until all patients are safely discharged. 
Ensuring a safe and healthy discharge
"Each patient is different," said Davis, one of two Blue Cross associates who work at the convention center, assigning patients to one of their colleagues who work with patients remotely. At peak occupancy at Boston Hope, the nurses were working with, on average 90 patients a day. 

"Some patients don't have insurance, they might not have a primary care provider, they may have housing insecurity."  
About half the patients needed a translator.
Davis and her nurses solve those issues, and often many others, before the patient can be discharged. 
Understandably, there were challenges. Hospitals are complicated, technology-dependent facilities in the best of times. One built in days, and requiring patient support like discharge planning over the phone, much more so.
"We had to come up with our own process and figure it out, and the team did it beautifully. I've never been prouder of a group of people," McPhee said.
Finding a way home
Just two weeks into her deployment, Serena Pettiford, a Blue Cross RN, managed one of the team's most challenging cases.
The elderly out-of-state patient was infected with the virus and became severely ill while visiting Massachusetts. The patient had some co-occurring conditions, including psychiatric issues, that complicated treatment. Even worse, the patient had been transferred to a couple of different area hospitals, and along the way the patient's bag containing debit card and keys was lost. 
The patient, who has no family, arrived at Boston Hope with only a driver's license and was assigned to Pettiford. Within 36 hours, she had contacted a friend of the patient who put her in touch with the patient's lawyer. When the patient was healthy enough to be safely discharged, Pettiford found a flight, got it paid for, and educated the patient on the airline's protocols for flying. She also arranged transportation for the patient to a local Western Union office where the lawyer had wired some cash, the airline ticket and other necessary documents, and from there to Logan airport.
Pettiford also made sure that the friend was able to meet the flight and had keys to the patient's car, which was in the airport parking garage, and the patient's home.  
Throughout the whirlwind of arrangements, Pettiford says her most rewarding time was spent on the phone with the patient, explaining what was going on, answering questions and most importantly offering assurance that all would be well.
We got the patient home, that was the icing on the cake,
Pettiford said.
Unforgettable patients, undeniable impact
"I think in a time of uncertainty, no one knows what to expect. To come together and help these people who have nowhere else to go is amazing," Davis said. "They are so grateful to receive the care they need."
That includes Kate Simmons's memorable Mr. M. The elderly gentleman made an impression on all Boston Hope caregivers by acting as an unofficial ambassador – visiting with every other patient in the facility during his long stay. 
He had lost his housing due to the pandemic and began to exhibit symptoms of dementia while being treated for the virus.  
The Blue Cross team helped change his insurance so that he has access to the behavioral help he needs and found a residential facility that had a room for him. 
He was finally discharged– 36 days after being admitted to Boston Hope – when he tested negative for the coronavirus. 
"Every day everyone asked for an update on Mr. M. It's pretty cool everyone seemed to care," said Simmons.
Care they did. The convention-center-turned-hospital provided compassion, and something else this city is known for in the aftermath of heartbreaking events – hope. Boston Hope. 
Did you find this article informative?
All Coverage content can be reprinted for free.
Read more here.
---
PHOTOS BY MICHAEL GRIMMETT & US MILITARY