Nov 3, 2021
How the COVID-19 vaccine protects kids 5-11
Children ages 5-11 are now eligible to get vaccinated against COVID, a key step that will allow kids and families to safely enjoy school, upcoming winter holiday gatherings and a return to normal, according to pediatricians and public health officials. 
"The best way we can keep our schools open and help our children thrive academically and developmentally is to get them vaccinated," said Dr. Philomena Asante, a pediatrician who is a staff physician at Boston University Student Health Services and has worked for many years in private practice. "It is important to protect not only our children, but to protect others who cannot get vaccinated, and classmates or family members who are immunocompromised. When it comes to public health, you're not just thinking about your child, but the child next to them."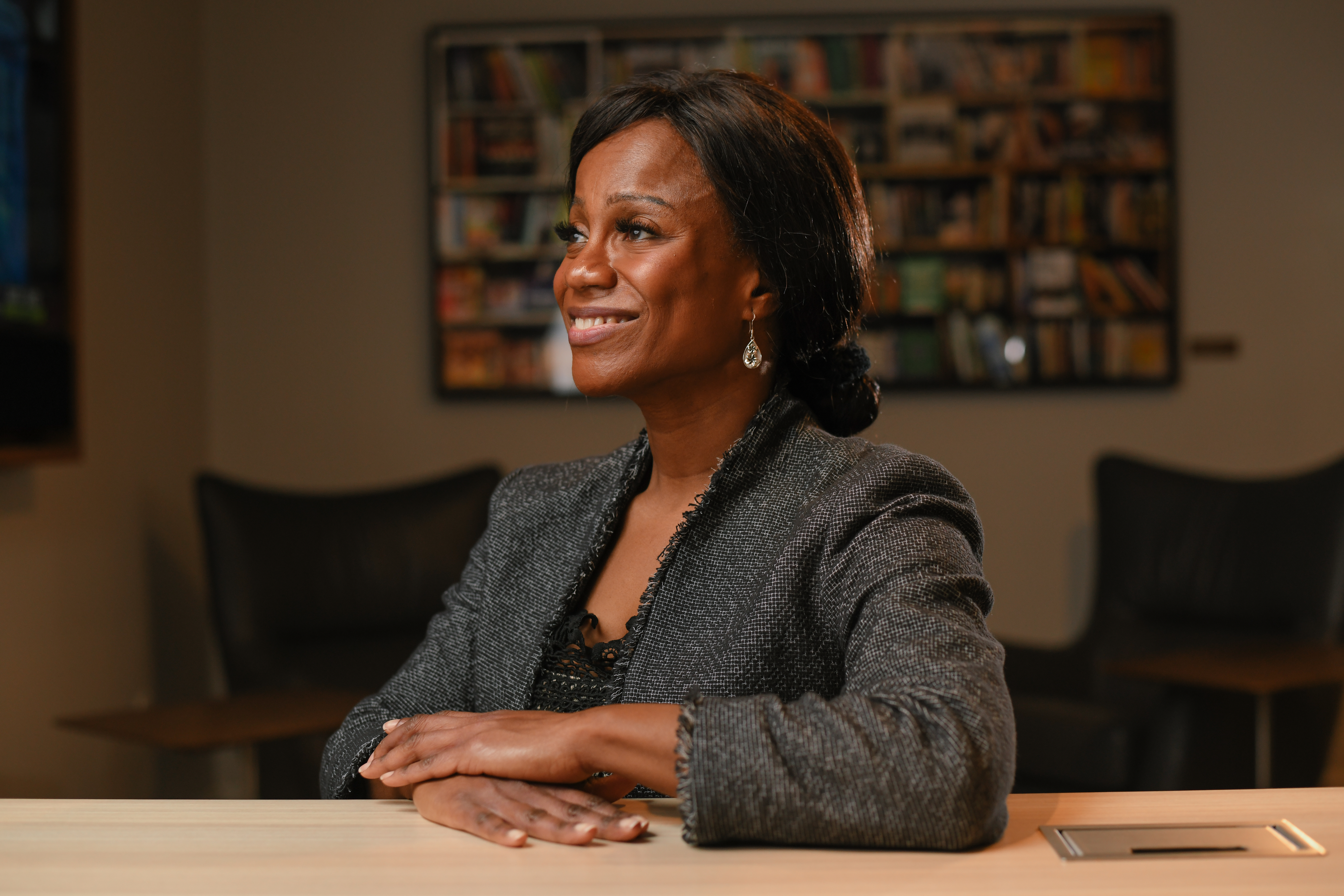 The Centers for Disease Control is recommending everyone age 5 and up get a COVID-19 vaccine to help protect them against the virus that has become more dangerous to children over time. In the U.S., 28 million children are now newly eligible for vaccination and the federal government has ordered enough doses to fully vaccinate all of them. 
The vaccine, manufactured by Pfizer-BioNTech, is free and given in two doses, about three weeks apart. It is one-third of the dose given to adults due to developmental differences in children's immune systems, and is administered with smaller needles and distributed in smaller vials to avoid any confusion with adult doses. Kids and adults need both doses to be fully protected. 
The vaccine has proven effective in preventing severe illness from the Delta variant which has driven up hospitalization rates in children. 
In an interview with Coverage, Asante answered some of the most common questions about vaccination for kids.
How do we know it's safe?
The Pfizer vaccine has undergone rigorous clinical testing on adults and children, along with comprehensive review by the FDA and an independent CDC advisory panel. The vaccine's safety was studied in more than 3,000 children age 5 through 11, who received the vaccine and experienced no serious side effects — the most common was a sore arm. Similar to results in adults, the vaccine was found to be 90.7% effective in preventing COVID-19 infection in kids.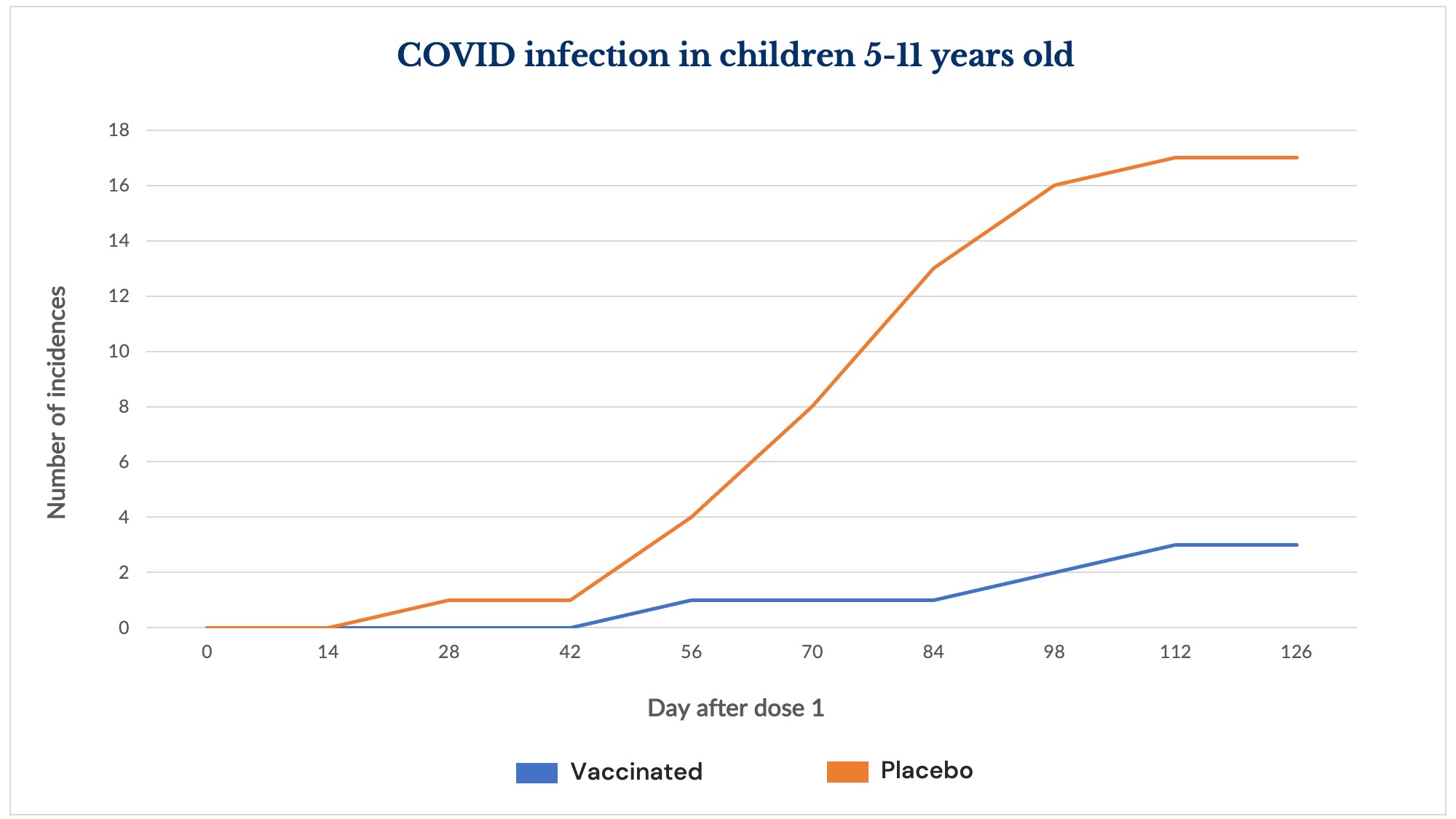 "COVID-19 vaccines have undergone – and will continue to undergo – the most intensive safety monitoring in U.S. history," the CDC said in its statement following approval. "Vaccinating children will help protect them from getting COVID-19 and therefore reducing their risk of severe disease, hospitalizations, or developing long-term COVID-19 complications."
The benefits of the vaccine outweigh the risks, including a rare side effect called myocarditis, inflammation of the heart, the CDC's expert advisory panelists said before voting unanimously for approval. COVID is far more likely to cause myocarditis, and a more severe version of it, studies have shown.
"We have even more data now than when the vaccine was approved for older populations," Asante said. "CDC approval and FDA authorization of the vaccine for this age group came after a thorough review of the vaccine data as well as input from an independent advisory committee that found the vaccine was safe."
Worldwide, more than 3 billion people ages 12 and up have been vaccinated against COVID with shots that have proven safe and effective in the 11 months since they began rolling out. 
---
The American Academy of Pediatrics and the American Medical Association, among other medical groups, are endorsing child vaccination against COVID. 
---
"In the physician community," Asante noted, "those with children in this age group cannot wait to get them vaccinated."
I thought kids didn't get COVID very often. Why do they need to get vaccinated? 
Although children get severely ill at much lower rates than adults, they catch COVID at approximately the same rate, the CDC has found. Vaccination can help stem the spread from kids to immunocompromised people as well as unvaccinated babies and others. Wider vaccination also can help prevent new variants from developing.
The highly transmissible and aggressive Delta variant also is making some kids much sicker than the original virus, particularly children with underlying conditions.
"Last year, in the late fall, we had a type of COVID-19 that usually caused mild symptoms in children and they recovered pretty quickly. But the Delta variant has been a game-changer," Asante said. "Children are not only getting infected more, but some are also experiencing severe illness and being hospitalized."
COVID-19-associated hospitalization rates among children and teens rose nearly five-fold from late June-mid-August 2021, as Delta spread rapidly across the country. Among children aged 0-4 years, the hospitalization rate shot up 10-fold.
And, she noted, its toll is as disproportionate among Black and Hispanic children as among adults: One recent review of 121 child COVID deaths found 75% were Black or Hispanic.
"This highlights health care disparities," Asante said.
According to the CDC, about 8,300 children ages 5 to 11 have been hospitalized with COVID-19 and at least 170 have died. It was one of the top 10 leading causes of death among children ages 5-14, over the past year, according to an FDA analysis. 
And now, it is preventable.
Every million doses given to children aged 5 to 11 would prevent about 58,000 cases and 226 hospitalizations in that age group, according to the CDC.
My child could still get COVID-19 even if vaccinated. What's the point?
While the COVID-19 vaccines do not completely prevent infection, they significantly reduce the likelihood of contracting the virus. Most importantly, if a child is vaccinated and still gets sick, their chance of being hospitalized is much lower.
According to the CDC, rates of hospitalization were 10 times higher among unvaccinated than among fully vaccinated adolescents last summer.
Getting vaccinated also reduces the chances of other dangerous complications that come with severe illness. For example, there are growing concerns about the long-term effects of the COVID-19 viral infection known as Multisystem Inflammatory Syndrome in Children. 
"This is not just about protecting children from contracting COVID-19, but about protecting their quality of life if they do get infected," Asante said. 
How can I sign my child up for a shot?
The vaccines are being administered by pediatricians, family doctors and pharmacies across the country, with some shots available this week and the full rollout beginning next week. Check with your pediatrician or your neighborhood pharmacy to schedule an appointment and to ask any questions you have about the shot.
In Massachusetts you also can call 211 or visit Vaxfinder to schedule an appointment at a community vaccination site. Over 500 sites in the state will offer the pediatric dose of the Pfizer vaccine, including pediatricians, community health centers, pharmacies, hospitals, and community-based clinics.
Vaccination is free and no ID or insurance is required.
Did you find this column informative?
All Coverage content can be reprinted for free.
Read more here.
---
PHOTO of Dr. ASANTE BY FAITH NINIVAGGI