Jul 11, 2022
How Evusheld works
A medication that protects against COVID infection is now widely available for immunocompromised people to bolster the protection offered by vaccination.
"What the studies have shown is that if you give Evusheld to patients who are high risk for being hospitalized with COVID, you reduce the risk of acquiring symptomatic COVID by about 77%," said Dr. Todd Ellerin, director of the infectious diseases department at South Shore Health.
Evusheld is used before someone gets COVID-19, and should be taken every six months.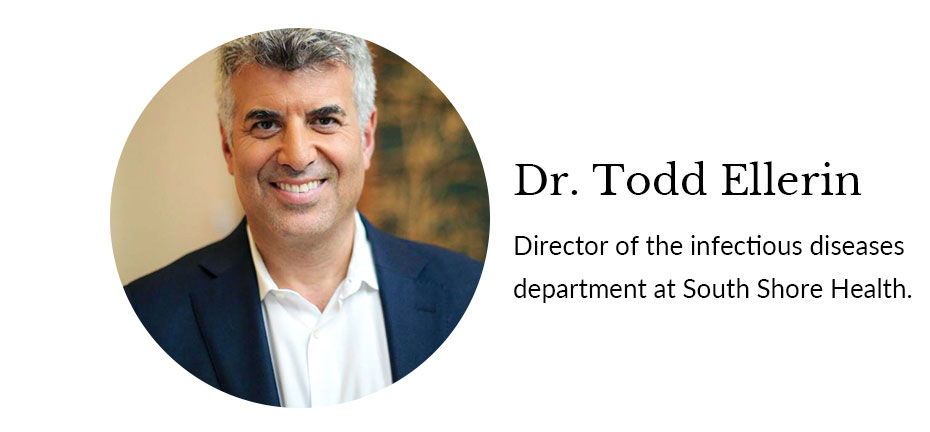 How does it work?
Evusheld contains two different types of monoclonal antibodies, which are made in a laboratory but behave similarly to natural antibodies by blocking the spike protein in the coronavirus before it can enter and infect healthy cells.
The fact that Evusheld has two antibodies is important, Ellerin said, because patients only need one to neutralize the virus, which has frequently evolved into new variants.
"If there is another mutation and one antibody is not as effective, you still have the other monoclonal antibody that can work," Ellerin said.
Evusheld is given in two intramuscular injections, takes effect quickly and provides about six months of protection, he added.
Who can take it?
The Food and Drug Administration has authorized Evusheld specifically for patients who are allergic to the safe and effective vaccines that have been approved by the FDA or who are moderately to severely immunocompromised, Ellerin said.
"These are patients who are not only at high risk, their immune systems are also less likely to be triggered by vaccines into protecting their bodies," he said. 
weigh more than 88 pounds
are not infected with COVID-19
have a history of severe reactions to substances in COVID-19 vaccines
have a weakened immune system because of a medical condition or medication
People are considered to be moderately or severely immunocompromised if they have:
Been receiving active cancer treatment for tumors or cancers of the blood
Received an organ transplant and are taking medicine to suppress the immune system
Received a stem cell transplant within the last 2 years or are taking medicine to suppress the immune system
Moderate or severe primary immunodeficiency (such as DiGeorge syndrome, Wiskott-Aldrich syndrome, etc)
Advanced or untreated HIV infection
Active treatment with high-dose corticosteroids or other drugs that may suppress the immune response
Ellerin estimated about 5% of the United States population would qualify as moderately to severely immunocompromised, which equates to about 10 to 20 million people who could benefit from Evusheld.
Side effects were minimal in clinical trials, Ellerin adding, "The drug appears to be very well tolerated by the vast majority of patients." 
How can I get Evusheld?
"First, talk to your primary care provider, because a prescription is needed," Ellerin said.
Primary care providers can help patients find a site administering Evusheld by using an in-network referral or, in Massachusetts, by submitting a referral to a participating site. Some patients may be eligible for Massachusetts' in-home COVID-19 treatment program.
Ellerin has been urging providers to reach out to patients who qualify for the medication.
"We need to do a better job by being proactive and thinking about our patients and putting in a system where immunocompromised patients are automatically contacted," he said, adding that patients shouldn't hesitate to reach out as well. "We need patients saying to their providers, 'Listen, I am immunocompromised or I take transplant medication or I am on active chemo, so am I eligible for Evusheld?' "
Is vaccination still important for patients who receive Evusheld?
"Absolutely," Ellerin said. "The vast majority of people are not allergic to these safe, effective and free vaccines, and they can provide some protection for even the immunocompromised.  Get vaccinated and get your booster when you are eligible."
Read more to learn why some of our leaders, caregivers and neighbors decided to get a COVID-19 shot.

---
Image of Dr. Todd Ellerin from South Shore Health