Apr 17, 2020
How to protect yourself from coronavirus scams
Amid the COVID-19 pandemic, an epidemic of fraud is spreading worldwide, security experts warn. 
Criminals are infecting computers with malware, hawking fake vaccines, fake treatments and nonexistent surgical masks, and engaging in price gouging. Nationwide, a spike in robocalls has been reported, some seeking personal and financial information that can be used to defraud customers by offering bogus coronavirus treatment or nonexistent testing kits or purported low-cost health insurance.
Fraud prevention experts are seeing victims targeted face-to-face as well, said Jennifer Stewart, senior director for fraud investigation and prevention at the nonprofit Blue Cross Blue Shield of Massachusetts.
"We've seen schemes where people were going door-to-door offering to do testing and leaving a bunch of pharmaceutical products behind," Stewart said, adding some criminals target health insurance information in particular. "We've seen telemarketing -- people are called and asked to turn over their insurance information in return for potential products that might help with the new coronavirus."
Simple steps to protect yourself from common scams
Stewart and other experts recommend the following: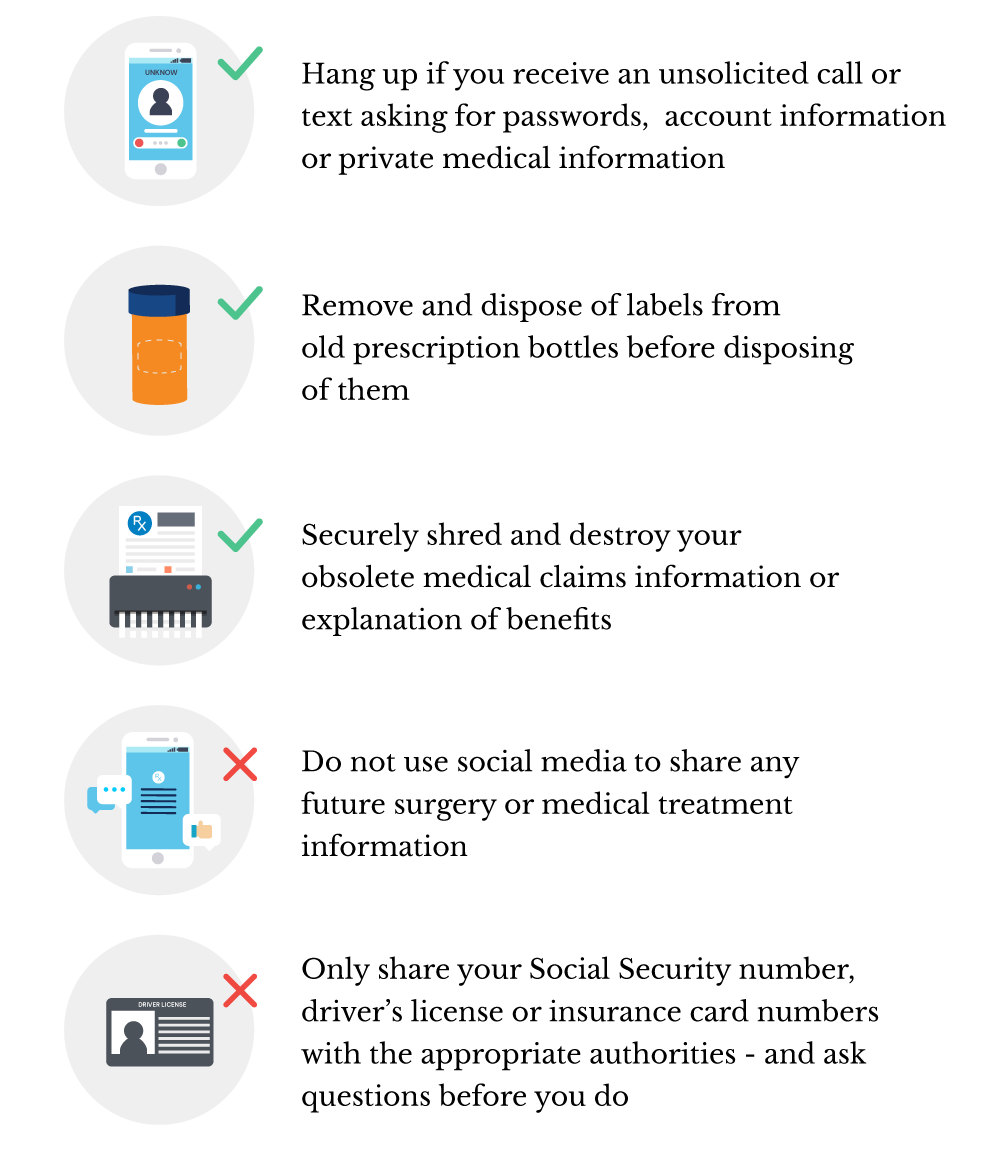 Stewart noted some scammers obtain information off of the dark web and reach out to potential victims, pretending to be a health insurer or medical supply company and armed with just enough personal detail to make it seem like a legitimate communication. Anyone unsure who is really on the other end of the line should simply hang up and call the company back on a known number to double-check before giving out anything any personal or financial information that might be compromising, she said.
Vigilance, experts said, is the best defense against falling victim to COVID-19 fraud. 
"We are advising the public to step back and take a deep breath, particularly when they are not the ones initiating contact," said Eva Velasquez, the CEO of the nonprofit Identity Theft Resource Center, which supports victims of identity theft and broadens public education about identity theft, data breaches, cyber security, scams and privacy issues. "Whether it's a phone call, a text, an email, or something they are seeing on social media, step back and allow the logical centers of your brain to make decisions instead of the emotional ones."
Do not give out information or any form of payment to someone who calls. Don't even confirm your identity, the Identity Theft Resource Center warns, noting any legitimate caller should know who you are – but spam callers working off a database of random numbers won't.
A familiar pattern of deceit
"Scams all have some things in common," said Velasquez. 
They prey on our fear and they prey on our hope.
"They create a sense of urgency either that you're going to miss out on something or there will be consequences if you don't follow through."
Velasquez, who has been working in the fraud-prevention space for more than three decades, said scams stemming from the coronavirus crisis began popping up almost instantaneously as new instances of the disease itself emerged. 
Why? Because criminals who specialize in fraud generally have a scheme ready to roll out and just need the crisis du jour to get unsuspecting and fearful victims to react.
"That's the general state of scams and why, with COVID-19, it's so much bigger than anything we have seen before, because it has so many potential victims," Velasquez said. 
Fraud schemes following tragedies or emergencies tend to be somewhat local, like wildfires in California or a tornado in Oklahoma. Anything that makes headlines can give scammers a hook on which to base their schemes. But the coronavirus is global and the headlines omnipresent, setting the stage for a massive number of potential fraud victims.
"Plus, it's scary," Velasquez said. "People are afraid and they want to make sure they have enough food and they can get tested and all of these legitimate needs people have, and the scams say 'here is our test, give me your credit card info and we will mail it.' "
Potential for widespread targeting
It will be hard to quantify how many people will lose money as a result of COVID-19 fraud, Velasquez said, but there is a potential for "large scale" data loss if people are not careful.
Law enforcement is already seeing cybercriminals exploiting the pandemic. 
In Massachusetts, Attorney General Maura Healey's office said it has been tipped off to a website claiming to be a live map of global coronavirus cases compiled by Johns Hopkins University. In reality, the site infects the computers of users who visit it with malicious software.
Healey's office also sent a cease and desist letter in March to a Massachusetts medical spa that put up a misleading Instagram post suggesting it had treatments for COVID-19.
Price gouging has been one of the most prevalent issues as grocery stores struggle to restock amid a crush of consumers looking to stock up on sanitizer, toilet paper, bottled water and other essential items. Healey's office said it has received more than 100 price gouging complaints and issued an emergency banning price gouging for critical goods and services.
The Department of Justice announced its first enforcement action against coronavirus-related fraud in late March, filing a civil complaint in Texas against the operators of a website touting access to a World Health Organization coronavirus vaccine for a $4.95 shipping charge. 
No such vaccine exists, and a federal judge issued a temporary restraining order to block the site from selling any of the fake vaccine kits. 
Another website claimed to offer personal protection equipment such as surgical masks or hand sanitizer, but never shipped orders after they were placed and money was sent. The site, operating out of Washington D.C., also offered the opportunity to donate to a fictitious "Global Coronavirus Relief Fund," according to federal investigators.
Who to trust?
It's natural to want to seek out help and information during a scary and confusing time, Stewart said, urging news consumers to look for facts on trusted websites such as the Food and Drug Administration and the Centers for Disease Control, as well as major established news outlets. 
It is natural to want to accept offers for help during an unprecedented time of fear and uncertainty, she said – but that natural instinct can prove detrimental if it overtakes one's common sense.
"If you're getting bad information," Stewart warned, "you're not helping yourself."
Did you find this article informative?
All Coverage content can be reprinted for free.
Read more here.