Dec 14, 2020
How safe are the new COVID-19 vaccines?
The country's first COVID-19 vaccine is being administered to health care workers -- a long-awaited milestone that came as a result of remarkable scientific collaboration and robust safety tests. 
With millions of Americans eager to take the vaccines now, Coverage spoke with Dr. Ashley Yeats, vice president of medical operations at Blue Cross Blue Shield of Massachusetts, and Dr. Gabriela M. Andujar Vazquez, infectious disease physician at Tufts Medical Center, about how the shots are being produced and safety-tested.
How were the vaccines developed? 
International scientific collaboration gave vaccine development a giant boost.
On Jan. 12, 2020, before a single death had been announced, a consortium of scientists published the genetic sequence  of the coronavirus suspected of causing a new outbreak in China. The research they did would have been impossible a decade or two ago, and saved researchers months of time. 
Because the sequence was public, scientists around the world immediately began working on potential vaccines. Among them was Cambridge's Moderna, which produced an initial sequence for its vaccine within two days of the genome's publication. 
Moderna and a partnership between Pfizer and BioNTech, which produced the first vaccine approved in the U.S., used a new process that employs messenger RNA, which also saved time-consuming steps, such as growing ingredients in chicken eggs.
Then, governments around the world, including the U.S.' Food and Drug Administration, agreed to fund research and purchase effective vaccines, removing financial barriers that typically slow the vaccine development timeline for pharmaceutical companies. 
"The traditional approach to bringing novel pharmaceuticals to market has historically slowed things down," Yeats says. "This time, the scientific community, FDA and government were aligned and engaged at the outset in the context of a public health emergency."
The scientific collaboration and public-private partnerships saved years in the vaccine development process. 
There was immediate, enormous demand for the new vaccines, but the FDA was determined to be meticulously careful in its safety checks and testing process. Although the Moderna vaccine was developed in January, for instance, it took nearly a year to receive emergency use authorization from the FDA, with more than 100X as much time spent testing the vaccine as it took to create it.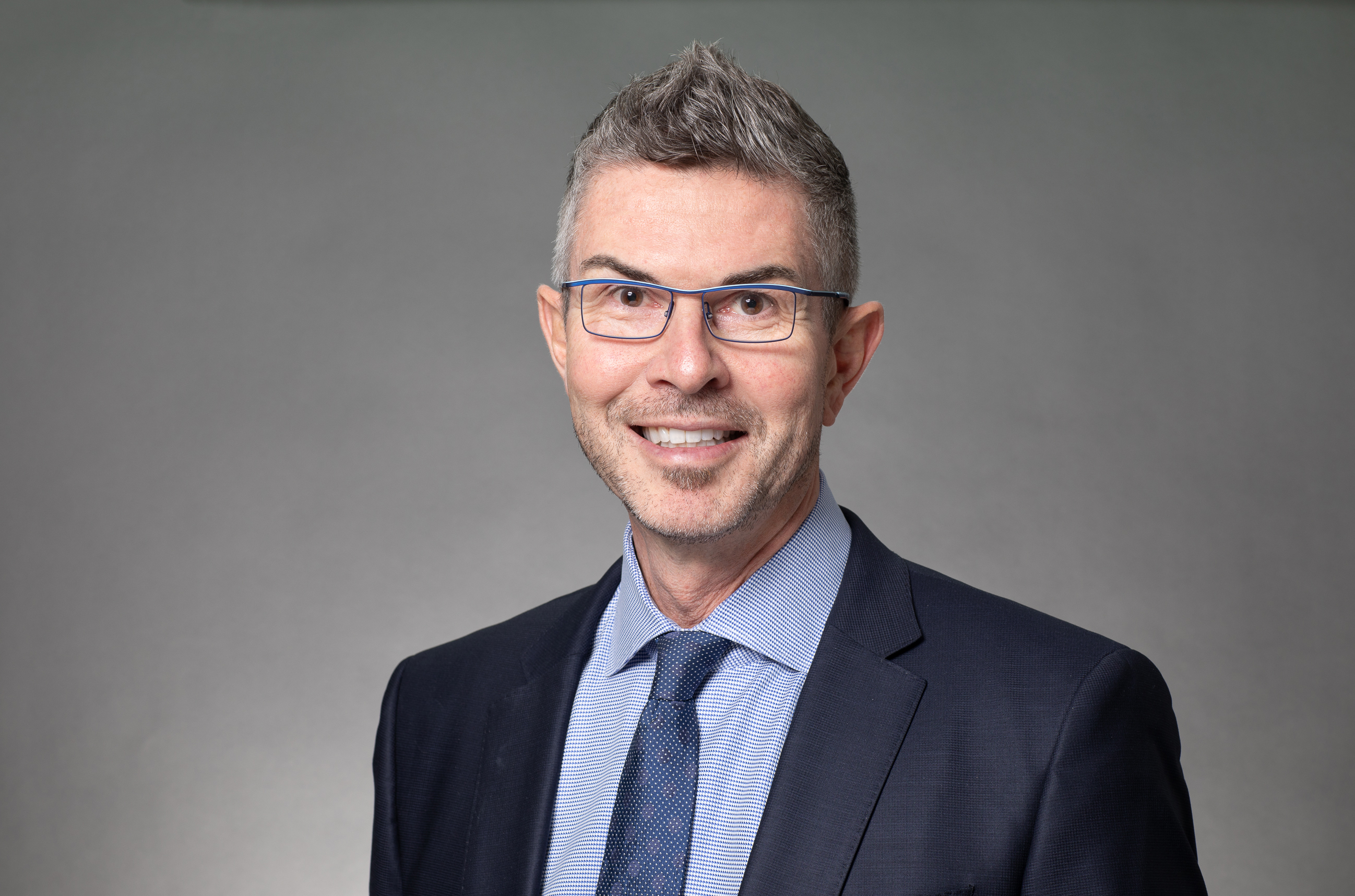 How are the vaccines tested?
Vaccines work by safely simulating a virus and boosting the natural immune system to protect the body. Testing a new vaccine is an extensive process with four stages.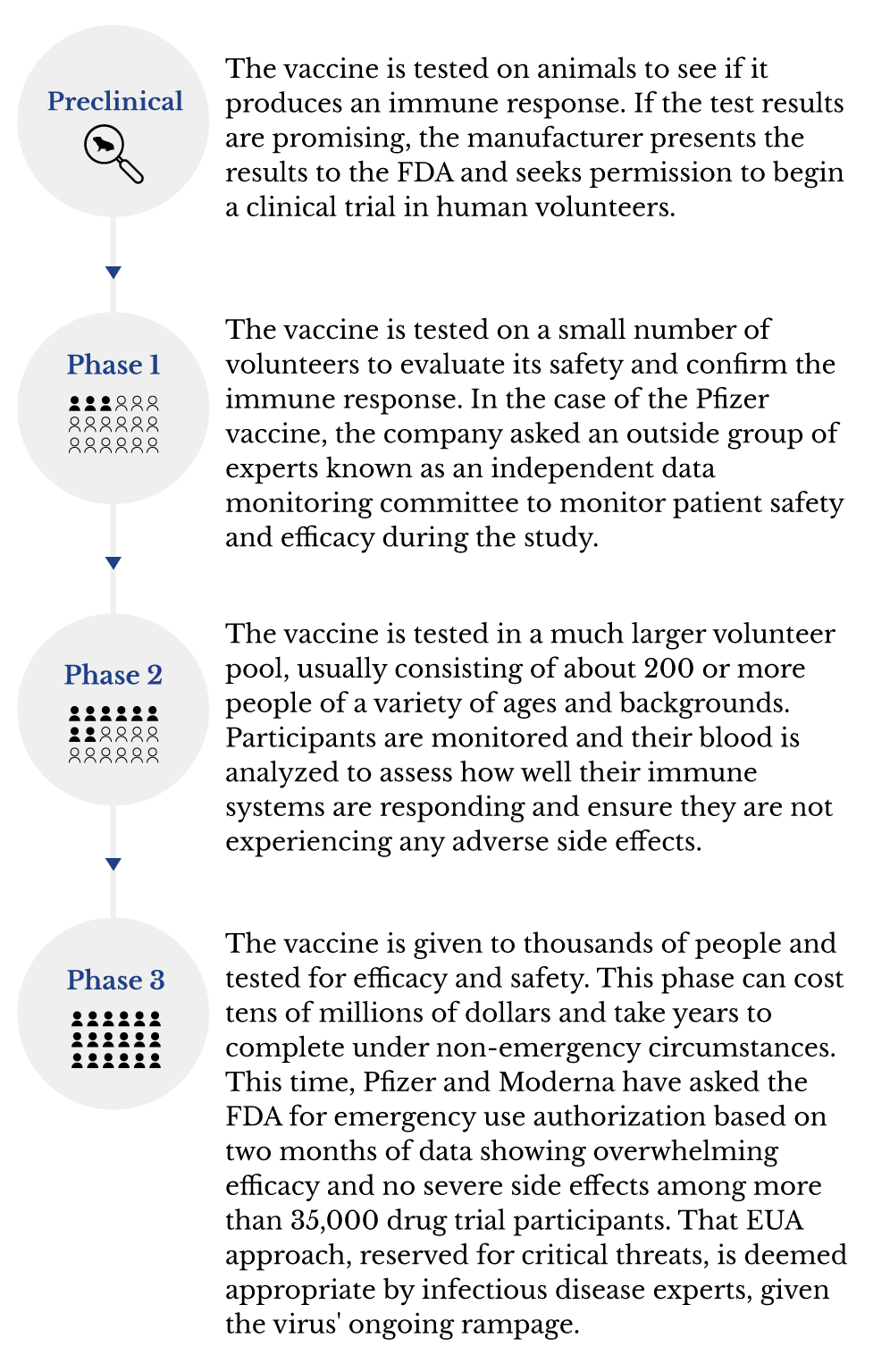 The COVID-19 vaccines went through each mandatory step, just at a faster pace than usual, Yeats said. 
"The acceleration was bringing all the scientific minds together at the same time and resourcing them and getting support out of the gate on trial designs that not as many people would have invested in absent this burning platform," says Yeats, a former emergency department physician. "It's about coordination of expertise and resources."
And the results of the drug trial were stunning, public health experts said: Pfizer and Moderna had aimed for 60% efficacy, approximately the same as the seasonal flu shot which saves lives every year. But both COVID vaccines are 95% effective against a virus that is far more deadly than the flu. 
Who authorizes the vaccines?  
A panel of independent scientific and public health experts known as the Vaccines and Related Biological Products Advisory Committee evaluated the vaccine data and recommended emergency use authorization, for which is given when the known and potential benefits  of a treatment far outweigh the known and potential risks. 
This step in the process was carried out with just as much rigor as with other vaccines, Andujar Vasquez says, just at a much faster pace. 
"Instead of reviewing all the data in weeks, it's all hands on deck," she says. "The process is the same. They make a vote and a recommendation to the FDA commissioner. The process has been followed as usual, just fast-tracked."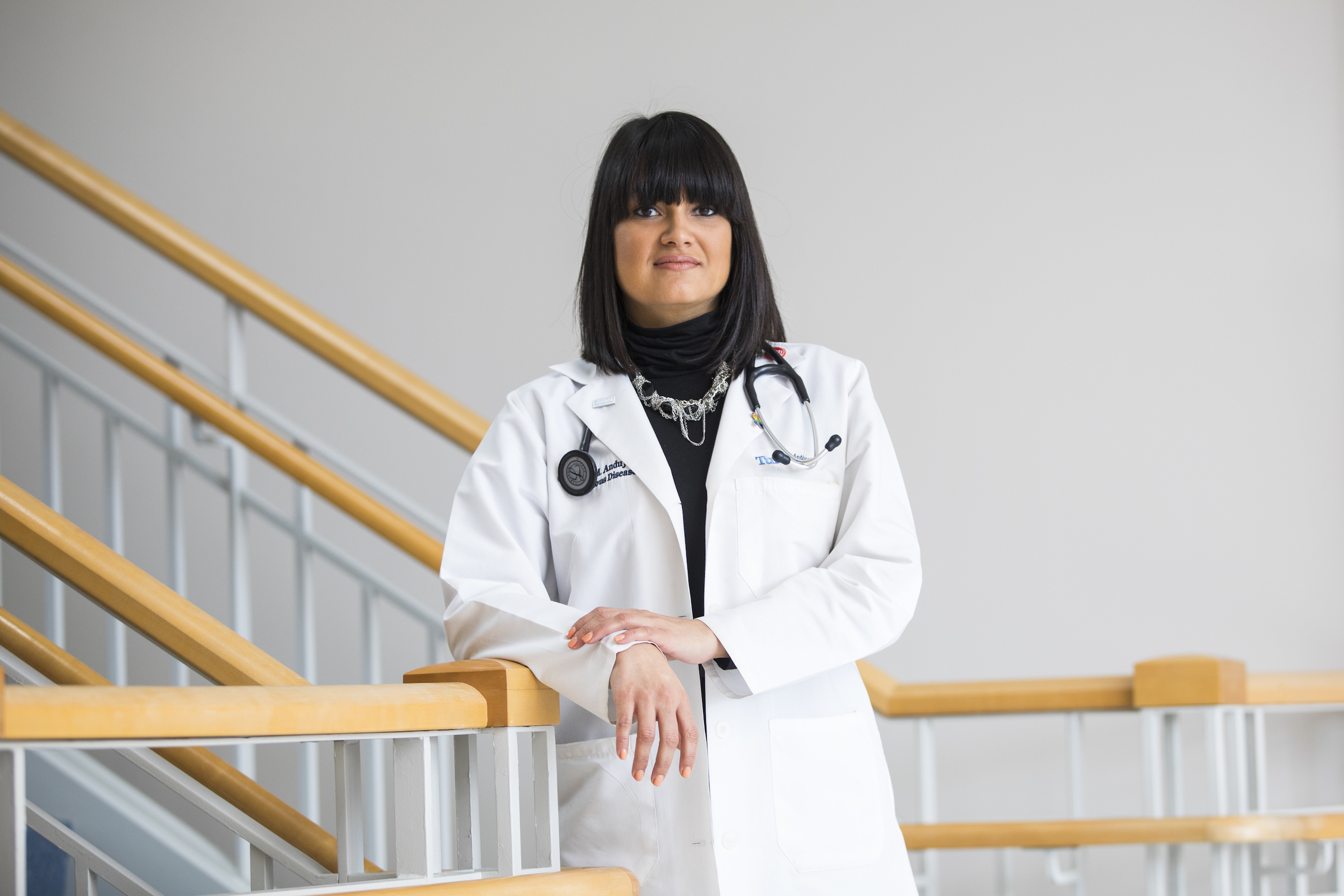 Scientists at the FDA -- who are not political appointees -- also did independent reviews of the Moderna and Pfizer clinical trials. Their findings matched the manufacturers' findings: the vaccines are approximately 95% effective and produced no adverse effects beyond short-lived symptoms such as fatigue, headache, achiness, and, in a small number, a fever. These aches and fevers are signs of the natural immune system responding to the vaccine so that a future infection will be fought off quickly.
A peer-reviewed study of Pfizer's data published in the New England Journal of Medicine found the same. 
"If approved, "the vaccine can contribute, together with other public health measures, to reducing the devastating loss of health, life, and economic and social well-being that has resulted from the global spread of Covid-19," the study authors wrote. 
What about long-term effects?
Pfizer and Moderna will keep monitoring the thousands of volunteers in its drug trial, and the CDC also has safety monitoring systems that watch for possible side effects in vaccine recipients. Any adverse events are reported immediately; for example, after two British health care workers with a history of significant allergies had allergic reactions, clinicians have responded by monitoring patients for 15 minutes to ensure there is no reaction. 
There are certain limitations to the swift process, Andujar Vasquez says. For example, there are no long-term data yet. There are also subsets of the populations whose reactions to the vaccines haven't been studied in depth, such as pregnant women and some immunocompromised groups. 
However, she said, the current data we have shows the new vaccine is strikingly effective and has few side effects. The risk posed by the virus, which has already killed more than 300,000 people in the U.S., is far higher. 
I would urge everyone to trust the process. It's fast but that's because we need the vaccine to get us out of this pandemic. I'm confident it's safe. And in our field, we do not say that lightly.
Did you find this article informative?
All Coverage content can be reprinted for free.
Read more here.
---
PHOTO OF Dr. ASHLEY YEATS BY MICHAEL GRIMMETT &  Dr. GABRIELA M. ANDUJAR VAZQUEZ BY NICOLAUS CZARNECKI