Jun 2, 2020
Video: How to socialize safely
Clinicians are offering guidance for Bay Staters on safe and healthy socialization as COVID-19 hospitalization and death rates in Massachusetts drop and the state begins to loosen physical distancing and business restrictions.
"The sacrifices we have made in Massachusetts have literally saved lives," said Dr. Katherine Dallow, vice president of clinical programs and strategy at Blue Cross Blue Shield of Massachusetts. "That's why we can start to slowly, thoughtfully reopen. But we need to continue practicing the precautions that have worked, or we will see another rise in cases. No one wants that."
---
Watch Dr. Dallow here
---
To limit the risk of infection, Dallow recommends:
If you visit with friends or family, do so outdoors and stay six feet apart. 
Keep the group small, to maybe a guest or two. 
Remember it's safer to socialize with just one other household than to start adding many people to your circle
If you need to go to a store or another confined space, don't linger. The less time you spend there, the less chance of infection.
Keep wearing a mask whenever you are in public, and frequently wash your hands.
The state's closure of businesses and stay at home advisory beginning in mid March has had strong public health results. The positive test rate in the state has plummeted 76% since the peak April 15, from 16.2% to below 10%, an indication of the state's broadened ability to test a wide swath of those reporting symptoms. Hospitalizations are down 49% from the peak, and the three-day average number of deaths is down 67%.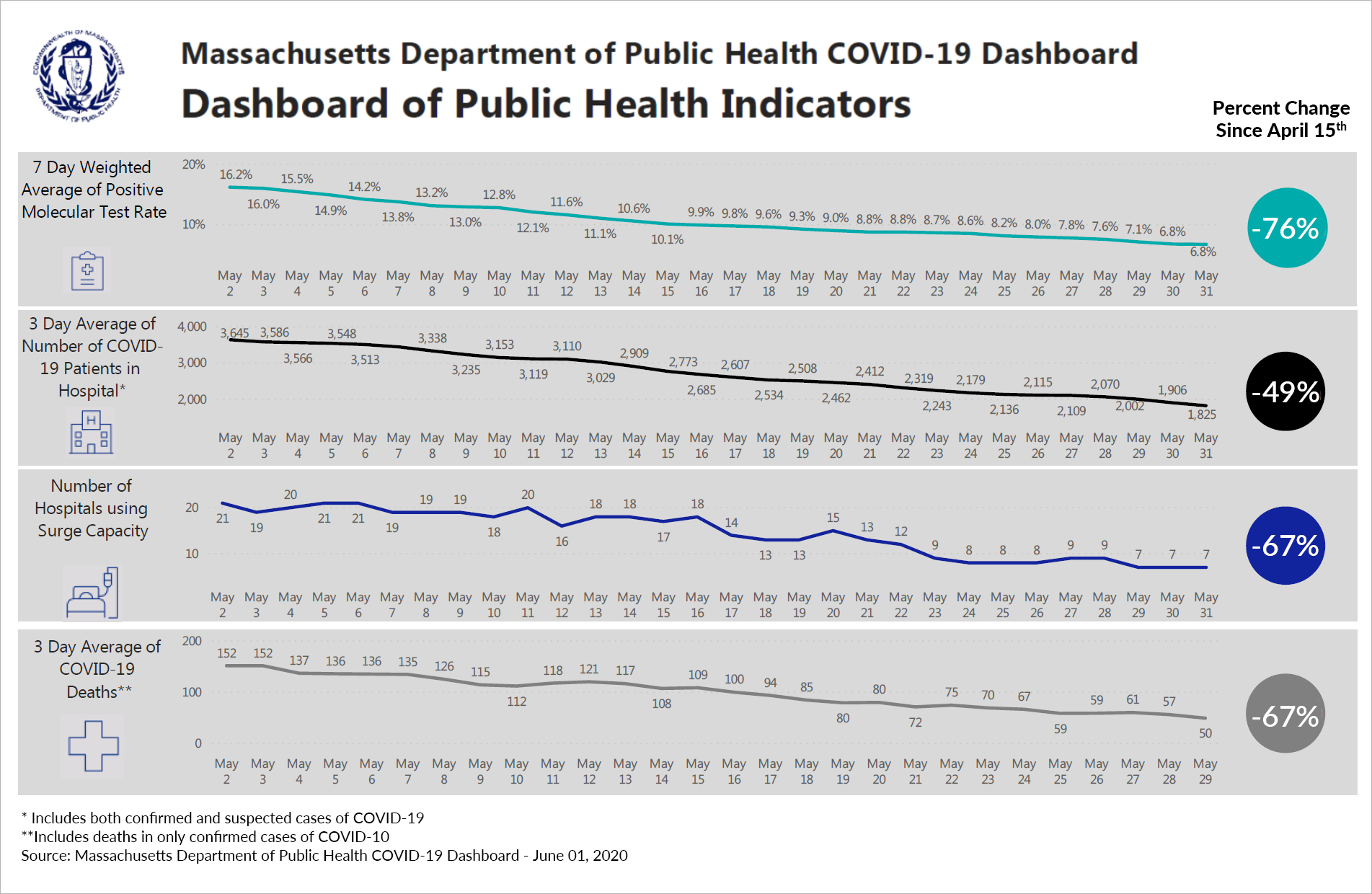 "Staying home bent the curve and decreased infections," said Dr. Ashley Yeats, an emergency department physician and vice president of medical operations at Blue Cross, referring to the successful effort to slow the rate of hospitalizations in the state. 
Decreased infections through decreased exposure prevented loss of life.

Dr. Ashley Yeats
The success the state has seen has allowed a deliberate reopening process, with the state currently in Phase 1. The spring's stay at home advisory has been replaced with a "safer at home" advisory, with those at high risk for COVID-19 – such as people over the age of 65 and people who have underlying health conditions – recommended to continue to stay home except for essential activities. 
Other residents currently are advised to remain at home as much as possible as well, with a broader list of exceptions, including visiting a house of worship, shopping, and outdoor activities, in addition to going to work and running essential errands.  Gatherings of more than 10 people are still not allowed. 
In coming days, Gov. Charlie Baker will review public health data and evaluate whether the state can enter Phase 2, which could lift the advisory and allow the reopening of restaurants, retailers, day camps and other facilities as long as they adhere to strict occupancy limits, cleaning rules and physical distancing restrictions. The process will continue through the year, as the state evaluates whether the infection and hospitalization rates remain low while testing, contacting tracing and appropriate isolation rates grow, allowing the reopening of other businesses and schools. 
Did you find this article informative?
All Coverage content can be reprinted for free.
Read more here.
---
VIDEO OF Dr. KATHERINE DALLOW BY MICHAEL GRIMMETT