Nov 24, 2019
An iron bond
Three decades ago, two small children played in the salt marshes and woods of Newbury, Mass., forming a friendship that would last a lifetime. 
Molly Foley and Matt O'Brien grew up to take very different paths. They always stayed in touch.
He became an ironworker with Local 7 in Boston. She moved to California for college, moved back to the Bay State, worked as an advocate and, joyfully, started a family. 
But there was a problem. An ultrasound revealed her first baby, Haven, would be born with half a heart. 
"Everyone was really scared that she was going to die," Molly recalls. "And I know Matt was definitely scared for me, too when he found out about it."
"When Molly tells me about what was happening with Haven, it hits me deep," Matt said recently. "She's a friend, when she tells me, I can hear it in her voice."
Haven had three open-heart surgeries before she was 4 years old, surgeries that rewired her tiny body to allow her to function with one ventricle. 
Her surgeries were all at Boston Children's Hospital, which provided cutting-edge technology, world-class surgeons and round-the-clock, attentive care. They saved her life. 
Today, Haven is 9. She loves singing and dancing and acting, and recently starred in a South Boston production of "Annie," belting out, "the sun will come out tomorrow."
"We are one of the luckiest of the lucky," said Molly, who last year co-authored an oped sharing Haven's story with Blue Cross Blue Shield of Massachusetts CEO Andrew Dreyfus. "Haven has not required a heart transplant, the three surgeries worked as well as they can, and she has no limitations – she doesn't need a pacemaker or anything like that."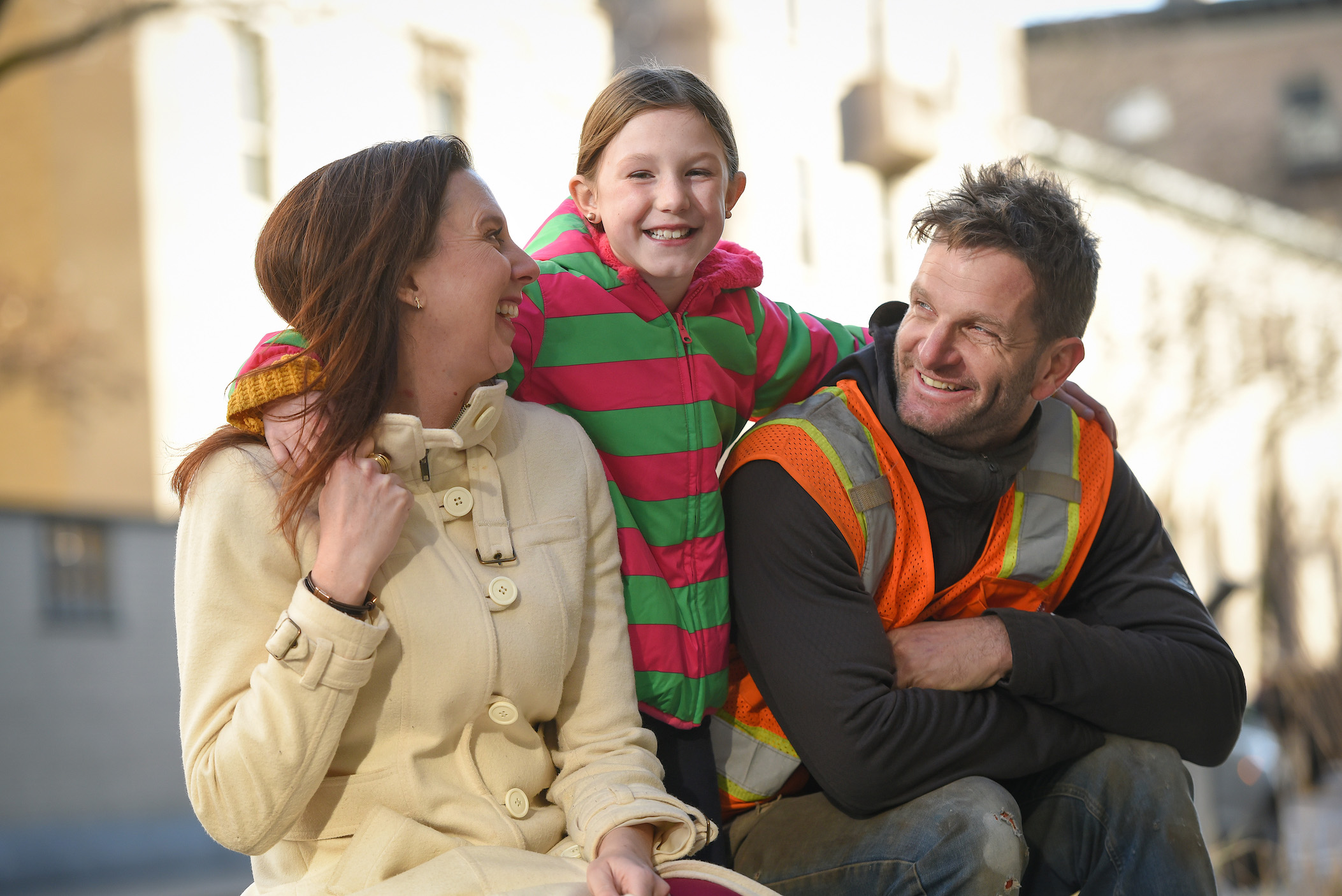 Meanwhile, the construction boom in Boston has kept Matt busy. 
These days, he and his crew are working on an expansion of Boston Children's Hospital. The new building will add more beds for children who need them. It'll include a neonatal intensive care unit, like the ones Haven stayed in as an infant. It will have a cardiac center and operating rooms, like the ones that saved Haven's life.
Matt often gazed at the giant iron girders that will support the building. And he found himself thinking of his old friend and her little girl. 
"One day he reached out and said, 'Listen, Mol, we are putting up some beams and we want to put some kids names on them. Are there any names you want us to throw up here?'" Molly said.
So Molly gave him some names, including some of Haven's friends that she had formed strong bonds with while being treated at the hospital. Those names, Haven and Ella and George and more, are written in giant, bright letters on that girder now. 
Another beam is inscribed with names in memory of children who have passed away, their strong little souls remaining in the core of the new building.
More names of children who have been treated at the hospital are being added as the construction of the building continues into the winter. Some, like Haven, are thrilled they are now part of the history of a building that will save the lives of babies and children from all over the world.
Matt said he can sometimes see them in Children's rooftop garden, waving to the workers as they go about the job. 
"I just get psyched that the kids get psyched," Matt said. "It's the least I can do."
Matt's crew, he said, also takes pleasure in adding the names to the great beams as they work, steps away from the building treating thousands of children every day. 
"Everybody loves to do it for the kids," he said. "They like to make kids happy. Who wouldn't? Especially kids in that situation." 
That's why he is careful about where he writes the names, preferring to wait until a beam goes in a prime viewing area so the young, waving patients are able to see.
And there is no shortage of names. Molly has formed close friendship with many families who have endured a parent's most painful journey, the journey alongside a sick child. Though the Mended Little Hearts organization, she has offered support to local families as well as those from out-of-state who struggle to navigate Boston and afford a long stay in a strange city. 
"Children's Hospital as a place is so important to us. Whether we are in there for appointments, or living there, the physical place is super, super important to us," Molly said. "Some of us have lost our children there, others have lived there for months and months on end. So we have a very physical connection to the building."
So does Matt.
Iron working isn't an easy business. The physical grind of working on the high steel, sometimes in freezing or boiling temperatures, can take its toll, especially after more than 20 years on the job. 
When Matt is working on a new building, when it is made up of little more than the iron frame that is its backbone, it looks like any other new building under construction. 
He and his crew know this project is different because of what will be inside.
"We know it's going to be something for some kids," he said. "This definitely means more to me."
He knows he and his crew are making something that will both commemorate those who've passed through the hospital over the years and heal countless patients to come.
"There is something about that big beam being taken up into the sky," his friend Molly said. "Things are going forward and buildings are being made and these kids are growing up. Even the ones who have passed are never forgotten."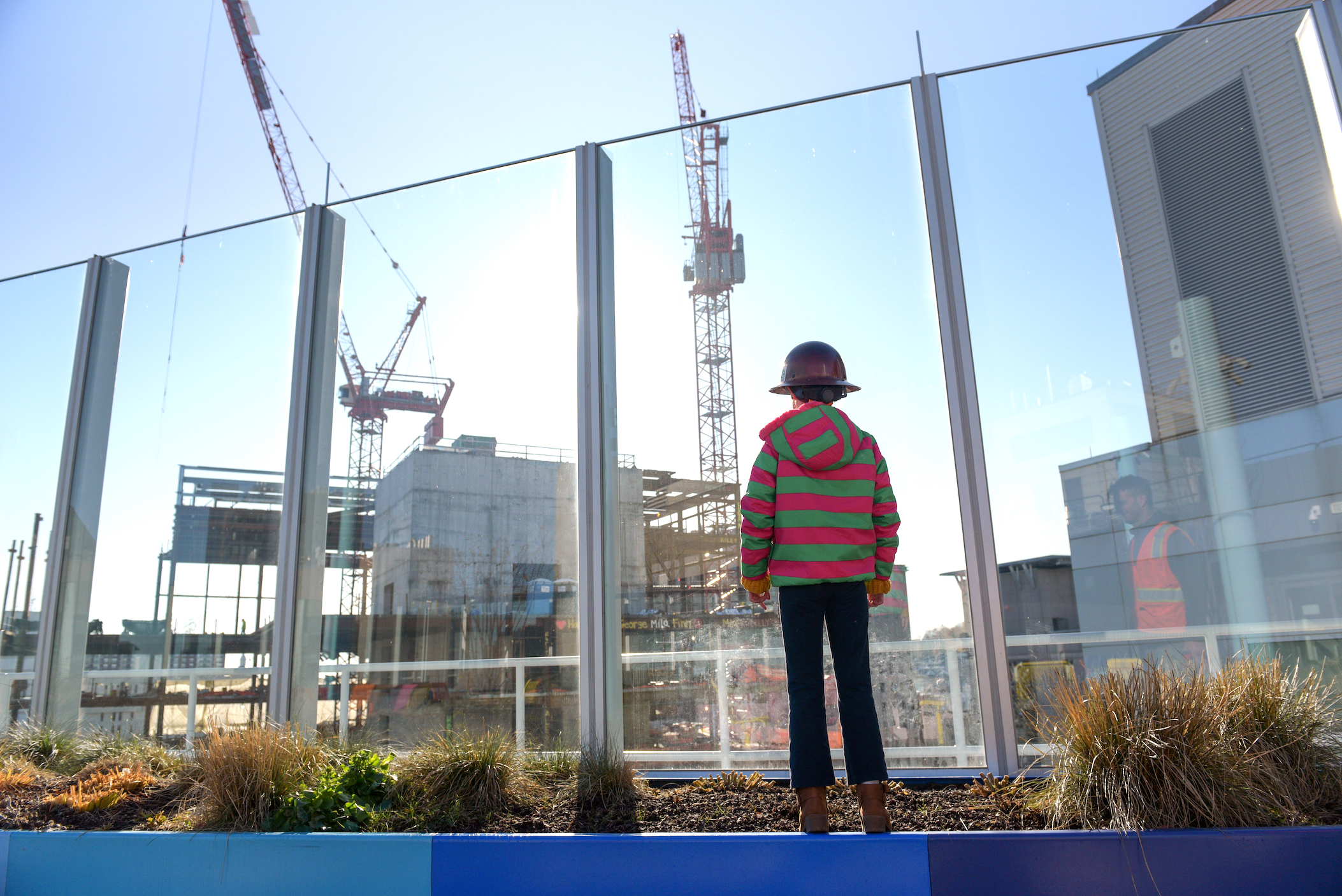 ---
Did you like this article? All Coverage content can be reprinted for free. Read more here.
---
PHOTOS BY FAITH NINIVAGGI