Oct 4, 2021
Listen to Big Daddy: 'Why not get vaccinated?'
Richard "Big Daddy" Salgado, 56, is a longtime Fox News football commentator and an insurance broker whose client base includes professional athletes and coaches – a business that focuses on maximizing opportunity and reducing risk. He shared with Coverage how his experience with COVID shaped his feelings about vaccination.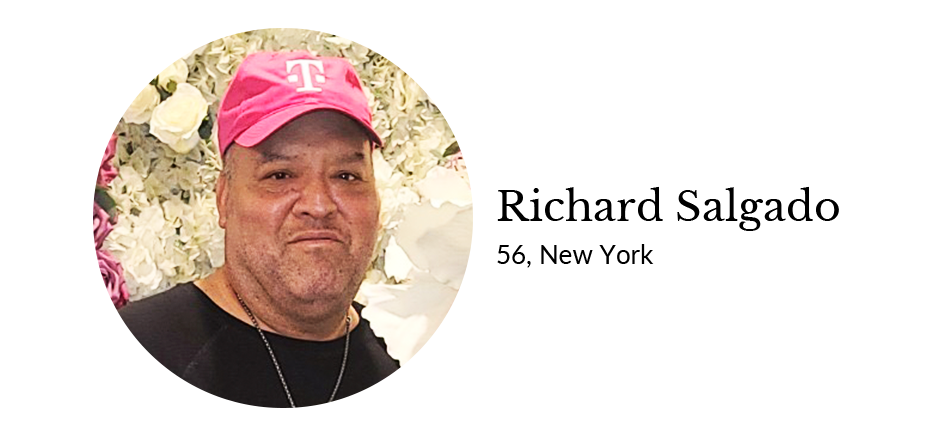 One day last summer, before vaccines were available, my business partner and colleague, Anzhelika Steen-Olsen, said to me 'You don't sound right, you should go in and get checked out.' So I go and do that and they tell me I need an X-ray and say it sounds like I have fluid in my lungs. 
I just felt like I was dragging a bit. When I parked at the hospital, the walk from the garage to the ER that should have been about five minutes took me 25 minutes because I kept having to stop and sit down. It hit me like a brick. 
I was tested for COVID and they said I didn't have it at first, but they said I needed oxygen and I couldn't go home. I was tested again after three days of getting oxygen and that time it was positive.
I spent three days in the hospital, but it took me a good five weeks to really beat this thing. It was a lot of laying around. I was sleeping on and off, going from the couch to the bed to the couch to the bed, back and forth. I wasn't able to eat and I lost my sense of smell. I have friends in the restaurant business and they were bringing me this incredible food and I couldn't even eat it!
The positive was that I lost some weight and it led me to living a cleaner and healthier lifestyle. From last August to now, I have lost 85 pounds
When I was eligible, I took the flu shot and then I took the two Moderna shots and thank God I was able to. I am an aneurysm survivor and my doctor is one of my closest friends and he has saved my life. My doctor recommended the vaccine and I listened to what he said. I listen to my guy because he is a proven winner.
I did not want to get sick and I did not want to have issues. I didn't want to go through anything else like that again. I am not a medical guy, and I think at the end of the day these doctors get paid to save lives.
Stay in your lane. You have a doctor, you have medical people, and my doctor told me to do this and thank God I did because everything has been great.
Why wouldn't you get vaccinated? That's where I scratch my head. If you can't go to certain places or you can't do certain things, then why not get vaccinated?"