Sep 14, 2023
For love of the game
On the dusty diamonds of Cape Cod, the crack of bats are ringing out, with balls flying far into the emerald outfields, hit by boys of summer who have been playing the game since before men walked on the moon.
"I'm in love with it," said Jim Gunning, a member of the board of directors of the Cape Cod Senior Softball League, whose season stretches from spring to the fall. "I play a few rounds of golf per year, but I probably play five games per week of softball."
The league, whose sponsors include Blue Cross Blue Shield of Massachusetts, is celebrating its 37th year amid a huge uptick in participation.
With 350 players spread out over five divisions and players ranging in age from 50 — the league minimum — all the way into their early 90s, the league blends a mix of tough competition and those who play for exercise, recreation, and camaraderie.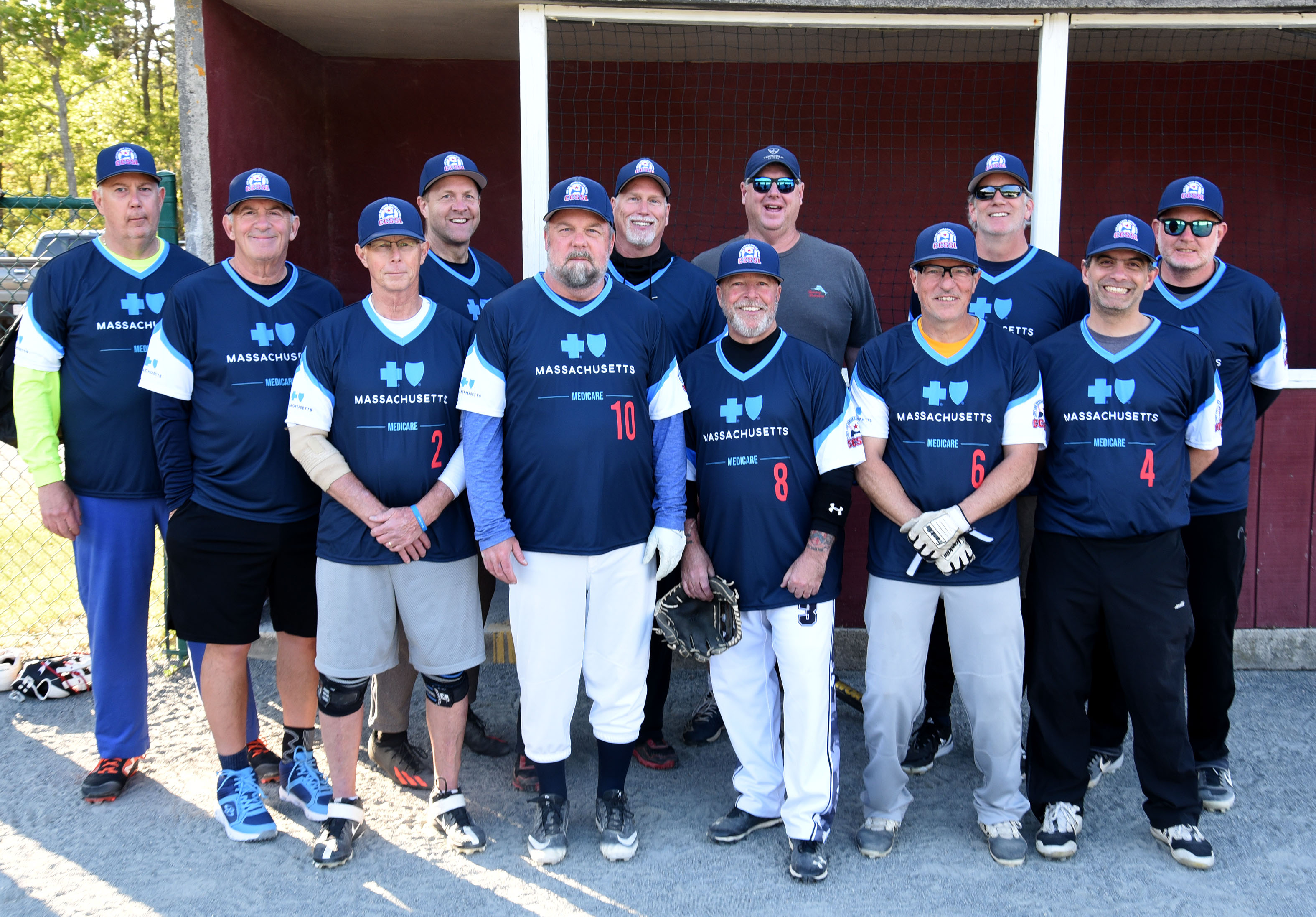 The benefits of exercise while aging
According to the Centers for Disease Control and Prevention, about one in three men and one in two women engage in no physical activity by the time they turn 75. 
But even a moderate amount of activity can reap huge benefits, including reducing the risk of heart disease, high blood pressure, colon cancer, and diabetes. Regular exercise also can help improve emotional health, build social connections and lower stress levels. 
For older adults, experts note, the benefits include improvements in muscle strength and balance, as well as memory and reducing the risk of falls.
"Physical activity is so important to the physical and social health of older adults," said Mary Hsieh, head of government programs at Blue Cross Blue Shield of Massachusetts. "We're proud to support initiatives like the Cape Cod Senior Softball League, and to offer our members support for other fitness opportunities too."
The CDC recommends older adults get at least 150 minutes a week of moderate-intensity activity, such as brisk walking, or 75 minutes a week of vigorous-intensity activity such as hiking, jogging, or running. Older adults also should engage at least twice a week in activities that strengthen muscles, and engage in activities to improve balance, such as standing on one foot – or reaching to catch a fly ball.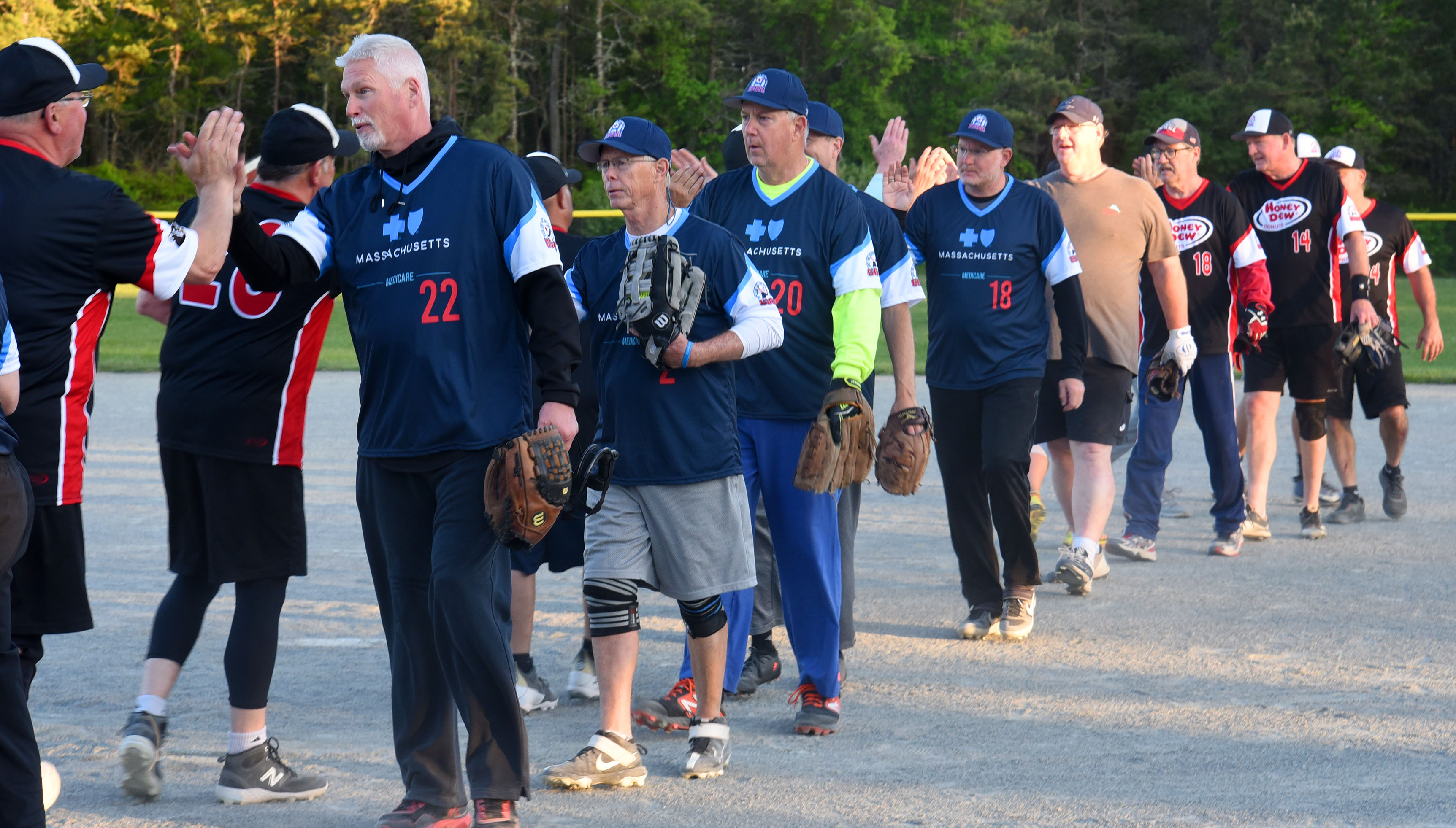 '100 friends'
At a recent game, the players extolled the physical and psychological benefits of the league.
Andrew Madden, 58, said he has been playing softball since he was about 12 years old when he saw some "old guys" (in their 30s) playing at a field in his hometown of Newton. He told his wife on their first date 31 years ago that he played a lot of softball, and that's still the case for the West Yarmouth resident today.
"I've only been in the league two years and I've got 100 friends," Madden said. "It's competitive, guys still want to win, but they are much more cordial about it. And I don't have to spend $300 on a therapist — I come out here and talk to the 11 therapists behind me."
Bob Maruca, 72, told his wife when he retired that he wanted to move closer to the water and start playing softball again. A lifelong gym rat and New York Yankees fan, Maruca plays in the top division, reserved for the best and most competitive players. 
Despite being one of the older players in that division, he has one of the best batting averages. His athleticism was on display during a Tuesday night doubleheader when he lined a ball to right field and, never breaking stride around first, legged out a double.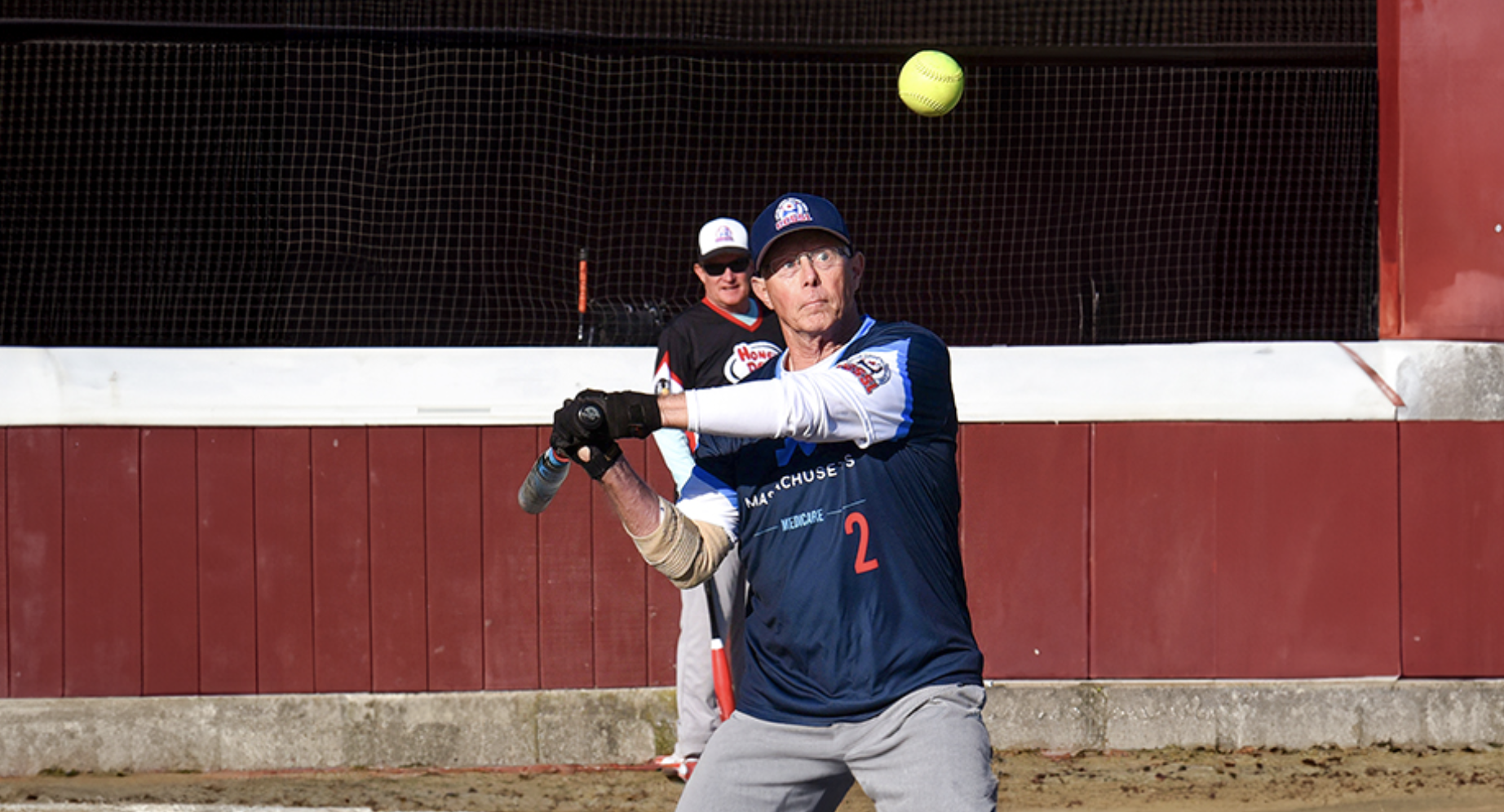 "I just love to exercise and play," Maruca said. "The camaraderie after the games is great as well. Guys will sit around and talk and there's a lot of good-natured ribbing going on."
Maruca previously played on a tournament travel team up and down the East Coast, even capturing a world championship. He was one of several standout players on the field in Yarmouth during a game that featured slick fielding, aggressive base running, and several home runs. 
A couple of the long balls were hit so far that the outfielders didn't even bother to turn around because they knew the ball would be sailing over the fence and into the trees.
Gunning said he has realized the health benefits of being active through the league, but the friendships he has developed have been even more important.
"The league doesn't stop when the weather goes bad," he said. "You have longtime friends, some of them for 30 years, and they meet at the coffee shop three times per week to talk about softball."
The games don't stop either. While some are competitive, Gunning said there is no shortage of pickup games that players can join or opportunities to stop by a field on a Saturday morning to take batting practice.
Mike Preite, 65, played in a softball league in Metro West before moving to Plymouth. He commutes 45 miles each way, over the bridge, to play softball because he loves the league.
"We have our aches and pains, but we still get to play and run around a little bit," said Preite, a former high school baseball player. "We are reliving what we used to do when we were younger, only at a slightly slower pace."
---
Did you find this story informative?
All Coverage content can be reprinted for free.
Read more here.
---
PHOTOS BY DEBORAH CONNORS AND PAUL DRAKE