Apr 27, 2020
Groundbreaking contact tracing effort launches in Bay State
A proactive person-to-person approach to tracking people exposed to COVID-19 has the potential to help change the course of the pandemic in Massachusetts, according to leaders of a new collaborative that has begun work this month and is getting the support of the state's largest nonprofit health plan. 
"This public health effort is crucial to stemming the spread of the virus and saving lives," said Andrew Dreyfus, president and CEO of Blue Cross Blue Shield of Massachusetts, which is lending more than 100 employees to the collaborative. "We're proud to lend our greatest resource -- our talented and compassionate employees -- to the collaborative."
The state will hire 1,000 people who will take part in the $44 million COVID-19 Community Tracing Collaborative, made up of the state Department of Public Health, the Department of Health and Human Services, the Commonwealth Health Insurance Connector Authority, and the nonprofit Partners in Health, which has long been on the front lines around the world fighting infectious diseases including tuberculosis, Ebola and Zika. 
---
Under the management of Partners in Health, the collaborative is deploying an army of "contact tracers," whose goal is to phone every person in the state who has been exposed to known coronavirus patients within 48 hours and provide the guidance and support they need to remain safe and healthy in quarantine for 14 days, which is essential to prevent the spread of the virus. 
---
The Blue Cross employees, primarily experienced service center staffers, will work full-time to help the collaborative jump-start its work over the next several weeks in what may be the country's most comprehensive contact tracing effort.
Calls will be identified on phones as "MA COVID Team," and have a number with the prefix 833 or 857.
Why contact tracing matters
Epidemiologists have identified key factors to slow the viral pandemic: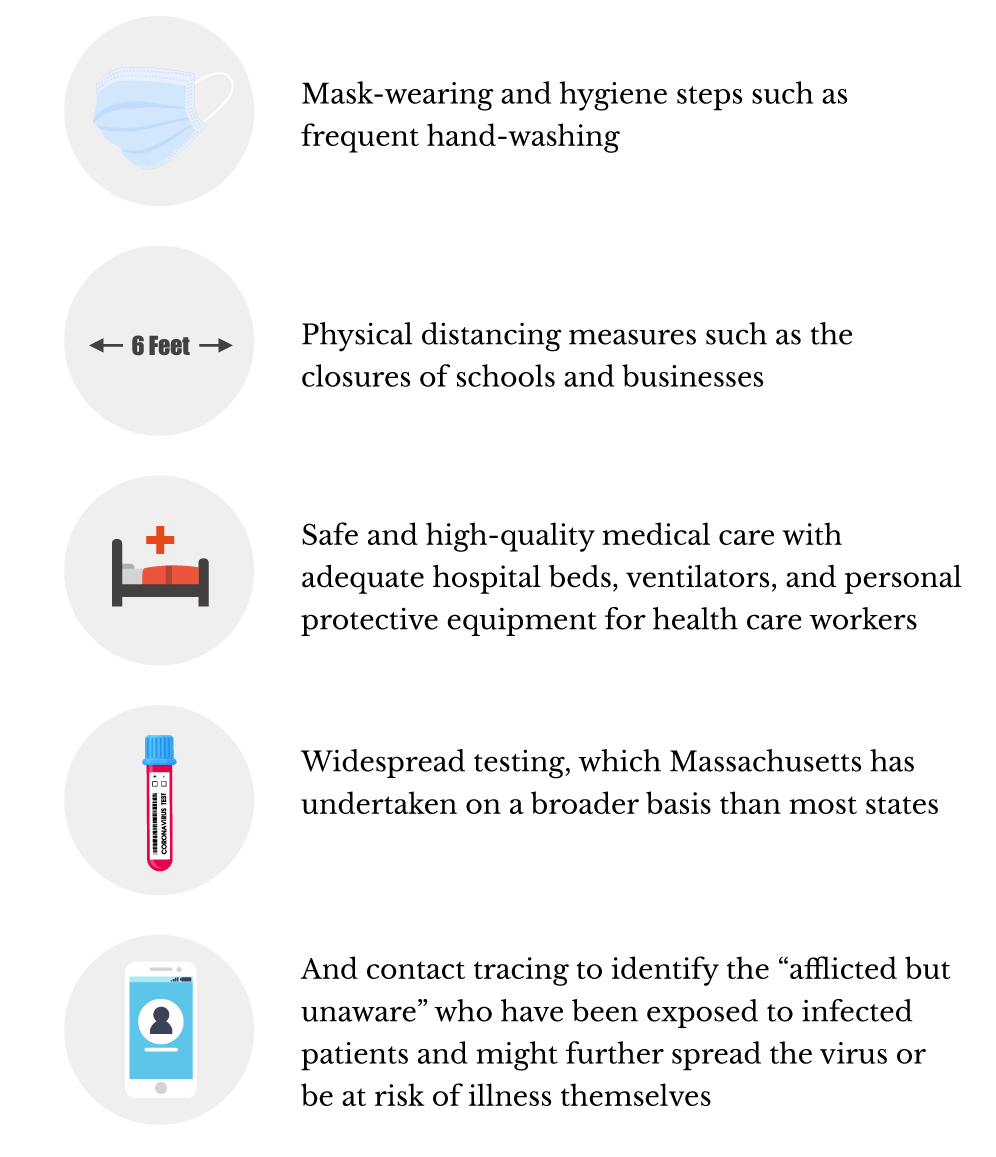 Contact tracing is regarded as crucial to eventually enable businesses to reopen and other physical distancing restrictions to loosen in the state, which currently has more than 50,000 cases and is still amid the "surge" phase of infections.
"Part of contact tracing benefit is letting us know where clusters are, where the disease is progressing in certain communities," said Kelly Driscoll, of the COVID-19 Response Command Center, led by Health and Human Services Secretary Mary Lou Sudders. "Having knowledge and data around that will help us ascertain areas where restrictions might be able to be looked at for loosening." 
"I absolutely believe that in Massachusetts, anyway, for us to get back on our feet, and start thinking about reopening, we have got to have better knowledge and better understanding and better support for people who are dealing with this virus and the people they come in close contact with," Gov. Charlie Baker said in a recent TV interview. 
I think it's going to be critical for every state that wants to get open and back to something like a new normal to put some kind of mechanism like this in place.
Contact tracing is commonly used in public health and has been used to curb pandemics for more than a century. This spring, the practice has helped countries including Germany, South Korea and Singapore slow the spread of COVID-19. Governments in areas from San Francisco to Ireland are deploying their own contact tracing efforts. 
But the manpower and money behind the Commonwealth's initiative is unmatched in the U.S. And although there will eventually be a digital component, the human-focused approach gives it a unique advantage, said John C. Welch, who helped lead Partners in Health's Ebola response and is now assisting the collaborative.
"We look at contact tracing as another way to care for COVID-19 patients," Welch said. "Big tech is out there working hard to solve this problem, but there's no substitution for an empathetic ear, for virtual human touch."
Partners in Health knows better than anyone the importance of boots on the ground when fighting infectious disease, Welch said, and although the scope of the task is daunting, "we've seen with epidemics like cholera and Ebola that contact tracing has huge dividends at the end." 
A health plan steps up
Blue Cross, like many companies, had underutilized employees due to state-mandated freezes on certain non-essential medical services. And, noted Ryan O'Donnell, vice president of service at BCBSMA, the contact tracer job description mirrors many of the requirements Blue Cross seeks in its team members: empathy, problem solving and patience. 
"Those are our core values for delivering service," O'Donnell said. "It made sense to redeploy our talented associates to this important public health effort. We're excited and humbled to be involved."
Welch said he hopes other industries follow Blue Cross' lead and offer to help in states around the country with contact tracing.
The Blue Cross employees, Driscoll said, will play a crucial role, bringing their experience with having difficult and important conversations to the table. 
"Folks with deep call center experience," she said, "can help inform our success rates."
Did you find this article informative?
All Coverage content can be reprinted for free.
Read more here.