Jan 9, 2020
A new coaching program is a hit with federal employees
When Christopher Ayers learned his office would be participating in an eight-week group wellness coaching pilot offered by his health plan to federal employees, he signed up but was skeptical. "Honestly, I thought, 'This is going to be a waste of my time,'" recalls the 46-year-old Plymouth dad.
But he went to the first meeting, where registered nurse and Blue Cross Blue Shield of Massachusetts wellness coach Jaime Drunsic asked participants to write down their long-term wellness vision and set two to three attainable goals for the coming week. Each person who signed up for the program committed to attending the weekly group meeting to discuss a relevant health topic and then meeting one on one with Drunsic to set small goals and check in on their progress.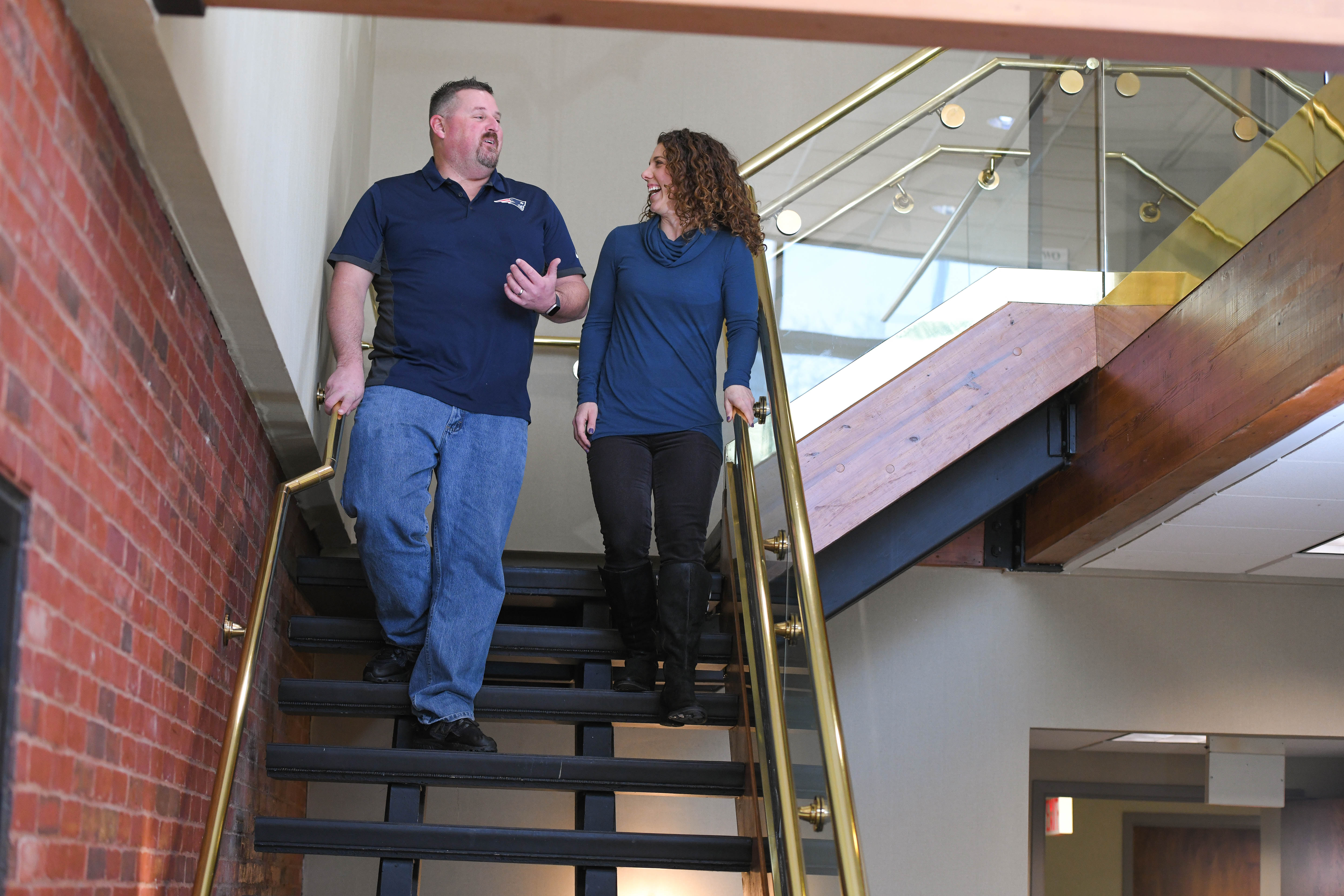 Ayers, a compliance safety and health officer at the Occupational Safety and Health Administration in Braintree, said he set two relatively easy goals—drinking 64 ounces of water each day and taking one flight of stairs every time he went into the office. He knocked out those goals, and the following week when Drunsic encouraged him to do a bit more, Ayers vowed to drink more water and take two flights of stairs at work. A few weeks later, he pushed himself even further, pledging to walk or jog on the treadmill two to three times a week for 35 minutes and do one weight training session per week.
Ayers kept raising the bar a little higher and achieving his weekly goals. Finally, one day, six weeks into the program, he got ready for work in the dark so he wouldn't wake his sleeping wife. It was only when he got to work that he realized he was wearing pants he hadn't fit into in over a year and a half. 
That was the moment Ayers realized that all of his small goals had added up to a 20-pound weight loss. What's more, he said, "I started feeling better and having more energy."
"People have to make their health a priority, and Chris did," Drunsic said. "He was willing to go out of his comfort zone, and it worked. He really embraced everything the program is about."
Expanding the program
Ayers is one of the first participants in the groundbreaking program that offers wellness coaching to federal employees. "No one is doing anything like this in the country for federal employees that we know of," said Blue Cross Blue Shield of Massachusetts federal employee program director Chris Chrisanthopulos. There are nearly 2 million federal employees in the U.S., and 113,000 federal members in Massachusetts. 
---
Nearly half of all federal workers are over age 50, and many of them experience the same health challenges as other Americans including diabetes, high blood pressure and high cholesterol. 
---
Given the program's success at OSHA, Chrisanthopulos said, the insurer plans to expand it to more federal agencies in Massachusetts in 2020: "Our focus is on improving the health of our members any way we can," he said. "If we can improve the health of one member, it's worth it."
OSHA Director Jim Mulligan explained that he said yes to the program in part because he wanted to improve his own health and nutrition but also because it was something different for his team: "We've done weight loss competitions in the past, but that only gets you so far," he said.
He liked that the program wasn't just about dieting and that people could work on other goals like stress management: "Often our employees have to travel to work sites and see people injured or hear about fatalities, which can be very stressful. One of my big concerns when we were brainstorming wellness ideas was mindfulness and reducing stress."
"Everyone who participated in the program got something out of it," said Mulligan. "I would really recommend it to other agencies."
Blue Cross has offered group health talks to federal employees in Massachusetts for many years, but the pilot marks the first time the health plan has offered group wellness coaching to members and also the first time it's offered wellness coaching of any kind to federal employees, whose health benefits are overseen by the Office of Personnel Management in Washington, D.C. 
Little changes, big impact
The magic of wellness coaching, Drunsic said, is that "lots of little things add up to big things."
She's seen many people have success with wellness coaching precisely because it's about making small, incremental changes that might even seem easy at first, but that can lead to big results and sustainable behavior change down the road.
"I see how effective wellness coaching can be and the results people can get because it's truly about helping people make balanced changes in the areas they want to," Drunsic said, whether that's stress management, nutrition, weight loss, exercise or quitting smoking. 
"Wellness coaching is not about changing something completely from the beginning—it's about making something a little better than last week and moving in the right direction."
The other thing wellness coaching is not about, Drunsic says, is sacrifice: "There's no thing that's off limits, no food you can't eat."
Ayers believes the program worked for him largely because it's not a diet and because weekly check-ins with Drunsic kept him accountable: "Paleo, Atkins, Zone. You name it, I've tried it. But with this program, I don't feel like I'm giving up anything—I'm just paying attention more and making better choices," he said. "Plus, Jaime's taking time out of her schedule to come help, so you feel more obligated to work on your goals." 
"I'm not there to tell anybody what to do," Drunsic said. "I'm there to guide them and help them be accountable."
In addition to dropping nearly 30 pounds, Ayers said, his blood pressure dropped and he stopped taking his acid reflux medication.
But perhaps the best measure of his success was getting a big hug from his 8-year-old daughter, Emma, who told him one day, "Daddy, I love that you are getting skinny because I can wrap my arms around you again and give you a big Emma squeeze." "Having my daughter say that," Ayers said, "that right there, that's success for me."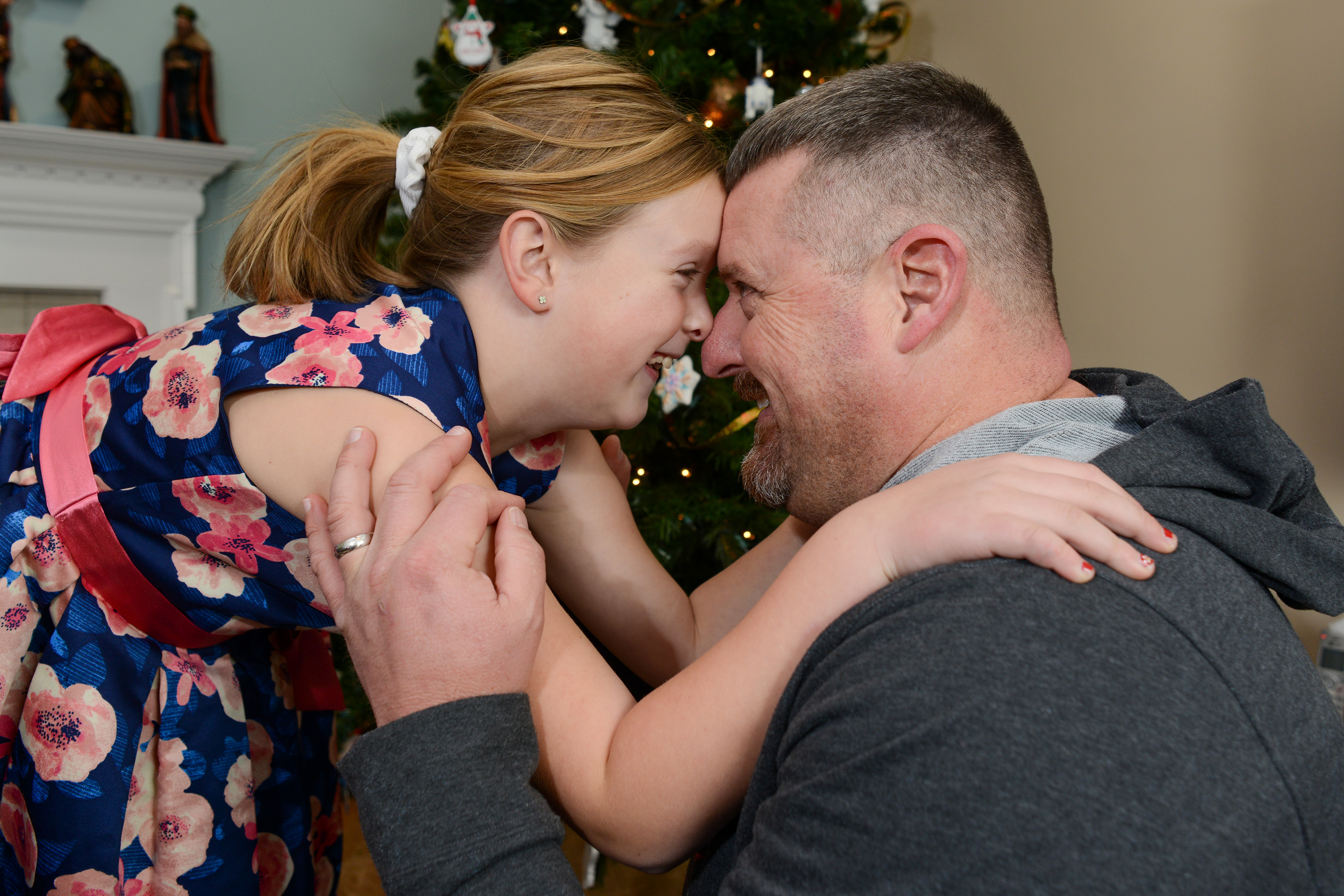 Did you find this article informative?
All Coverage content can be reprinted for free.
Read more here.
---
PHOTOS OF AYERS AND HIS FAMILY BY JIM MAHONEY; PHOTO OF AYERS AND DRUNSIC BY FAITH NINIVAGGI