May 7, 2021
'This is not just a personal choice, this is a family choice'
Bernie Cieplicki, 49, a sales executive from outside Burlington, Vt., makes no secret of the fact that he is not a huge fan of vaccines or needles. But he and his family battled COVID-19 in February. Cieplicki shared why that spurred him to get his first dose, in a recent Coverage interview.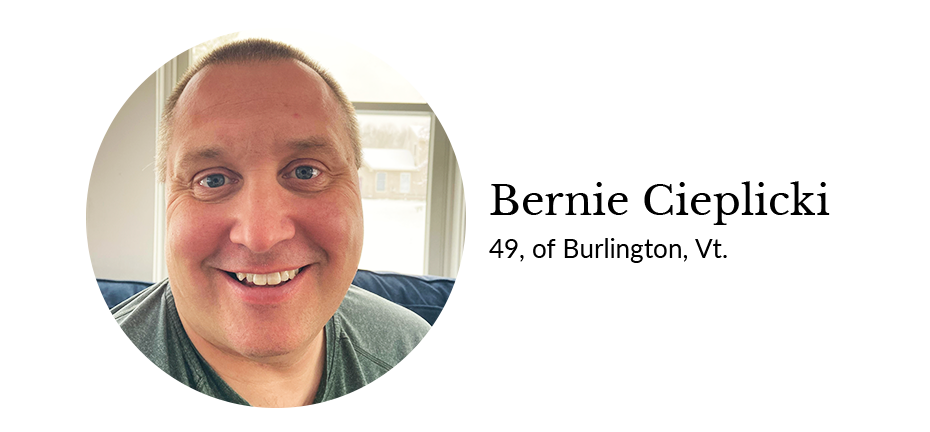 I had a fever for a short period of time, about 10 hours, and I was pretty achy. I had a little bit of a runny nose and scratchy throat, but other than that, it wasn't bad. I was pretty tired afterward, though, I would go to work for a day after I got through it and I was pretty whipped at the end of the day.
It never got any worse than a normal type of flu for about 72 hours, but it was the fact that we were locked up in our house for three weeks, that was worse than the COVID itself.
It was boring, frustrating, isolated. It was just really lonely and you can see how this illness can create problems on the mental side of it. That was a greater struggle than the physical side of what we went through.
In some ways we were lucky that we were not too sick. But the isolation, the inability to interact, we could not do that again.
The worst part was my son. He tested positive, was asymptomatic, but he missed a month of school. I think he was in school only eight out of 70 days at one point. He couldn't be a kid. It was like he was renting a room upstairs and living up there. We couldn't even eat together, we would make dinner and put plates out and people would go get it and have to eat in their separate areas.
I am getting the shot because I want to see my kids play basketball. I want them to be able to be kids again and I want to make sure they stay healthy and protected from this disease. This is not just a personal choice, this is a family choice.
An appointment opened up for my wife and I in St. Albans, Vt. It's a 20-minute drive each way but it's well worth it.