Dec 4, 2019
Overdoses drop, but opioid challenges remain
Growing access to Narcan and other interventions are successfully reversing the rise in opioid-related deaths in Massachusetts, according to clinicians, who nonetheless warn the increasing availability of illicit fentanyl poses a new and rising danger. 
"We have turned it around when it comes to the availability of prescription opioids," said Dr. Ken Duckworth, medical director for behavioral health at Blue Cross Blue Shield of Massachusetts, "but it's going to take some out of the box thinking by law enforcement, state regulators, health care and business to address the availability of fentanyl."
Opioid-related overdose deaths in Massachusetts fell 6% in the first nine month of this year compared to the same period in 2018, according to data from the Massachusetts Department of Public Health. More than 1,460 people are confirmed or suspected to have died from opioid overdoses to date this year compared to more than 1,550 last year over the same period in 2018.
"The release of this latest data indicates that our public health-centered approach to the opioid epidemic is working," said Massachusetts Public Health Commissioner Dr. Monica Bharel. "As we move forward, we will build on this success by continuing to focus on the widespread availability of naloxone, behavioral and medication treatments, and sustained recovery services."
Improved access to a lifesaver 
Duckworth cites expanded access to Narcan, which reverses the effects of an overdose, as key: "The reason opioid deaths are going down is the availability of Narcan." 
The medication, also known by the generic name naloxone, blocks opioid receptors in the brain. It is simple to use, and is available as a nasal spray.
In Massachusetts, a 2018 statewide standing order allows retail pharmacies to dispense naloxone without a prescription and requires pharmacies to maintain a "continuous, sufficient supply" of the medication.
This year alone more, than 10,000 individuals have been trained in the use of naloxone and more than 4,400 overdose rescues have been reported to the Massachusetts Department of Public Health through the state's Overdose Education and Naloxone Distribution program.
---
Almost 92,000 individuals have learned how to administer naloxone and more than 24,672 overdose rescues have been reported to DPH since the state program began in 2007.
---
Blue Cross Blue Shield of Massachusetts and other insurers have made it easier to access the life-saving drug, eliminating co-pays and co-insurance.
Blue Cross created a first-of-its-kind opioid overdose response toolkit, a pilot program that offered the life-saving medication and training in how to respond to an overdose to  workplaces throughout Massachusetts.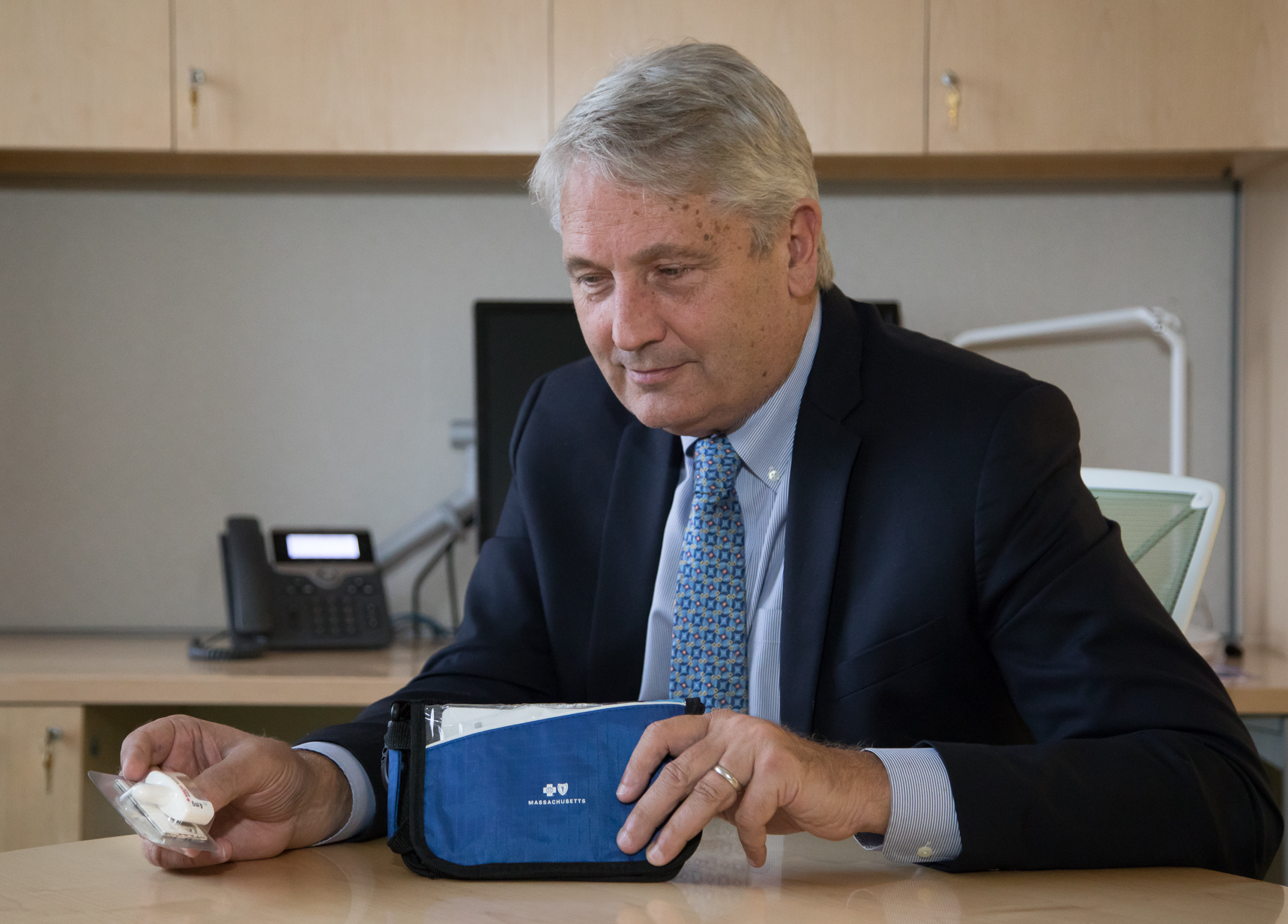 Action leads to results
The state's quarterly report on opioids shows other innovations in addressing the crisis also are having an impact. 
In the first nine months of this year there was a 40% decrease in the number of prescriptions for schedule II narcotic medications compared to the first quarter of 2015.  Schedule II narcotics include medications such as Dilaudid, Demerol, oxycodone and other opioid-related, highly addictive pain killers.  
Massachusetts was the first state in the nation to limit the number of days these medications could be prescribed and to require prescribers to check a database to ensure the patient wasn't filling prescriptions for the same or similar drugs elsewhere. 
The Massachusetts law is modeled on the groundbreaking Prescription Pain Medication Safety program launched by Blue Cross Blue Shield of Massachusetts in 2012. The program, was developed in partnership with physicians, pharmacists, and pain management and addiction experts.
---
A 2018 study found the number of prescriptions for opioid-based medications among Blue Cross' commercially insured members in Massachusetts plummeted 51% between 2013 and 2017 — the biggest drop in the nation. 
---
New challenges
However, fentanyl, a powerful synthetic opioid long used in hospitals during and after surgery, is increasingly being manufactured illicitly in China and sold on American streets, posing new dangers.
In the first six months of 2019, toxicology screens found fentanyl in 93% of all opioid related deaths tested in Massachusetts, up from 89% last year, according to DPH's report this month. The report noted the fentanyl detected in these deaths is "most likely illicitly produced and sold, not prescription fentanyl." 
 "Heroin is deadly, but can't compare to the lethality of fentanyl," said Duckworth. "Fentanyl can be lethal in just seconds to a few minutes, compared to heroin where people have minutes and up to as much as an hour to counteract an overdose."
---
PHOTOS Dr. KEN DUCKWORTH BY MICHAEL GRIMMETT