Aug 29, 2022
A parks fitness class: Free. New friendships? Priceless
Marie Fukuda has been attending chair yoga every Thursday this summer since a free Boston parks program kicked off. 
"After an hour of poses, stretches, and breathing exercises, I felt like I just took a trip to the spa," Fukuda said. 
Boston seniors are getting ample chances to boost their health through the free Boston Parks Fitness Series sponsored by Blue Cross Blue Shield of Massachusetts, which includes offerings designed for community members of all ages, and will continue running through the fall. 

The positive effects go well beyond the physical.
"There are lots of health benefits, but what's also true for this class is that we have a lot of older residents for whom expensive gym memberships don't exist," Fukuda said as her fellow chair yogis socialized after a class on a recent warm morning in Boston's Symphony Park. "These are people who live alone and don't always have family connections around."
"You can take a class in your community and get to know people there -- a lot of the people who come to the classes have formed friendships," Fukuda said. "There are a lot of social and mental benefits."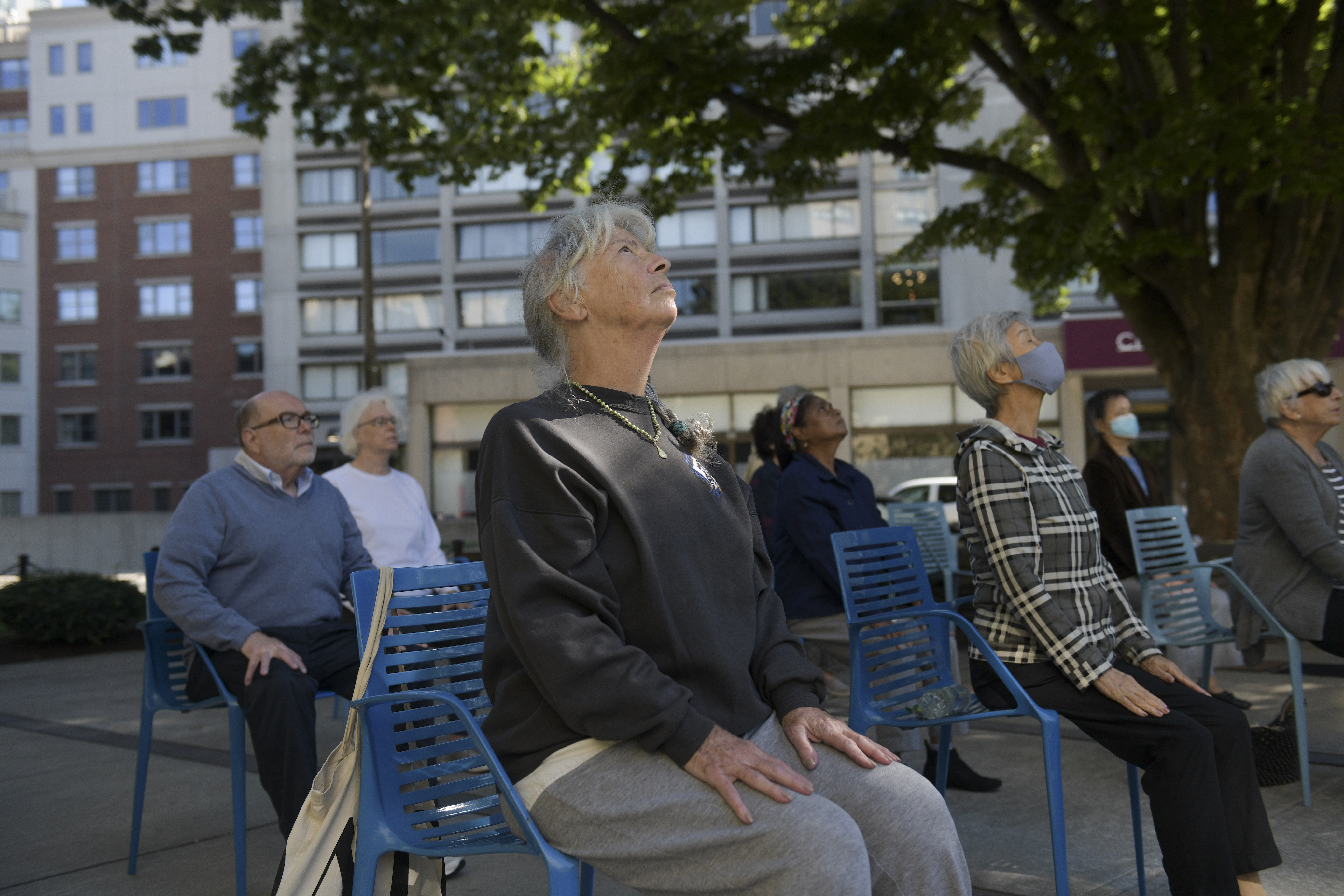 Jennifer Misiaszek, program manager for the Boston Parks and Recreation Department, noted Boston residents travel from all over the city to attend the popular class.
"They build their own community and they look out for one another even outside of class," Misiaszek said. "Someone might say 'Why isn't Susan here today, I wonder if something is wrong, she has missed the last two weeks, maybe we need to check up on her.'"
The program also gives seniors the chance to visit a park they might never experience otherwise, Misiaszek added.
Nearly every one of the chairs neatly lined up on a shade-soaked patch of grass in Symphony Park was occupied and a gentle breeze cooled off the participants during the class. Michelle Coleman, a yoga teacher since 2017, led the class.
"I love it because it's much more accessible," Coleman said. "I teach generally to seniors and people with limitations but really for anybody, any part of our day can have limitations. What I love about it is it's a much more accessible practice."
Coleman, who suffered an injury last year which forced her to switch to chair yoga, said she values being able to continue to practice while seated.
Such physical activity is essential to overall health and wellbeing, she said.
"It's really about building strength for daily living, it's not about getting your leg up to your ear," Coleman said. "It's about, 'Can I walk up the stairs? Can I lift my parcels? Can I get out of bed without hurting my back? Can I walk to the store?"
 

She added, "Muscle mass diminishes with age, so this practice is intended to build the strength and flexibility you need for daily living."
For Fukuda, who stays busy with her job and volunteer work, the class represents the perfect "pause" for her day and a chance to turn her focus inward with a few dozen likeminded Bostonians.
To have that little pause where you are connecting with your body and connecting with your community members. I don't think you can put a price tag on it.
- she said
Did you find this story informative?
All Coverage content can be reprinted for free.
Read more here.