Jan 26, 2022
A recipe for better health
Jackie Brown had a wake-up call last April, when she was found semi-responsive in her car due to respiratory failure.
The 61-year-old Brockton, Mass., grandmother had been diagnosed with congestive heart failure a few years ago — a serious condition in which the heart can't pump blood efficiently, depriving the body of oxygen and other nutrients. After her diagnosis, she acknowledged, "I did not take care of myself the way I should have." 
But when Brown woke up in the hospital this past spring, she knew it was time for a change. 
She went to a cardiac rehabilitation center for three months. And she followed her doctor's discharge instructions to the letter, with help from a registered nurse and registered dietitian at her health plan — Claire Petrie and Nancy Dowling of Blue Cross Blue Shield of Massachusetts. The not-for-profit insurer offers support from clinicians for members with congestive heart failure, diabetes, obesity and other chronic conditions.
People with CHF need specific care and understanding of the disease.

I got that at cardiac rehab and working with Claire and Nancy," Brown said. "I absolutely love both of them — they're so encouraging. They're my cheerleaders. It's such a blessing to have their support."
Small steps, big changes
With Petrie and Dowling's help, Brown made small changes to her diet that didn't feel like a sacrifice. She slashed her daily sodium consumption by using low-sodium tomato sauce over spaghetti, enjoying chicken seasoned with a dash of Mrs. Dash at her friend Dawn's summer cookouts, and subbing in low-sodium rice and unsalted chicken broth and butter in her jag rice recipe. 
She also cut out processed foods where she could. "I knew I needed to take control of my life, so I gave up chips, and I love chips," she says. "It was really empowering to say, 'I'm not going to eat that anymore.'"
She also got moving. She started walking on the treadmill for 3 minutes at a time and has worked her way up to 15 minutes. And she took to the pool at her local YMCA, which she calls "my happy place." She began with pool-side leg lifts and walking in the water for 5-10 minutes. Now, she swims and uses the pool for one hour five days a week.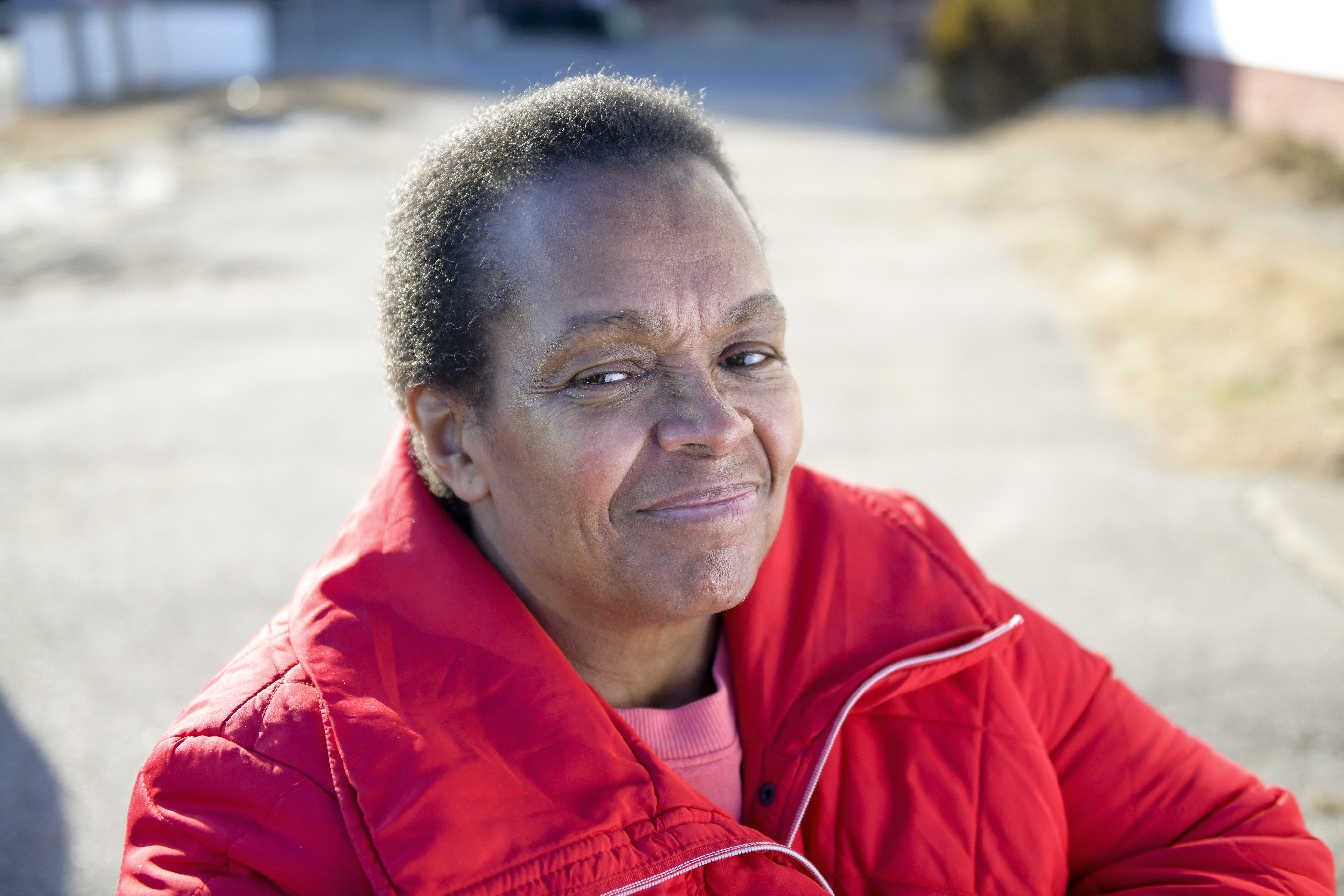 "It's hard, but I'm doing it," Brown says. "I'm much more mobile than I was before, and it's amazing that every day I feel like I can do a bit more."
Petrie and Dowling find Brown's attitude inspiring. "It's amazing to see her progress. She had to adapt to a lot of different things to achieve the successes she has," Dowling says. 
"Jackie is doing remarkably well," Petrie added. "The changes she's made are significant, and she's been so receptive and so motivated to make them. She's dovetailed nutrition and exercise together, which are paramount for her health."
Lifestyle changes key for those with CHF
"Along with medication, making small tweaks to diet and stepping up physical activity are important to effectively manage congestive heart failure," which affects more than 6.2 million Americans, says Dowling. 
When working with clients who have CHF, Dowling said monitoring fluid and sodium intake are critical because the heart's decreased pumping affects the kidneys, causing the body to retain water and salt.  
Her top recommendations are: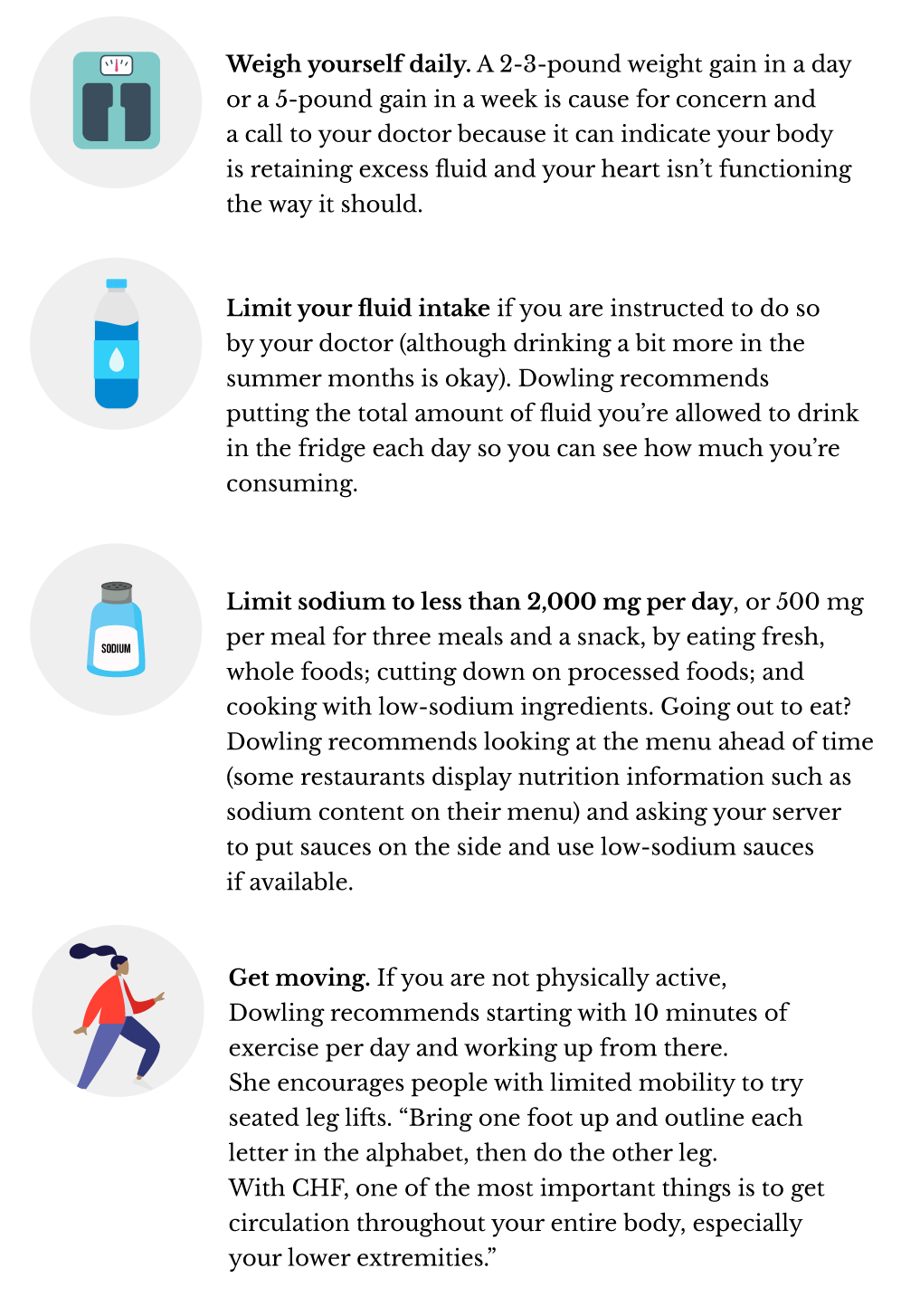 Dowling's most important tip, however, is to forget perfection. "Remember, the aim is not 100% compliance all the time. You have to live your life. People do better at 85% or 90% compliance than trying to be all in or all out," she says.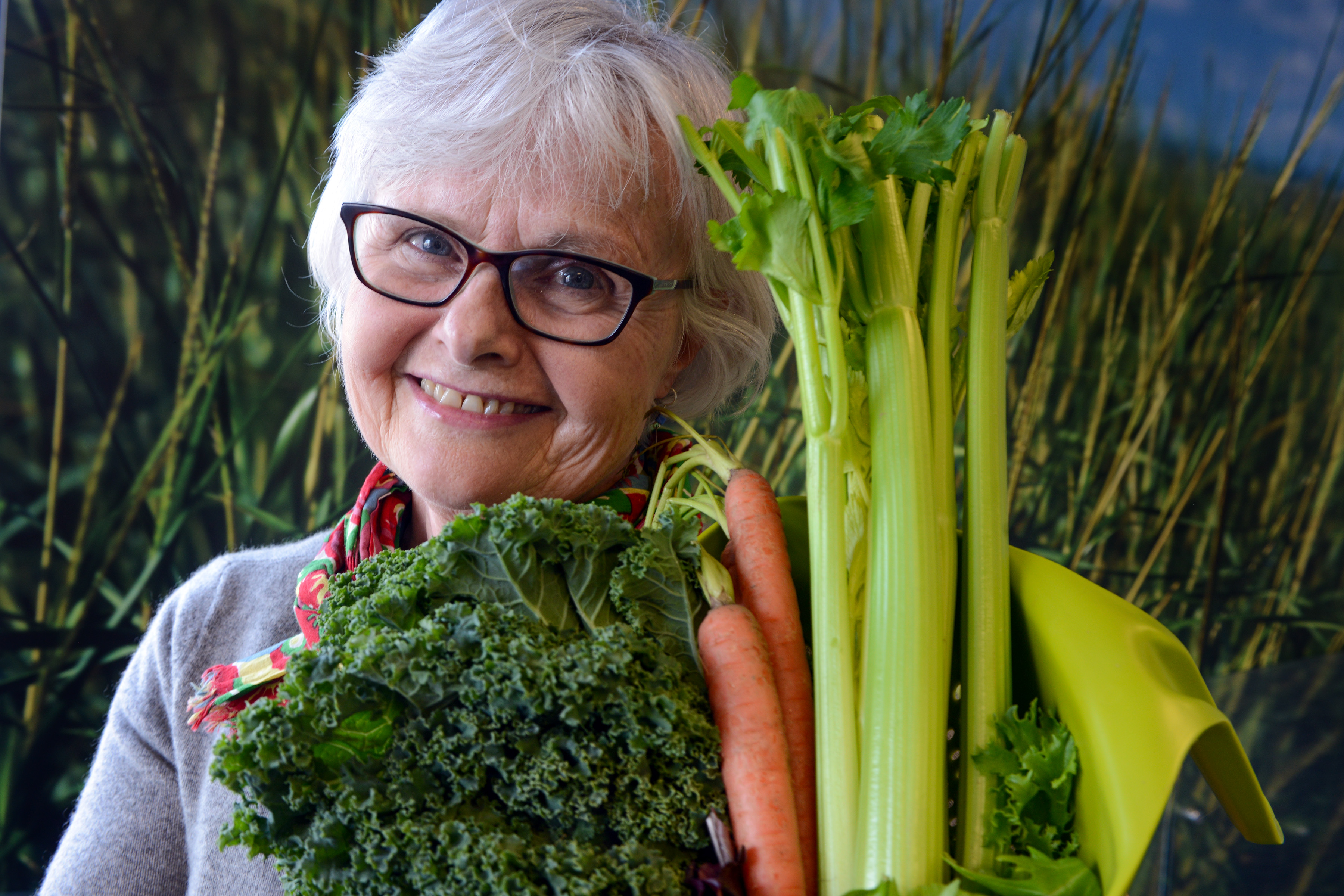 Worth the fight
Throughout her journey, Brown has been grateful for the support of her family and friends and mindful of the loved ones she's lost. Both her parents died before age 70, and she lost a brother at 54 and a sister at 59. She thought of them often as she struggled to make change. 
"This journey has been difficult, but in the long run it's worth it. I really want to embrace life and take care of myself and beat those odds," she says. 
I'm just trying to make changes one day at a time, one meal at a time. I'm just trying to be better. I don't know when my last day on this earth is going to be, but I don't want to make it sooner than it needs to be.
Did you find this article informative?
All Coverage content can be reprinted for free.
Read more here.
---
PHOTO OF JACKIE BROWN AND HER GRANDDAUGHTER IMAHNE REID BY FAITH NINIVAGGI
PHOTO OF NANCY DOWLING BY JIM MAHONEY