Nov 9, 2019
Researchers mine data to explore 'epidemic' of vaping illnesses
New data shows an "epidemic" spike in vaping-related illnesses nationwide, Boston researcher say, as the state's Department of Public Health announces a third Massachusetts death from a lung-injury linked to vaping. 
The explosion of cases resembles a viral outbreak, said Yulin Hswen, computational epidemiologist at Boston Children's Hospital and Harvard Medical School, who worked with Chief Innovation Officer John S. Brownstein, Ph.D., at the Innovation Program at Boston Children's Hospital to mine a variety of digital sources, including news and eyewitness reports to capture all confirmed and suspected cases of vaping-related injuries since the first cases were detected in Wisconsin back in July. Their results are in a letter published in the New England Journal of Medicine.
 "Our data shows the real-time escalation of vaping lung injuries," said Hswen. 
"What's unique is the cases are scaling just as fast as an infectious disease outbreak and resembles an epidemic curve."
The outbreak, Hswen added, is "a little bit frightening because we don't know the cause," unlike a known viral epidemic which can be contained. The new data starkly illustrates the abrupt and rapid increase in lung injury cases.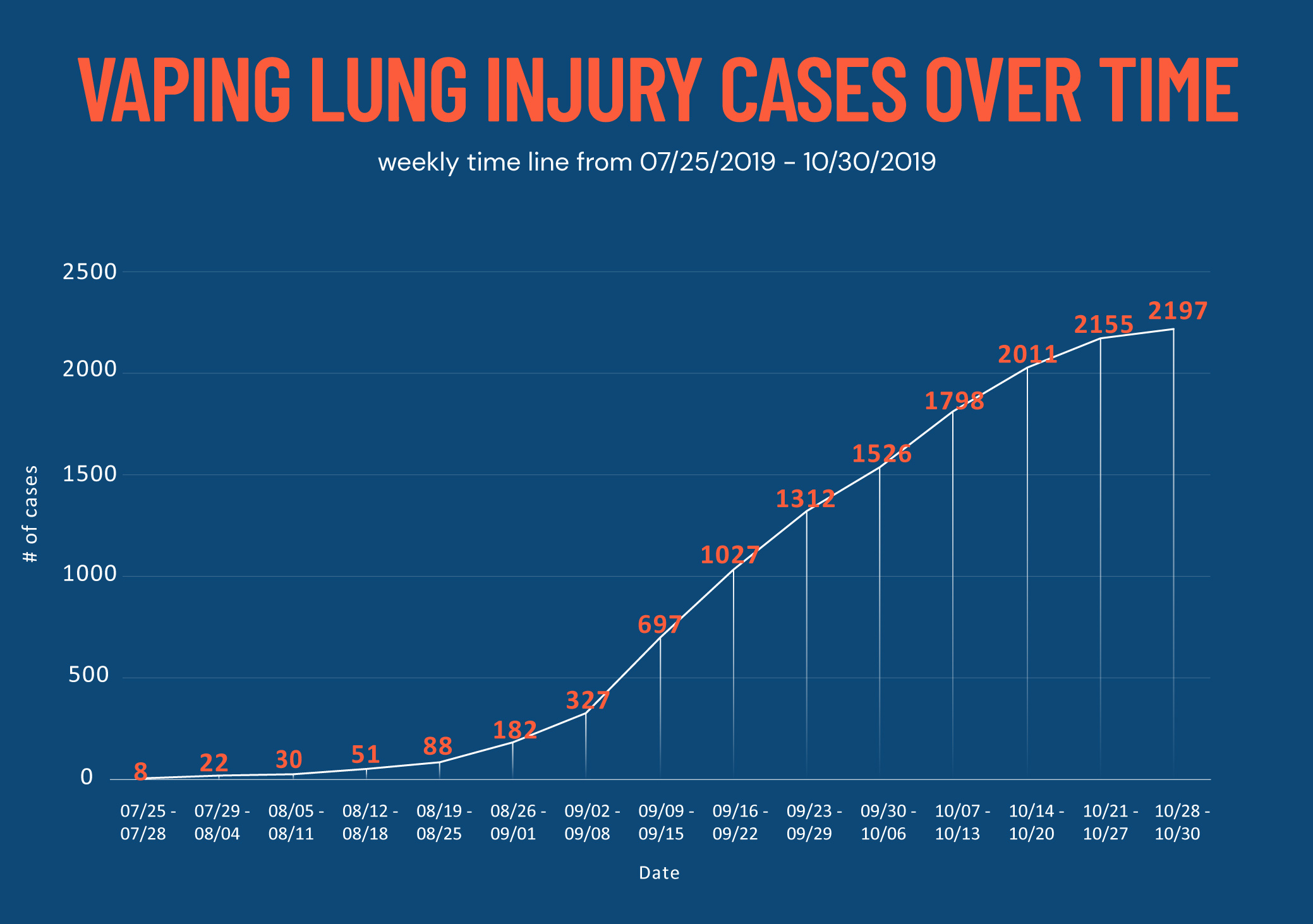 ---
Hswen and her colleagues at Boston Children's Hospital recently launched a survey tool to complement their data mining efforts 
"We developed this survey to give the public the opportunity to be engaged and have a voice in the vaping outbreak," said Hswen. "This tool seeks to help provide information to better understand the cause of vaping-associated lung injury and also capture cases that have not yet been identified." 
Any e-cigarette user is encouraged to take the 2- to 5-minute survey at https://youvape.org/.
"The scientific community must respond to this outbreak as it has to others," Hswen said, "by conducting rigorous, unbiased research that will eventually lead us to determine the cause of vaping related injuries."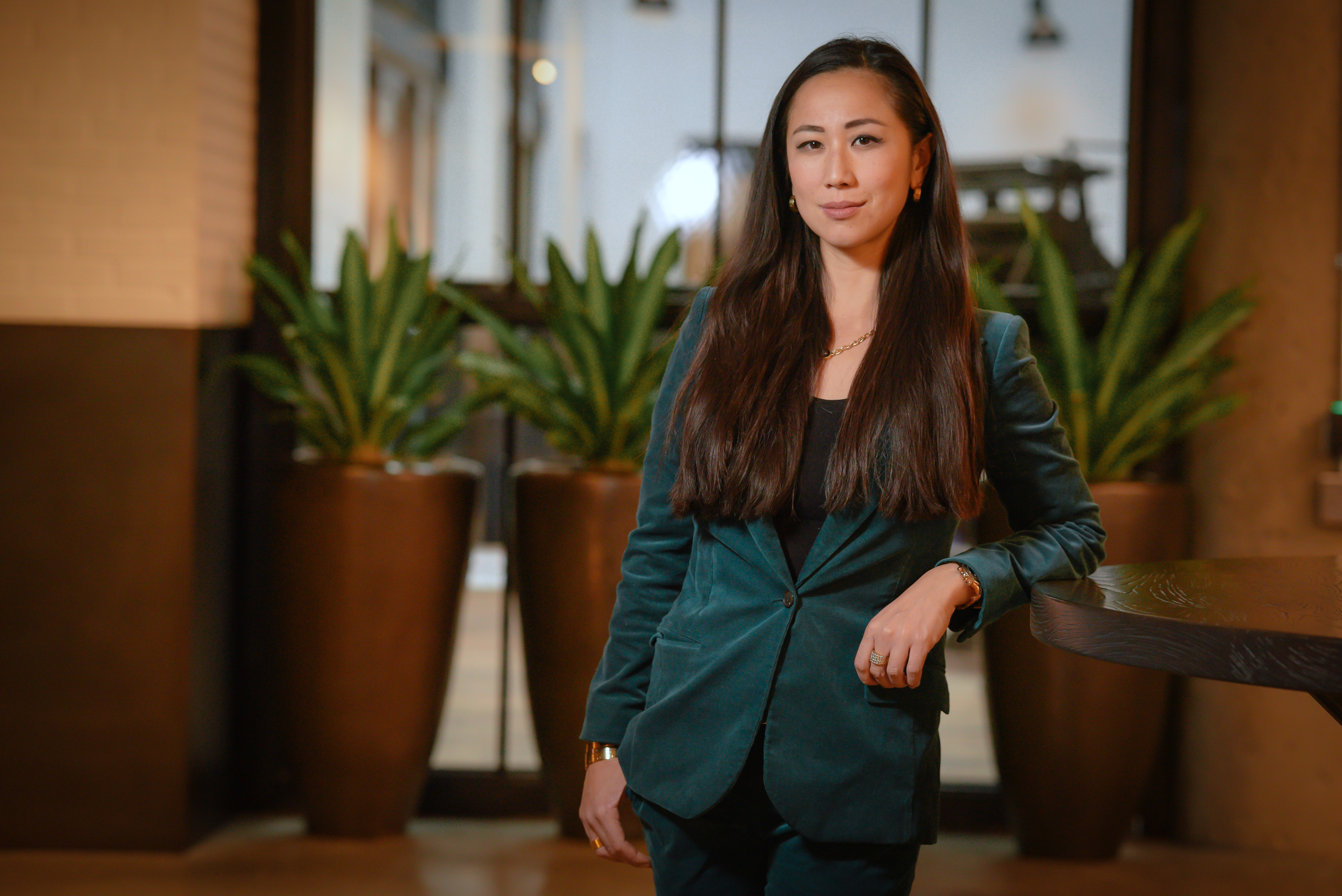 "A potential toxin of concern"
On Friday, the Centers for Disease Control and Prevention announced in a teleconference that lab tests of lung fluid of 29 patients in 10 states found vitamin E acetate in all fluid samples. 
Calling the lab tests a breakthrough, Dr. Anne Schuchat, deputy director of the CDC said: "These new findings are significant because for the first time we have detected a potential toxin of concern, vitamin E acetate, in biologic samples of patients with lung injuries." 
There is more work to do to determine the cause of lung injuries, Schuchat said.
According to the latest CDC data released last Thursday, 39 people nationwide have died from vaping-related lung illness. That does not include the latest Massachusetts fatality which will be officially reported to the CDC next week.  
That patient, a Worcester county man in his fifties, vaped both nicotine and THC, the psychoactive ingredient in marijuana, according to DPH. Last month the DPH announced that two other state residents, a woman in her 40s from Middlesex County and a woman in her 60s from Hampshire County died from vaping. They both reportedly only used nicotine vaping products. 
The CDC also reported that 2,051 people in the U.S. have likely suffered lung injuries associated with e-cigarette use. Sixty-five percent of patients are between 18 and 24 years old.
E-cigarettes, which resemble a pen or USB stick, work by heating a liquid sold in small packets to produce an aerosol that users inhale into their lungs. When sold in stores, the liquid contains nicotine, the addictive chemical in tobacco and, when originally marketed, flavors such as watermelon and crème brulee that were especially popular with young people. Some users modify the capsules to insert THC and CBD oils, found in marijuana, as well as other substances.
How the devices cause lung injuries remains under investigation, said Dr. Tom Hawkins, medical director for Blue Cross Blue Shield of Massachusetts. "We do know that these patients are suffering an inflammatory reaction. Whether it's related to the fluid used in e-cigarettes or the way it's aerosolized by being heated electronically is unclear." 
Murky benefits, clear danger
What is clear is that the current dangers of vaping outweigh the potential benefits, Hawkins said.
"Yes, vaping probably helps some adults quit smoking, but there already are effective smoking cessation therapies, and public health must balance the greater risks," he said. "There is a sharp increase in young people using e-cigarettes and the data shows they often transition to smoking tobacco, and now the risk of lung injury."
How to talk to your kids about vaping
 Clinicians urge parents to discuss the dangers of vaping with their children.
"It is never too early to have the vaping talk," said Dr. Laura Arvidson-Guzman, general pediatrician and associate medical director of the Pediatric Complex Care Program at Floating Hospital for Children at Tufts Medical Center, "with the goal of beginning a discussion when a child is still in elementary school and before they may be offered one of these products." 
In September, Massachusetts Gov. Charlie Baker banned the sale of all e-cigarette products for four months to protect residents and allow health officials to investigate the outbreak and determine if vaping products are safe. 
Other states have taken similar steps including temporary bans on some vaping flavoring products to decrease appeal to young people. 
---
PHOTO OF Dr. YULIN HSWEN BY FAITH NINIVAGGI