Oct 23, 2022
Seeking new ways to meet kids' mental health needs
The little boy didn't know why his breath quickened, his heart raced, and his stomach felt funny every time he climbed the stairs to the attic in his home. His parents, however, recognized growing anxiety in their 9-year-old son, especially whenever he was faced with heights, and decided to get him some help.
They reached out to Brightline, a new digital service that is building a network to provide therapy for children 18 months to 18 years old.
"Almost every child I talk to is impacted by the current public health environment," said Lindsey Sherer, LICSW,  a behavioral therapist at Brightline. "The isolation, increased screen time and reduced physical activity caused by the precautions we take to prevent the spread of COVID-19 is exacerbating mental health issues in children."
Sherer had several online sessions with the boy through the fall.
"Children who struggle with anxiety or depression often don't recognize it, so we help them develop the skills to recognize their feelings and give them the tools to challenge those negative thoughts and feelings," said Sherer.
After a few sessions with his Brightline therapist, the young man was able to scale new heights, literally, this holiday season. For the first time, his parent told Sherer, he climbed the ladder the family uses to put the star on top of their tree this Christmas.
Addressing an urgent need
The disruptions and constraints of the pandemic are taking a toll on the mental health of adults and kids too. 
In March and April 2020, mental health claims as a percentage of all medical claims for teens (ages 13-18) doubled over the same period in 2019, reports FAIR Health, an independent nonprofit that collects data for and manages the nation's largest database of privately billed health insurance claims
Claims for intentional self-harm as a percentage of all medical claims for 13 - to 18-year-olds increased almost 91% in March 2020 compared to March 2019, and almost doubled in April 2020 compared to the previous April
From March to November 2020, claims for obsessive compulsive and tic disorders in children ages 6-to-12 were up 20%  over the previous year 
But even when the need is greater than ever, mental health care can be difficult to understand and access. 
In 2018, the American Academy of Child and Adolescent Psychiatrists reported such a severe shortage of mental health practitioners nationwide that "only about 20% of children with mental, emotional, or behavioral disorders receive care from a specialized mental health care provider."
Even in Massachusetts, a state that consistently ranks high for both medical and mental health quality and access, a Blue Cross Blue Shield of Massachusetts Foundation report found that almost 39% of people who sought mental health care had their need for care go unmet. 
That's where services like Brightline come in.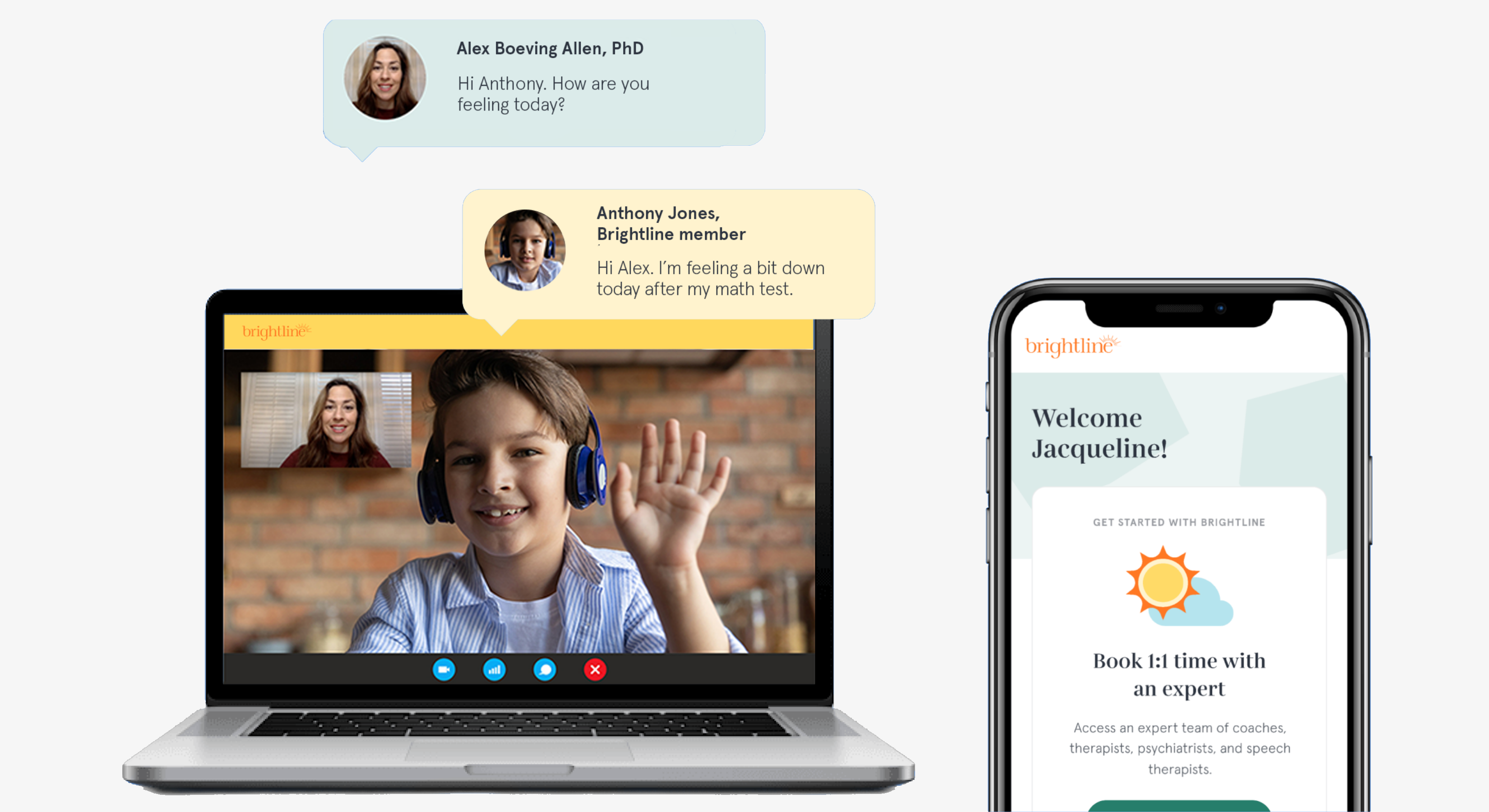 New tools
Digital options offer convenience and privacy while helping to fill the gap left by the shortage of therapists. Brightline focuses on pediatric care.
"Brightline aims to solve a couple of problems we see in pediatric mental health," said Dr. Greg Harris, a psychiatrist and senior medical director, behavioral health at Blue Cross Blue Shield of Massachusetts, one of the first insurers to include Brightline as a network provider. 
It provides an online platform, which helps solve pediatric access issues, and the folks at Brightline also help families navigate the complexities of mental health care.

- Dr. Greg Harris
The company is building a network of clinicians who provide services to children who need speech therapy or are experiencing moderates mental health issues like depression, anxiety and ADHD. Brightline Care provides virtual behavioral therapy, evaluation and medication support, and speech therapy, with families meeting by video with licensed therapists, psychologists, psychiatrists and psychiatric nurse practitioners, and speech therapists. 
Online therapy, Sherer notes, allows her young patients to feel comfortable getting counseling in their own homes, where they can share their feelings more readily. Many parents of her patients prefer virtual visits as well, she said.
"In-office therapy can be a barrier to care since it often means parents have to get the child and any siblings loaded into the car, drive crosstown, wait while the session takes place, and then drive back home," she said.
'Life-changing work'
The company was founded in 2020 by digital health care entrepreneur Naomi Allen, who was inspired by her own experience seeking help for her kindergartener, who was showing signs of anxiety.  
"It was an awful process," she recalls. "I didn't know where to start and there were no tips, no resources or advice on how to get my son help."
Now, after little more than a year in existence, Brightline is helping to meet those needs, said Irene Biscante Smith, NBC-HWC , director of coaching at the company. 
Now more than ever, people crave connection.

- Irene Biscante Smith
"We crave a place of our own where we feel listened to and heard," she said. "For those who don't have that, or don't know how to provide that to a loved one in need, Brightline can help."
 
Are you a Blue Cross Blue Shield of Massachusetts member who is looking for a therapist? Call 1-888-389-7764 or use our Find a Doctor & Estimate Costs tool to find licensed therapists – including psychologists, licensed mental health counselors, or marriage and family therapists. 
If your plan includes our telehealth benefit, you can talk to a licensed professional remotely using Well Connection via your smartphone or computer -- it's convenient and confidential. Get started.
---
PHOTO OF DR. GREG HARRIS BY MIKE GRIMMETT