Aug 21, 2023
'We are part of a community'
When Patty Kaplinger experienced a devastating loss, she found support through a bereavement and grief education center.
"They have been a tremendous support to me," she reflected recently.
And over time, she found, "I wanted to give back to them by volunteering."
Kaplinger now donates her time at the center, Hope Floats, a community partner of Blue Cross Blue Shield of Massachusetts.
"I consider myself a 'giver,' so working with the nonprofits my company supports is extremely rewarding," said Kaplinger, director of consumer experience design and program management at Blue Cross.
"Any time I have volunteered at an event, I always feel like I've made a difference," she reflected. Her three sisters – also Blue Cross employees – even join her at Hope Floats.
Since the pandemic, Kaplinger has worked from home – but connecting with co-workers is healing, she has found, particularly as they join together with a shared purpose to help others.
"Seeing colleagues you've known over the years, there is so much love and support," said Kaplinger. "Whether it's meeting new people, seeing old friends, or in my case, volunteering with my sisters, you come away truly feeling like all these people have your back – and that's powerful."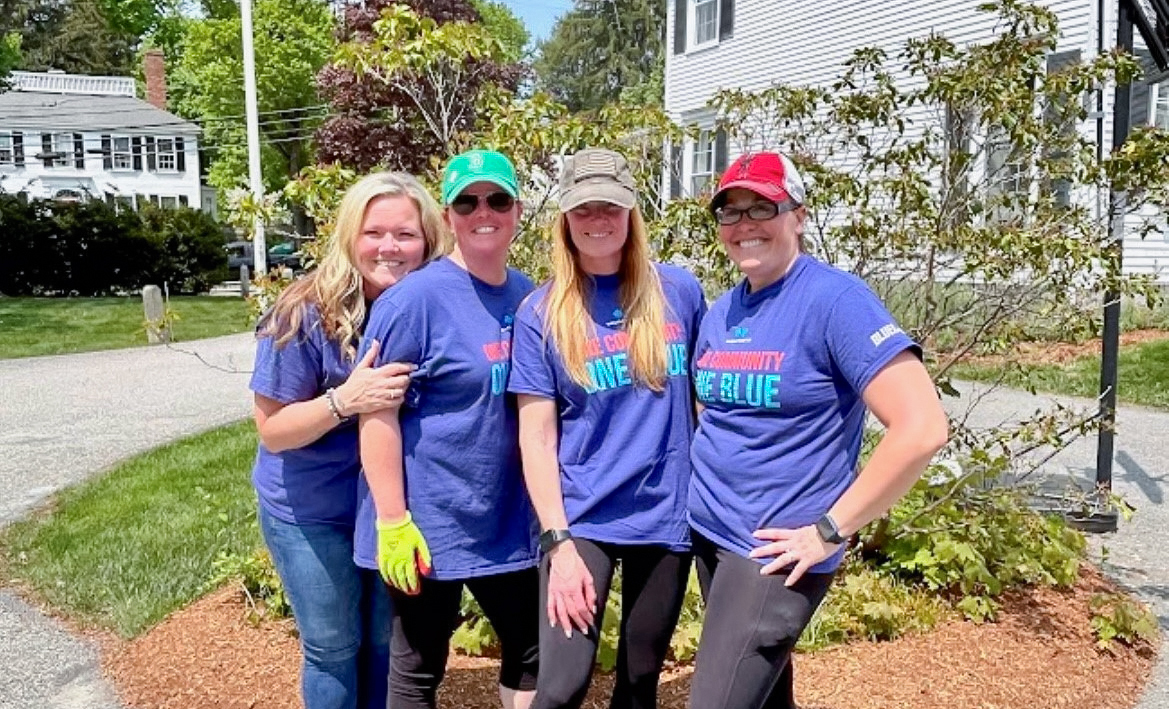 Battling a 'loneliness epidemic'
Kaplinger isn't alone in finding solace in giving, even at the most painful times.
"The benefits of volunteering can include a greater sense of well-being and a feeling of connection," said Dr. Greg Harris, a psychiatrist and senior medical director of behavioral health at Blue Cross Blue Shield of Massachusetts.
For those experiencing grief, isolation or loneliness, volunteering can be a real boost to emotional health

Dr. Greg Harris
The need is great. Mental health challenges, including anxiety, depression and substance use, have risen sharply since the pandemic, as half of all Americans report a sense of loneliness or isolation, according to a 2023 U.S. Surgeon General report.
And as an increasing number of U.S. employees work remotely, "employees are more connected than ever, technologically, but some may feel more disconnected than ever, emotionally," Harris observed.
---
Hear from people who volunteered to overcome their loneliness
---
A fresh approach
Employers are turning to community volunteerism to help create meaningful connections within the workplace,
"Employers are increasingly seeking new ways to engage their employees," said Katherine Smith, executive director of the Boston College Center for Corporate Citizenship.
In a post-pandemic workplace, volunteering is a powerful tool to help your workforce feel not only connected to your company, but also each other

Katherine Smith
At Blue Cross Blue Shield of Massachusetts, volunteerism has long been part of the corporate culture: Employees are given paid time off to volunteer at community nonprofits, and more than 80% of workers donate thousands of hours each year.
A shift to hybrid work meant a shift in volunteer opportunities, too.
"These days, nearly 75% of our employees work from home full time and an additional 18% are in the office part-time," said Lucy Darragh, director, strategy and social impact, "so our team is dedicated to creating volunteer opportunities to help them continue to build intentional connections, whether at home or in our buildings or at a nonprofit site."
The response has been enthusiastic, often drawing a remote workforce back into the company's buildings.
"We went into 2023 experimenting with more building-based projects, with business leaders requesting them as a way to create connections with their teams," said Darragh. "We went from thinking around 300 people would participate annually, to now, where we saw nearly 1,000 individuals take part in a building-based project in just the second quarter of this year. People want to have meaningful, purposeful, reasons to be in the office – and volunteer projects do just that."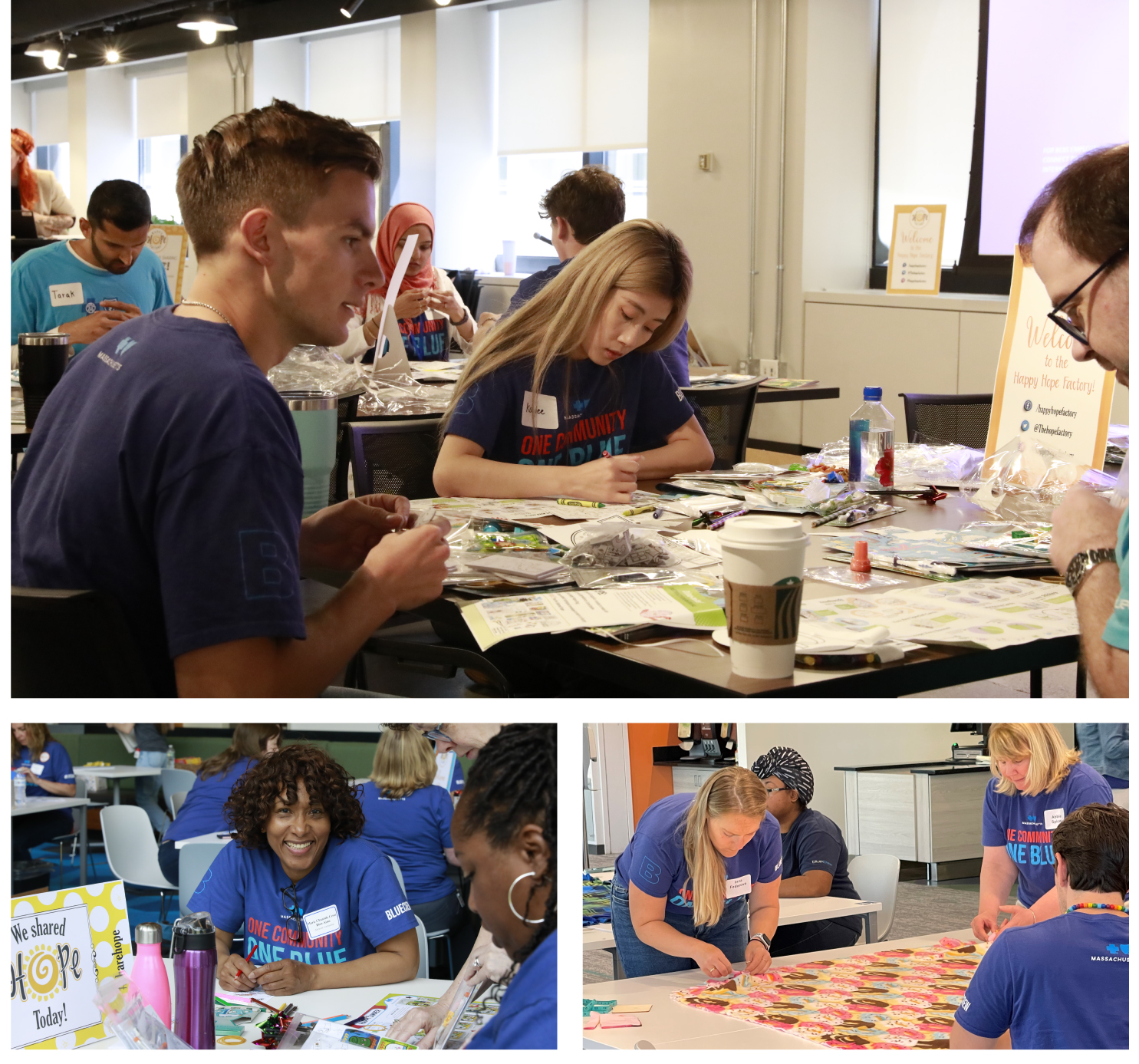 Powerful results
A recent Blue Cross volunteer, Diane Fuller, agrees.
"I love volunteering at work with my colleagues," she said as she worked, surrounded by colleagues, with the nonprofit Happy Hope. "I think it gives us a chance to step away from our desks, our day-to-day, our spreadsheets, our emails, and sit down and connect with each other. We don't talk about work, we talk about personal things and really getting to know each other as associates and as people. The chance to do that at work isn't often there, especially in a hybrid work situation."
The result is powerful.
"It helps us emotionally, physically and psychologically to feel connected, like we are part of a community," said Emi Burke, CEO of Happy Hope Foundation, which provides therapeutic activity kits to homeless, hospitalized, disabled and chronically ill kids, at a recent event with Blue Cross volunteers. "When we are all together working toward a common purpose as a team, as a community, we feel a sense of belonging that we're not isolated, we're not alone, but rather we're all together serving a common mission."
Kaplinger agrees.
"Learning about the incredible missions of the organizations we partner with, these places truly need help," she said.
Life is going to give us all challenges, but we can all put goodness back into the world
Did you find this story informative?
All Coverage content can be reprinted for free.
Read more here.
VIDEO BY  JIM GOFF