Jul 16, 2020
What to expect when you're expecting during COVID-19
Melissa McCaffrey was worried.
She had given birth to a daughter, Eleanor, nearly four years earlier, but this time, the pregnant McCaffrey knew things were different.
"I tried to tune out the news as much as possible," she says of the barrage of information on the dangerous and rapidly spreading coronavirus in the spring of 2020.
The news made her anxious and that was not a good state to be in when you are nine months pregnant.
She wondered how things would be different this time compared to the birth of her first child. She was apprehensive about taking a test for the virus days before her scheduled caesarian and concerned that she might come into contact with the virus at her obstetrician's office. She wondered if her young daughter would be able to visit her new sibling in the hospital. And she fretted that her husband wouldn't be allowed to be with her during labor and delivery.
In the months before giving birth, her anxiety became so acute, she couldn't sleep. And she cried. A lot.
But by the time her son entered the world on May 13 at Emerson Hospital in Concord, Mass., many of the 38-year-old mother's worries had eased.
At 7 pounds, 10 ounces, little Lincoln was just perfect. And even though McCaffrey  was disappointed that her 3 1/2-year -old daughter couldn't visit the new baby in the hospital, her fears of "going it alone" were relieved when her husband, Adam McCaffrey, was allowed to stay with her during the long hours of labor, delivery and beyond.
Once we got to the hospital — with the exception that everyone was wearing masks — it all felt normal.

McCaffrey, of Chelmsford, Mass. says of Lincoln's birth
"There was nothing glaringly obvious that let us know we were in the middle of a pandemic."
That's exactly how hospital maternity teams want it.  And during the spring, they implemented safety practices to ensure new parents feel as secure as possible. 
What to expect 
In Massachusetts, obstetricians have implemented physical distancing policies that reduce the number of patients in waiting rooms and ensure there is time between patients to thoroughly clean exam rooms. Birthing classes are now online. So are many visits with obstetricians, most done via phone or video. 
"We feel we are in a very good place in terms of preparedness in the hospital," said Dr. Toni Golen, an obstetrician at Beth Israel Deaconess Medical Center in Boston. But, she cautioned, expectant parents need to take other precautions as well — and not just depend on the standard practices of washing hands and wearing a mask
"Very specifically we tell people to self-isolate starting at 35 weeks gestation to reduce the risk of infection for the mother," Golen said. "This is the point where pregnant women should stop working and begin two weeks of home isolation before their baby's delivery date."
Many Massachusetts hospitals test new parents and their birthing companions for SARS-CoV-2 before delivery. Centers for Disease Control's guidelines suggest that parents who test positive for the virus consider having their newborn temporarily cared for in the neonatal unit to prevent the virus from being transmitted. 
​In order to keep the virus from spreading throughout the maternity unit, hospitals also are using isolation rooms, called negative pressure rooms, for parents who test positive for SARS-CoV-2. The negative pressure airflow helps to prevent infectious air particles from escaping the room, explained Dr. Anika Moore, an obstetrics and gynecology doctor with Brockton Neighborhood Health Clinic.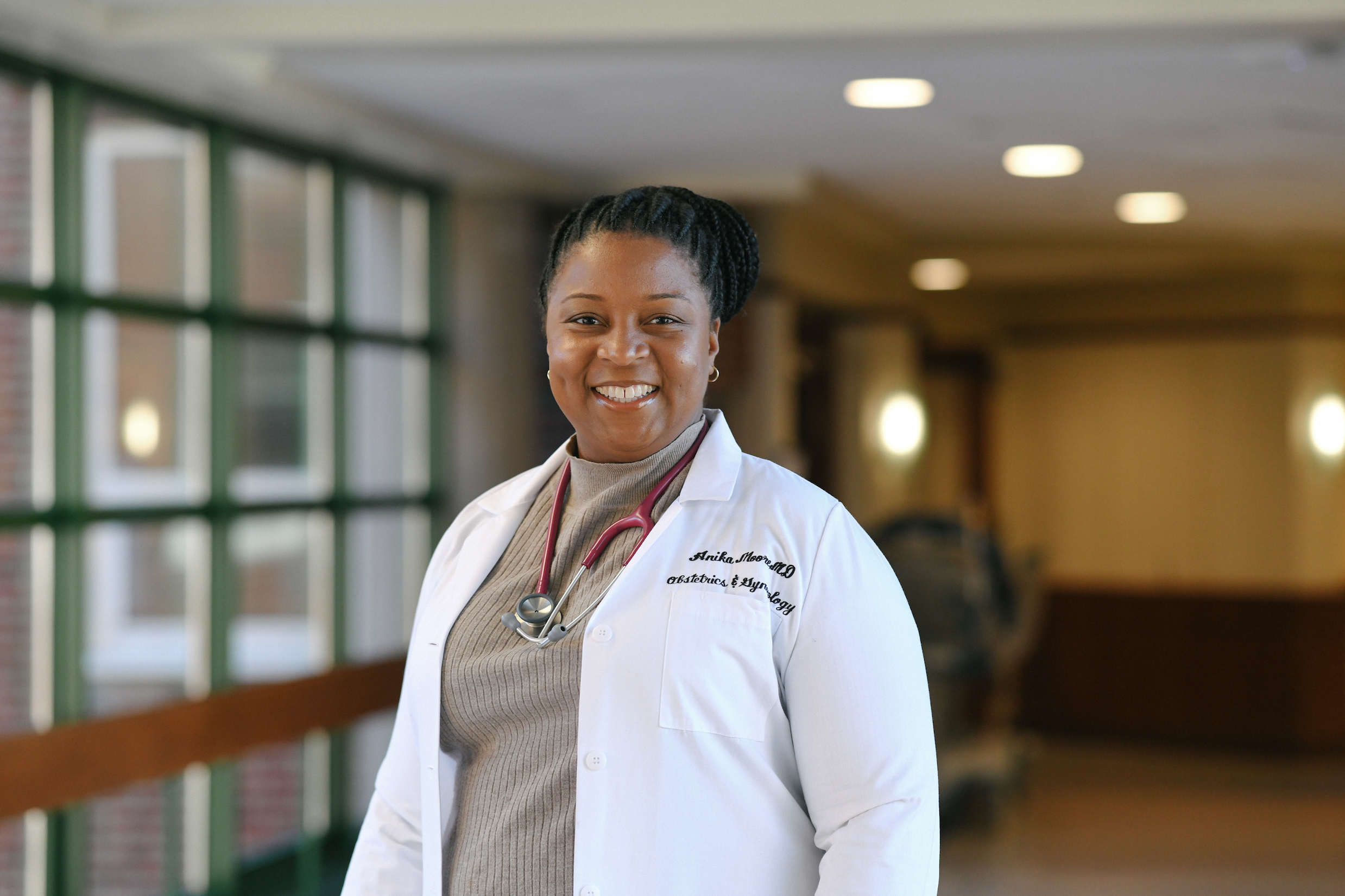 Moms are afraid to come into the hospital, but it's not as scary as it may seem. We try to reassure them that we are doing everything possible to reduce risk of virus transmission.

Dr. Anika Moore said
Perhaps the hardest part of being a new mom in the middle of a pandemic comes when the hospital stay is over.  
"For all new moms, that seems to be a very hard time," said Dr. Anjali Kaimal, chief of Maternal-Fetal Medicine at Massachusetts General Hospital, noting that returning home with a newborn is usually a time for celebration with family and friends, but in the era of COVID-19, visiting grandparents, relatives and friends could have serious consequences. 
"We don't recommend those things right now," she said, adding that although there have been few cases of newborns catching the virus, it's still better for infants and their immediate family to stay home as much as possible without visitors. "Contact with other people is not the best thing."
Taking a proactive approach
Amid all the disruption, patient education can help with anxiety, say clinicians.
"Every day, things are changing, so the best advice we can give patients is to find out what their hospital is doing under the circumstances," said Moore. ​"What patients need to do is have a discussion with their provider and ask: 'what steps is your hospital taking to limit infection?' "
Since hospitals want to make sure patients have all the information they need to stay safe and secure, both in the hospital and when they return home with baby, Moore said expectant moms are being told to make sure they are taking their prenatal vitamins before delivery and maintain physical distancing, hand washing, and disinfection practices both before and after a child's birth.
'The main thing is to try to stay safe and healthy," she said. 
Much about the virus remains unknown, clinicians note. The number of cases of infants with COVID-19, for instance, is currently too small to determine whether babies can contract the virus during labor. It is believed infants are at higher risk of severe illness if they develop COVID-19 due to their immature immune system and smaller airways, which make them more susceptible to breathing issues and respiratory infections.
A time of joy 
​Even amid a pandemic, doctors and new parents say childbirth is still one of the most joyous experiences of life. 
This is a wonderful and important event in life. It's our job to preserve this wonderful time of having a baby
Dr. Anjali Kaimal
That was Tanya Keenan's experience — even though her daughter arrived a month early amid the start of the surge of the virus in Massachusetts.
​"I trusted the system because I worked in the system," says the Cambridge mom, a clinical fellow in hematology-oncology at a Boston hospital, noting that her knowledge of the medical field helped her overcome any apprehensions she had when she delivered daughter, Ella Marie Ruth, on March 26, just as hospitals were ramping up their virus protocols.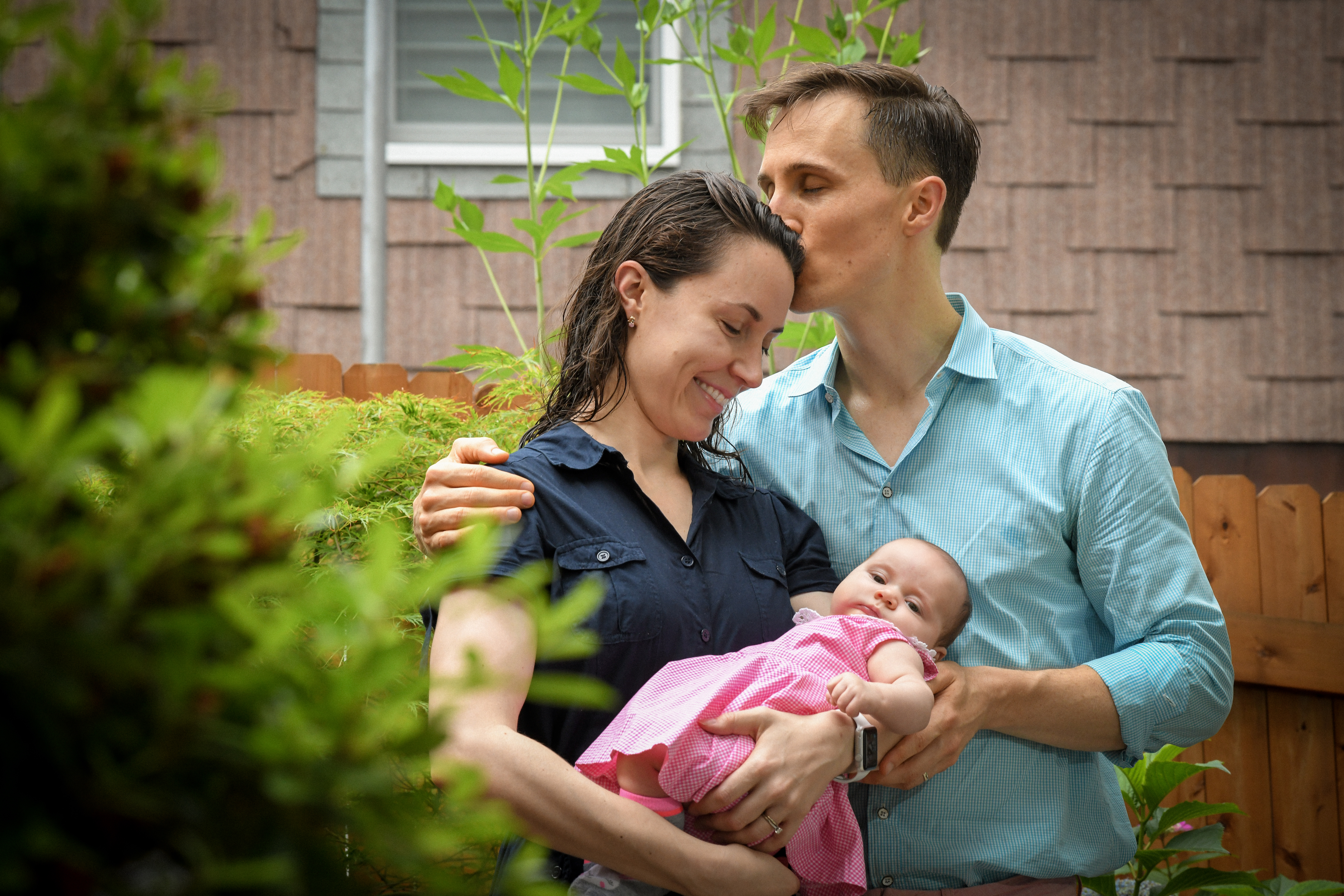 Little Ella spent two weeks in the neonatal unit, where hospital rules limited visits to one parent visit per day, which meant Keenan and her husband, Jason Ruth, had to see their baby separately. 
It was all worth it when the Keenans were able to bring their healthy daughter home in April.
"As moms, we always worry, but I would say remember doctors and nurses are always watching out for you," Keenan said. "They're trying to take all the precautions necessary."
Did you find this article informative?
All Coverage content can be reprinted for free.
Read more here.
---
PHOTO OF DR. ANIKA MOORE AND TANYA KEENAN BY FAITH NINIVAGGI