May 19, 2021
Workday workouts
Mike Shapiro always intended to try the Zumba class offered at his Boston office by coworker Lulu Tsai, a certified instructor, but he never found the time. 
"Lulu would try to get me in there, but I could only do so much in one day," recalled the 53-year-old Framingham dad, who works as a contract leader at Blue Cross Blue Shield of Massachusetts. 
But once the pandemic hit, Shapiro said his daughter, Jillian, a recent college grad who had come home for a few months, made him log on and try the class, which went remote and was renamed "Zoomba" last spring.
The pair did Tsai's class together virtually until Jillian went off to med school in the fall. Even though Jillian is no longer taking the class with him, Shapiro says, "I am still on the Zumba train and look forward to our weekly class." 
Shapiro says he has reaped physical and emotional benefits from the class: "Zumba is a great workout, and it has helped my mental state during the pandemic. You can take any stressed day, and Zumba will end it on a high note."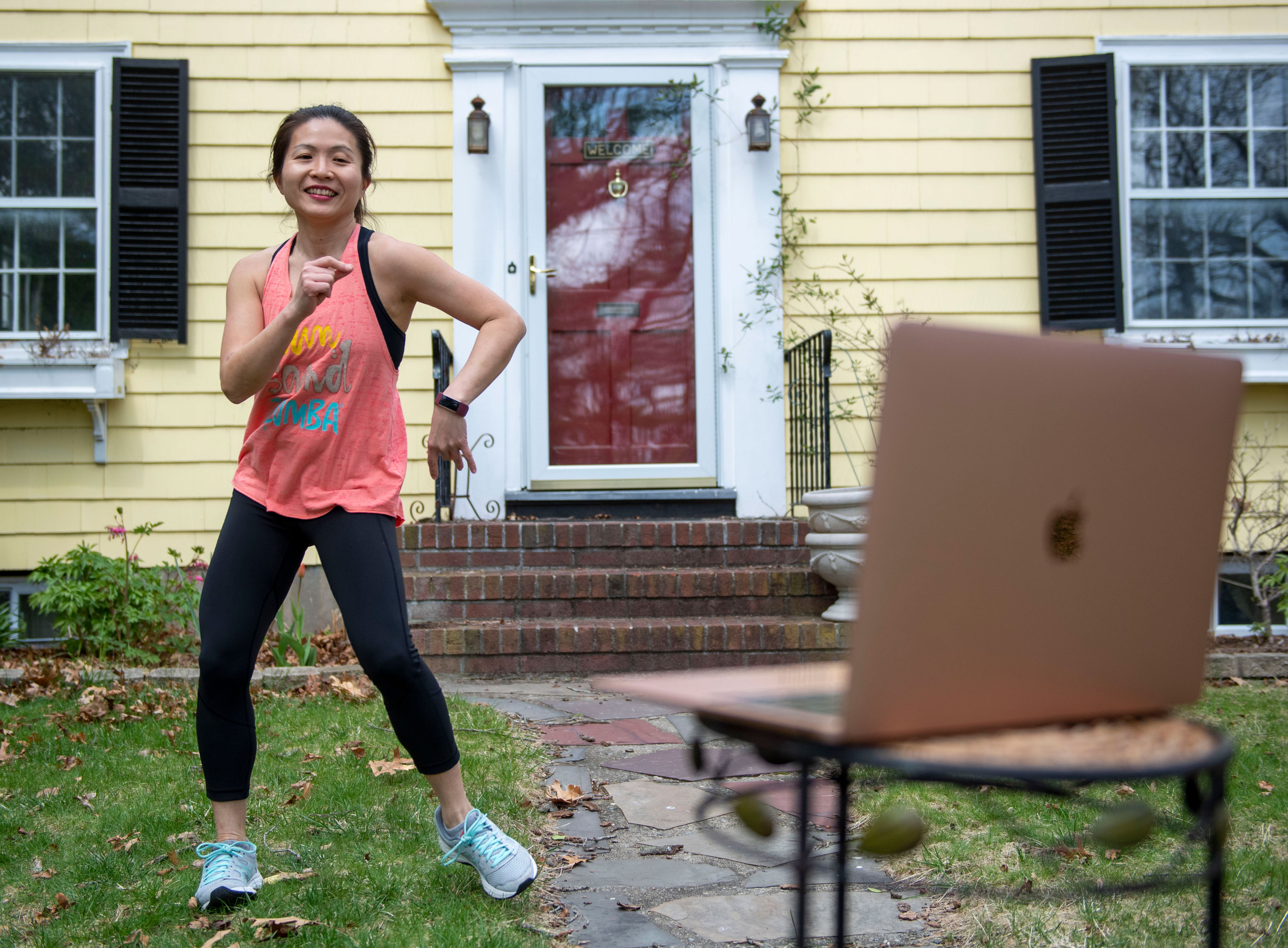 Homegrown health
Like many companies, Blue Cross has long offered fitness options like Zumba classes for its employees. Studies have found exercise is not only important for physical health, but can help improve emotional health, build social connections, lower stress levels and even boost the immune system. 
During the pandemic, exercise has become increasingly important, as waistlines and mental health concerns have increased: A recent study found an average 2 pound per month weight gain between Feb. 1 and June 1, 2020. A separate survey conducted by the Centers for Disease Control and Prevention reported levels of anxiety and depression quadrupled in the past 18 months. 
Patty Kaplinger, a certified P90X and Insanity Live instructor, used to teach a combination cardio/strength training class twice a week at two of Blue Cross' employee wellness centers. Later last year Kaplinger moved her class online and added three more offerings so colleagues who were working from home could participate in a free fitness activity every workday.  
Tsai and Kaplinger also opened up their classes to employees' family members and friends. Since going remote, both instructors say they see a significant increase in attendees.   
'Life-changing'
Remi Ural has been taking a class five days a week since late last year. Her mom, who is staying with her during the pandemic, joins her for Tsai's Zumba class, while her dad enjoyed attending Kaplinger's P90X class when Ural visited him recently. 
Ural, a graphic designer, said the classes helped her shed the 20 pounds she gained last year during quarantine and elevated her daily step count, energy level and mood. 
When COVID hit, Ural said, "The diet I had started months before went down the drain. I ate whatever I wanted — I needed my Nutella —and I didn't move around much because we were all at home. I probably averaged 2,000 steps a day. At the end of last year, I developed neck issues."
Just as her physical therapist gave her exercises to ease her neck pain, an email announcing Kaplinger's classes hit her inbox: "It popped up at the same time, and I thought, 'I need to make a change.'"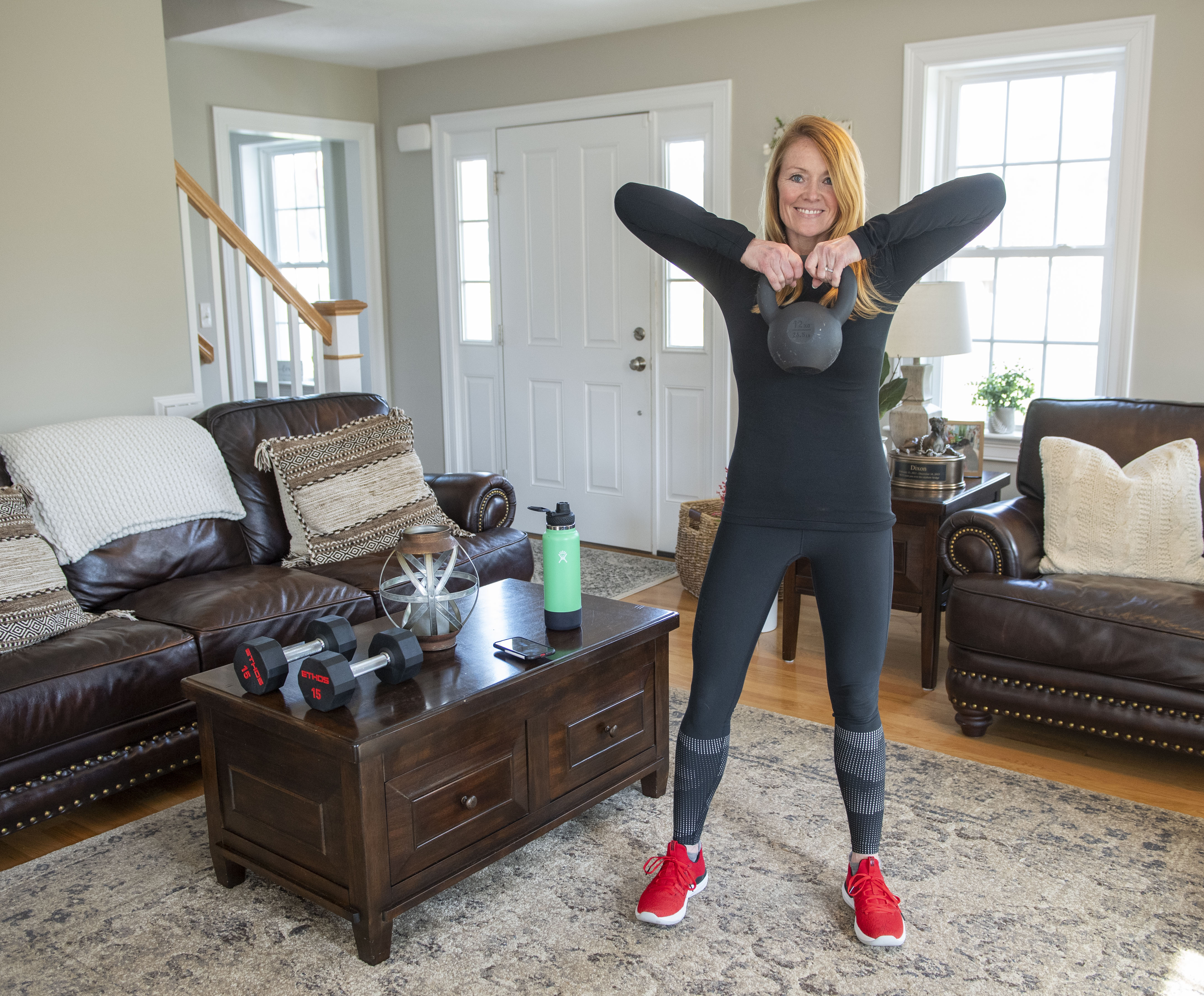 Since then, Ural has became a regular in the classes. "This is the most I've exercised on a daily basis, and I'm absolutely loving it. I'm so grateful to Patty. It's been life changing," she said, adding, "I'm not a great self-motivator when it comes to exercise, but I feel that if Patty is taking time out of her day, the least I can do is be there. I owe it to myself, to Patty and to the other people in the class."
She's even started eating healthier and has given up her beloved Nutella. "I'm doing other stuff that makes me feel better, happy and more energized," Ural said. 
Tsai says she gets as much out of the sessions as her students. "I love to dance—it brings so much joy. Plus, it's great exercise. You don't feel like you're working out, you're just having fun." 
And the same is true for her backup dancer and son, Joey, who is 10. "I made him dance with me because once school closed down, he didn't get any exercise and gained 15 pounds. It was a way to get him to exercise. He enjoys it, and people like seeing him in the class," Tsai said. 
Kaplinger agrees. "Before I moved my classes online, I wasn't getting much movement. Now it's routine. I'm getting my strength and endurance back, and it keeps me accountable. It definitely fuels me."
Going digital
Online fitness options have enjoyed a surge of popularity during the pandemic. Health plans including Blue Cross have begun reimbursing members up to $150 for fitness memberships, programs or classes using a digital platform, as well as for gym memberships or in-person fitness classes. 
Jake Walter, a compliance and information security program manager who leads the running club at Blue Cross' Boston office, has stayed connected to his group of runners during the pandemic virtually via email and four running apps, where he gives virtual high-fives, lets them know about upcoming virtual runs and alerts them to company-wide steps challenges they may want to participate in. 
"The whole idea is we're cheering each other on. It's a way to motivate people when they're working on whatever their exercise and fitness goal is," Walter says. He appreciates that his employer encouraged the formation of these groups. "I am proud to work for a company that promotes health and well-being, especially in these tough times."
When Blue Cross employees return to the buildings, Tsai and Kaplinger say they hope to offer hybrid virtual and in-person classes so sessions continue to be convenient for employees. 
That sounds great to Ural, who said she is planning to continue her workouts five days per week for as long as they are offered: "As long as the instructors are there, I'll be there."
Did you find this story informative?
All Coverage content can be reprinted for free.
Read more here.
---
PHOTOS BY CHRISTOPHER EVANS