Apr 21, 2021
You're fully vaccinated. Now what?
More than half of all American adults have now received at least one COVID-19 shot, an extraordinary milestone, as eligibility for vaccination widens to everyone in the U.S. over the age of 12. 
So far, the vaccines have proven extremely effective, dramatically reducing infection, hospitalization and death rates among the vaccinated, even amid a rise in more dangerous, transmissible versions of the virus known as "variants." Vaccinated adults can enjoy a sense of security and freedom, safely socializing with friends and loved ones without fear of infection. 
However, no vaccine is yet authorized for children under 12, and there is some risk that even people who are fully vaccinated can get infected and spread the virus in what are known as "breakthrough" cases.
"No vaccines are 100% effective at preventing illness," the CDC notes. "There will be a small percentage of people who are fully vaccinated who still get sick, are hospitalized, or die from COVID-19. Asymptomatic infections among vaccinated people also will occur. Current data suggest that COVID-19 vaccines authorized for use in the United States offer protection against most SARS-CoV-2 variants circulating in the United States. However, variants will cause some of these vaccine breakthrough cases."
Fully vaccinated people are almost entirely protected from illness, but they do need to take some precautions to protect everyone else, until vaccination rates rise among the general public.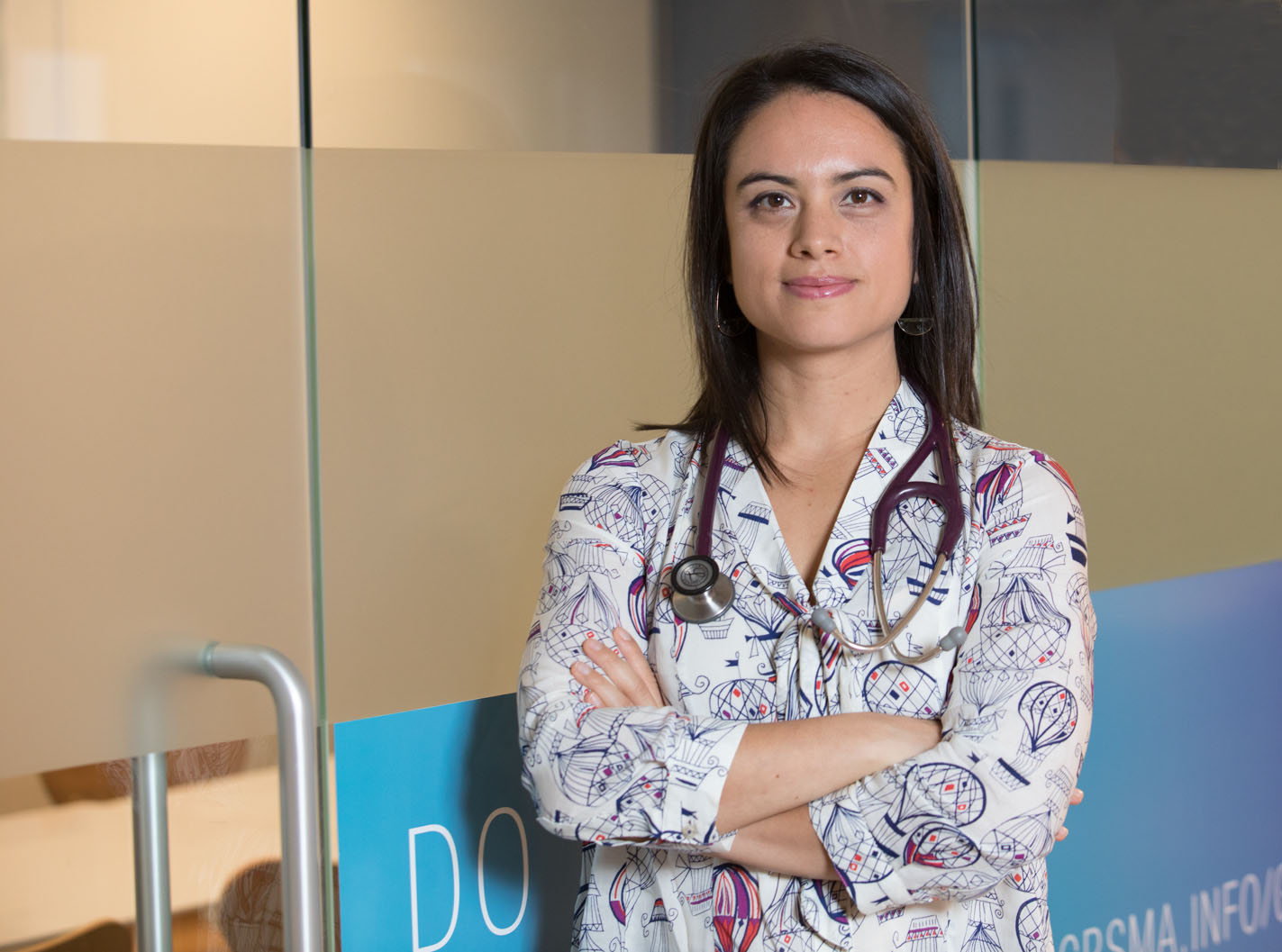 Coverage spoke with Desiree Otenti, a nurse practitioner and senior director of medical policy and program implementation for Blue Cross Blue Shield of Massachusetts, to answer some of the most common questions about what steps you can take to keep those around you safe, starting two weeks after your final shot.
People who are fully vaccinated can enjoy a return to normalcy and feel confident they are highly unlikely to get sick. According to CDC guidelines, they can: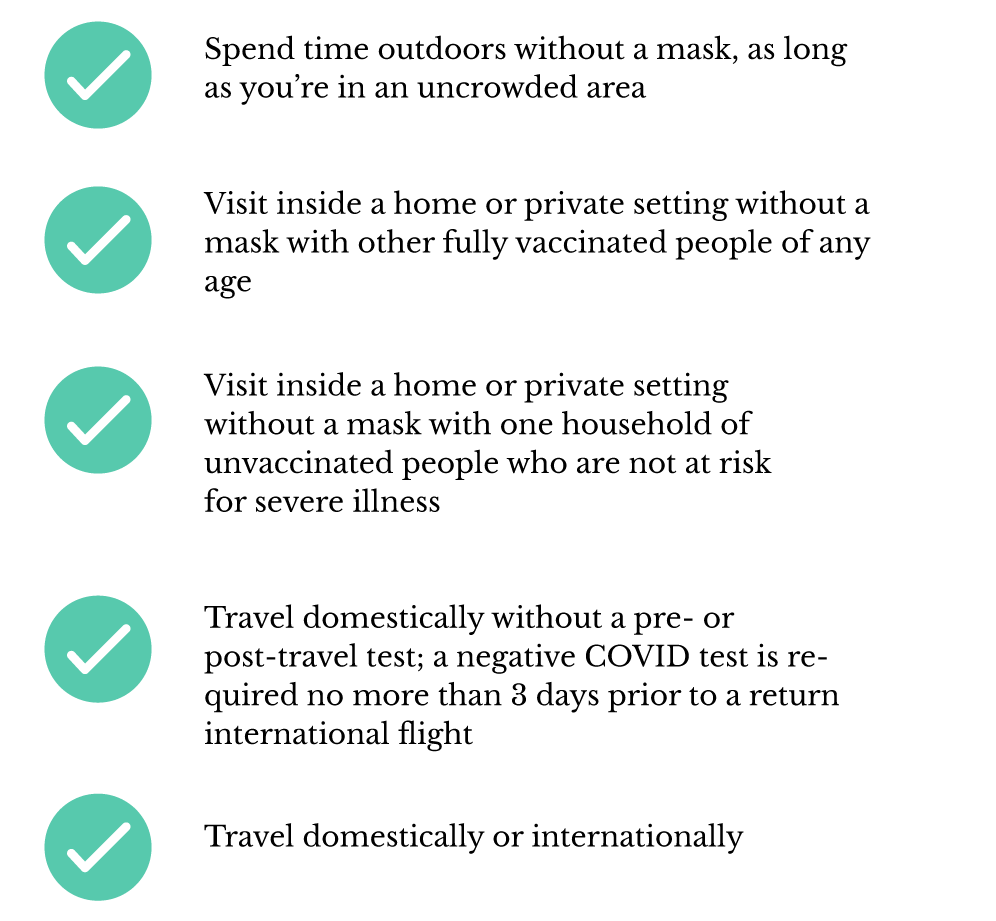 What if you are vaccinated, but your kids or spouse are not?
In this case, visits with other households should still happen outdoors, at least six feet apart, wearing masks. "You always have to think about the most vulnerable person in the group," Otenti says. "If anyone in your group is unvaccinated – even a young child – that person could be infected with coronavirus and could infect others." 
Do you have to distance from unvaccinated people in your own household?
"If someone in your household is unvaccinated and immunocompromised – for example, if they have cancer and underwent treatment – and you are socializing or working with unvaccinated people outside your home, it is wise to take precautions like wearing a mask, staying six feet apart, and keeping windows open indoors."
What if you are vaccinated, but your unvaccinated spouse works with a high-risk population?
"If it's just the two of you, you would not have to distance from your spouse in this case," Otenti says. "If your unvaccinated spouse was exposed to the virus, they'd have to quarantine from everyone but you."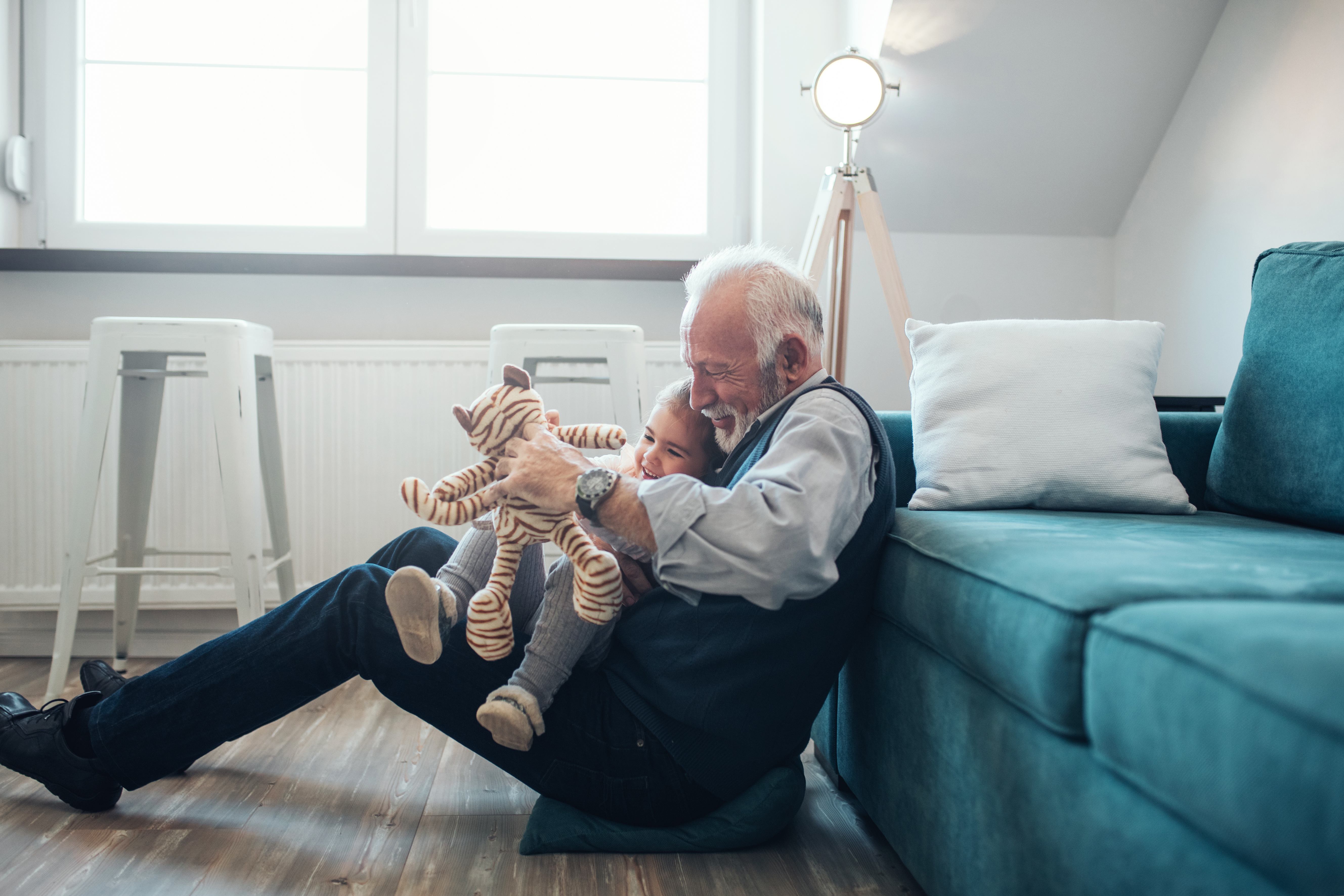 Can vaccinated grandparents visit unvaccinated grandchildren? 
The short answer, Otenti says, is yes. "Visiting unvaccinated grandchildren indoors without masks is low-risk," Otenti says. However, if the grandchildren are at high risk for severe disease, they should wear well-fitted masks, keep windows open, and stay six feet apart.
Should I let my unvaccinated child play with other kids this summer? 
COVID-19 vaccines are not yet authorized for anyone under 12. Because infection rates are still high in many parts of the U.S. and worldwide, it is recommended that kids continue to have their playdates outdoors, with small groups of kids. Children get infected at lower rates than adults and are unlikely to develop serious illness, but they are not immune, and in rare cases, some can get critically, even fatally, ill with COVID-19. Unrestrained spread of the virus also leads to an increase in variants, which makes limiting the spread among unvaccinated children even more important. 
Is it safe for vaccinated people to travel? 
This one is complicated. On one hand, the CDC recently announced that fully vaccinated people can safely travel on planes in the United States. On the other hand, officials are still discouraging nonessential travel.  The smartest choice, Otenti says, is to hold off a little longer to avoid the possibility of spreading infection, particularly as new variants of the virus continue to surge in the U.S and internationally. "It's natural to want to go on vacation immediately when vaccinated," Otenti says. "But the more of us that do that, the longer this will take. Hang in there for a couple months."
Do I still have to wear a mask indoors in public spaces and socially distance? 
Yes, according to the CDC. Vaccination will almost certainly protect you from severe illness. But most Americans are not yet fully vaccinated so, to protect them, even after getting fully vaccinated, you should wear a mask when you're indoors in public spaces, stay at least six feet away from others, and avoid crowds and poorly ventilated spaces.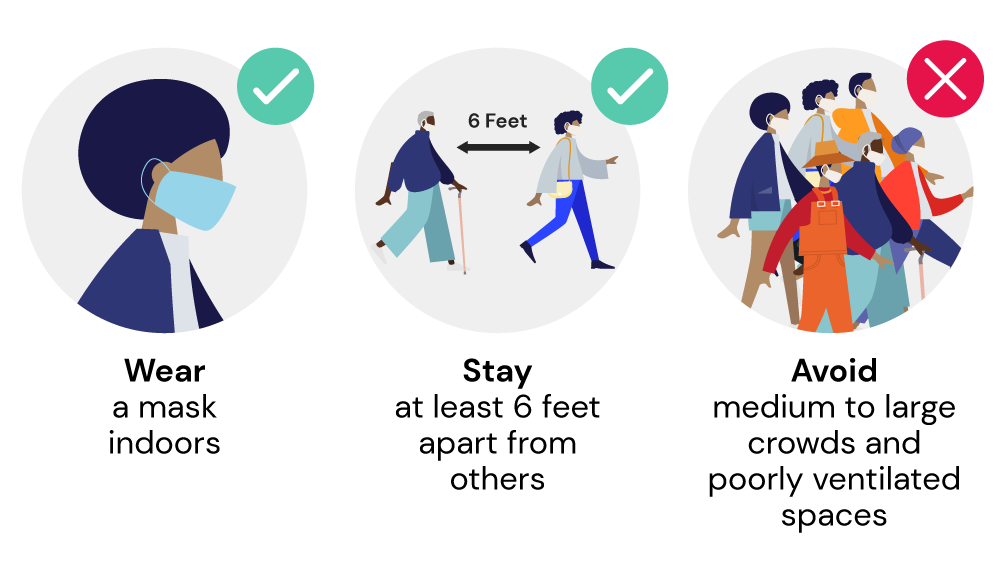 "The important thing to remember is we're still trying to protect vulnerable people in our society," Otenti says. "The best way to do that is continuing to follow the rule about masking and distancing."
Vaccines are a tremendous step forward, a modern miracle that is already saving millions of lives. They will help us all get back to normal, but it will take some time.
Did you find this article informative?
All Coverage content can be reprinted for free.
Read more here.
---
PHOTO OF DESIREE OTENTI BY MICHAEL GRIMMETT