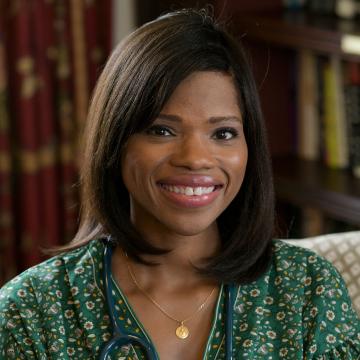 Dr. Christine Pierre
Christine Elizabeth Pierre, MD, CMD, is a geriatric primary care physician at the Extended Care Community Program of Beth Israel Deaconess Healthcare and associate professor of medicine at Harvard Medical School. She is fluent in Haitian Creole and Spanish and proficient in French. Dr. Pierre received her Bachelor of Liberal Arts in Latin American Studies at Barnard College of Columbia University. She was a research data coordinator at Memorial Sloan Kettering Cancer Center. From there she went on to earn her MD from Ross University School of Medicine in Dominica, West Indies. She completed her residency in family medicine and fellowship in geriatrics at the University of Massachusetts Chan Medical School. 
Dr. Pierre's professional interests include issues affecting the geriatric population, in particular serving the underserved, improving the health of Haitians in the US and aboard, and supporting diversity, equity and inclusion training and education in the clinical setting. 
She was a co-facilitator in the Massachusetts Hub of the Agency for Healthcare Research and Quality, Institute for Healthcare Improvement and Extension for Community Health Outcomes National Nursing Home COVID-19 Action Network, where she facilitated 35 long-term care facilities in a 16-week training program to enhance evidence-based safety practices against COVID-19, peer mentorship and support for long-term care staff. She also was a co-facilitator in "Recognizing and Responding to Racial Microaggressions in Our Clinical Learning Environments: A Skill-Building Workshop" at the American Geriatrics Conference Annual Meeting in May 2022. 
During her free time, Dr. Pierre volunteers for the Boston based Biomedical Science and Careers Program, which aims to increase the number of underrepresented minorities in medicine and science. In addition, she also volunteers for the organization Ann Prepare Lavni, and she has traveled to Banane, Haiti, to take part in a medical mission trip in the region. 
Stories by
Dr. Christine Pierre