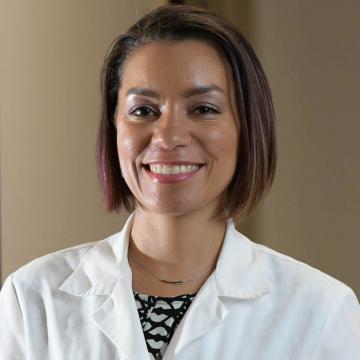 Dr. Dallas Reed
Dr. Dallas Reed is a double-boarded obstetrician/gynecologist and medical geneticist who has a passion for equity and inclusion, telemedicine, genetics education, and providing sensitive and culturally competent care to women and families during pregnancy and when confronted with uncertainty around a genetic diagnosis. She has clinical expertise with prenatal, pediatric, adult, and cancer genetics, as well as preconception, obstetrics, and gynecologic care.
Dr. Reed grew up in Plano, TX, and is a graduate of historically black institution Dillard University in New Orleans, LA, where she received a B.S. in Biology.  During college she won the prestigious Luard Scholarship, sponsored by the English Speaking Union, which afforded her the opportunity to study at King's College London in London, England.  She joined the Boston University School of Medicine Early Medical School Selection Program (BUSM EMSSP) as a Sophomore and matriculated into the medical school after graduation, where she earned her M.D. degree.
Dr. Reed completed her residency in Obstetrics/Gynecology at Bridgeport Hospital-Yale New Haven Health in Bridgeport, CT and her fellowship in Medical Genetics at the Icahn School of Medicine at Mount Sinai in New York, NY.  Following her fellowship, Dr. Reed joined Tufts Medical Center as an attending in the Departments of OB/GYN and Pediatrics.  She is an Assistant Professor in OB/GYN at Tufts University School of Medicine.  She is the Division Chief of Genetics in the Department of Pediatrics at Tufts Children's Hospital; Director of Perinatal Genetics and Attending Physician in the Department of OB/GYN at Tufts Medical Center.  Dr. Reed holds several leadership responsibilities, including: Chair of the Tufts Medical Center Physicians Organization's (TMC PO) Telemedicine Steering Committee, an inaugural member of the TMC PO Diversity and Inclusion Committee, and a member of the TMC PO Women in Medicine and Science Committee and Policy and Procedures Committee.  At Tufts University School of Medicine (TUSM) she is a member of the Admissions Committee and Sub-committee and inaugural member of the Anti-racism Task Force (charged with creating an anti-racist medical school curriculum).  From 2016-2020 she was the Content Director for the first year medical student Genetics course at TUSM.  In addition, Dr. Reed is a Director on the Alumni Executive Board for BUSM. 
Dr. Reed has extensive experience in educating medical students, genetic counseling students, residents, fellows, physicians, and other medical professionals in various prenatal, cancer, and clinical genetics topics.  She has leadership experience in establishing and growing telemedicine programs for ambulatory and inpatient encounters and consultations.  She conducts research around genomic sequencing in stillbirth and seriously ill newborns with possible genetic disorders.
Dr. Reed enjoys climbing the Peloton leaderboard, international travel with her husband, and taking time to relax on tropical beaches.
Stories by
Dr. Dallas Reed