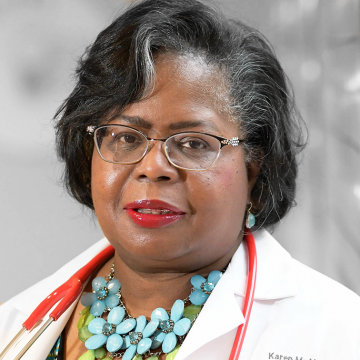 Dr. Karen McAlmon
Dr. Karen McAlmon is a board-certified neonatologist whose career includes research, clinical care, administration and policy.
Originally from Brooklyn, N.Y., she attended Concord Academy in Concord, Mass., on an A Better Chance scholarship.  She obtained her AB in Human Biology from Stanford University and her MD from Harvard Medical School.  After completing her pediatrics training at Boston Children's Hospital, she did a fellowship in neonatology in the Joint Program in Neonatology (Boston Children's Hospital, Brigham and Women's Hospital and Beth Israel Hospital).  After a brief stint in basic science research, she chose to focus her career on clinical care and administration.  Dr. McAlmon's clinical work in neonatology has been at the Level IIB Special Care Nursery at Winchester Hospital and the Neonatal Intensive Care Units at Boston Children's Hospital and Beth Israel Deaconess Medical Center.  Her administrative roles have included medical director of the SCN at Winchester Hospital and medical director of neonatal networks associated with Boston Children's Hospital and Beth Israel Lahey Health.  She currently serves as medical director at Winchester Hospital's SCN and director of the BILH neonatal network.
Dr. McAlmon is a past president of the Massachusetts Chapter of the American Academy of Pediatrics  and currently serves as the co-chair of the chapter's Legislative Committee.  In the past she worked with AAP nationally on the CME Committee and Membership Committee.  As an advisor to the Massachusetts Department of Public Health, she has served on the state's Perinatal Committee, Birth Defects Advisory Committee, Newborn Screening Advisory Committee, and the Task Force on Management of Maternal and Neonatal Substance Exposure.  She has received leadership training with Boston's The Partnership program.
Her interest in governance and the development of students at the high school level has led to her serving on the Board of Trustees at Concord Academy and The Governor's Academy.  There she has had a focus on issues of diversity, equity and inclusion and she currently serves as the chair of the Trustee DEI Committee at The Governor's Academy.  Beginning in January 2021, she will also serve on the Board at Winchester Hospital.
She is passionate about delivering high quality care in the community and advancing issues of diversity, equity and inclusion in health care.  With an interest in increasing the pipeline of students of color for health care careers, she serves as an advisor in the Harvard Medical School Biomedical Sciences Career Program.
Dr. McAlmon resides in Lynnfield, Mass., with her husband, Kwame Ofori-Asante, and two sons.  In her spare time she loves traveling, entertaining and craft work.
Stories by
Dr. Karen McAlmon