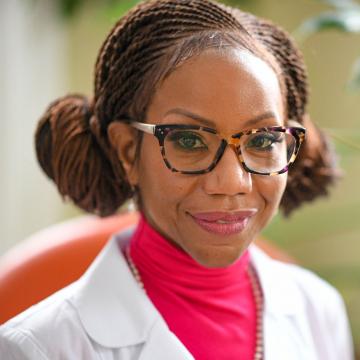 Dr. Oneeka Williams
Dr. Oneeka Williams is a urologic surgeon at Emerson Urology in Concord, Mass., and assistant clinical professor of urology at Tufts Medical School.  She completed a BA in biophysics at Johns Hopkins University, her MD and MPH at Harvard Medical School and Harvard School of Public Health, surgical training at Massachusetts General Hospital and urologic training at Lahey Clinic. 
Dr. Williams uses her creativity, expertise and experience as a surgeon and award-winning author to care for patients and to positively educate and advocate as she breaks down barriers and ushers everyone she touches into whole health and a more empowered mindset. She uses her 5 Habits of Positivity to help young people and adults to create a framework by which they approach challenges from a positive perspective. Dr. Williams believes that writing is the most powerful practice of mindfulness. To this end, Dr. Williams is currently partnering with Scholastics Publishing as one of the mentors, thought leaders, spokesperson and subject matter experts for an educational book collection, "Rising Voices: Empowering Girls in STEAM," to be released to in elementary schools Summer 2021.
Dr. Williams speaks around the country about her Dr. Dee Dee Dynamo Book Series, "A Super Surgeon on the Go," featuring a brown girl protagonist whose magical hands and Powers of Positivity integrate STEAM concepts, creative adventure and literacy. Dr. Williams has found adults are also inspired by her story and wanted to integrate The Habits of Positivity into their lives. Dr. Williams has identified a set of internal S.U.P.E.R Powers that can form the basis of emotional, mental and physical well-being and believes this can be one of the paths to decreasing disparities in health: S-Selfcare Practices: U-UnLimited Mindset: P-Positivity Habits: E-Ecosystem Living : Realisk (Be Real and take Risks) Positioning. Her book "Not Today, Negativity!-5 Habits of Positivity to Cope, Hope & Be Healthy" will be released in Spring 2021
Dr. Williams is a tireless mentor to girls and students, a dedicated leader in multiple community organizations, an innovator and visionary who also shares her passion and knowledge by speaking frequently to both children and adults on STEAM, literacy, disparities in health, prostate health and most recently racism in medicine and other health related topics.  
Dr. Williams is the 2014 recipient of the Science Club for Girls Catalyst Award for Excellence and Diversity in Science, the 2016 EVKIDS Youth Champion Award, the 2018 GBS National Council of Negro Women of Courage and Conviction Award, and the 2018 Guyanese Girls Rock Foundation, "Women of Influence" Award.  Dr. Williams was also awarded an honorary degree of Doctor of Humane Letters from Endicott College in 2018. She is the Vice Chair of the Board of Advisors at the Museum of Science Boston, and is joining the Board of the American Medical Women's Association in March 2021. She is married to Dr. Charles Anderson. They have one son, Mark.  
Stories by
Dr. Oneeka Williams