Feb 22, 2021
A boost for community health centers
Massachusetts' community health centers, which serve many of the communities hardest-hit by the COVID-19 pandemic, are getting a boost from the state's largest health plan and the Department of Public Health as they mobilize to vaccinate patients. 
In partnership with the Massachusetts League of Community Health Centers, Blue Cross Blue Shield of Massachusetts will contribute $1 million to fund free rides to and from COVID-19 vaccination sites. 
I've always said those closest to the disease need to be closest to the vaccine. 

"Members of the communities we serve have disproportionately contracted, suffered, and died from this terrible virus," said Michael Curry, president and CEO of the Massachusetts League of Community Health Centers and a member of the state's COVID-19 Vaccine Advisory Group. "We are proud to partner with Blue Cross to help bring our patients better access to these life-saving vaccines."
Blue Cross' contribution, which comes on top of the $12.9 million the not-for-profit health plan and its foundation have invested in the community during the COVID-19 crisis, will support tens of thousands of free rides to and from COVID-19 vaccination sites. The program is expected to be fully operational before April 19, when all Massachusetts residents are eligible for COVID vaccines, and will offer a variety of options for transportation:
Lyft Pass: Twenty-three of the state's community health centers have expressed interest in offering rideshare vouchers to their patients in need of transportation. These centers will be able to distribute a Lyft Pass to patients to get to and from their COVID-19 vaccination appointments. The ride pass will be redeemable through the Lyft rider app.
Lyft Concierge & Blue Cross Call Center: Starting in early April, Blue Cross will staff a call center to allow community health centers to request rides on behalf of patients who do not have access to a smartphone or bank account, through Lyft's Concierge platform. The call center will operate Monday through Friday from 8:30 a.m. to 4:30 p.m. and will support patients in multiple languages.
Community Health Center Grants: Blue Cross has also provided initial $2,500 grants to 46 community health centers across the state to support transportation programs currently underway or in development. Additional funding will be available as the program continues.
Massachusetts community health centers care for patients of all ages and racial and ethnic backgrounds, and represent a major source of care for medically underserved women and children. Health center patients are largely low-income, publicly insured or uninsured, and are at higher risk for contracting chronic and complex diseases
In the state, 52 community health center organizations provide high quality health care to some 1 million state residents —  about 1 in 7 of the state's population — through more than 100 sites statewide. Many of those residents are in communities where the virus has spread most broadly.
"The goal now is to get people vaccinated, and access to those appointments is critical," said Andrew Dreyfus, Blue Cross' president and CEO. "We know lack of access to transportation is a significant barrier in communities hard hit by COVID-19. The Community Health Centers' deep experience will help connect more of our neighbors with vaccines that can save lives and help end the pandemic."
Transportation is widely recognized as key to vaccine rollout. 
"Transportation is an essential piece of equitable, effective COVID-19 vaccine distribution," the National Academies of Sciences, Engineering, and Medicine noted in a Framework for Equitable Allocation of COVID-19 Vaccine. 
Vaccination locations can be found here, and Massachusetts residents can click here to find a community health center nearby. Vaccine supply is currently limited as doses are rolled out in phases, with prioritization based on risk of infection or serious illness. Among the earliest recipients are residents who are 65 years or older, who may particularly struggle to reach vaccination sites via public transportation, Curry noted.
Many centers are eager to widen access to the vaccine.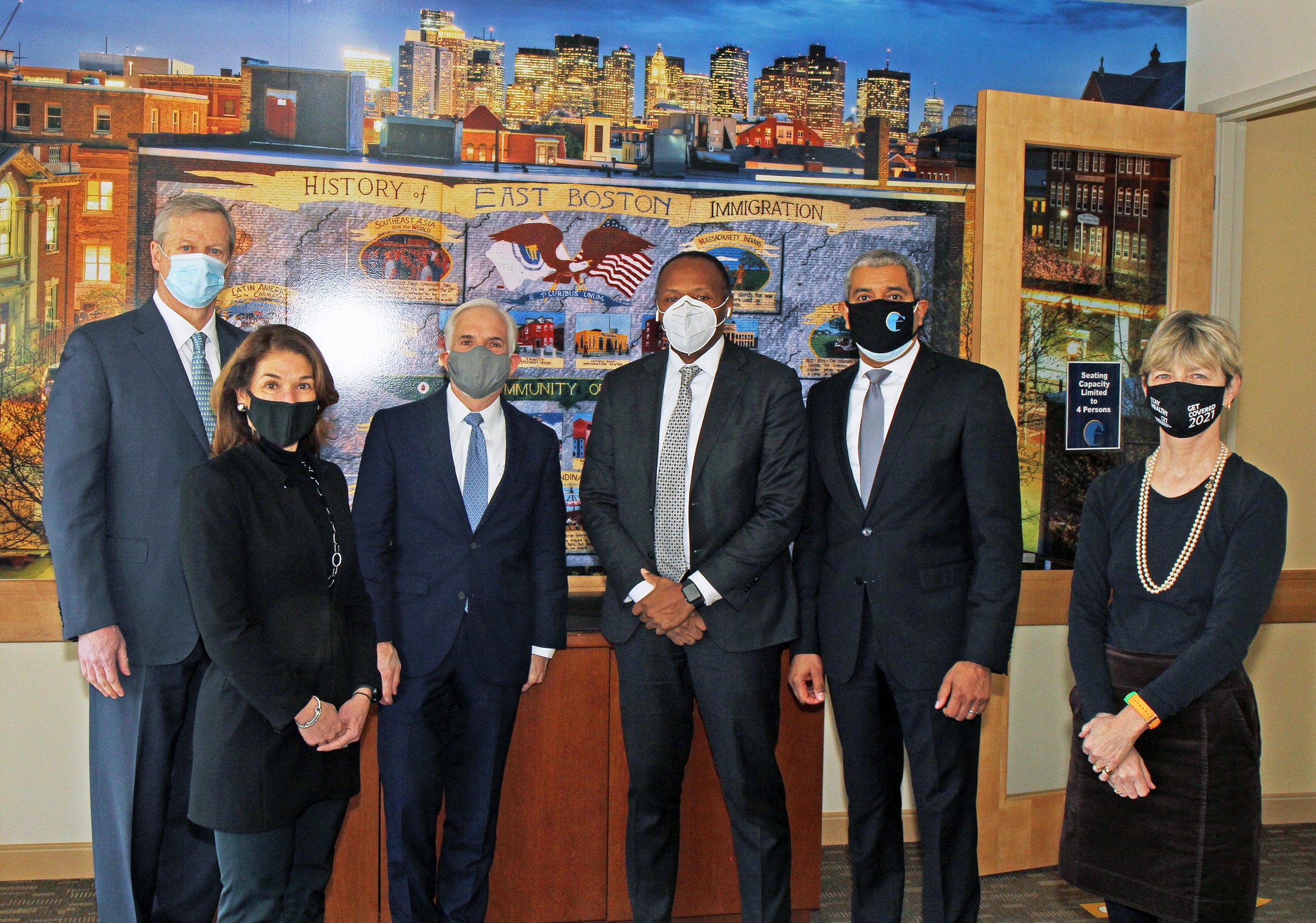 "Since the pandemic started, we have been on the frontlines, providing COVID-19 testing and treatment throughout the local community," said Manny Lopes, president and CEO of the East Boston Neighborhood Health Center. "Now, we are on the frontlines of the vaccination effort too. We welcome this new initiative, which will make it easier for our most vulnerable patients to get the vaccinations they desperately need."
Simultaneously, the Baker administration is providing millions of dollars in Centers for Disease Control funding to the state's community health centers to increase vaccine safety awareness in communities disproportionately affected by COVID-19, with the goal of increasing vaccination rates.
The initiative "recognizes that Community Health Centers, community health workers and other community-facing outreach workers are critical and widely trusted individuals to address COVID-19 vaccine hesitancy among the most at-risk communities," the administration said in a statement. 
We all know that COVID-19 hasn't affected everyone equally.
"The hardest-hit places in Massachusetts are the places where our Black, Brown, immigrant, and low-income residents live," Curry said, noting the rates match the national trend of people of color suffering far higher COVID-19 infection, hospitalization and death rates. 
"There is no doubt in anyone's mind, that these communities continue to bear the physical, emotional and financial brunt of this pandemic," Curry said. "And at the state's 52 community health centers, we see that suffering up close every day. Importantly, our patients trust us. And it is that trust, joined with our experience and expertise, that make us uniquely qualified to get the vaccine to the people who need it most." 
Subscribe to our newsletter
Our top headlines in your inbox