Feb 4, 2021
Feeling burned out?
More Americans are eating in during the pandemic, and while cooking at home often means fewer dollars spent, you might be feeling kitchen fatigue. During this stressful time, cooking has become yet another to-do on an already long list that can feel overwhelming. 
Following are a few ideas to help refresh your recipe collection and hopefully ease some of the meal-planning and preparation stress.
Hello, crockpot. Goodbye, meal time stress
What I love most about using a crockpot is that I can put a dinner on first thing in the morning, walk away, and by the time I'm logging off for the day, a healthy, yummy home-cooked meal is ready and waiting. One of my favorite go-to recipes is honey garlic chicken. In the morning, I put some organic boneless, skinless chicken breasts, honey, garlic and low-sodium soy sauce in the crockpot, and cook on low for 8 hours. When you're ready to serve, it can be paired with some easy-to-cook precut veggies from the produce section, such as green beans, and some quick-cook brown rice or quinoa for a delicious, balanced meal. It's easy, with minimal prep and minimal clean-up, and you can freeze the leftovers for another meal.
Love your leftovers
Speaking of leftovers, soups and stews can be a snap—they're a great way to repurpose leftovers while also packing in a bunch of essential vitamins and minerals in one meal without adding extra stress. First, find whatever veggies or leftovers you might have on hand in your refrigerator (and a lean meat protein if you like), then add some beans and your favorite seasonings to some water, chicken or veggie stock, bring to a boil on the stove (or add all ingredients to your crockpot) and simmer. You'll have a healthy meal that's much lower in calories and sodium than its canned soup cousins. Or you can make a healthy, quick chili in the crockpot with leftover veggies, some beans, tomatoes, chicken broth, seasonings and lean ground turkey or leftover chicken.
"Kitchen Sink Stir Fry"
Almost anything is good in a stir fry! Just cook some lean protein in a skillet pan on the stove until lightly browned. In a separate pan, steam whatever veggies you may have on hand—my favorites are precut bagged broccoli, shredded carrots, snap peas and cauliflower. Add in some low-sodium sesame teriyaki sauce and some quick-cook brown rice, combine and serve for a quick-and-easy weeknight meal.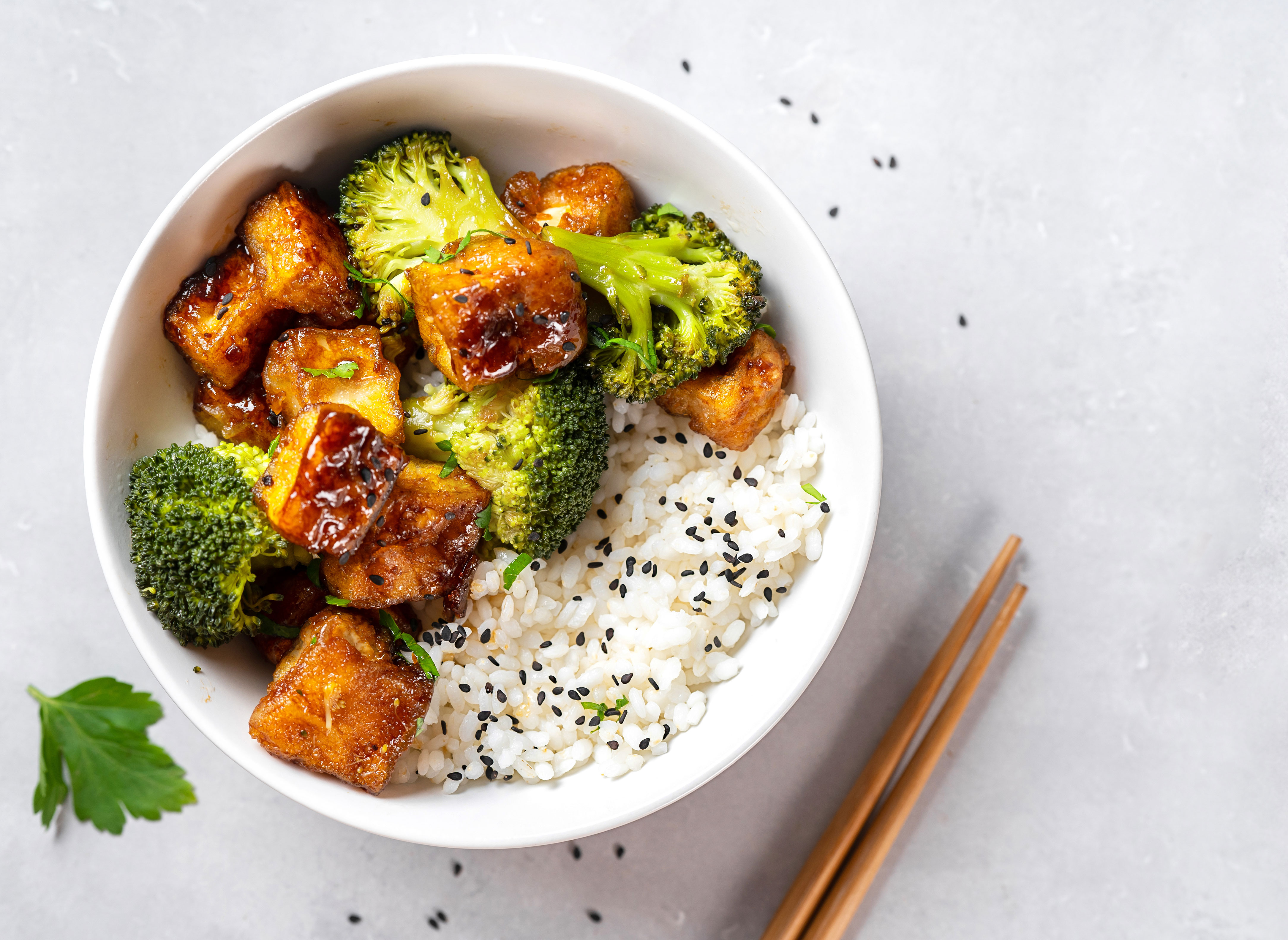 Who says you have to "cook" dinner?
Like breakfast, a salad can be a great, easy meal any time. Just buy a bagged salad, add some hard-boiled eggs (you can hard boil a few at the start of the week) or tuna or leftover chicken, and then get creative by adding some sliced avocado, tomatoes, shredded carrots and/or whatever nuts, seeds, chickpeas, lentils or beans you like. Top with your favorite dressing and enjoy!
Mix it up with meatless
For a meal that's good for your body, wallet and stress level, try black bean quesadillas with tortillas, black beans (rinsed and drained), salsa, cilantro, sliced avocado and low-fat shredded cheese. Or create a meatless pasta dish with squash noodles or one of the new pastas made from lentils or chickpeas for extra protein. Serve with your favorite sauce for an easy meal in minutes.
Fish is a favorite
In New England, we love our fish! You can place any type of fish in a nonstick baking pan, drizzle with some olive oil and your favorite seasonings, then cook in the oven for 20-25 minutes. For fish like salmon, I typically add some olive oil and a lemon herb seasoning (investing in a few spice mixtures you like is a great way to save time and add a burst of flavor without sodium and fat). For milder types of fish like haddock or cod, I like to add a light coating of Italian breadcrumbs and some grated Parmesan-Romano cheese on top, then serve along with some quick-cook brown rice and veggies for another great healthy meal in minutes. 
Two (or three) in one
Try to double (or triple) recipes to make a bigger batch when preparing meals, so you won't have to cook for a few days and can have some time back for yourself. For example, when you make chicken, save half to have on hand for salads or sandwiches for lunch or dinner during the week. That's two or three meals already prepped in minutes and one less thing to stress over. 
Buy precooked, pre-chopped
Fill your grocery cart with convenient staples such as precut veggies, bagged lettuce, low-fat shredded cheese, lean protein, healthy whole-grain sides like brown rice or quinoa, chicken or veggie broth and beans. Consider grabbing a rotisserie chicken, too. You can enjoy part of it for dinner and then use the leftovers for a quick sandwich or salad topper, and even use the bones to make stock for your crockpot soup or stews.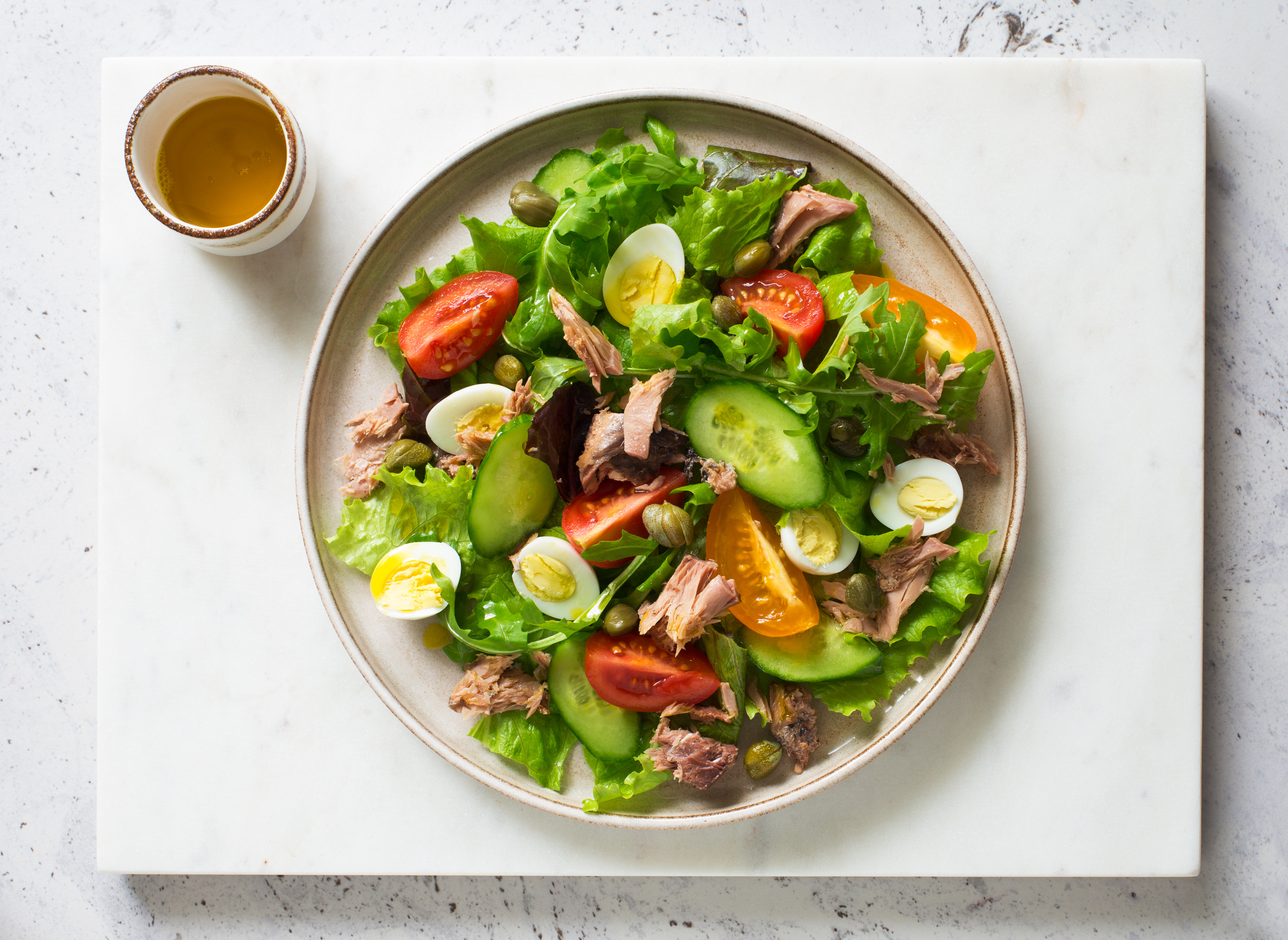 Get the kids to help
Make mealtime more fun by cooking with your kids. They can help prepare simple foods like precut veggies or measuring brown rice, and older ones can follow along with an online recipe. Teaching your kids to cook is not only a great way to help ease your workload, but can help those picky eaters become involved, learn about healthy eating and who knows, possibly become a budding chef!
Go virtual
During the pandemic, I have found that cooking is a great way to connect with friends and family. Virtual cooking chats can be a fun way to swap recipes and connect while helping to get dinner started!  
Home cooking is so good for us—both for our overall health and our wallets. And it doesn't have to be stressful. As always, if you have some of your own tips, tricks and healthy recipes to share, please reach out. Until next time, happy, healthy cooking! 
---
Heather Baptiste was interviewed by Rachel Coppola for this column.
Heather is a Blue Cross Blue Shield of Massachusetts health engagement strategist and a registered dietitian. Have a question about wellness that you would like us to address in a column? Contact us here!
Photo of Heather Baptiste by Michael Grimmett