Feb 16, 2023
Feeling stressed? Take a (deep) breath
In my roles as yoga teacher and wellness program manager at Blue Cross Blue Shield of Massachusetts, I have taught countless people how to breathe more mindfully to reduce stress, and I've seen the impact it can have firsthand.
I've seen how breathing can help third-graders wind down from recess and successfully transition to the classroom, primed for learning.
I've seen how breathing can help seniors feel healthier and calmer in the face of chronic illness.
And I've seen how breathing can help stretched-thin parents become more centered and calm as they juggle stressors of the pandemic.
We often forget how good it can feel just to breathe. But why exactly does it feel so good? 
The science behind breathing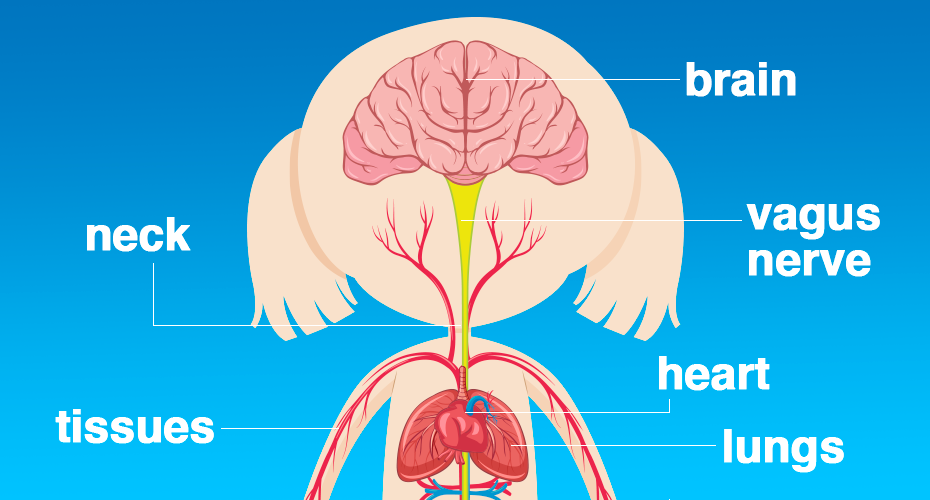 Deep breathing stimulates the vagus nerve, the large, branching nerve that runs from the brain down to the neck, heart, diaphragm, lungs and abdomen, transmitting information back and forth from the brain to tissues and organs. 
The vagus nerve engages what is called the parasympathetic nervous system, which affects breathing, digestion, and heart rate and blood pressure. When the nerve is stimulated, it can slow the heart rate and reduce blood pressure, turning off what is known as the "fight or flight" reflex.
Specifically, inhaling collects information which is sent via the vagus nerve to the brain, and exhaling sends information back down to the heart, lungs and abdomen. So deep, slow exhaling tells the vagus nerve the heart needs less oxygen, and our heart rate slows, relaxing us. Exhaling quickly causes our heart rate to speed up, causing a feeling of excitement or sometimes anxiety.
Of course, stress is a fact of life, whether we are arguing with a loved one or missing a deadline at work or dealing with something more serious like food insecurity or gun violence. Data has shown that millennials—my generation—are struggling with sky-high levels of anxiety and depression.
The "fight or flight" response we feel when we're stressed was designed to help cavemen escape the predatory tiger lurking in the wild. Today, that same response kicks in when we are sitting in a traffic jam on I-93. In modern times, the stress response often does more harm than good— it doesn't help us escape the traffic jam but instead can impair digestion, cognitive function and even our immune system. 
Breathing won't make our stress magically disappear, but it can help us calm down, which can make us feel better and ultimately help us think more clearly about how to tackle some of the challenges we face. And that is what makes it a powerful place to start.

Breathing tips
To begin breathing more mindfully, I recommend that you: 
Stop what you are doing and check in to see how you are feeling.  
Sit up tall with your feet planted on the ground, and close your eyes if that feels comfortable to you. You can also place your palms down on your thighs. 
Begin to breathe deeply. A good rule of thumb is to inhale for a count of four and exhale for a count of six, although the numbers are less important than trying to make your exhale longer than your inhale. If it helps, you can place your hand on your belly to help you focus on breathing deeply. 
Think of a mantra, phrase or word that helps you relax such as "I am calm," or "Peace" or visualize a place that's soothing to you. Mantras can help slow your breathing to a helpful rate, a British Medical Journal study found.
Notice any part of your body that's tense and try to soften that part as you breathe. 
Try to breathe deeply for at least one minute, although any length of time is beneficial—even three deep breaths in 10 seconds. 
Part of the beauty of mindful breathing is that you don't have to be on a yoga mat or a meditation cushion or even a chair. You can pull it out of your stress-management toolbox anytime, anywhere. The other great thing about breathing is that it's a universal tool designed for everyone. So the next time you are sitting in traffic or have a million things to do at work or home, remember to stop and take a deep breath. 
---
PHOTO BY MICHAELGRIMMETT
---
Nicole Molano was interviewed by Rachel Coppola for this column.
Nicole is Blue Cross Blue Shield of Massachusetts' wellness program manager as well as a certified health and wellness coach and a registered yoga teacher. Have a question about wellness that you would like us to address in a column? Contact us here!