Jul 24, 2023
The Fit Fam Challenge
If it's Sunday afternoon, it means my relatives are gathered at my parents' house for family dinner. A common topic of conversation is health—someone is always talking about wanting to lose weight or get rid of everyday aches and pains—goals many of us can relate to. 
Because of my health and wellness background, they often look to me, and I offer advice, encouragement and help. But one day last year in late December after the holidays, I realized the best way to help my family was to stop talking and take action. Inspiration struck, and I sat down at my laptop, created a flyer for the "Fit Fam Challenge," and emailed it out to 15 of my family members. 
The idea was that for eight weeks we would all come together on Sunday afternoons to get moving as a family. Instead of gathering around the dining room table, we would gather around the mat at a local gym, trading in pasta and meatballs for sneakers and hand weights. 
In the end and to my delight, everyone I sent the email to, ranging in age from 4-66, committed to participating in the challenge. 
And so, every Sunday, we met up at the gym, where I guided my family members through different workouts that fit everyone's ability level. Afterward, we gathered for a potluck of healthy snacks, such as smoothies and fruit salad. It wasn't chicken parm, but everyone seemed to enjoy it. 
My family members became true believers when they started seeing results: My sister lost 30 pounds, and my young niece and nephew successfully completed a fun run. One of my aunts, who frequently experiences pain and stiffness in her neck, became a huge fan of the rowing machine. Another aunt, who is a terrific baker and Pinterest queen, began trying new recipes with healthier ingredients to support the progress she was making at the gym. One of my cousins ran a half marathon and achieved her goal completion time, while another cousin did her first pull-up! And best of all, the kids saw the adults having fun exercising, which set a great example for them.  
Some of these changes took months of exercise — on Sundays and other days. For some, it was challenging to eat healthier and exercise more. Some made small changes rather than giant ones. 
But pretty much everyone realized the little secret that all fitness instructors know: when you move—even a little bit—you just feel good. You have more energy, and you feel happier and lighter. And who among us doesn't want to feel good?
What science shows about workout buddies
Numerous studies have shown that exercising with others helps build social bonds and that having a workout buddy increases accountability and commitment.
Working out with a partner improves performance and workout time, a study by the Society of Behavioral Medicine showed.
Overweight people who spend time with fit friends lose more weight, a 2016 study published in the journal Obesity found.
And it's true for kids, too. 
"Friendship plays an important role in shaping physical activity behaviors," studies have found. "For boys and girls, a 10 percentage point increase in active friends was positively associated with achievement of 60 minutes a day of moderate to vigorous physical activity."
Benefits beyond fitness
Most people will tell me they don't have time to work out by themselves, much less as a busy family. But the great thing about getting moving together is that your workout often does double—even triple—duty by allowing you to you put down your devices and spend quality time together while doing something fun and healthy. 
(As an added benefit, I noticed that my family improved our problem-solving abilities, creativity and communication skills, too!)
Now, I know you're probably thinking, "That's great, Nicole, but you're a personal trainer. There's no way I could get my family to do something like this." 
Fair point. But you don't need to do something as elaborate as we did to see results—both in terms of feeling better and improving family connections. Consider trying something on a smaller scale, like a 15-minute walk around your neighborhood every Thursday night after dinner. What matters most is that you take that first step. 
You may have to try a few different activities before you hit on the one that works for you—that's why joining a YMCA as a family can help, because they have so many different options to fit all sorts of interests. 
And for those who might be intimidated by the gym, going as a family can help because you've got allies right there with you!  
Who knows where that first step will lead? You may just find it leads you down a path of feeling healthier and more connected to the ones you love.   
Try these family workout ideas: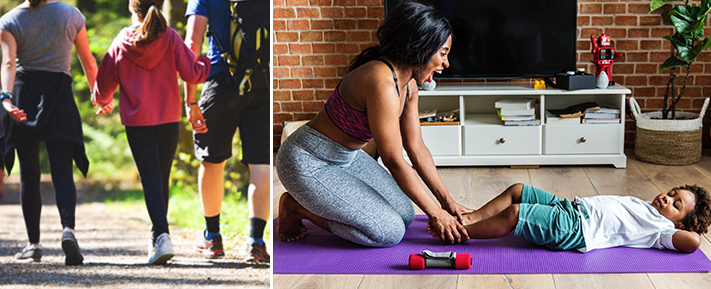 Try a family fun run or road race. Many have themes (think Halloween) and races for adults and kids. Plus, there's usually food, music and entertainment. Who knows, you might even end up meeting other Fit Fams! 
Take an easy hike or walk in nature on one of these great local trails and enjoy a picnic of healthy snacks when you're done. 
Consider joining a local YMCA. Most have family memberships and a range of activities for everyone. 
After dinner and homework, instead of flipping on the TV, go for a walk around the block. Many towns also have indoor tracks that people can use when the weather gets chilly.
Or do flip on the TV after dinner, but instead of binging shows, take advantage of On Demand yoga and exercise classes. Or crank the tunes and have a dance party in your living room.  
If one or more of your children plays an outdoor sport, take your other kids for a walk around the field during practice or halftime. 
Try a new activity like going for a bike ride, renting kayaks or checking out a rock-climbing gym. 
PHOTOS BY MIKE GRIMMETT
---
Nicole Pizzi was interviewed by Rachel Coppola for this column.
Nicole is a health engagement strategist as well as a fitness trainer. Have a question about wellness that you would like us to address in a column? Contact us here!