Apr 8, 2020
Heroes on the front line: Dr. Alister Martin
Around the world, physicians, nurses, nurse practitioners and physician assistants are on the front line of the battle against the coronavirus, a battle that has exposed our health system's inspiring strengths and its cruel weaknesses.  
At Coverage, we are giving Massachusetts doctors, nurses, PAs and NPs a chance to speak to you, our readers, in their own words. We asked that they share their simplest, most honest, most urgent messages as they fight this new virus with no vaccine and no cure, a virus vulnerable only to our common human bravery, ingenuity and compassion.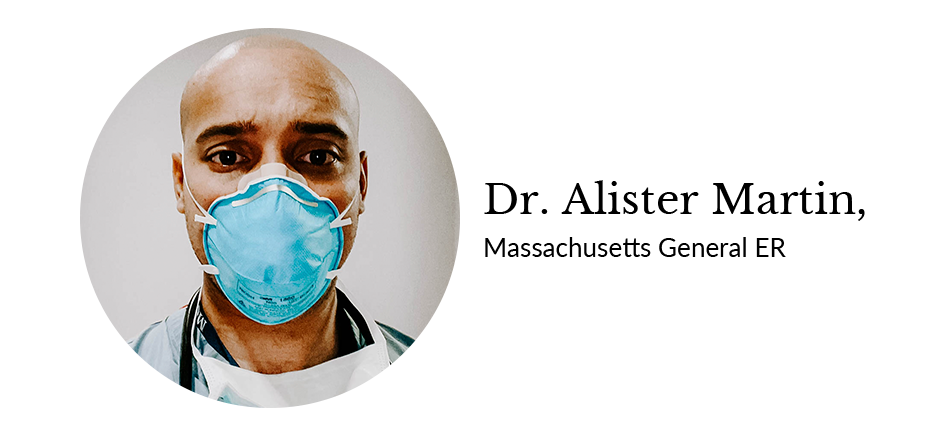 Crisis and opportunity are two sides of the same coin. While this is an unprecedented crisis for our health care system, it is also an unprecedented opportunity to learn the lessons COVID19 is teaching us in order to reconstruct it, to strengthen it for the better. This is a wake-up call for so many frontline healthcare providers who have, until now, sat on the sidelines of the process of creating our healthcare policies and have felt left out of the decisions that affect so much of what we do to and with our patients. For both health care providers and patients alike, this moment has shown us that we all have to be engaged like we've never been before in helping to create a better, safer, and more responsive health care system post-COVID19 to ensure that we create a system that works for all Americans.
- Dr. Alister Martin, Massachusetts General ER
Instructor, Harvard Medical School,
Center for Social Justice and Health Equity
More in the "Heroes on the front line" series: