Apr 3, 2020
Heroes on the front line: Lyn Flagg
For five minutes starting at 7 p.m. on Friday, April 3, people across Massachusetts will join in #ClapBecauseWeCare. Like those before us in London and Italy and New York City, we will cheer for our neighbors who leave home every day to do essential work, while most of the public stays home in a desperate attempt to slow the spread of the pandemic. We will cheer for those who are keeping our lights and heat on. We will cheer for those who keep our grocery stores open, and our streets safe. And we will cheer loudly, with awe and gratitude, for those fighting coronavirus in hospitals.
At Coverage, we are giving the doctors, nurses, PAs and NPs who are on the front line a chance to speak to you, our readers, in their own words. We asked that they share their simplest, most urgent messages as they fight this new virus with no vaccine and no cure, a virus vulnerable only to our common human bravery, ingenuity and compassion.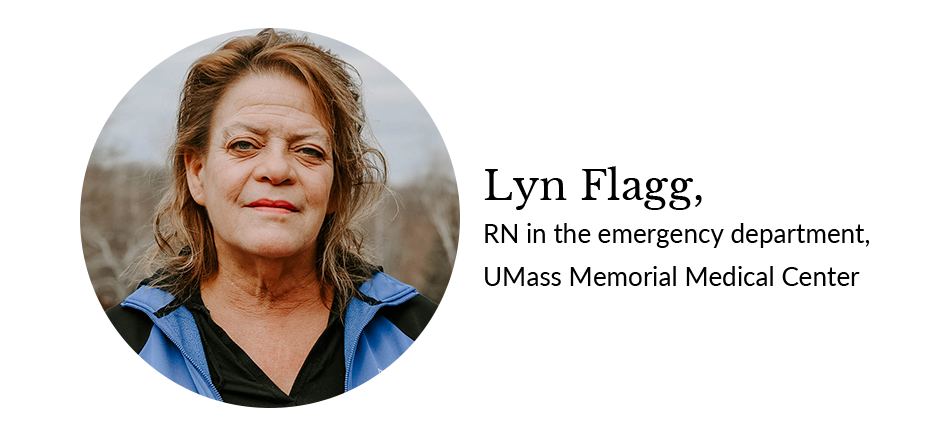 We've been in the calm before the storm, which has been eerie, but the numbers are starting to rise for Worcester. The problem that we've run into is lack of personal protective gear, which is scary. N95 masks do not fit me well because of my face shape, so I'm supposed to wear a PAPR mask. But we only have 60 of those, which isn't many. We've run out of shields. Nurses are already testing positive. I have a husband at home that has cancer, and I just don't want to get him sick. I've been undressing in our garage. I'd just ask people to please, please take this seriously. Don't hoard items you don't need. If you want us to defeat this, you need to give supplies to the nurses and the doctors. 
- Lyn Flagg, UMass Memorial Medical Center, RN in the emergency department
More in the "Heroes on the front line" series: